Google Adwords Certification: Costs, Details, Tips and Study Guide
Our content is reader supported, which means when you buy from links you click on, we may earn a commission.
---
AdWords is a fairly complicated advertising platform. Complicated enough that it's easy to burn through a decent sized budget on AdWords, sometimes in just a few days.  Anyone who's ever tried AdWords with no previous experience or without investing in some training first can probably tell you that.
And that's why many small businesses hire an AdWords specialist to help them turn a profit on their AdWords campaigns.  Those with a big enough budget hire a full or part-time employee as a PPC (pay-per-click) Manager. Others outsource their AdWords campaign management to a PPC firm.
The thing is, these small businesses need a way to figure out who's really skilled in AdWords.  If you're either:
a) Looking for a job as an AdWords specialist or,
b) Want to offer your services by starting a company or side job helping businesses use AdWords,
Then the AdWords certification is a way for you to show that you're competent in AdWords. The certification is put together by Google and consists of passing at least two exams covering loads of AdWords details.
I recently became certified and decided to put together a guide about the process, why you might want to become certified, and a few details about what the exams cover.
What are the Different Types of Certification?
If you pass the certification exams and follow the terms and conditions of the program you will become individually certified.
You'll have to re-take the exams once a year to keep your status.
There's also a company certification.
Companies who'd like to gain the company certification must have at least one certified individual linked to their My Client Center account (this is a special AdWords account for companies allowing them to run several AdWords accounts within it).
The My Client Center account must manage at least $10,000 worth of AdWords ads over a period of 90 days.
This level of ad spend must be maintained for as long as the company wants to keep the qualification status.
There's no limit to how much you must manage if you just want the individual certification.
What is the Cost of Becoming AdWords Certified?
It costs $50 to take each exam. You have to pass two exams in order to become certified so the total cost is $100 as long as you pass each exam on your first try. You have to pay $50 each time you attempt an exam.
I'm not sure how many times you're allowed to take an exam. When I took my exams, there was a notice stating if you don't pass you can take it at least one more time after waiting a week.  So AdWords does seem to have some rules about limiting how often and maybe even how many times you may take these tests.
When Can You Take It?
You can take the tests pretty much anytime you'd like. You don't need to schedule a time to take them. You can take them any day of the week at virtually any time (day or night).
Where Do You Take It?
You take the exams online so that means you can take them pretty much anywhere you have an internet connection that can access the testing center browser.
I don't know how the testing browser would work on a tablet or especially a Smartphone. I'd suggest taking the exams on a laptop or desktop computer and to find a quiet place where you won't have a whole lot of interruptions since these exams are timed.
What are the Different Exams?
Everyone working on getting an AdWords certification should start with the Advertising Fundamental exam.  It covers the basics of AdWords, from the Search Network to the Display Network.
Once you've passed that exam, you can choose from one of the Advanced exams. At this time there's a Search Advanced exam and a Display Advanced exam. If you're not sure which one to choose, I'd go with the Search exam as the AdWords Search
Network is where most of the money is made.
I've got a breakdown of each of these exams for you here:
Google Fundamentals Exam
The Fundamentals exam covers the following:
Introduction to AdWords
Account Management
Campaign and ad group management
Keyword targeting
Language and location targeting
Ad formats
Budgets and bidding
Measurement and optimization
Performance
Profitability and growth
Managing multiple accounts
You can get all the information you need from the GCP  (Google Certification Program) Learning Center or a PDF that supposedly has the whole online training center within it. That PDF is over 400 pages.
I did not study from the PDF. Instead, I used the online materials. It has a ton of links to other pages on it and is hard to navigate, but that PDF seemed even more disorganized than the online center.
Here are the details of the Fundamentals Exam:
Time limit – 120 minutes
Exam length – about 100 questions
Passing score – 85%
The next step after AdWords Fundamentals exam is to take either the Search Advertising or the Display exam.
Search Advertising Advanced Exam
This exam covers the following:
Ad formats
Ad and site quality
AdWords tools
Performance monitoring and reporting
Optimizing performance
Profitability and growth
AdWords API
The Performance monitoring and reporting section is massive. I did not have many questions from this section so I wasted a lot of time studying these details that weren't actually covered much on the exam (at least not my exam).
There are many areas of the Search Exam that overlap with the Fundamentals Exam. Sometimes when you click on a link in the online training center even when you start in the Search Advanced tab it takes you to a page in the Fundamentals tab. This made studying easier because I had already gone through some of it, but it added to the disorganization of the whole experience.
The PDF download for the Search Advanced exam is also over 400 pages long and again, it looked more disorganized than the online testing center so I did not use it. I studied from the online materials only. Here is a list of a few important facts about the Search Advanced exam:
Time limit – 120 minutes
Exam length – about 100 questions
Passing score – 80%
Display Advertising Advanced Exam
This exam covers:
Display ads on the Google display network
Display ads on YouTube
Display ads on mobile devices
The PDF for this section is only about 150 pages long.  So it's fairly short compared to the other 2 exams.  That plus the fact that you only need a 70% may make this one easier if you are looking for an easier exam.
However, the Search Individually Qualified certification will likely carry more weight if you're looking at attracting clients or gaining employment with an SEM (search engine marketing) firm. Here are a few facts about the Display exam:
Time limit – 120 minutes
Exam length – about 100 questions
Passing score – 70%
You may have noticed there's a different passing score for each exam.  I thought the Search Exam was quite a bit harder than the Fundamentals Exam so  I was glad I didn't need to score as high on that one.
Why Should I Take It?
The main reason why you would take the exams and become certified is to prove to others that you know your way around AdWords.
So that means if you want to become employed at a PPC marketing firm adding this certification to your resume could help you get hired. It's not going to be the only thing potential employers look at, but it can help you stand out.
Alternately, if you want to take on clients as a PPC professional for your own business or for side work, then having this certification will probably help you. At least a few potential clients will take note that you're AdWords qualified and it may put their mind at ease that you know what you're doing.
Whether you work for someone else or decide to offer your services on your own, gaining this certification can help you attract work as a PPC specialist.
If you're just looking at learning how to use AdWords for your own business then getting an AdWords certification is probably not the best use of your time.  You might be better off just learning your way around AdWords and skipping the tests altogether.
What is the Salary?
Since we're talking about gaining employment with a PPC company or taking on clients you may be wondering about the pay.
It's hard to find a reputable salary range for AdWords PPC managers, but from searching around it seems to start at about $40,000 – $50,000 a year and up.  The titles for these jobs range from PPC manager or PPC specialist to AdWords manager. Some companies are even looking for someone who's got SEO and PPC experience and if that's the case you'll do both.
If you start your own PPC management company and take on clients you can make a good salary too.
Right now every business is trying to get online (or maintain their online presence). If you're in charge of your own company (or provide PPC services on the side), then you decide what fees to set.  You can get hourly fees for consulting or a monthly fee. A monthly fee can be great because if you have clients who stay on with you (which they probably will as long as you're helping them out and doing a good job), then you gain recurring income from them.
I've seen smaller PPC Management companies charge about $1000 as their set up fee for AdWords along with a monthly maintenance fee of starting around $300 a month. This is on the lower end. I've also seen companies charge a percentage of the client's AdWords spend.
You'll need to check into the going rates if you're planning to offer PPC management services. But as you can see, it's very lucrative.
If you've already got a business helping others market their products and services or you offer web design or development, then offering PPC management as another service makes a lot of sense. Of course you want to be able to get results, so start with marketing your own company through AdWords to gain the experience.
SEO is monopolized by Google at this point and Google's been cracking down on link building methods and low quality content.
Due to this a lot of companies are looking at diversifying where their traffic comes from (which is smart).
Even though AdWords is still controlled by Google, using it to drive traffic is still not the same as getting traffic from SEO because AdWords and the organic search results run off different algorithms.  So a lot of companies are looking at PPC right now.
From helping so many people that have lost organic rankings I know the first thing they do is look into starting an AdWords campaign.  Many of them try it on their own and because they don't take the time to learn it first, they don't do so well at it.
Proving to them that I can help them with that too is part of the reason I decided to get certified.
The point is by gaining this certification you can attract a lot of clients looking at making AdWords work for them.
What Do I Get Out of the Certification?
You can say you're Individually Qualified in Google AdWords on your resume or your website which should help convey credibility with this advertising platform.  You'll also have an Individual Profile page you can share with clients or potential employers. It's not very fancy, but it shows that you're certified.
Who Can Take It?
There's no prerequisite to gain the AdWords qualification.  You don't need any AdWords experience or even an AdWords account to take the exams or get certified.  You also don't need a special degree or anything else.
So pretty much anyone willing to take the exams can get certified. Which is why you'll also need some actual experience with AdWords to impress anyone. But becoming individually qualified does indicate that you've at least got some knowledge of AdWords.
If you want a company certification then you need to manage $10,000 worth of AdWords spend every 90 days. That's about $3400 in AdWords a month.
You have to meet that level  of ad spend at all times or your company certification can be terminated. So it's better if you have a few clients and you run several $1000 over the minimum. That way if a client decides they don't want you running their account, you'll still meet the minimum.
How to Take it?
In order to get started with your certification, you need to sign up for an account here.
This login is tied into your regular Google product ID (login and username). So you can just use those login credentials.
Once you're inside the Google certification program center you'll see a few tabs.
Here's what mine looks like.



When you first start, you won't have anything under your status.
If you click on the exams tab it shows the exams they've got and your status.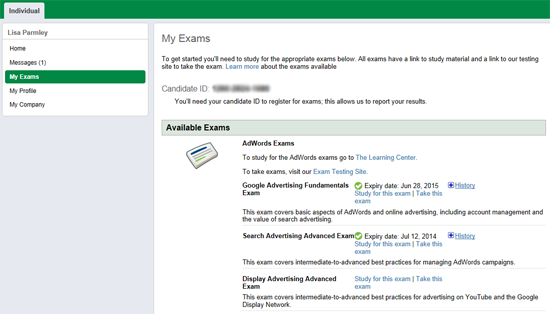 I've taken two exams at this time.  The strange thing is this online center isn't the website where you take the exams. That's somewhere else.
Here on this My Exams tab where it says 'To take exams, visit our Exam Testing Site', that's where you need to go.
It's a whole separate online area where you need a whole new username and login (thank goodness for roboform).  So for that you need to sign up and you'll be inside this area (where you actually take the tests).
You can buy the exams here and take the exams here.
Since it's two separate areas, once you pass an exam it takes a while for that information to go over to the your Google account (I think it took about 2 days).
From within this dashboard you need to go to 'purchase test'.


You'll notice there are more tests in here other than just the AdWords exams.  But we're concerned with the top 3 under AdWords where they've got the Fundamentals, Search and Display Advanced Exams.
Here where they're talking about a valid candidate ID, you get that from the other online center.  Just copy it and keep it handy.
This way the online areas can figure out who you are and when you pass an exam, the Google account will eventually be updated. So make sure you have the right candidate ID when taking these exams.
You can purchase an exam before you take it. I don't know if there's an expiration on your exam purchase (I would assume there is not).
Here if you click on the Details link they give you detailed information about each exam.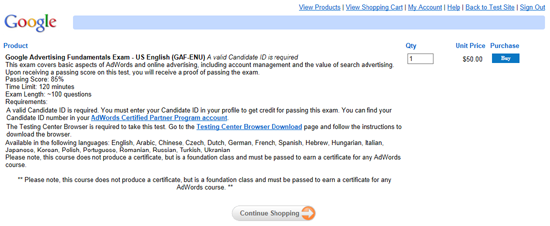 I've got some of these details in the article for you, but it's best to review this page the day you plan to take an exam in case it's changed.  They'll give you the time limit, the number of questions, and the percentage you need in order to pass.
That's really all you do here in this testing center.
AdWords has a Testing Center Browser that opens up when you take one of the exams. You don't actually install anything on your computer, the browser files run locally and is only loaded while your test is being delivered.
The thing with this browser is that once it's running, you will not be able to do anything else with your computer until you're finished. So you won't be able to look anything up online or open any files on your computer. All you can do is answer the test questions.
However, if you have a book or printed papers obviously they can't stop you from reviewing that while you're taking the test.
They also can't stop you from using another computer or device (like a tablet or Smartphone). It's up to you what you want to do.
The thing is, these tests are timed so even if you plan to use lookup material, you're not going to be able to look everything up.
You're going to need to know most of the material before you go in to take the exam.
If you notice, you have to get a pretty high score to pass. For the Fundamentals Exam you need an 85% to pass. I actually only had 95 questions.  So that means I needed to get 80 of them right to pass. At 120 minutes to answer the 95 questions that means I had less than 1.5 minutes or 90 seconds per question.
So you've got to know most all the questions. You don't really have much time to take these exams.
I can't get a screenshot of the testing center for you since they keep you from doing anything with your computer during the testing session, but it was pretty easy to use.
You had the question in the middle of the screen and then at the bottom right you had arrow keys to go back or forth through the questions. There was also a button for marking questions. That way you can mark any you weren't sure about and go back to them before your test was over (if you have time).  There's also a timer and a spot that tells you which question you're on. This helps you to see how you're pacing yourself and if you're taking too long on the questions.
When you're done you can review the questions you've marked and go back to any that you want. When you're ready you can click 'end' to indicate that you're done. At that point you can't go back through the questions. They'll ask you to take a survey about the test (it's optional) and then you get your score.
Hopefully, you passed!
How Can I Study for the Exams?
There is a GCP Learning Center where they cover what's on the tests. However, it's not super organized. It jumps around and has a ton of links to other materials that aren't covered. So it can take you a long time to go through it that way.
They also don't give you practice exams or any type of study aid so all you can really do is read through their material and then go into the test, hoping you've learned the right stuff.