How Ginny Fears and Laura Haleydt Launched Elsynergy.co to Multiple 6-Figures in 3 Months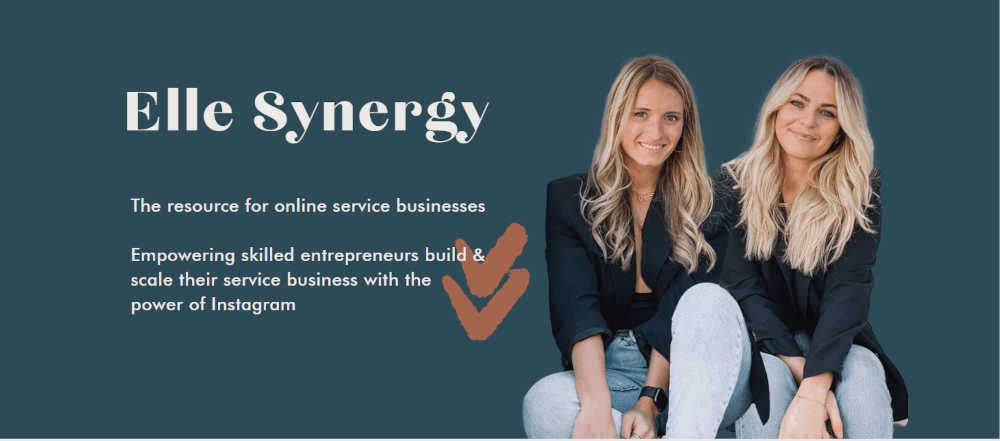 Our content is reader supported, which means when you buy from links you click on, we may earn a commission.
---
Who: Ginny Fears and Laura Haleydt
Website: elsynergy.co
Course Topic: Instagram Traffic
Interesting Stats: $400,000 in sales in only 3 weeks
Who are you and what course have you created?
We are Ginny Fears and Laura Haleydt. Two business besties who built a multiple 6-figures business during the pandemic.
We went from being furloughed from our corporate jobs to each of us (independently) building wildly successful coaching businesses, quitting our corporate jobs to ultimately joining forces to create Elle Synergy.
Elle Synergy grew into a multiple 6-figure business within 3 months of existence, all with the power of Instagram and through passive income (online courses).
Our signature online program is called IBA (IG Business Academy) and helps service-based entrepreneurs build and scale their business with the power of Instagram.
We have a second online program called PIA (Passive Income Academy) that helps entrepreneurs turn their services into an online course, launch it successfully, and create a passive income machine for life.

What market does your online course serve?
We help service-based entrepreneurs build their business and scale to the next level with the power of Instagram.
What's the biggest benefit of taking your course?
Build and scale your service-based business with the power of Instagram, we help you get visible and convert your followers into clients.
Build an offer that attracts and sells
Grow an engaged audience on Instagram
Build a content strategy that gives you results
Build a community of fans ready to buy from you
Attract clients like magnets and make you a lead generation machine
Convert your followers easily and sell out your offer
How did you get into the market?
We have both worked in marketing and business for a combined 15 years in corporate, so the passion for marketing is not new.
While being on furlough during the pandemic from our corporate marketing jobs, we both started coaching entrepreneurs with a focus on Instagram marketing. Both of our separate coaching businesses took off really quickly and we scaled to $10K months within 5 months.
We then decided to join forces and help more people at once through online courses. That's when Elle Synergy was born.
Everyone was expecting a program around Instagram marketing and business growth for us, so it naturally evolved from our marketing experience and personal coaching businesses.
The second program, PIA (Passive Income Academy) is the result of a lot of demand for more guidance on how to build online courses and build a passive income machine for life.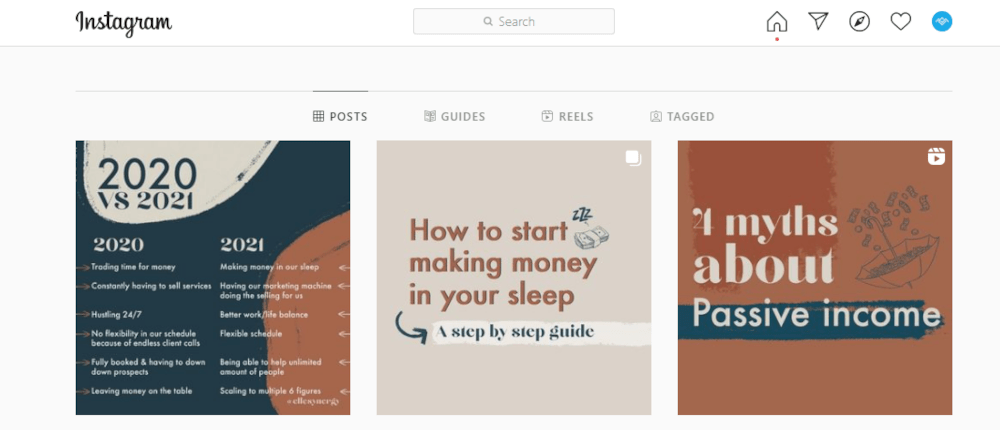 Why did you decide to create an online course in the first place?
We both entered this online business world with the ultimate goal of creating passive income through online courses. The ability to help more people at once, make our programs more accessible, and on top of that enjoy the location and financial freedom is simply magical.
Did you have any moments of doubt before you created/launched it?
Definitely! Right before launching our first big online course, IBA (IG Business Academy), we were terrified. We had no clue how many sign-ups we could expect, we were imagining a million "what if" scenarios, etc.
As for putting the course together, this actually went smoothly as we had been coaching on a 1:1 group level for 9 months and had already built an online course to support our clients. It was more a matter of combining our knowledge, dividing the work, and putting it all together.
All of our strategies and frameworks were tested with our ideal clients and we knew exactly what to include or what to leave out, which was a massive advantage. We never hesitated to transition our entire business to online courses because this was always the ultimate goal for us.
What's your online course like?
Our online programs support our clients on 3 levels:
+10 module online course with video content, including tech sheets and a huge bonus package to help our clients get results faster
Facebook Community with all the IBA or PIA students (depending on the program) where they get to network, ask questions, and get support (3 months access)
Bi-weekly Group Strategy calls with both of us inside the Facebook Community (3-month access), to coach our students and answer any personalized questions they might have.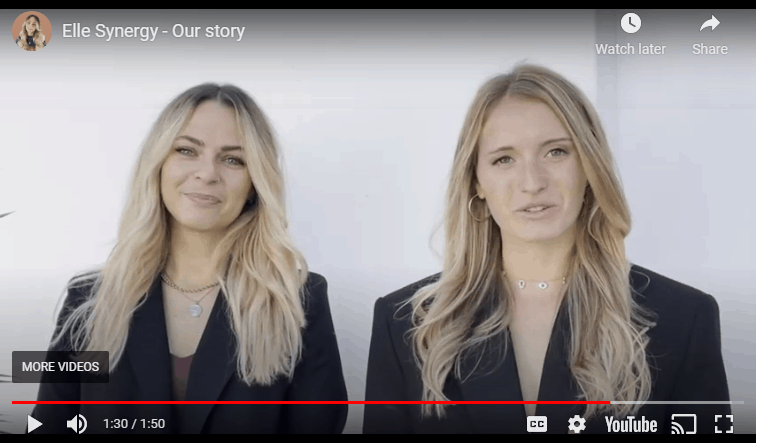 How long did it take you to create your course?
We created both IBA and PIA in about a month, however, we did have help from one of our full-time employees with creating all of the tech sheets, editing the videos, and putting the course online. We also have a website designer and copywriter who helped us with the sales page.
The process after coming up with the idea of the online course:
Market research
Write out the transformation and message of the online course
Write out the course framework
Come up with the bonus package of the course
Write the course
Create the presentations
Record all the videos
Edit the videos
Put the videos online on Kajabi
Tell us a little about the process of launching your course and getting your first sale(s).
Our first launch for IBA was definitely an experience! It was a fully organic launch to our Instagram audience (back then we had +30K followers each).
We launched it through a waitlist, we had over 1,400 of our followers signing up for the waitlist for our new program. Once we opened the doors to the waitlist (who had early access and a £100 discount to our high-ticket course) we had, within 24 hours, over 70 entrepreneurs join our program. Afterward, we opened the doors to the public on our Instagram page and after 3 weeks, we closed IBA with 250 students signed up.
The launch brought in over $400,000 in sales in only 3 weeks and turned Elle Synergy into a multiple 6-figure business after only 3 months of existence. We were blown away! - Ginny Fears and Laura Haleydt
Click To Tweet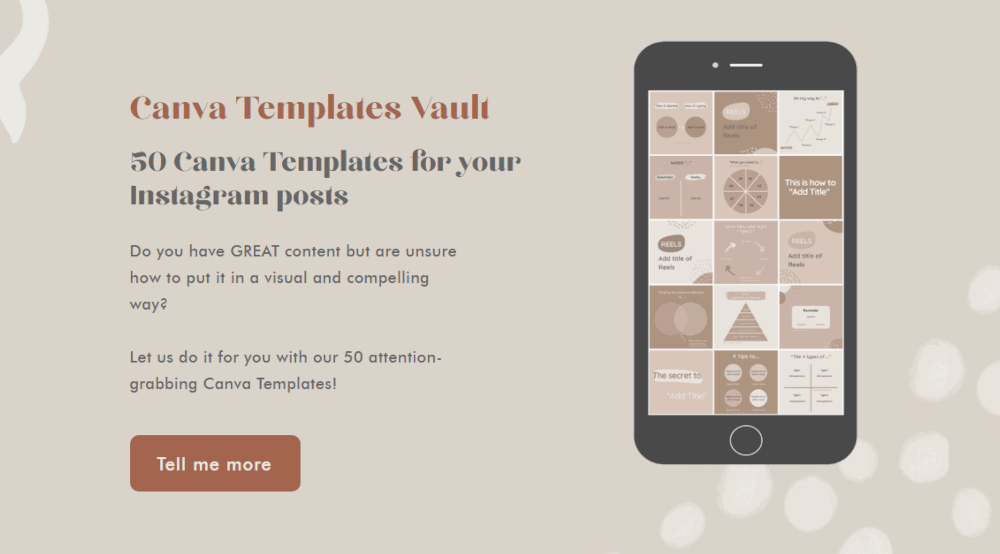 Do you have a lead magnet?
When we first launched IBA and PIA, we only had our free hashtag guide as a lead magnet for our business to build our email list. However, this lead magnet was not linked to a sales funnel that sells our online courses. All our launches until now have been purely organic with our Instagram audience.
We are currently in the process of rolling out a sales funnel with our ads agency that will be linked to IBA with a lead magnet (business blueprint, followed by a free masterclass).
What's the traffic strategy that works best for you?
Until now everything has been purely organic, we built a marketing machine that is centered around our personal brand Instagram account (@ginnyfears & @laurahaleydt) as well as our company Instagram account (@ellesynergy).
We also utilize other platforms such as TikTok, Pinterest, YouTube, LinkedIn, and blog posts on our website to drive extra traffic. However, in the end, we convert our followers into clients on Instagram. That's the place we've built a tight community of fans. Thanks to our organic growth, we now know exactly what marketing and launch strategies work and how to scale our business to the next level.
As we mentioned before, we are currently working with an ads agency to roll out our first sales funnel for IBA through paid ads. We are very excited to get to know the paid side of scaling our business as well!
What online course platform are you using?
We use Kajabi.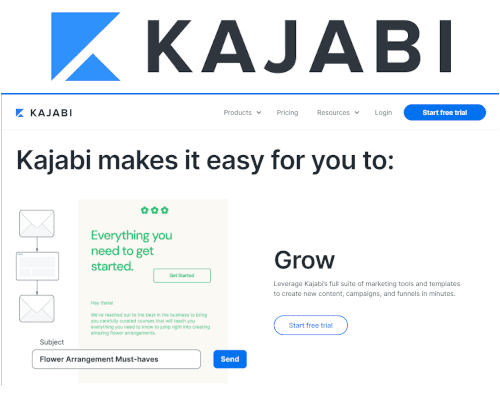 Kajabi is the All-In-One Course Platform
Kajabi is one of the top online course platforms used by successful course creators interviewed on coursemethod.com. Kajabi includes email marketing and other tools that make it easy to run your entire business from their platform.
Price Range: $149 to $399/month
Most Popular Plan: Growth Plan at $199/month
Annual Discount: Yes, take 20% off!
Free Trial: Get a 14-day free trial (credit card required)
*Our content is reader supported, which means when you buy from links you click on, we may earn a commission.
Do you like it?
Yes, we are huge advocates of Kajabi for multiple reasons:
Great user experience for the students
Amazing customer support
All-in-one tool that endless possibilities and integrations
Are there any features you wish it had?
The ability to make asking VAT (tax) details and link it to our accounting system easier. In Europe, we deal with more regulations around VAT and taxes. We've noticed that most course platforms are US-based and don't always think of this kind of reporting here in Europe. But luckily there are ways around with Zapier, etc. Another feature we wish we had: some sort of built-in sales funnel strategy like "Clickfunnels" or "Leadpages" inside Kajabi to make it a full all-in-one solution.
What made you decide to use your chosen platform over others?
We decided to go with Kajabi from a user perspective. We had bought courses before that were on Teachable, Kajabi, and Kartra and much preferred Kajabi as a user.
What other tools do you use to run your online course business?
We use the entire Adobe suite and Canva for all our content creation (Instagram posts, videos, ebooks, course materials etc), Flodesk for our email marketing, WordPress and Showit for our website, Stripe and Paypal to accept payments, Typeform to ask for testimonials or do market research, Facebook Creator studio to schedule our posts, Gmail suite to collaborate, and Slack to communicate with our team.

What books or training programs have you found useful on your journey to a successful business owner that others might find valuable too?
We love reading, especially psychology books to have a better understanding of human behavior. We also like autobiographies and business books to learn from others. Here are some of our favorite books that others might find useful for their journey:
Influence by Robert B Cialdini: If you want to link psychology to business this is a go-to
Rich Dad Poor Dad by Robert T Kiyosaki: a classic to have a better mindset around finance and investment
Made to Stick by Chip and Dan Heath: amazing read if you want to write better for your marketing
Marketing Rebellion by Mark Schafer: if you're struggling with marketing and social media this book is a must-read
Do you have any big mistakes you've made along the way that you'd be willing to share?
We are really open to mistakes, we think they are vital in order to learn and grow. Our biggest mistake probably was launching a membership as the first product with our business. We had a big vision for it and turned out, it was far from what we were expecting. We thought it was a great way to make passive income as you could get monthly recurring revenue without having to chase the sales every month.
Turns out membership is much harder to sell than expected, and therefore the recurring income wasn't as big as expected. It also required much more work than anticipated, which didn't make it a wise business decision. We were making more money with our mini Reels course than with our membership, without even trying. And the Reels mini-course was 100% passive income, so we decided to close it.
Please share some ideas of revenue.
In January we launched our first big online course IBA, we made over $400 000 in sales from it! All that organically, without any ads at all. We have never run ads for our business, we are just looking into this as we speak.
Currently, our Reels mini-course brings us an average of $10,000 monthly, and launching at the end of May we have our Canva Templates Vault and another big online course that should bring us another big source of income every month.
Please tell us a little about what the money you've earned from your course has done for you.
We both quit our jobs a few months after launching our business — which was Ginny's dream for a long time. Laura's partner was also able to quit his job and she recently purchased her dream car, a Range Rover. After our launch, we were also able to hire two agencies and three full-time employees which are allowing us to scale even further. We are still in lockdown in Europe which means that unfortunately, we are not able to travel. However, we are going to Portugal together in mid-May where we have rented a very nice house for nearly 3 weeks.
In addition to revenue are there any numbers you would like to share?
We grew to 50K followers each (@ginnyfears and @laurahaleydt) in 1 year on Instagram and to over 20K for our company's Instagram (@ellesynergy) in less than 6 months.
What has creating your course done for you personally?
It might sound cliche but what we enjoy the most is seeing our students' results. We know the feeling of being able to quit your 9-5 or finally hitting your target income, and seeing so many of our students accomplish their dreams through the teachings of IBA is the best feeling in the world! Not only do we have financial and location freedom, but we also have major job satisfaction. Knowing we actually make an impact is so rewarding.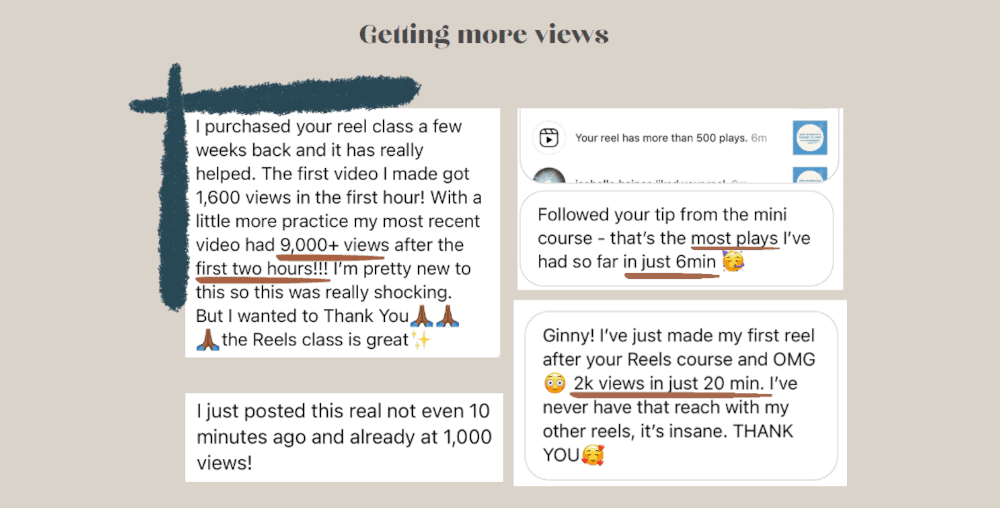 Do you have a story of a transformation from any of your clients?
We have many, it's hard to pick! However, there is one that sticks out. One of our students was able to make $25,000 in ONE MONTH which is what she used to make in 6 months as a teacher.
Another student was able to gain 3 clients in just a few weeks all thanks to IBA. She had zero clients before IBA, so it meant a lot to her. Just having those few clients allowed her to quit her job and focus on growth.
You can read more testimonials here.
What advice do you have for people just starting out?
Being able to make money online, quit your job, and have financial and location freedom is much more accessible than many think! - Ginny Fears and Laura Haleydt
Click To Tweet
I used to see it as a huge mountain to climb, but it's not impossible. Yes, it takes work, like everything but it can happen much quicker than you realize.
Here are two bits of advice:
You need to have a strategy and stop guessing things. If you don't know something, get proper training on it. It will save you a lot of time and energy!
Don't give up too early. The problem is that people want quick results overnight. You can make things happen faster, but you still need to give yourself enough time with the right strategy.
BONUS: stop comparing yourself to others. Compare yourself to where you were yesterday or two months ago. That's the only comparison you need! That's why we always recommend documenting your journey, writing your accomplishments and doubts, or even better, take videos.
Learn more about Ginny Fears and Laura Haleydt of elsynergy.co: