How Gems Collins Reduces the Stress Load of Online Course Creators by Offering the A to Z of Online Course Project Management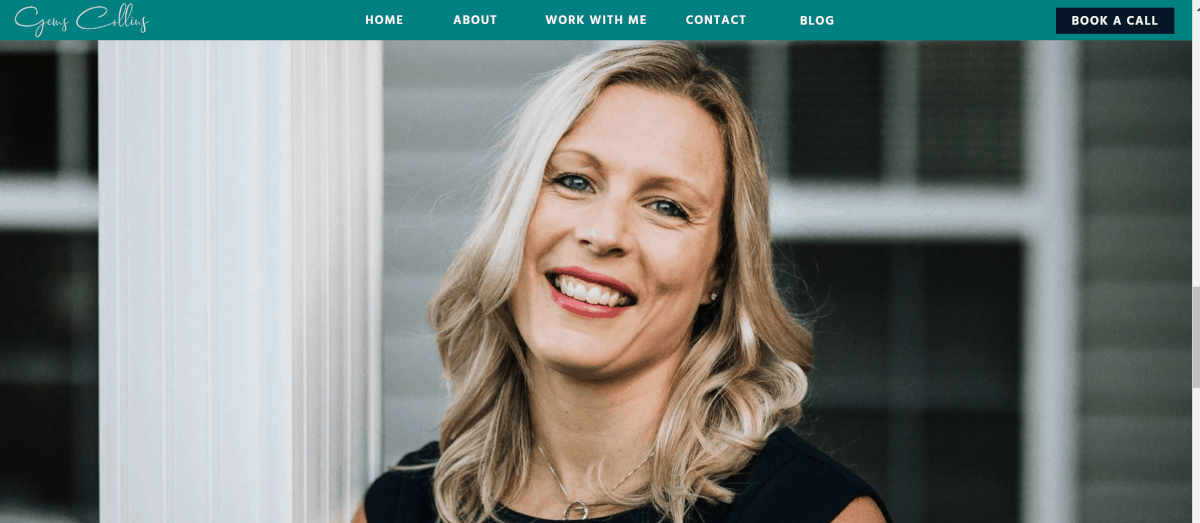 Our content is reader supported, which means when you buy from links you click on, we may earn a commission.
---
Who: Gems Collins
Website: gemscollins.com
Area of Expertise: Online Course Project Management
Interesting Stats: Just one blog post increased traffic 2,000%
Tell us about yourself and the business you started …
I'm a military spouse of about 3 years now. Before that, I had a very successful career in Project Management. When I moved to the USA I essentially had to start my career from scratch, and as a military spouse, it can be incredibly challenging to find long-term, purposeful employment.
I decided I needed to start my own business in order for me to make a real difference in the world and put my skills and expertise to good use. My initial business idea was different from how my business looks today, but now I focus on providing world-class project management solutions to small- and medium-sized businesses that are looking to implement their own online courses.
Who is the market for your business?
I work with small and medium-sized businesses who have a need for an online course but no time to create and implement it themselves. In addition, I work with businesses that want to create their own course but need some structure in order to navigate the online space. In many cases, they need a framework for the overall creation, delivery, marketing, and launch of their course.
What problem does your solution solve?
It solves the issue of a lack of time for those companies who are short on resources, time, and/or expertise. It also cuts out a lot of the noise from various different providers who are all vying for the attention of online course creators. I research and find the best solution for each individual client and their course.
Why is it better than other solutions?
Essentially it's because they come to me with their problem/requirements and I hand them back a detailed and often done-for-you solution.
It's the A-Z of online course project management wrapped up in a nice package. It really takes time and stresses away from the business.
What are the biggest benefits for your customers?
The biggest benefit is that they get a dedicated project manager who genuinely cares about the success of their online course! I know the importance of getting a course right and I ensure that comes across in each project.
They also benefit from the time given back to them to focus on the day-to-day of the business while I handle the course project. They drive the direction, look and feel and content of the course, without the hassle of a lot of the back-end management, email campaigns, marketing strategies, etc.
Where did the idea for the business come from?
As I referred to earlier, my business looked a little different when I started! I initially created a program to help military spouses start and launch their own businesses. This was done by creating my own online course, that I offered in conjunction with 1-1 business coaching. I then created a number of smaller off-shoot courses to answer more focused issues and created a bundle offer.
However, over time it just so happened that people needed more for guidance and support on creating their own course. This demand superseded the demand for my initial course!
So, from there I adapted my business to bring together my 15 years of project management experience, along with my passion for creating online courses to help others do exactly the same. In turn, I reached more people and provided so much more value to their audiences.
Do you have a lead magnet?
Yes, I do offer a free webinar for potential clients to find out more about me and the services that I offer.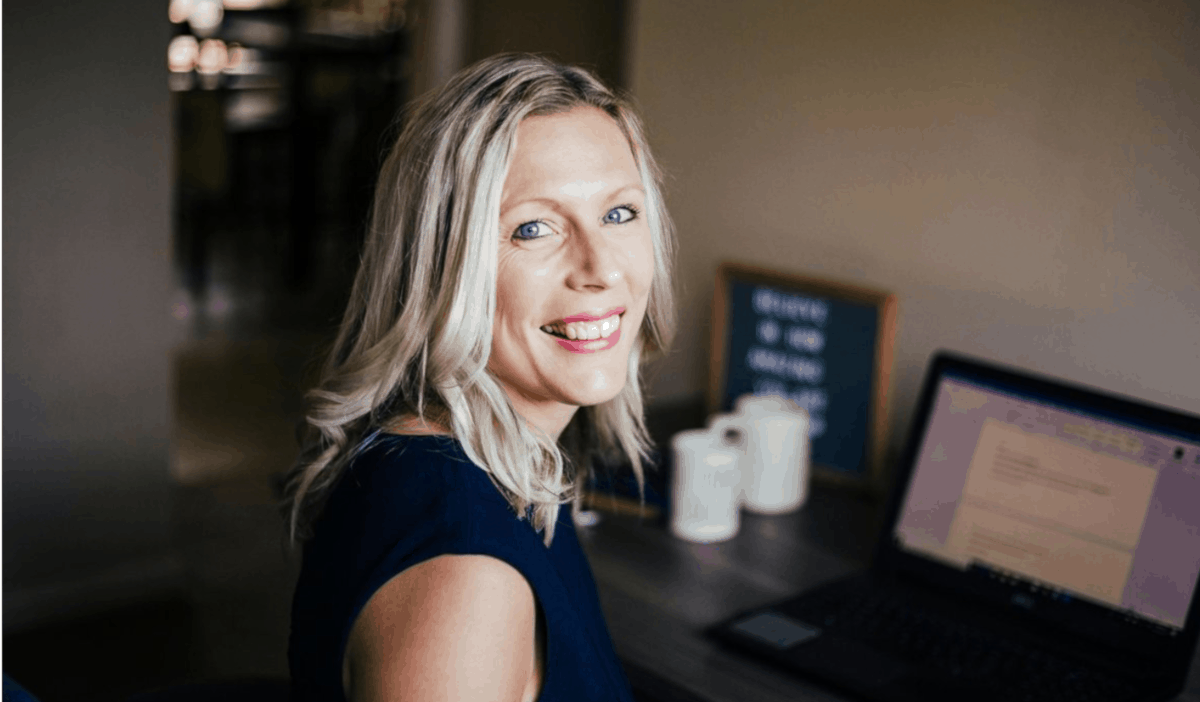 What's the traffic strategy that works best for you?
Email marketing is hands down my biggest return (well that and word of mouth!). I love to create content and I feel that email is such a great way to engage with people – especially in this era of social media when people are constantly on their phones!
I don't always sell in my emails and I don't always talk about the business and what I offer. Sometimes I share interesting anecdotes, stories, or resources.
The great thing about email is that it is a fantastic way to not just engage your audience but to open up a genuine 2-way conversation. -Gems Collins
Click To Tweet
It takes time to grow and nurture your email list, but it is definitely time well spent!
What tools do you use to run your business?
I use a number of different online course providers, but the two most popular online course platforms I use and recommend are currently Teachable and Kajabi.
I also use the following:
Active Campaign for email marketing, landing pages, etc.
Zoom because I love face-to-face interaction with my clients. Plus the ability to share my screen to show what I am working on makes explaining certain things so much easier.
Asana offers a great way to keep me on track, especially when I have multiple projects going at once. I am also able to delegate tasks to people who are actively working on their course projects with me.
Loom which is a fantastic tool for sharing "how-to" videos or troubleshooting on behalf of the client, when Zoom interactions may not be possible.

What books or training programs have you found useful on your journey to a successful business owner that others might find valuable too?
Anything by Daniel Priestly! His approach to business is totally in line with my vision and ideas. His books include: Becoming a Key Person of Influence, 24 Assets, Oversubscribed, and The Entrepreneurial Revolution. They offered me so much insight into the direction and growth of my business.
Podcasts like Dent, Entrepreneurs on Fire, and How I Built This have also provided much food for thought.
I also like books that help with mindset. Business can be a tough and lonely world sometimes. So when it's just you, you have to develop a strong attitude and mindset. Jen Sincero "You are a Bada$$" is a great, straight-talking book about mindset, as well as Mark Manson "The Subtle Art of not giving a ****".
When service providers like Active Campaign, Teachable, etc. put out webinars and training I am also sure to hop onto those for some insider insight!
Are there any numbers you would like to share?
I increased traffic to my website by over 2,000% through one blog post. The post had nothing to do with online courses – it was a personal piece – but as a result of the numbers to my site, in that one week, I booked 8 client calls and signed 3.
The power of content!

Do you have a story of a transformation from any of your clients?
My very first client – probably because I was so terribly nervous and she really needed my help! She was a super busy accountant. She had wanted to do an online course for ages, but due to the amount of work she had, single parenting and not knowing how to navigate the noise and sham offers, she hadn't done anything.
So, I basically took all her content from her and created the course from scratch. I uploaded the outline into Kajabi, branded it, created sales pages and payment processes, email marketing campaigns and her entire social media strategy to promote and sell the course.
In 2 months I gave her back the finished project and she was ecstatic! To see her project finally come to life and be able to support her clients with some of the smaller aspects of bookkeeping meant 2 things:
She was able to help more people, with something that cropped up as a request on multiple occasions.
She was able to remove that task from the majority of her client accounts because they had already done it – freeing up her time to provide more of the strategic and troubleshooting items that she and her clients need her to focus on.
What advice do you have for people just starting out in business?
It can be scary, and there will be times you want to quit but don't!
Make sure that you get super clear on the "why" behind your business so that when you come up against tough times, you will also have a strong "why" to push you through. -Gems Collins
Click To Tweet
And find your community – whether online or in-person – people who will support you, cheer you on, and root for you no matter what!
Learn more about Gems Collins of GemsCollins.com: