[Service] How Galia Tsioni Helps Online Course Businesses Increase Their Profits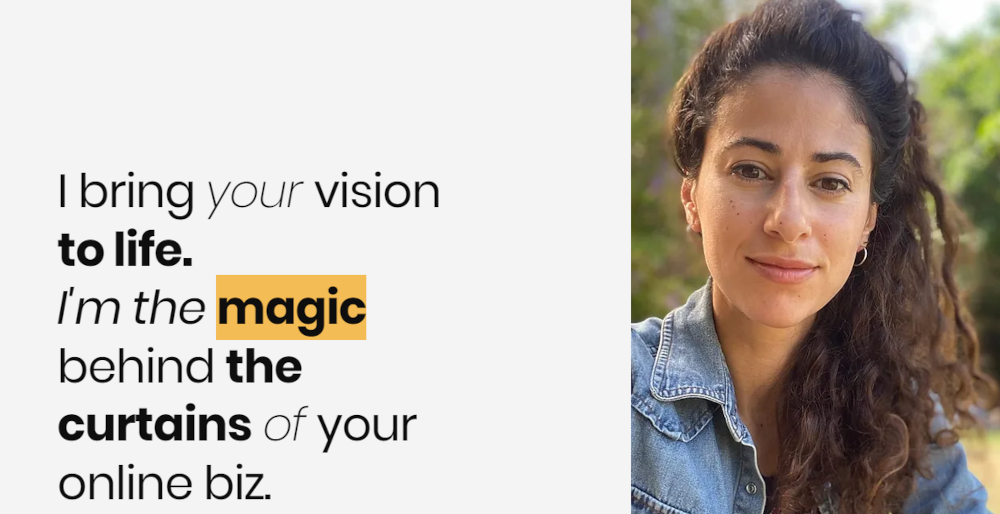 Our content is reader supported, which means when you buy from links you click on, we may earn a commission.
---
Who: Galia Tsioni
Website: galiatsioni.com
Course Topic: Small Business Consulting
Tell us about yourself and the business you started …
I am a business manager and consultant for small online businesses.
Formally, I have a MBA in Entrepreneurship and I am a Certified Online Business Manager. I've been an OBM for 7 years now and have helped closed to a hundred business owners.
In practicality, what I do is very hands-on management of my client's business, I take the virtual Operations Manager position – I become the right hand woman for the business owner, handling management of their operations – tech and team. I also usually take on significant marketing roles such as strategy, running paid advertising, advising on marketing funnels, launches, and collaborating with the person in charge of writing & designing marketing materials.
In essence, I free up the business owners' time to focus on the things that only they can do, or things that they want to do. I act as a strategic thought partner and accountability partner for my client's million idea!
I also do consulting work, what I call Strategic Advisory, where I guide the business owner through their different needs – most of the time it's revolving the start-up of a new silo of their business (ex. opening up an online course after they have focused on 1-1 services) or bringing on a manager into the team to take over responsibilities.
Who is the market for your business?
Small business owners that want a change in their business:
They want to take on a different role in the business (they want to offload responsibilities, take more time off or focus on other things)
Their growth is stunted and they want help with new marketing strategies or operational strategies to open up the clogs.
They want to open up a new aspect of their business – an online course, membership, etc.
 
What problem does your solution solve?
My vast experience in many businesses allows me to give experience-based advice. It helps them anticipate a mistake before it happens, or just make smarter business decisions.
Examples of this come with hiring on new team members, decisions regarding tech tools to use, business structure and pricing, and marketing techniques.
Another thing my clients really value is having someone to brainstorm and collaborate with them. I become a true business partner, but I don't take a set % of their business haha!
"Galia supports me by being a kind accountability partner by removing all the things that sidetrack me so the pressure is off. It makes running the business much more enjoyable." – Karen
"I see my work with Galia as a thought partnership. She has an ability to turn chaos into order, to flag challenges that might emerge before they happen, and helping iron out complexity." – Alix
Why is it better than other solutions?
Other solutions that my potential clients can choose are things like online courses, free podcasts, blogs, etc. – the problem with these is that they are not tailored to the actual client.
One of the things that I do with my clients is not just building a business that works, but to build a business that works for THEM - with their desires, availability, and innate tendencies. - Galia Tsioni
Click To Tweet
That you will have a hard time getting without custom advice.
What are the biggest benefits for your customers?
Having someone to talk to and support them that completely understands their struggles. AND someone to guide them through the issues that has ACTUALLY seen how things work in other businesses. I always tell my clients – they only know first-hand experience from THEIR 1 business. I have first-hand experience from multiple dozens.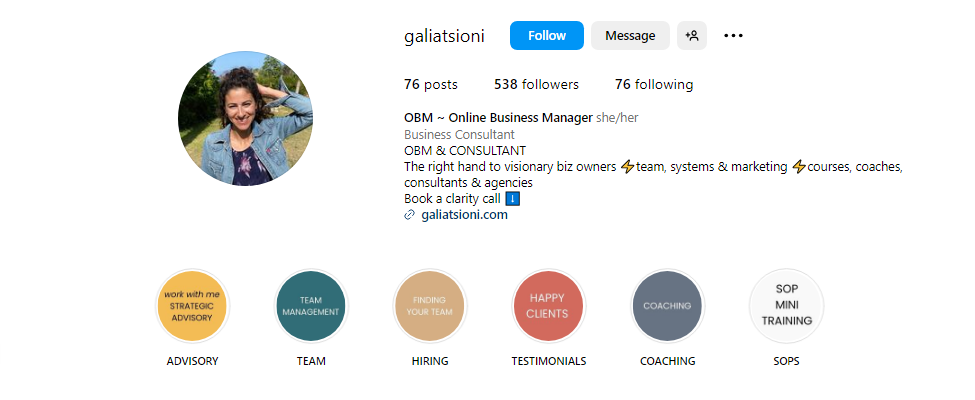 Where did the idea for the business come from?
I started working for an OBM agency as I was getting my MBA. I fell in love with the position and knew that I saw myself doing it long-term, but I did want to go out on my own behind the back of the agency. To my luck, the agency changed its direction and started running the OBM Certification program. When they decided to dissolve the agency they gave me the option to take the clients and open my own business. It was a dream come true.
As I opened my own business I had people coming to me wanting OBM services that I didn't actually think needed an OBM at this time, OR their business didn't have the income to hold an OBM. That is why I developed my Strategic Advisory services.
Do you have a lead magnet?
I do not have a lead magnet, because of the scale of my business (I work with just a handful of clients at a time) my intake funnel consists of a free discovery call instead of a lead magnet which typically attracts more people but less focused on getting customized solutions.
For my clients that have online courses, I DEFINITELY recommend a lead magnet. The type varies! I've found that the more commitment the lead magnet entails, the better they convert (ex. a PDF is low commitment. A mini course or a webinar is higher commitment, meaning people signing up are closer to the desire to find a solution for their problem)
What's the traffic strategy that works best for you?
I rely mainly on word-of-mouth referrals and being in an online directory for OBMs,  it has been able to hold my business since I've gone on my own for 4 years now, so it's going quite well!
For my clients that have online courses:
I am a big believer in email marketing, it has withstood the test of time. I recommend emails at least 1x a week to your mailing list, and ideally, it would be 2x a week. Stay top of mind!
Social media is a tricky one because, of course it helps. But the time investment in social media is not always easy for a business owner to do, and it can be a significant financial investment to have dedicated team members creating and engaging in social media for you. Here is where it's important to find the sweet spot between what is ideal and what is management for you. There are lots of strategies you can use to make social easier such as bulk-creating content, recycling old content you have used, and utilizing AI for idea generation and to start you off for post content (I'd always recommend you edit AI-generated content to have your unique opinions, but it can give a good base to start with!)
The same idea goes for SEO strategy – of course, it's ideal to have a blog or a podcast that can help you update content on your website consistently and show up in search engine searches, but you need to find a way to make it manageable for you. Here too there are strategies to be used for making one piece of content go far. Ex. repurposing social content into a blog, repurposing a Youtube video you recorded into a blog. If you're better on video do that and have someone transcribe your video and format it to be optimal for a blog, etc.
Expanding your reach by being a guest speaker in other courses, podcasts, events and social media should be leveraged by everyone! It's such an easy way to get in front of your target audience and making connections in your niche or adjacent niches can benefit you in many ways.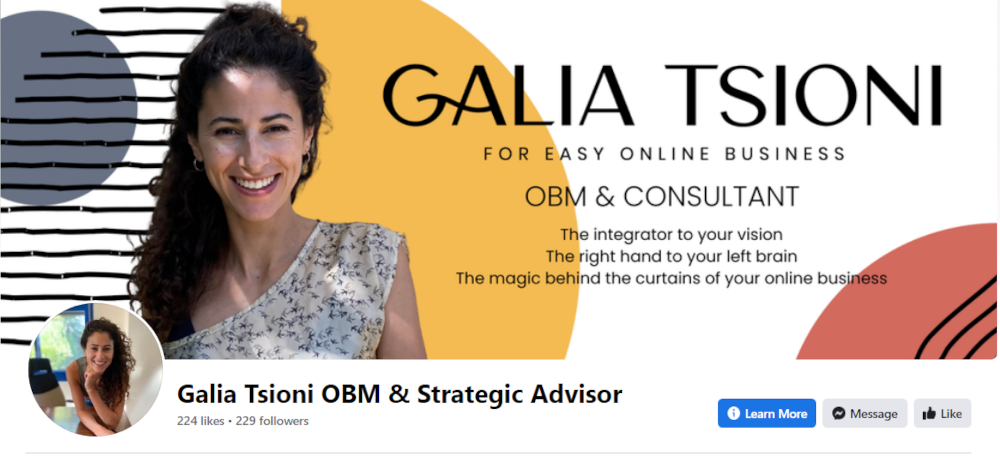 What tools do you use to run your business?
I will answer with recommendations I have on how I usually choose tools for my clients…
Operations:
Project management tools are a MUST – Asana is my favorite currently, Clickup is the runner-up
Team communication – stay out of email! Stick with the project management tool and in addition Slack if you have multiple people on your team
File storage – Google Drive >>>> Dropbox in my opinion
Standard Operating Procedures (SOPs) are so important for a business foundation. You don't need any fancy tools to do it, I actually prefer a simple google document! Feel free to email me for my SOP on how to create and maintain SOPs 🙂
Marketing
Course platform – I would go with Podia if you are just starting out (it's a small price point) or Kajabi if you want an all-in-one solution. Thinkific is another option that is middle of the road.
Website – Unless you have complex functionality needs DON'T do a WordPress website, it's better to go with a platform with less maintenance and developer needs, and that has drag-and-drop options such as Wix or Showit. If you already have an all-in-one platform some as Kajabi you can utilize their website until (if ever) it becomes too limiting design-wise.
Email marketing tool – Activecampaign and Ontraport are both top-level platforms that I love. You very quickly are limited by functionality in more simple platforms BUT there are workarounds in them, so if you already have an all-in-one tool like Kajabi it's possible to make it work.
What books or training programs have you found useful on your journey to a successful business owner that others might find valuable too?
As mentioned I have my MBA in Entrepreneurship which definitely opened my mind in the beginning of my journey. And through the years my client have participated in the majority of the 'big name' online courses for digital entrepreneurs. I've read many books from big name marketers. That being said, the recommendation the reader needs is unique based on the current issues/questions their business is facing.
In general my thoughts on books/training programs – it's great to consistently be getting new perspectives and ideas on your business and marketing through 3rd party content or courses, AND, too much will do the opposite for you. So try to keep the balance.
Do you have a story of a transformation from any of your clients?
From a client who I helped her from the beginning of the road:
"Galia was referred to me by my coach and seconded by her team While I have grand ideas, I have no idea how to pull them off; Galia knows the exact steps and people we need to meticulously work through the process. She has confidence, experience, and impeccable follow through. Some of the most valuable pieces to this puzzle." – Renee
—– for me I LOVE a ground-up project and it's so nice to know that I am able to give my client shortcuts to success.
From a client who already had a successful course business but was bogged down by it:
"I had seen a testimonial from another business owner and wanted Galia to work the same magic in my business … Anyone would be incredibly fortunate to have you on their team as we do. But promise you'll never leave us." – Karen
— one of my core drivers is FREEDOM, and I know that for most of my clients one of the drivers behind opening up their own business is freedom too. And then they start their business and start to feel more tied to it than they would a 9-5! It truly brings me pleasure when my clients (like the ones above!) can take a month off or tell me that their marriage has improved, thanks to my help.
What advice do you have for people just starting out in business?
Move quickly to get a quality offer out in the beginning and start testing marketing strategies! - Galia Tsioni
Click To Tweet
There is no use building a whole business around an offer that has no market, or investing too much in a certain marketing strategy without seeing that it works for your audience.
Learn more about Galia Tsioni of galiatsioni.com: