How Florentina Gionea Grew her Spirituality Business to 7-figures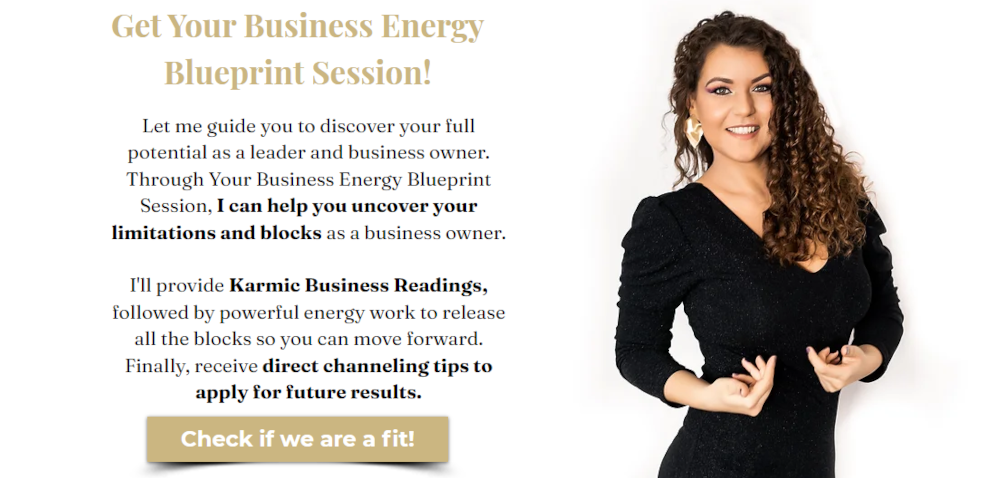 Our content is reader supported, which means when you buy from links you click on, we may earn a commission.
---
Who: Florentina Gionea
Website: florentinagionea.com
Course Topic: Spirituality
Interesting Stats: $30,000 in sales per month
Who are you and what course have you created?
I am Spiritual Mentor for Leaders and I have specialized in over 30 spiritual techniques that I apply in real life getting great results for my clients.
Due to my expertise I have created multiple types of courses on different niches but having the sub-niche spirituality, for example: courses on how to attract your ideal partner, how to manifest money, or how to level up you spirituality.
Some examples:
This are just o few of the courses we provide. For example now I am creating all my content in English and my new hybrid coaching program is called The Blissful Leader Program – designed to help leaders to create a balanced life and lead with ease and flow.
What market does your online course serve?
I work a lot with sub-niches. Mai main niche is spirituality and from here I develop other subniches like: leadership, money, love, abundance, self development.
What's the biggest benefit of taking your course?
The transformation and the results. All my students, the ones who do the work, they have gained amazing skills that they benefit from all their lives. I have students who manifested houses, cars, babies, getting married or healing themselves or others.
How did you get into the market?
I entered on my local market (romanian) in 2013, TikTok didn't exist then. I was writing on a blog every day for 6 months about vegan nutrition, they I've done retreats and live cooking classes. In 2015 my clients pivoted me to meditation and spiritual work, they were not there for the food, but for the energy. In 2018 I've started to teach exclusively online. The pandemic just exploded my business and in 2021 we hit 7 figures in sales.
Why did you decide to create an online course in the first place?
A client of mine couldn't travel to take my courses. We were working one-one for a period of time, but she was very interested in taking all the spiritual courses that I was teaching in person. So, she asked me to do a live transmission in a private group from the event site so she can get the knowledge, this was in 2015. Then I realized that I can sell that footage and more people will benefit from my expertise. So I did it.
Did you have any moments of doubt before you created/launched it?
I didn't have doubts of my teachings, being divine source connected and people asking for it, gave me a lot of trust. The struggle came when I've started my global brand, there the doubt was killing me, because on my local market I was already an established brand, being on TV weekly, having a lot of clients on waiting list. When I have launched globally I was entering a new market, nobody knew me, and that was frustrating. But then I remembered that the same divine source will guide me through and also I had a lot of experience in running a business, how to create a powerful brand and marketing and copywriting skills. So the things started to get a flow and now I am thriving again.
What's your online course like?
We have simple courses like the abundance one where you get an entire course teaching you how to unlock you abundance flow, this is a vide course. Then we add meditations, there is no course or program without meditation. Then we have a 21 days plan, that runs automatically from our platform on email for each student enrolled.
But also we have the complex ones like the hybrid coaching programs, there we have video with a presenter, audio, video recorded from a ppt, workbooks and Facebook groups for support.

How long did it take you to create your course?
As I use a lot my intuition the topics for the courses are flowing a lot for me.
If it wouldn't be about the selling them and market them, I'd create courses all day long. I love the process, it gives me a lot of energy. - Florentina Gionea
Click To Tweet
To create a course it takes me around 1 month, this means the idea, the script, the recording and editing. Being ready to launch.
Tell us a little about the process of launching your course and getting your first sale(s).
Since I was starting a long time ago its hard to remember the first sale, but I remember the first course we launched in 2018 exclusively online. It was a total disaster, because my prices were higher, at premium level, on the market than other competitors. So we hired a person to create a webinar funnel for us, but wasn't converting.
We paid quite a lot of money, then I've hired a professional video team to stream it live, again a lot of money paid. So we were so frustrated, we started to do sales calls and finally we got around 6 clients at $500 for 3 days of live teaching. It was insane. I don't remember if we got the money back on that event, but what we did, we chunked all the live material in lessons and meditations plus workbooks and added it in Teachable. And I've started to sell that course over and over again, included in a hybrid program and we ended up doing $30,000 in sales per month.
Do you have a lead magnet?
Yes I have a few, I love quizzes, here is one: What's your hidden power as a Business owner?
Offering a free meditation, so people can have a taste of the vibration and level of energy that I can offer.
What's the traffic strategy that works best for you?
It depends on the level of the business we are at. On the local market where I have hot audiences works webinars, quiz funnels and organic lead generation.
On a cold market works a lot booking a call so we create connection and trust, even if we haven't met before. As as many speaking engagements as possible.
What online course platform are you using?
I am using Teachable at the moment, but also I am taking in consideration WIX.

Do you like it?
I like Teachable is very good and user friendly, but lately their packages become more restrictive and I feel like they are taking away from my freedom of creation. For example, on the basic pack they force you to have only 5 courses even if you are a long term client as I am. The clients are also happy with the platform. Its easy for them to use.
Are there any features you wish it had?
No, they have more features that I need, I would've needed maybe an affordable package in hosting more course and not pushing me to unpublish what I have.
What made you decide to use your chosen platform over others?
It was recommended to me by my business mentor. and I've enjoyed using it.
What other tools do you use to run your online course business?
Just delivering the courses teachable, but for marketing I have an email sender we have used activecampaign, mailchimp and now brevo.
What books or training programs have you found useful on your journey to a successful business owner that others might find valuable too?
Business coaching and mentoring. This is the best thing you can do to grow.
I was struggling with everything, but since I got a business mentor everything exploded, the brand the marketing the sales. - Florentina Gionea
Click To Tweet
Do you have any big mistakes you've made along the way that you'd be willing to share?
Yes, of course. We all make mistakes. I think my biggest mistake was that I didn't realise that I am projecting my family energy matrix into my business. Let me explain: as a child I was holding energetically on my shoulders all my family, so I was translating this in my business. I was the one doing all the work, even for my team. Everything to be good for them instead of them producing for the business. I had to work through that and this is the base of my new program The Bliss Leader Program, where I teach you how to release business trauma and manifest on your highest potential.
Please share some idea of revenue.
We hit 7 figures in sales on my local market. We had the relationships program that was producing $30,000 a month for 6 months in a row. Now we are getting high numbers on the global market. So its worth the hard work and the skills involved.

Please tell us a little about what the money you've earned from your course has done for you.
For me it meant financially a lot, as I was a poor kid, we had days when we couldn't afford to buy bread. I have started college with $50 monthly money and it was a hard road until I have figured out. I have managed to get a new car, a gorgeous 5 room vila and to reinvent myself and in the business.
In addition to revenue are there any numbers you would like to share?
Honestly, the best platform for me so far it was and remind Facebook, in terms of ads but also as marketing organic. Other platforms are not developed yet for me. What we have achieved in one month that shocked me was 12,000 lead from the quiz funnel. And another Facebook ad, that with $1000 gave us 500 application to our program, and we couldn't process such a high volume.
What has creating your course done for you personally?
It gave me the opportunity to create massive spiritual awakening, and this is my mission. So basically, beyond the material stuff, gave me the opportunity to do my personal mission on Earth.
Do you have a story of a transformation from any of your clients?
I have so many stories but I will list just five.
Valerica she materialized $100,000, she is from Switerland and she wanted this money to invest in her business.
Rox materialised $10,000 in 24 hours, she just received the money out of nowhere.
Claudia got married in 2 weeks after we started to work together. Recently she gave birth to her second child.
Teo managed to heal her allergies after years of taking medicine.
Elena materialized in one day 11 new clients, she was in a retreat place with us and her team just informed her that something crazy happened today: they have a flood of clients.
What advice do you have for people just starting out?
To be patient and do the process. You also want to get the best business advice you can.
To master sales and marketing it's very important to test the product first and then to scale it. - Florentina Gionea
Click To Tweet
And if you can afford it hire a business mentor.
Learn more about Florentina Gionea of florentinagionea.com: