How Felicia Keller Boyle Earned Nearly $200K Helping Therapists Grow Their Practice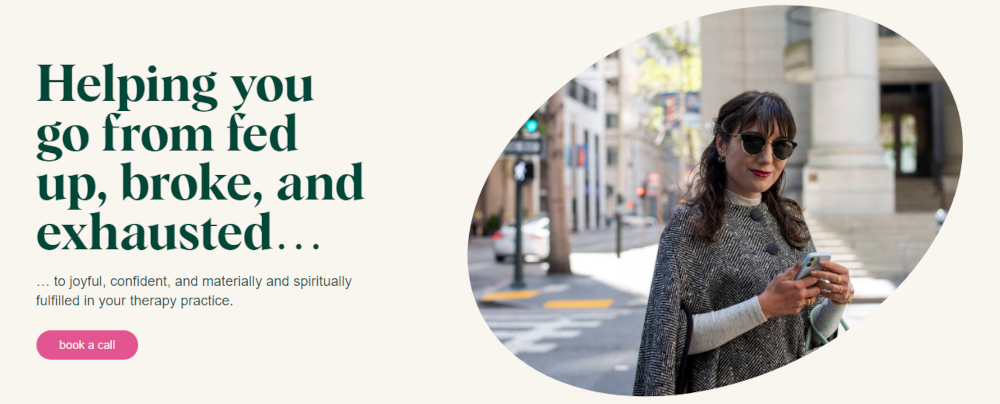 Our content is reader supported, which means when you buy from links you click on, we may earn a commission.
---
Who: Felicia Keller Boyle
Website: thebadtherapist.coach
Course Topic: Business Coaching for Therapists
Interesting Stats: 80 – 100 sign-ups for live mini-courses
Who are you and what course have you created?
I'm Felicia Keller Boyle, a private practice business coach who loves helping therapists grow their revenue, scale their businesses, and improve their quality of life. I've created a course called Liberated Business, specifically designed for current and aspiring private practice therapists. If you want to check it out, head over to my website.
What market does your online course serve?
Liberated Business serves the market of current and aspiring private practice therapists. These amazing professionals invest a lot of time and money in their training and licensing, but they often find themselves stuck in low-paying jobs. I've been there myself! That's why I created this course—to help therapists like them build thriving private practices and achieve financial freedom.
What's the biggest benefit of taking your course?
The biggest benefit of taking Liberated Business is the time saved. I've done the hard work of gathering the best tools and strategies for therapists, so they don't have to waste time on trial and error. By guiding them through the material, I empower them to make radical changes in their businesses and start seeing results faster and enjoy increases in revenue in their businesses.
How did you get into the market?
After successfully building a small six-figure psychotherapy practice while only working three days a week, I realized I had something special to offer. Colleagues noticed my achievements, and I started mentoring a younger therapist. That's when it hit me—I could help other therapists achieve the same success. I became passionate about saving them time and equipping them with the tools and support needed to create thriving private practices.
Why did you decide to create an online course in the first place?
Working with multiple coaching clients, I noticed I was having similar conversations with all of them. That got me thinking—why not bring them together in a small group for coaching? It turned out to be a magical experience! I realized that scaling my business beyond one-on-one work was necessary for significant growth. Plus, I wanted to create a supportive community where therapists could openly discuss business and money matters without any judgment or shame. So, the course became the perfect way to provide valuable content, foster a community, and increase revenue without overloading my schedule.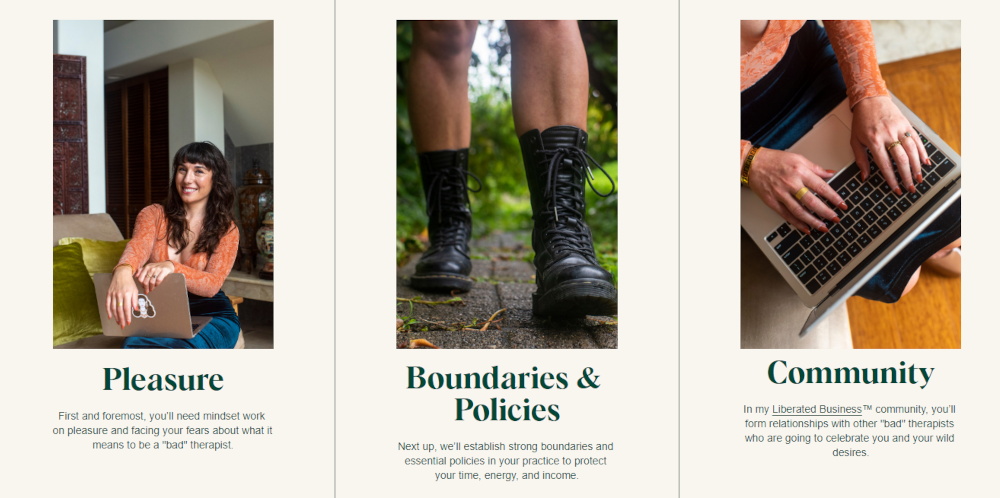 Did you have any moments of doubt before you created/launched it?
Luckily, when I was creating Liberated Business, I didn't know about the countless business coaches for therapists out there. If I had known, I might have hesitated or taken longer to launch the course. But I believed in the value I had to offer based on my mentoring experience and successful coaching of therapists into thriving private practices. I knew I had the skills and knowledge needed, and that confidence propelled me forward.
If so, what made you turn it around and do it anyway?
Throughout my life, I've learned that simply waiting to take action doesn't increase my chances of success. - Felicia Keller Boyle
Click To Tweet
So, the best approach is to dive in as soon as possible, make a bunch of mistakes, learn from them, and keep pushing forward.
What's your online course like?
Liberated Business is a hybrid group program. It has a robust on demand learning library and monthly live components.
The learning library consists of video modules on a range of topics, including marketing, pricing, and private practice policies. Each module includes a comprehensive worksheet designed to guide members through the material effectively. We also have an archive of past Q&A sessions with guest experts.
Liberated Business also includes monthly group coaching calls with me, coworking days, and live Q&As with guest experts. I am so proud of the caliber of speakers that visit us in Liberated Business. We're fortunate to have leading experts in SEO, social media marketing, business accounting, and anti-racist business practices join us and share practical advice with Liberated Business members. The Facebook group itself acts as a dynamic platform where members can freely ask questions, receive personalized feedback from me, and engage in reflective discussions or take action challenges related to the course topics.
In the initial stages, I dedicated considerable time to researching different platforms, even considering paid options like Mighty Networks or Circle. Ultimately, I found that the free Facebook group provided most of the functionality I was seeking, making it the ideal choice for our community.
How long did it take you to create your course?
Liberated Business ran for a duration of six months during its first round, and I recorded the modules in real-time as the course progressed. Each month, I committed to delivering one module and promptly recorded and uploaded it to our Facebook group. The learning library, which houses the video modules, didn't exist initially and was created on the go. By the second round of Liberated Business, I had completed the video module portion of the course. I hired a member of the program to draft the accompanying handouts. Since they were going through the material themselves, I asked if they would be interested in taking on the role of creating the handouts, and they gladly accepted. I chose them specifically because of how they embodied and practiced the Liberated Business method and I knew their contribution would be immensely valuable.
In contrast to many other course creators, I didn't spend hours meticulously drafting scripts or outlines, or editing a multitude of modules all at once. Before selling the program, I already had a clear vision of the topics I would cover and precisely what I would deliver in terms of the number of modules and the type and frequency of live calls. I trusted in my ability to create the material, as I had already lived and implemented it in my own business. I did enough preparation to effectively discuss and market the program, but I didn't actually create the course content until after selling the first spot.
Tell us a little about the process of launching your course and getting your first sale(s).
For the launch, I utilized organic marketing on Instagram and offered free courses inside my private Facebook group called "Healing Money" to generate interest in Liberated Business. In the lead-up to enrollment, I posted on Instagram and in various Facebook groups for therapists, announcing a free mini-course and inviting people to sign up through a landing page I created using Flodesk. This strategy has proven effective over the years as it allows me to add people to my email list and Facebook group. Even if they don't make a purchase immediately, I continue to build my audience and expand my sphere of influence.
At the time, my audience wasn't large, and it still isn't, so instead of fixating on achieving big numbers, I focused on building meaningful relationships with the people already present in my community. - Felicia Keller Boyle
Click To Tweet
I sent direct messages, invited individuals to schedule calls with me, and that's how I gained my initial members for Liberated Business.
Do you have a lead magnet?
Yes, I have a lead magnet called the Magic Sheets, a private practice design tool and fee calculator. It comes in the form of a spreadsheet that allows therapists to input information about their current practice and simulate revenue changes based on adjustments to their fees, cancellation policy, client load, and time off. This robust tool is accompanied by a series of video modules that guide users through its various features. Therapists who utilize this tool gain valuable insight into my perspective on building a private practice and immediately benefit from its application. After using the tool, they may consider hiring me for one-on-one coaching or joining my Liberated Business program.
What's the traffic strategy that works best for you?
Over the past few years, I focused much of my energy on learning how to get consistent in my marketing. I focused on Instagram, sending out regular email newsletters, and growing my free Facebook group. In 2023, I shifted my attention to SEO and launched a podcast, while still maintaining my other marketing strategies. Rather than solely relying on Instagram and Facebook groups, more people are now discovering me through my website or by listening to my podcast. They then join my email list and receive weekly newsletters with helpful tips and information about current offers. This diversified approach has allowed me to reach a wider audience and continually expand my reach and influence.
What online course platform are you using?
I actually use a free private Facebook group to host Liberated Business. When I started out, I didn't have much money to invest, so I looked for affordable options. Facebook groups have some awesome features for online courses like private groups, chats, event scheduling, and content hosting. Even as my business grew, I stuck with Facebook groups because they just worked better for me.
To deliver my freebie, I rely on email marketing. I set up a landing page on ConvertKit and added a pop-up on my website. With ConvertKit, I created an automated email sequence, so when someone signs up, they get the tool right in their inbox along with video modules. It's more personal and easier for users to engage with the content.
Do you like it?
Absolutely! I use free Facebook groups for perfect my group programs. If my programs didn't involve building a community, I might explore other course hosting software options. But since community plays a vital role in what I do, Facebook groups are the perfect fit.
Are there any features you wish it had?
Not at the moment. I'm quite content with the features Facebook groups offer. They meet my needs and facilitate the needs of my community, so I don't have any specific features on my wish list currently.
What made you decide to use your chosen platform over others?
I chose Facebook groups because they let me post video modules and allow participants to write their own posts. It's great for sparking discussions and interactions among members. Plus, it's easy to add or remove members as they progress through the program. Facebook groups' guides feature is perfect for organizing video modules and uploading helpful documents like worksheets.
What other tools do you use to run your online course business?
When it comes to graphics, I rely on Canva. It's a fantastic tool that keeps getting better with more features and integrations. Even if you're not a graphic designer, you can create eye-catching marketing materials and mock-ups for course content. It's a real game-changer!

What books or training programs have you found useful on your journey to becoming a successful business owner that others might find valuable too?
There's one book that I consistently recommend to all my clients, and it's "Profit First" by Mike Michaelowitz. It's a treasure trove of insights on effectively managing finances.
Another book that deeply resonated with me is "We Should All Be Millionaires" by Rachel Rodgers. It offers empowering perspectives on wealth-building.
As for podcasts, I highly recommend "How I Built This" hosted by Guy Raz. It's crucial to hear stories from diverse business owners and realize that entrepreneurship can be challenging, but perseverance is key. I've compiled a comprehensive list of incredible books that have been instrumental in my journey. Feel free to check it out here.
Do you have any big mistakes you've made along the way that you'd be willing to share?
Oh, I've had my fair share of "learning experiences" along the way! While some mistakes may have felt significant at the time, looking back, I realized they weren't as catastrophic as they seemed. Whenever I make a mistake, my top priority is to make it right. If a client isn't happy with their experience, I always strive to understand their perspective and find a solution that leaves them satisfied. Many entrepreneurs hold back from creating because they fear making mistakes, but the key is to build self-trust and know that you can handle anything that comes your way.
Please share some idea of revenue.
Over the past four years, I've been able to maintain a revenue of at least 100K, even during the transition from a traditional therapy model to a coaching business. Last year, I achieved my highest revenue ever, just below 200K!
Please tell us a little about what the money you've earned from your course has done for you.
Earning revenue from my courses has brought me a newfound sense of freedom in how I spend my time and financial stability. Since my services are paid in packages on a monthly basis, I can predict my revenue months in advance and make informed business decisions. In the last couple of years, I've had the opportunity to travel more than ever before. From spending a month in Thailand to exploring Europe for three weeks and embarking on various trips across the United States, it's been incredible. I've also managed to pay off my undergraduate student debt, consistently save for retirement, and create an emergency fund.
In addition to revenue, are there any numbers you would like to share?
In the past few years, I've hosted several free mini-courses that have been a lot of fun. I typically promote these on Instagram and other therapist-focused Facebook groups. I consistently see between 80 and 100 sign-ups for these courses, and all participants are added to my email list. To generate interest, I promote the mini-course for about two weeks before hosting it inside my free Facebook group, Healing Money. Once the course concludes, it stays in the group's guide section, serving as motivation for new members to join. While my email list is relatively small, it boasts consistent open rates of around 60%.
What has creating your course done for you personally?
Creating Liberated Business has been a game-changer for me personally. It has allowed me to consolidate all the ideas and tools I've developed over the years into a defined body of work. This foundation has proven invaluable for any future endeavors, whether it's writing a book or engaging in public speaking. I've honed my skills as a teacher and trainer, and it gives me a sense of accomplishment knowing that I've created something impactful.
Do you have a story of a transformation from any of your clients?
There was a remarkable transformation story from a therapist based in the Midwest who joined Healing Money right after receiving their license. When they started, their income was meager, and they were working at a group practice running their private practice on the side. Like many therapists, they initially planned to rely on insurance panels, even though they knew it wouldn't fulfill their aspirations for a better quality of life. However, their experience with Liberated Business changed everything. They bravely confronted their fears surrounding money, mustered the confidence to raise their fees, and implemented strategies that boosted their revenue from $45K to an impressive $133K.
Witnessing this client's journey of growth and success fills me with immense pride. It's a testament to the transformative power of the program and the incredible results that can be achieved when individuals embrace the tools, face their fears head-on, and take bold action. This is the whole reason I do the work I do!
What advice do you have for people just starting out?
If you're eager to create a course, start right now!
Get crystal clear on the transformation your participants will experience and start talking about it publicly. - Felicia Keller Boyle
Click To Tweet
Your course will likely revolve around content that resonates deeply with you, a process you've gone through or led yourself. You possess an intimate understanding of the material, so trust that you're the perfect person to teach it. Don't wait—get started as soon as possible and embrace the journey ahead.
Learn more about Felicia Keller Boyle of thebadtherapist.coach: