5 Best External Recorders for Pro Video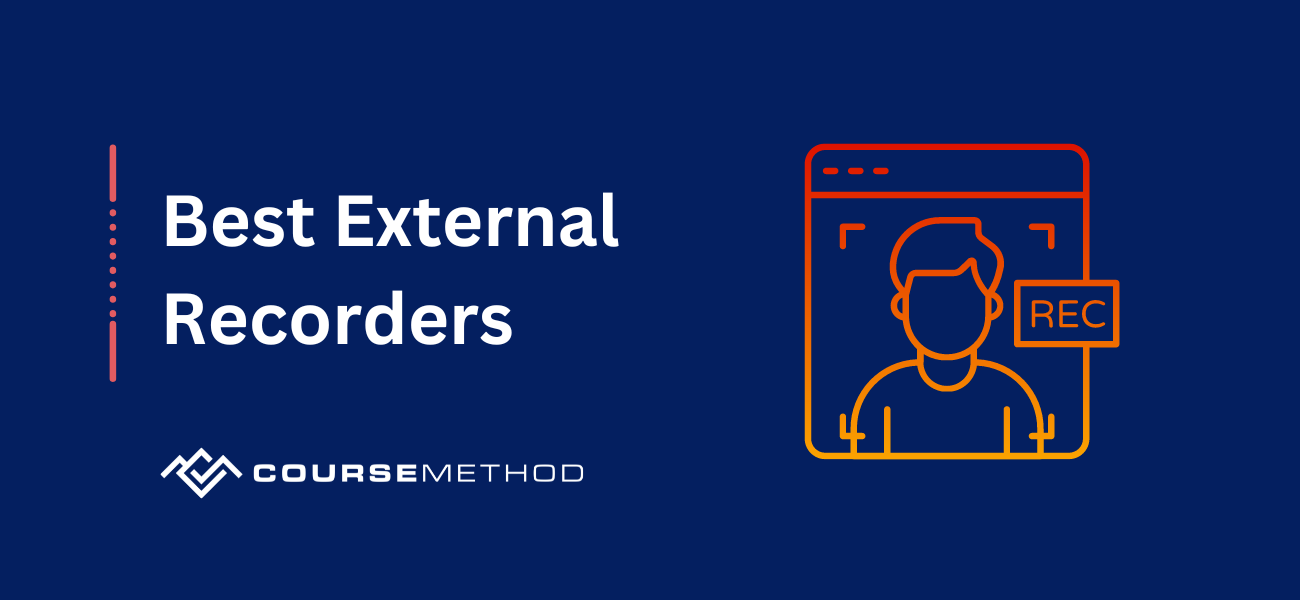 Our content is reader supported, which means when you buy from links you click on, we may earn a commission.
---
If you record footage professionally, you know how crucial high-quality equipment is. You likely have a top-notch camera or webcam with a high-performing computer. But, if you're wondering how to take your videos to the next level, consider an external recorder.
As of 2022, more than 50 million people are creating content, so whether you do makeup tutorials, online courses, or vlogs, there's some competition.
Add one of these external recorders to your recording setup to improve your videos substantially.
External Recorders Explained
An external recorder is a monitor you can connect to a digital camera to film in a higher resolution with detailed HDR or 4K+ screens. Many content creators use external recorders to improve the quality of their videos.
An external recorder can connect to your digital camera using an HDMI cord, making it easy to capture better footage and monitor your videos as you record them.
So, who uses external recorders? Many people can benefit from an external recorder. If you're wondering if an external recorder can help you, below are some of the top professions that can benefit from one:
Content creators
Performers
Online course curators
Game streamers
Filmmakers
Telehealth professionals
Anyone who records videos or uses a webcam or digital camera can often take advantage of external recording.
Key Benefits of Using External Recorders
Below are several of the top benefits external recordings offer. If you're debating whether or not an external is a good investment
High-Quality Footage
The top benefit of an external recorder for most people is the improved footage quality. An external recorder can exponentially improve your film quality and doesn't require any compression. In addition, the clean output provided by the best external recorders allows you to capture exquisite footage for your viewers or students.
Extra Back-Up Recording
Anyone who does anything tech-related knows that saving your work and backing up your content is rule number one. But, unfortunately, even backups can be lost. External recorders give you an extra lifeline, so you have another backup to rely on if something goes wrong.
Doubles as a Monitor
Most cameras have a low-quality screen that isn't super helpful. External recorders are often larger than other cameras, giving you an extra monitor to look at while recording. The brightness, resolution, and overall quality are better than your average camera, making it easier to assess your recordings while filming.
No Record Time Limits
Many mirrorless and DLSR cameras have recording time limitations. External recorders help you bypass this recording limit so your videos can go on as long as you like. While some content creators may make quick videos, many people need to record multiple hours of content in one file. The best way to do this is with an external recorder.
Professional Audio Inputs
When shooting on smaller cameras, it can be tough to achieve pristine, professional audio recordings. External recorders are more versatile and can provide balanced XLR inputs, creating better audio that makes your content more enjoyable for viewers.
No Transcoding
If you use different cameras for recording or delivering your footage from one format to another, things can get messy and difficult. Using external recorders seamlessly saves your recordings in a common professional format, so you don't have to transcode or standardize your code after you record.
5 Best External Recorders
1. Atomos Ninja V: Best Overall External Recorder

The Atomos Ninja V is one of the best external recorders for filmmakers and content creators. It's approximately eight inches wide and six inches tall, offering a decent-sized screen for easy viewing. The compact HDR monitoring displays a beautiful and pristine image. The recorder is lightweight and easy to set up anywhere you want.
It comes with a battery eliminator, international DC power supply, MasterCaddy II, and Quick Start Guide, giving you everything you need to get started with this device. This recorder is one of the most powerful options, making it ideal for people who record long videos frequently.
Pros of Atomos Ninja V:
Playback features
Lightweight design
Wide compatibility
Handheld or mountable
Cons of Atomos Ninja V:
Sometimes you may encounter delays
2. Blackmagic Video Assist 4K: Best for Small Details

The Blackmagic Video Assist 4K is a superb external recorder with a seven-inch high-resolution monitor with ultra HD. It's one of the best options because of its exquisite quality. It captures every minute detail, so it's perfect for professionals who need videos that can show small items.
For example, online course creators or makeup reviewers may showcase products or diagrams. It offers a 10-bit 4:2:2 ProRes and DNxHD recording, so every video is stunning and vibrant.
Pros of Blackmagic Video Assist 4K:
Professional quality
Excellent resolution for raw footage
Large screen
Wide compatibility
Cons Blackmagic Video Assist 4K:
3. Atomos Shogun 7: Best Recorder for Multicam Setups
If you have a multi-camera setup, the Atomos Shogun 7 recorder is a fantastic option. It has real-time 4K recording in multiple formats and has a plethora of ports so you can hook up multiple cameras and catch different angles to make superior footage.
The real-time Dolby Vision HDR output is top-of-the-line and delivers professional-quality footage. It can also capture your footage in slow motion or sped up. The audio is well-balanced and crystal clear, so it's useful for professionals who need top-notch audio in their videos.
Pros:
Excellent audio
Multicam capabilities
Headphone jack
Bright display
Cons:
4. SmallHD 702 Lite: Best Compact Recorder
If you want a smaller recorder for on-the-go filming or a small recording space, the SmallHD 702 Lite is the best option. While the device is tiny, it's loaded with features and has powerful external recording capabilities. It has advanced features to improve the quality of your videos, such as different scops, focus assist, pixel zooming, and more!
It can be mounted or held, making it easy to record in any situation or environment. While the monitor is smaller than other external recorders on this list, it's vivid and easy to view. It has both HDMI and SDI inputs, making it compatible with many cameras and other devices.
Pros:
Lightweight and small
Affordable
Focusing features
Consistent performance
Cons:
5. Atomos Ninja Inferno: Best for Long Recordings
The Atomos Ninja Inferno has a super long battery life and comes with backup batteries. This is the external recorder for you if you take super long recordings that can go on for hours. The powerful batteries allow you to record for hours without stopping or lagging.
It's also perfect for people who record on the go and may not be near a power source to recharge for hours. With many supported log formats and high-quality AtomHDR, it's hard to find anything wrong with this external recorder.
Pros:
Backup battery
Long battery life
Wide compatibility
Capacitive touchscreen
Cons:
How To Choose an External Recorder
If you're not sure which external recorder is best for your needs, consider the factors below.
Clean Output Signal
A clean output signal should be your number one consideration. You may not capture the high-quality videos you want without a clean output signal.
All the devices on this list have clean output signals, but reading user reviews can also give you an idea of the signal strength if you decide to explore other products.
Inputs and Outputs
You must select a camera with the proper input and output capabilities for your setup and camera. Check your camera and computer for specific ports and select a camera with suitable compatibility, whether it's HDMI, SDI, or something else.
Screen Size
Lastly, consider how big you want the screen to be. If your main concern is having an extra monitor to view your videos as you record, you'll want a recorder with a larger screen, likely over eight inches diagonally. But a smaller screen can suffice if you record on the go and focus on film quality.