10 Best External Camera Monitors for Video [Updated for 2023]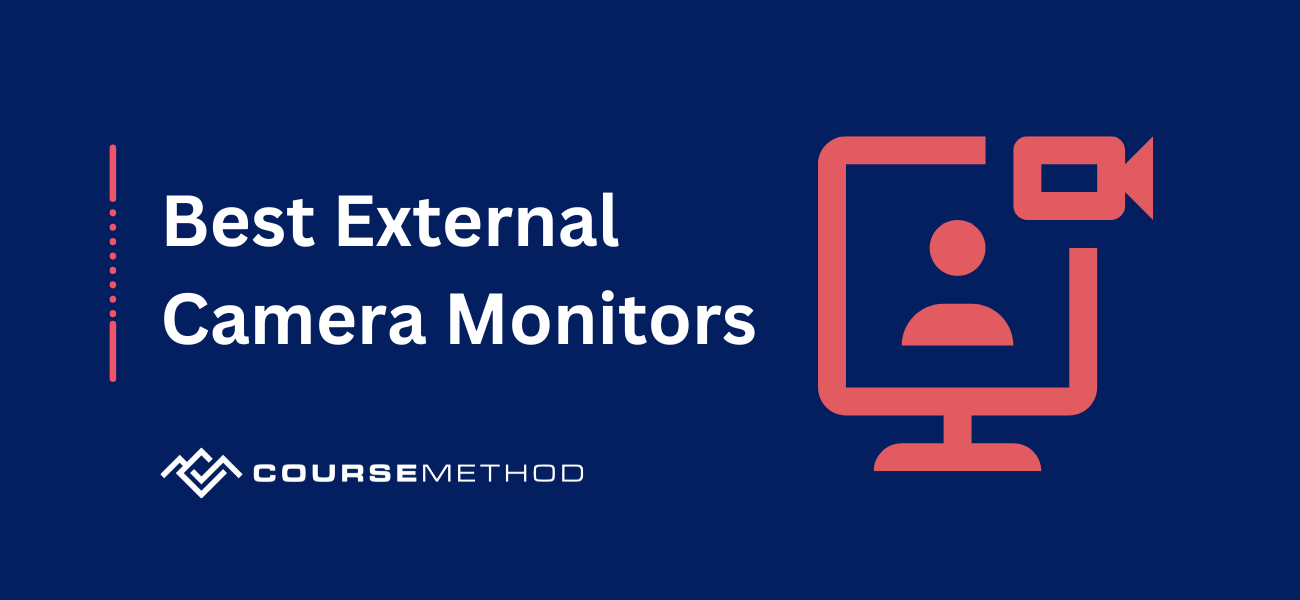 Our content is reader supported, which means when you buy from links you click on, we may earn a commission.
---
In this guide, you'll learn about the best external camera monitors for video recording.
According to market research, video will take precedence over most other types of content, so the quality of your videos and images is more important than ever.
If you plan to create digital content of any kind, you'll need a high-quality videography setup that empowers you to make edits and adjustments as you film. For influencers and digital course creators, having a high-quality camera is necessary.
In addition, an external camera monitor can dramatically enhance your video (and photo) quality, maximizing your appeal to prospective viewers and students.
This guide covers everything about external camera monitors, including key features, pros and cons, and the best options reviewed.
We've reviewed the best external camera monitors based on various factors. These factors include budget, size, resolution, contrast ratio, and many more. We've also looked at what the top video producers online use for their external camera monitors, scoured over user reviews, and spoken with other video professionals.
Lastly, the reviews for the best external monitors have been updated in 2023, so you know you're getting the most current information.
Quick Suggestions for External Camera Monitors
If you don't have the time to read this complete guide, then check out the top picks for external camera monitors and the different scenarios I suggest them for:
What are External Camera Monitors?
External camera monitors (or screens) are video recording accessories. They display the imagery and audio from your camera on an external screen.
They allow you to see pictures and videos in higher resolution and with more accurate color distribution and tone. In addition, an external camera monitor will let you see a bigger view. Multiple people can see the picture from further away.
Most cameras have viewfinders, often of poor quality and lacking crucial features. External camera monitors allow photographers, videographers, and vloggers to view their pictures in great detail and make time and money-saving decisions in real time.
Why are External Camera Screens Essential?
External camera screens are invaluable for content creators since they offer many benefits. Here are the main advantages:
An external camera monitor can empower you to capture a better shot since you can see the image in greater detail and visualize your outcome.
You can make more informed decisions about your production conditions, adjusting for light, placement, and other factors in real-time.
An external camera screen is also indispensable for minimizing time spent on post-production editing and adjustments.
You can use external screens to communicate more clearly with other production team members in real time.
They can also help you save your camera battery life because you can get the best shots quicker.
Choosing Between an External Monitor vs External Recorder
When it comes to shooting video, considering whether you need an external monitor versus an external recorder is important.
An external recorder is its recorder and does not have to be a monitor.
This goes both ways.
An external monitor does not have to be a recorder. It may just display whatever the recording device is recording so you can see it easier than through a viewfinder.
Ultimately, you need to determine your needs to decide if an external monitor or an external recorder is the right option for you.
Both can help you capture better-quality footage. The recorder will allow you to record better-quality footage, while the monitor will allow you to spot mistakes quickly. At the same time, the recording takes place instead of later on in the editing room.
If you're set on buying an external camera monitor, look at the most important features to consider before deciding.
11 Important Features to Look for in an External Camera Monitor
External camera screens are relatively uniform in design and capabilities, but there are certain features to look out for when purchasing your monitor.
Consider the size of your external screen, its resolution, and the brightness level as essential features, but take a look at the rest before you decide.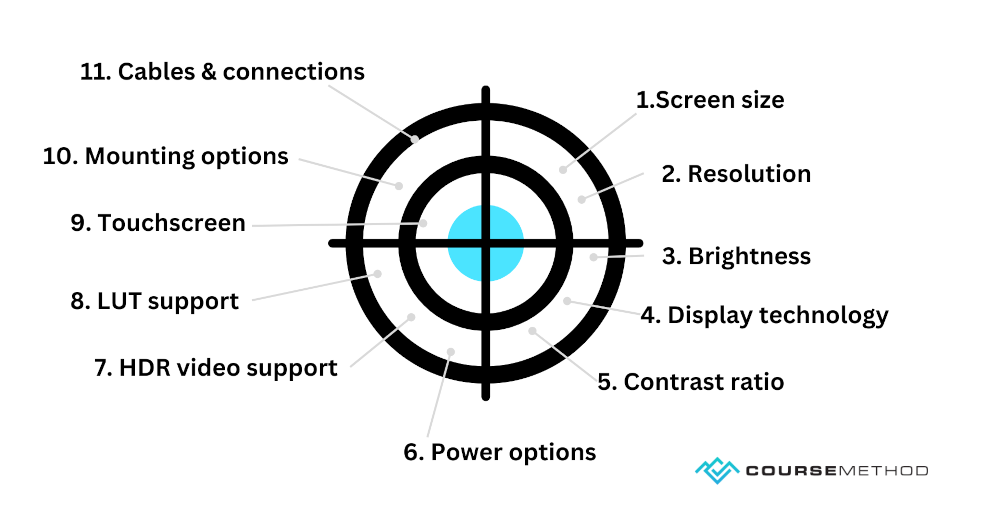 1. External Camera Screen Size
The size of your external screen will depend entirely on preference.
Regarding external camera monitors, the standard range is from 5 to 7 inches. This works well, especially if you plan to mount it to your camera. The next size up is 7 to 9 inches. These monitors work well with a more extensive kit or remote viewing.
You should choose a smaller display if you want a portable monitor to bring on trips or to events. Remember that if you're mounting your monitor onto the camera itself, the display's size and weight play a significant role. If you're shooting with a handheld, a 7-inch display may weigh down your rig, making it more challenging to balance.
Monitors of 10 inches or more are for remote viewing and not for mounting on your camera.
You'll need to opt for a larger model if you prefer a large screen size for critical focus, framing, and collaborative work.
A larger screen will allow you to see every detail while filming and observe if your focus is spot-on. Plus, a larger monitor means easier access to the functions of your monitor.
2. Camera Monitor Resolution
The resolution on any digital device will determine how sharp the image looks. In other words, the resolution dictates the detail you can see, measured in pixels.
The greater the number of pixels, the higher the resolution.
While 4K displays are becoming more common, they're not necessary to playback 4K footage.
With so much content available in 4K, it's worth investing in a monitor with at least a full HD resolution (1920 x 1080 pixels)–also known as 1080p.
3. Display Brightness
Did you know that every screen has its numerical value for brightness? You might see the units noted as cd/m2 or NITS, but they're the same. A higher number means a brighter display, so keep that in mind.
Your external monitor will either have a fixed or variable brightness setting. If you don't mind a set brightness, you can opt for a cheaper model that doesn't offer adjustable features.
However, if you plan on shooting in bright or low-light conditions, you may need adjustable brightness.
For shooting outdoors, a brightness of 1500 nits on a monitor is usually perfect unless you're working in direct sunlight. In this case, you can always create your shade.
Changing your brightness level can help you adapt to evolving conditions and maximize your footage.
4. Display technology
External monitors offer varying display technologies. While some monitors feature an IPS display, others utilize an LCD, LED (or sometimes both), or an OLED. Here's a quick breakdown of these:
IPS stands for 'in-plane switching' and often has faster response times and wider viewing angles.
LCD stands for 'liquid crystal display' and is often less expensive.
LED stands for 'light emitting diode,' usually has longer lifespans, and provides sharp, high-quality images.
OLED stands for 'organic light-emitting diodes.' OLED does not require any backlighting to work. These monitors are usually more expensive than LCD or LED.
Deciding among these can be tricky; however, IPS, a combination of LCD/LED, or OLED are great options to look out for.
In contrast to other options, OLED and IPS offer wider viewing angles without compromising image quality while providing better contrast and deeper blacks.
5. Contrast ratio
When it comes to contrast, it's all about measuring the difference between the brightest white and the darkest black that your monitor can produce. The ratio of this measurement is called the contrast ratio, and it's often written as something like 1000:1.
One point is that there are two contrast ratios; dynamic and static. Manufacturers love to brag about their monitors' contrast ratios, and they often use the dynamic contrast ratio in their marketing material because it sounds much more impressive than the static contrast ratio.
The dynamic contrast ratio measures brightness levels you may never see on your screen, so take those claims with a grain of salt. If possible, try to compare the static contrast ratio of one monitor to another at the same brightness level.
6. Power/battery options
Did you know that different types of batteries can power up external monitors? Some can even come in packages with the manufacturer-recommended rechargeable battery and a compatible AC adapter.
On the other hand, specific monitors use a different type of battery, usually made by Sony or Canon. In those cases, you might have to buy them separately.
7. HDR video support
HDR stands for 'high dynamic range' video technology. HDR videos show higher contrast between white and black and more colors.
It might be nice, but most people don't have HDR screens. If you have clients viewing your video in HDR, it might matter more to you when selecting your external monitor.
8. LUT support
LUT stands for 'lookup table' and offers a way to enhance the color and contrast of your video footage.
Monitors with SD-card slots for LUT loading are a favorite among filmmakers. You can experiment with different color options while shooting and see how the final product may turn out.
Some even allow you to "burn in" the LUT to the footage while recording, so you can get an idea of what the result might look like even during production.
9. Touchscreen
Whether to prefer touchscreens comes down to personal choice.
Touchscreen monitors are a double-edged sword – on the one hand; they improve user experience by providing a more efficient and responsive interface. But on the other hand, if the quality is poor, you might end up frustrated by their unresponsiveness.
Additionally, touchscreens are more susceptible to greasy finger marks.
10. Mounting options
The mounting options are essential if you plan to mount your external monitor to your recording device. In many cases, videographers have it set up remotely.
If you plan on mounting your monitor, the standard cold shoe mounting bracket is a consideration. With this bracket, your monitor will sit on top of the camera.
You may need to find an adjustable arm if you want more adjustment options. Some monitors will come with these, or you may purchase them separately, but if buying them individually, you will need to research if they will work with your camera.
11. Cables and connections
How you connect your external monitor to your recording device is a consideration. HDMI cables are a typical connection for DSLR cameras. It would be best to inspect whether you have a standard HDMI port for the connection.
Another common port type is an SDI port. These are more typical on expensive cameras.
Most external monitors include several ports and can be used with most camera options, but you must double-check before buying any cables.
Low-Cost External Camera Monitors (under $200)
An external camera screen can dramatically enhance your shooting experience and save time and money. But don't worry, even without a big budget; you can still find one that will fit your needs.
This guide includes the best external camera screens available on the market today. This section contains the best external monitors for a budget price.
This external camera packs a punch with its many unique features and reliable capabilities. Its features include a full HD Resolution of 1920×1200, which is ultra-bright and colorful.
It also has a 7-Inch Display, ideal for those seeking an average-sized external monitor adaptive to most uses. Its rugged aluminum frame will protect your display from the elements.
You can also benefit from professional color calibration, which ensures accurate representations of your colors and a fixed brightness level of 450nit.
Lastly, this device boasts an ergonomic design. The screen is 18mm thick and lightweight at 320g, making it exceptionally portable and easy to use.
Pros:
There are many advantages to this product, including the following:
Flexible Features: This monitor has highly flexible features adaptive to most uses.
Excellent Image Quality: This monitor pairs high resolution and color calibration for a vibrant display.
Extremely Light: This is the most portable option.
Cons:
Drawbacks include:
Fixed Brightness: This feature may disadvantage those seeking to use the device in bright sunlight.
Not a 4k Display: Although the monitor has 4k feed-through capabilities, it is not technically a 4k display.
This 7-inch field monitor is lightweight, flexible, high-quality, and affordable.
It packs a punch with its many crucial features and functionalities.
The DC-70 has a 1024 x 600 IPS LCD. You can adjust critical features of your image within the monitor, including temperature, peaking, tone, pixel-to-pixel zoom, brightness, and contrast, making this the most customizable device.
The DC-70 also has multiple inputs for HDMI and AV and an HDMI loop output–perfect if you plan to project your videos elsewhere.
Pros:
Customizability: This display is far more customizable than most, making it excellent for professionals.
Sunshade Hood: This screen has a hood to protect your display from the brightness.
High-Tech Solution: This display is ideal for professionals.
Cons:
Portability: At 1.96 pounds, this device is heavier than most.
Color Issues: Some users report experiencing color loss when transitioning to the field monitor kit.
This affordable option offers an excellent return on your investment.
The Andrycine A6 Plus V2 is a touchscreen monitor with a type-c charger and auto-mirror functionality. It clocks in at 5.5 inches and offers decent options at 440 PPI and Full HD with an adjustable backlight.
This screen has a tilting arm, allowing users to adjust it while filming, and it supports 4k formats with an HDMI and UDH input/output system.
Pros:
Flexibility: Unlike other devices, the A6 Plus V2 offers an adjustable arm, allowing you to rotate the screen.
Auto Mirror: When you rotate the screen, the image will adjust immediately.
Cons:
Battery Charging: Although this device accepts three power sources, you'll need to buy power adapters separately.
Lower Resolution: This screen has a lower resolution than most alternatives.
This monitor offers excellent value for your money since it comes with a screen, articulating arm, and an HDMI cable kit.
The monitor has a resolution of 1920 x 1200 and offers UHD and DCI 4k resolution pairings. It has HDMI and composite A/V inputs for easy connections and includes zebra exposure guides and 1:1 pixel mapping for an accurate depiction of your shots.
This kit is perfect for beginners and those seeking to acclimate to videography.
Pros:
Removable L Series Battery: With an L Series battery, you can expect this monitor to last longer than others
Accessories Included: This kit comes with a ball shoe mount and sun hood.
Cons:
No Touchscreen: This screen does not have touchscreen capabilities, so it's a bit more old-fashioned.
Low Brightness: Brightness is static at 450cd/m3, which is lower than most alternatives.
The Lilliput A7S 7'' full HD Monitor offers easy 4K Support with HDMI Input and Loop Output. It has auxiliary camera functions like exposure, color, peaking, and more.
The monitor is highly lightweight and durable, and with 500 cd/m2, it has a relatively high level of brightness and high contrast.
The screen also comes with a sunshade to protect it from harsh sunlight.
This screen is an excellent choice for beginners and advanced videographers alike.
Pros:
Pricing: This monitor is more affordable than most and offers many crucial features.
Lightweight Yet Durable: The Lilliput monitors are light and robust, so they should last a long time.
Cons:
Few Customizable Features: This monitor is less ideal for advanced users since it doesn't have the same sophisticated features as others.
Plastic Shell: Unlike others, this screen has a plastic shell (rather than metal)
Mid-Range External Camera Monitors ($200 to $500)
These monitors offer a lot of features over the budget section. Take a look at what you can get in this price range.
The ultra-bright, high-resolution Desview R7 Full HD Monitor is the perfect choice for course creators.
This monitor has a 1920×1200 screen and supports 4k with HDMI input and output (no delay). It has professional monitoring capabilities, including brightness, Waveform, Luminance, Vectorscope, and more.
A high-contrast monitor ensures you can always see your monitor—even in the brightest sunshine—and the package includes micro and mini HDMI cables, a D-tap cable, a storage bag, cold show, a u-disk, and microfiber cloths.
Pros:
Weather-Proof Touchscreen: This monitor has a weather-sealed touchscreen, combining the best of both worlds.
Adjustable Features: You can adjust brightness, waveform, and more.
Brightness: At 2600nits, this screen is among the brightest available.
Cons:
Price: Although affordable, this monitor is more expensive than others on this list.
Size: A 7-inch screen may be too large for you if you want your monitor to be fully portable.
The Atomos Ninja V 5'' 4k HDMI Recording Monitor is an industry-standard in external camera monitors.
This 5-inch camera features a 1920 x 1080 touchscreen display with a 10-bit monitor–perfect for high-quality video. It can also record Apple ProRes RAW up to DCI 4k60, allowing you to protect your data.
The screen has a brightness of 1000nit, so it's pretty bright, though not as bright as others on this list. You can adjust the brightness within the device, which is a valuable feature.
Use this monitor if you plan to film mostly indoors.
Pros:
Indoor Capabilities: With adjustable brightness, this monitor is ideal for indoor use.
Lightweight: This monitor weighs under one pound, which is an advantage if you plan to travel.
Cons:
Price: This screen may be prohibitive for some, though it is affordable for its value.
Limited Output: This device has limited output options.
High-End External Camera Monitors (over $500)
Here we have top-of-the-line external camera monitors. Two are around 5 inches in size but with the highest detail. The other is a 19-inch monitor. Take a look and see if any of these fit your feature requirements.
Blackmagic is a leading company in the videography world, and this device testifies to their expertise.
The Video Assist 5' 12G HDR is a 5-inch display with twitch HDR support that offers a resolution of 1920×1080—an excellent combination for vloggers and course creators seeking to enhance the visual appeal of their shots.
It is compatible with L-series batteries, so you can use it for longer than most other devices without switching out your batteries.
Pros:
Professional Tools: This device offers professional-grade tools, including a built-in SD card.
Super Bright: This monitor is very bright, so you can easily use it in outdoor settings.
Cons:
Expensive: This screen is more expensive than others on this list.
Minor: The display on this screen is relatively small, so keep this in mind.
The Sumo 19SE is an SDI and HDMI-compatible monitor that allows extra-long recording times.
This 19-inch monitor is large and perfect for framing and adjusting crucial videography features during shooting.
The screen has 1200nit brightness and offers a resolution of 1920x 1080—superior optics when compared to other leading brands.
The Sumo 19SE has a fully functional HDR touchscreen and built-in color adjustment features to see your videos in ultra-high definition and detail.
Pros:
Four Independent Outputs: This device allows for multiple connections with four outputs.
Extra-Large: For severe videographers, a large monitor is ideal.
ProRees RAW Capabilities: Record up to 6kp30 with ProRes RAW and preserve the quality of your data.
Cons:
Size: This monitor may be too large for some users.
Price: This is one of the most expensive models, though it offers excellent value.
This professional-grade touchscreen monitor is ideal for high-tech professionals and beginner videographers alike.
Its weather-resistant touchscreen is protective against the elements but also has a brightness of 2200nits, making it perfect for the sunshine.
Like the VILTROX model, this monitor has customizable controls and features, including exposure, focus, and balance adjustments. With HDMI and SSD inputs, you can connect it to various monitors.
Despite its small size (5-inch display), this screen offers HD and high-resolution optics.
Pros:
Touchscreen: Many external camera monitors do not have touchscreens, which is a distinct advantage.
Advanced Features: This screen offers advanced features and settings for professionals.
Outdoor-Friendly: The ultra-bright display is ideal for outdoor shooting.
Cons:
Significant: This monitor is more important than most, making it harder to carry around.
Price: This external screen is much more expensive than most other options, though it offers better value for your money.
Choosing the Best External Camera Monitor to Work with Your Recording Device
Undoubtedly, having an external camera monitor offers you a distinct advantage over not having one.
However, there are also a few essential considerations you need to keep in mind, which we'll cover here.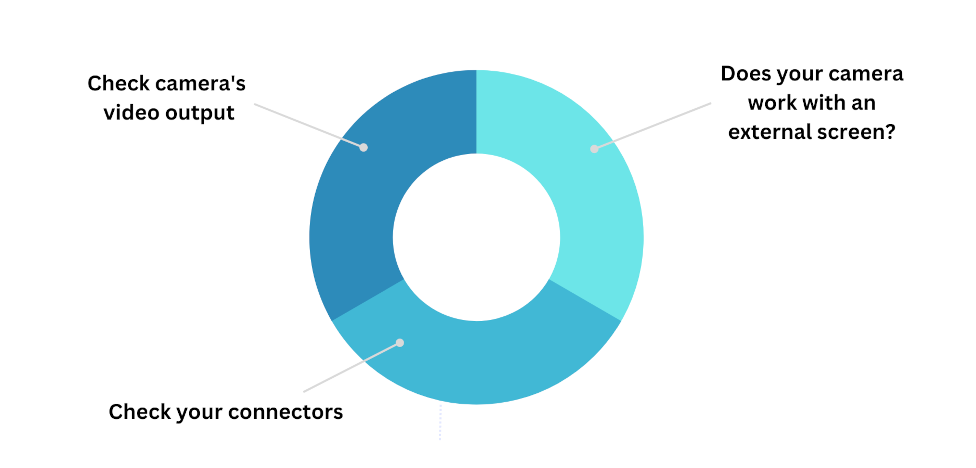 Will Your Camera Work with an External Screen?
While most cameras work with external screens, some do not.
There is a simple way to tell if your camera is compatible with an external display. Simply check to see if your camera supports video output. Video output can include an HDMI or USB Video Class (UVC) output.
If your camera can't connect to external displays, you likely won't be unable to use an external monitor. In that case, you may need to invest in a different camera.
Check Your Connectors
Check your connectors to determine whether you can use your camera with an external screen. For example, if your camera uses HDMI output, plug in an HDMI cable and test it.
You should be able to connect your camera to the external screen seamlessly.
If you already have an external camera monitor and do not see a display on your external screen, you may need to switch the cable you are using.
Cables can age, fray, and gather dust and debris, but most are inexpensive.
Ensure that you have a suitable cable on hand before trying to use your external monitor.
Check Your Camera's Video Output
You may need to check your video output if you've plugged your external screen into the camera but can still not see the display.
While some cameras will automatically transfer images to the external device, others require more troubleshooting.
You can typically find a video output option inside your viewfinder's settings. Alternatively, you can turn off the info display in your viewfinder to see if that works.
Final Thoughts on External Camera Monitors
In the end, the specific external camera monitor you choose will come down to the exact needs of your projects. You don't want to spend a small fortune on a monitor just because your favorite YouTuber has one.
Keep it simple and decide based on your specifications.
Will you be using the monitor for all your shoots? If so, you may want to invest in the best external monitor you can afford.
Consider the three most significant factors for your external monitor, and then start shopping!