How Erika Cramer Created Her Sistahood and Earns $90K – $100K per Month

Our content is reader supported, which means when you buy from links you click on, we may earn a commission.
---
Who: Erika Cramer
Website: thequeenofconfidence.com
Course Topic: Business & Coaching
Interesting Stats: Podcast is #6 in the country for mental health/personal development
Who are you and what course have you created?
I am an international confidence coach, author, speaker, and podcast host. I'm a bold stand for women everywhere to reclaim their self-confidence.
I support women in life and business through my programs at thequeenofconfidence.com.
The Sisterhood – is my year-long coaching experience for women who want to make peace with their past and reclaim their self-confidence
The Start Up Squad is a coaching program for female coaches who want to amplify their audience, have more impact and influence, and create 6 figures from their coaching business. All done organically – no ads, no funnels just organic growth.
Monetize your following with integrity and authenticity.
What market does your online course serve?
Sistahood – women (micro niche is Mothers) who want to reclaim their confidence and start working on themselves
Start-Up Squad – Start Up female coaches who want to grow their coaching business through organic marketing (social media)
What's the biggest benefit of taking your course?
Sistahood – healing your past and learning how to create the life you desire (community of women so you feel seen and understood)
Start-Up – Building an engaged community on social media, getting clients, and making money in your business without ads or complicated funnels

How did you get into the market?
Sistahood – was years of my own personal healing – after surviving many traumatic experiences, from childhood sexual abuse, being in and out of the foster care system, car accidents, and a whole lot of loss, I wanted to create something that supported women and became an example of how you can heal your personal story to transform trauma into triumph.
Start up Squad – In 2018 after having my second son (a VBAC at home) I decided I would not go back to corporate and I would start my coaching business – we were in the worst financial position in our lives, my husband's gym business was struggling and we had a second child and I had decided I didn't want to go back to my $80k per year job. (Bad timing, but the most perfect time).
I launched my biz in 2018, started my podcast in my car, did events, and sold from my stage.
1:1 coaching – built a YouTube and started my Instagram. Finally that year the business did $160k – our second year we did $554k – on 2020 the pandemic I have many coaches asking me how I did what I did (we have made over $1 million from Instagram). I started a small group mastermind taking 6 coaches through my process – they killed it – that next year I decided to open up a coaching program for coaches who are just starting to teach them the steps and the tools I had taken – that's how the Squad was born!
Why did you decide to create an online course in the first place?
I actually don't really have a course, it's a hybrid – I call it a program or experience. There are evergreen elements and live elements and of course always a community (it's the foster kid in me).
As we know only 3% of students finish a course – so when we decided to create the programs (Sistahood was first) it started as an in-person live event model – then moved into a virtual version then once covid hit we went fully online.
I wanted to help (and still do) as many women as possible with my message and the online world allows you to go global and reach millions.
Did you have any moments of doubt before you created/launched it?
100% all the time! I questioned everything and I made it super cheap when I first launched (a no-brainer) just to PROVE to my subconscious that women actually wanted what I had to offer (I think it's a great idea to do that in your early days btw!).
In our first "launch" we made $25,000 in 5 hours, when we were financially struggling – looking for coins to buy bread and had everything on a payment plan, imagine what that did to my self-confidence! It was a boost and helped me to believe in my worthiness. The price went up as did the demand and now we have a great community, program, business, and lifestyle.
If so what made you turn it around and do it anyway?
My drive, my belief in the work, my message – the terrible experiences I had and the skills I had to support women who felt like I once did. You see, when we make it about ourselves ("who am I to do this, I am not good enough, I, I, I"…) we forget why we are doing it in the first place.
It's not about YOU, it's about serving others. So we need to get out of ourselves and step into SERVICE. - Erika Cramer
Click To Tweet
What's your online course like?
We have recorded modules (video) we offer audio formate and text for those who would rather listen on the go (like a podcast) or read like a book.
We do live calls coaching and we offer masterclasses and meet-ups online and in person and encourage our members to get together – we get them to find accountability sisters so they can meet up and do the work together in smaller groups or pods.
I also send physical products – full-color a4 workbook and t-shirts plus goodies in the mail – with all of my programs snail mail is included and so fun!

How long did it take you to create your course?
The Sistahood was 6 months of planning and working out if I was going to get them the end result of changing their lives, creating confidence, and being fully expressed – what would they need. We put steps down and mapped out how long they would need to compete and get a result. As coaches, we can pack so much in a short time – however, I think "how long do I need to get this client the result" then we determine the timing. We trialed it in person (live events) before going virtual
Start-up took a year and a half as I had feedback from the first group I did it for 9 months.  I edited loads and added more parts simplified it and decided on start-up coaches specifically hitting their first 6 figures ($10,000 per month).
Once we launched we created $50k within the first 2 months and added $18k to our MMR (monthly recurring revenue model).
Tell us a little about the process of launching your course and getting your first sale(s).
I had been connecting and showing up to my Instagram and podcast audience since day 1 (before we had anything to sell) and just BUILT RELATIONSHIP – showed up added value.
Then I told them what I was thinking, I got their feedback, and added them to an early bird waitlist I posted EVERYTHING I was doing and creating and thinking.
I did the waitlist and shared it. We got out the first sale and then 5 hours later had 25 members join (I had showed up to my social media audience daily and it really helped).
Once we launched I had my audience/followers ask if there would be a global Sistahood so 6 months after launching the program we launched the online program version of it and called it the Global Sistahood.
Do you have a lead magnet?
Yes, my podcast is my best lead magnet I get loads of clients from there as they get to hear my style and get results ahead of time.
I also run a "What it takes to change your life masterclass". That's been great as someone who signs up for that name is so ready to work on themselves.
For business I do reels and posts on Insta and my podcast Biz series episodes. I also have a Creating your six-figure mindset masterclass that works well to lead into the application.
But to be honest, my Instagram posts and stories are the best to start conversations.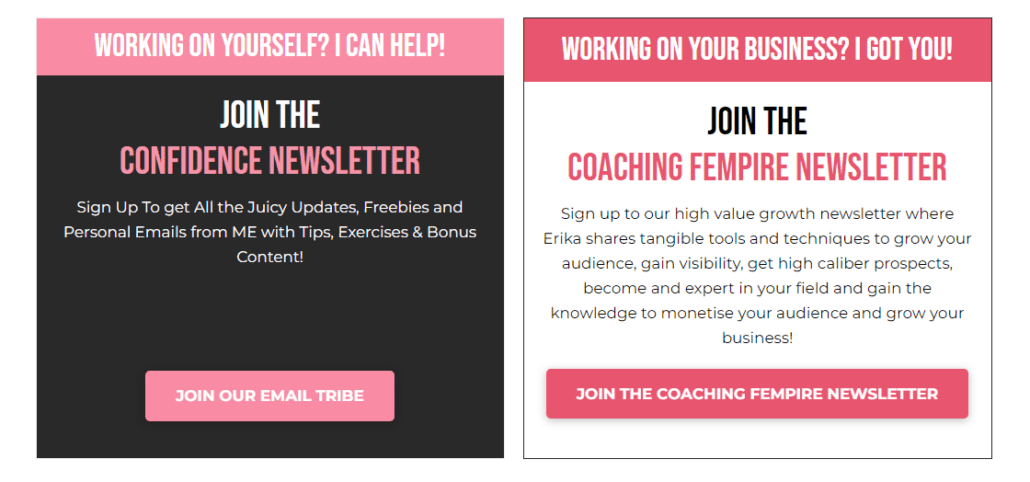 What's the traffic strategy that works best for you?
Organic growth – showing up – caring about the eyeballs that follow me, saying good morning, good night, taking them through my day – caring and adding value – selling on socials and being raw and real. That's been our only and best strategy.
What online course platform are you using?
I use Kajabi as my online course platform and I love it so much.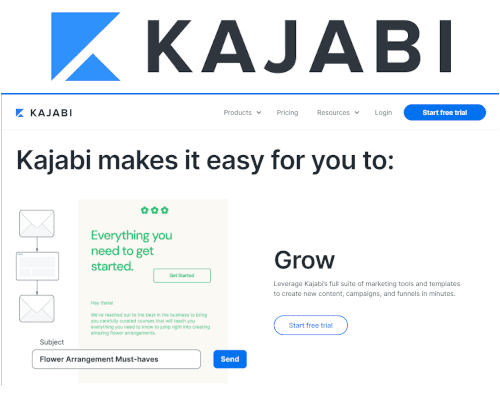 Kajabi is the All-In-One Course Platform
Kajabi is one of the top online course platforms used by successful course creators interviewed on coursemethod.com. Kajabi includes email marketing and other tools that make it easy to run your entire business from their platform.
Price Range: $149 to $399/month
Most Popular Plan: Growth Plan at $199/month
Annual Discount: Yes, take 20% off!
Free Trial: Get a 14-day free trial (credit card required)
*Our content is reader supported, which means when you buy from links you click on, we may earn a commission.
Are there any features you wish it had?
A better check-out would be nice. We have used Thrivecart for the Sistahood program as you can edit and create different checkouts.
What made you decide to use your chosen platform over others?
Many people say they are pricey however even though we had no money at the time, I knew I was going to make money. So I acted as if we already had it – we did the low monthly payments until we created the money for the higher level. They had everything there email, landing pages, etc so they were the best and a great affiliate program.
What other tools do you use to run your online course business?
Trello, Slack, Asana, my designer uses Canvas, Ecamm live, and Zoom.
Imac, Mac book pro – iPhone, Camcorders, and DSLRS for video.
Microphone for podcast Garage Band, Kajabi, Inshot, Voxer.
What books or training programs have you found useful on your journey to a successful business owner that others might find valuable too?
Byron Katie "Loving What Is" book.
Simon Sinek Start With Why – The infinite Game – Profit first book.
Clockwork book – Amy Porterfield podcast – Tony Robbins everything.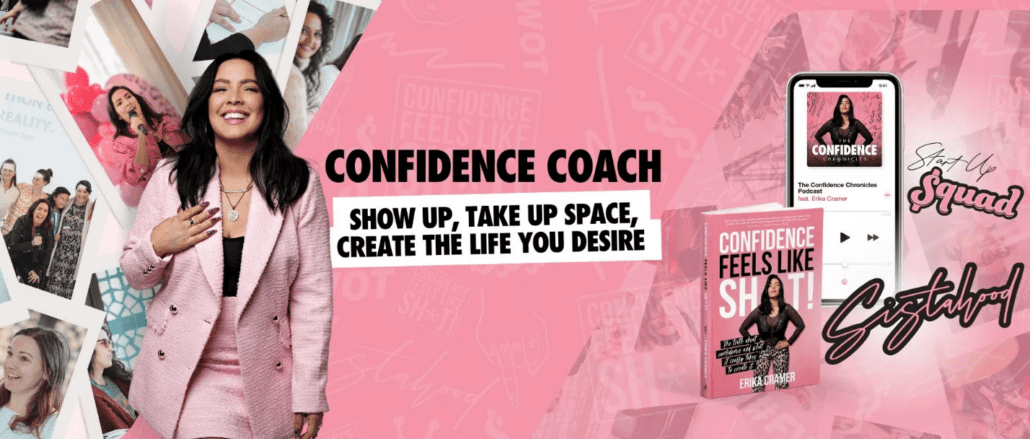 Do you have any big mistakes you've made along the way that you'd be willing to share?
So many. One big one was not building my email list early enough and getting people off social into email – that's a big one. And not watching expenses. In the early days, I wasn't worried about budgets and profit until reading about profit first and what a game changer!
Please share some idea of revenue.
We make between $90 -$100k per month. In November 2021 we were at $50K per month. We onboard about 30 clients roughly per month in the different programs.
Please tell us a little about what the money you've earned from your course has done for you.
We've been able to work only 3 days per week, be with our families more – we are buying a second house and are able to have freedom. We have employed 2 full-time women who are able to look after their 4 kids. We are able to hire other business owners like graphics, podcasts, and printers who grow their businesses.
We've been able to purchase equipment that we have dreamed of having. Get a new building for our offices and have our own event space. It's been incredible – putting my two kids in childcare full-time was the dream and once we could do that it really meant the world to me.
In addition to revenue are there any numbers you would like to share?
In my first year of the podcast, I started in my car – we became number 6 in the country for mental health and personal development. Within 2 years we had over a million downloads. Now we are about to hit 2 million downloads – and listeners in 86+ countries (all from a podcast I started in my car) and I still sometimes record in the car!
The key was fire content that my listeners wanted to hear – raw and real and short and to the point giving them value and saying what others wouldn't say.
What has creating your course done for you personally?
I am on purpose and I feel so aligned doing the work I get to do. I am blessed to have this as my "job" and it gives me so much joy that this will live long after me and my children will get to benefit from it as well.

Do you have a story of a transformation from any of your clients?
I have over 1,000 testimonials of women who have completely transformed their lives and businesses and honestly it warms my soul. It's literally what I came here to do so it makes me so happy.
What advice do you have for people just starting out?
Show up ASAP - on the internet - start an Instagram or Facebook or podcast. Just get yourself out there sharing who you are and why you do what you do even if you have nothing to sell - ESPECIALLY if you have nothing to sell! -…
Click To Tweet
It's powerful to build these relationships and once you do have something to offer you already have a super warm audience to present it to!
Learn more about Erika Cramer of thequeenofconfidence.com: