How Emily Reagan Earns 6-Figures a Launch with Her Unicorn Digital Marketing Assistants School
Our content is reader supported, which means when you buy from links you click on, we may earn a commission.
---
Who are you and what course have you created?
I'm a digital marketing implementer working behind the scenes in clients' businesses, growing, nurturing, and selling to audiences. It's been stable, rewarding freelance work that moves with me as a military spouse and lets me work during school hours.
I'm the founder of The Unicorn Digital Marketing Assistants School, which teaches virtual assistants how to do highly sought and valued freelance marketing work, set up independent contractor businesses, and find their first clients so they can run profitable independent contractor businesses with scheduling, financial, and work freedom!
What market does your online course serve?
My biggest audience is educated, professional women who want to regain control of their work schedule and work-life balance by freelancing on their terms. My top audiences are burnout teachers, military spouses tired of starting over and over, and stay-at-home moms ready to get back into the workforce.
What's the biggest benefit of taking your course?
These days the freelancer digital hiring pool is getting competitive. Clients expect their new teammates, virtual assistants, and PMs to "Get" digital marketing and understand the whole picture of online business. When they hire, they don't want to have to train someone.
After completing UDMA School, my students can slide into digital marketing assistant positions where they can help execute their clients' marketing strategist. They have a clear competitive advantage by having a solid foundation of online marketing and the application to adapt to different clients' businesses. Inside they learn tactics to implement: email marketing, blogging, SEO, marketing funnels, website updates, social media marketing, community management, and affiliate marketing. This allows a graduate to get hired and start working quickly.
During our time together, we set their businesses up, so we're ready to say yes to any client marketing task that comes our way.
Through this process, my "unicorns" learn what they love and are good at, gain competency and clarity, and can move into niched roles. This work opens many doors; new DMAs quickly climb the freelance ladder to any number of management positions, from project managers, content managers, launch managers, or creative specialists.
This is not admin work; marketing work pays more and has more flexibility.
How did you get into the market?
I started freelancing when the military order made me give up my dream job as a Communications Director in 2010. I took my public relations and marketing skills into the online space and offered them to online business owners. Luckily, I quickly booked out because I had an extremely coveted skill set in marketing, plus a can-do attitude and killer work ethic. I had so many business owners wanting my help that I started creating my training and teaching a few of my intelligent, overeducated, underemployed military spouse friends to do the work for/with me.
These friends from all different educational backgrounds had nothing to do with marketing but quickly learned it. They just needed insight into marketing skills to learn first, what order to do things, how to optimize platforms, understand the big picture, and the quickest way to help their clients. I had been doing the work for 10+ years, so I had worked out all these kinks and learned so much independently. I gave them all the shortcuts. It was so rewarding to see them back into the workforce with meaningful well-paid work, not having to settle for low-paying, cubicle lockdown jobs they would move away. (Military spouses move every 1-4 years, so the job marketing and our mental investment are complex.)
At first, I had a micro agency of 8 women working with me, but I still had too many clients, and I was at my capacity.
My husband deployed, and I was alone with four children, realizing this was not scalable or sustainable. I wanted to do the work myself, not manage people. Around this time, I was still working with Jennifer Allwood. (I had worked with her for six years, and it was terrific to PCS and brought my clients with me.)
Over the years, I helped her grow her audience and launch and make $ 1 million. I realized I was sitting on a gold mine with my marketing skills that helped her do this. But I was scared to go out on my own. I knew I could help more women by teaching them like I taught the ladies in my agency. I ignored the voice for a solid year, thinking I could never have the kind of presence or audience that she had built.
Summer of 2018, I went to Stu McLaren's Tribe Live (now the name is changed)  with another client, one of his success stories. I brought no business cards and didn't even have a website. I was already booked out but got inundated with Tribe members wanting to hire me.  And that's where it hit me; I could create an army of unicorn digital marketing assistants and pass off the jobs. In January 2019, I launched my first course, an earlier version of UDMA School, and had my first students.
It all came out of my desire to connect and help people. I had the skills. It wasn't rocket science. I had made the connections and built my reputation. I will always have a bleeding heart for small business business owners.
There's also my natural military-child-installed ability to connect and include people.
Why did you decide to create an online course in the first place?
I was motivated to create wealth for my family. I put so much back-end audience growth work into my clients' businesses when I helped them make money. It felt good, really good. But I also didn't want my bank account to be given bonus crumbs here and there.  I already had the training for my agency, so I was sitting on gold if I repackaged it and sold it to more people.
I also knew I could reach more women. Since I was at capacity on my team and not managing them well, I was introduced to a teammate's sister who would be the perfect digital marketing assistant if she only brushed up on marketing implementation skills. But I couldn't add anyone else to the team. So I will always have her in mind. She was one of my first students to take the course, and now she is working with a 7-figure business owner and can be available for her special needs child. The only way I could help women improve their situations was to offer training outside my agency.
Did you have any moments of doubt before you created/launched it?
Going off on my own was the hardest thing. I knew how hard it would be. - Emily Reagan
Click To Tweet
When I worked with Jennifer, she was terrific, calling in the audience, pumping them up, and selling to them. I remember thinking I could never be like her. I've always been the lady who wanted to be behind the camera (even though my degree was in broadcast journalism & electronic media). I wanted to be behind the scenes; I didn't need the limelight. I'm the type that hates selfies. I don't need to hear myself talk!
When I first started, I didn't know about other VA courses and was blissfully unaware. That's when I purposely put on blinders and went all in with my vision.
I did not doubt my ability to do the work, build the course and do the marketing. I doubted my ability to build an audience in the online space. Things like: you have nothing important to say… who do you think you are?  … why would anyone listen to you?
So yes, I've had to battle the imposter complex, but I never let it stop me.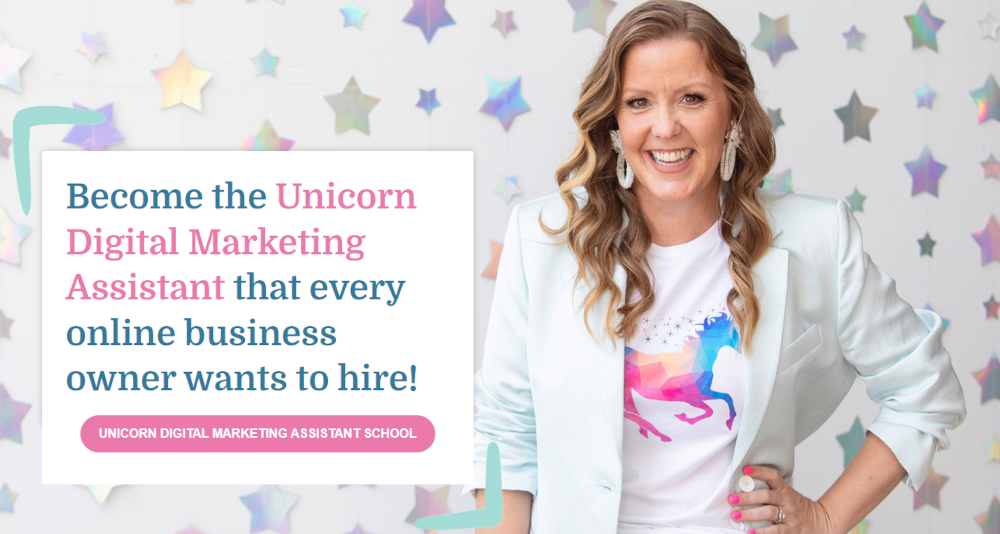 If so what made you turn it around and do it anyway?
I did it because I saw the greater good. Because I knew I could help more women if I just got over myself and put myself out there.
I was also very motivated because I was facing an uncertain future and didn't know if I could count on military retirement. My husband was battling PTSD, anxiety, and depression. Our marriage was crumbling, and I was afraid that he would be medically boarded and I'd lose everything. I went all in for my children. I didn't want to have to count on the military. In my opinion, I had to take matters into my own hands using the skills I had cultivated. EEEEEE, that is so personal, but it's what lit my fire. Why I was so goddamm strong.
What's your online course like?
It's a mix of slide teaching and tech training. I usually have one high-level strategy module, a lesson in workflows of actually doing the work, and a lesson in reporting and tracking, followed by specific tech walkthroughs.
How long did it take you to create your course?
It's been a refining process. The first time I launched it, I went all in with to-camera videos, and it was such a pain!
I created my slide decks in Canva, recorded myself as if it were a presentation, and then edited them. My tech training is the roughest; I have found it's best to walk through and list out step by step what to do so the editing process is more straightforward and something you can hand off. But seriously, a 20-minute tech training can take me 4 hours to edit.
Tell us a little about the process of launching your course and getting your first sale(s).
The first time I launched, it was a Beta, and I was very clear with my tiny audience that it was the lowest price ever. It was too low because I had students not take it seriously. But I needed a few students to succeed, experience transformation, and my testimonial champions.
For each launch since, I've been raising the price and testing out different launch events.
I believe in a solid prelaunch and worked with Brenna McGowan on my rebranded launch of UDMAS School.
Do you have a lead magnet?
I have several:
A quiz that helps freelancer see their personality strengths and what services go along with that.
A list of my top ten most requested digital marketing tasks that I started offering.
A free training series with marketing techie tips and walkthroughs to help someone see if they like this creative yet technical marketing work.
A bunch of content upgrades.
What's the traffic strategy that works best for you?
I feel like it's easier to say what's NOT working for me!
I am getting tons of traction on Google and YouTube. Compared to three years ago, my audience is becoming more aware of what a Virtual Assistant is, and the content I created for blogs and YouTube is paying off.
I also have a podcast, Unicorns Unite, that helps me build connections that lead to more jobs for my students.

What online course platform are you using?
I went all in with Kajabi back in 2019.
Do you like it?
I would be so rich If I could invent the perfect tech stack. Kajabi is improving. I have used many different learning management systems in my client work. At the time, I loved the all-in-one capabilities of Kajabi, which was great for starting. But now that I've advanced, I've switched ESPs and affiliate programs for something more robust.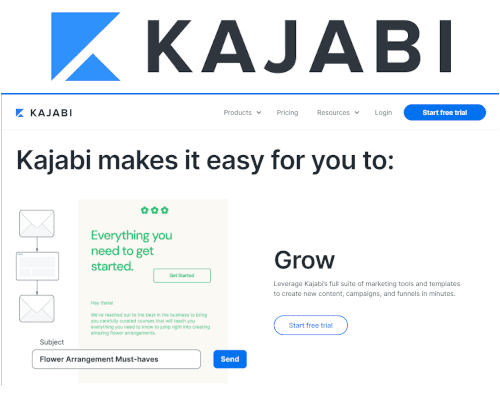 Kajabi is the All-In-One Course Platform
Kajabi is one of the top online course platforms used by successful course creators interviewed on coursemethod.com. Kajabi includes email marketing and other tools that make it easy to run your entire business from their platform.
Price Range: $149 to $399/month
Most Popular Plan: Growth Plan at $199/month
Annual Discount: Yes, take 20% off!
Free Trial: Get a 14-day free trial (credit card required)
*Our content is reader supported, which means when you buy from links you click on, we may earn a commission.
Are there any features you wish it had?
Better affiliate tracking, checkout pages that let me have multiple payment plans, more than 100 tags, and better automation.
I need the ability to customize more. It can be very limiting design-wise.
What made you decide to use your chosen platform over others?
I'm a fast-action-taker, and it was the quickest way to build my website, course, and funnels.
I've spent too much time switching clients' tech stacks and allowing them to chase shiny tech objects. I just wanted it simple and all DONE. - Emily Reagan
Click To Tweet
Then I also knew that if I went all-in with the price of Kajabi, I would be serious about my course and treat my business seriously. I was committed, and I didn't want to migrate anything later. Although I just switched to Active Campaign Ha!
I liked how the course modules were delivered from a client's perspective.
What other tools do you use to run your online course business?
I also use the following tools:
Active Campaign
Demio
WordPress
Interact
Asana
Google Workspace
Stripe
What books or training programs have you found useful on your journey to a successful business owner that others might find valuable too?
Amy Porterfield's Digital Course Academy helped me learn live webinar launching. Something this behind-the-curtain girl needs to learn.
Heather Sager's Speaker Society improved my speaking Skills.
Chanti Zak's Quiz Funnel System helped me build a killer quiz funnel.
Do you have any big mistakes you've made along the way that you'd be willing to share?
The too-low Beta pricing attracted people who didn't complete my program.
Not calculating the cost of goods when it comes to what it takes to build and deliver my live program.
I kept a Facebook group of alumni open way too long when people weren't moving forward, yet I was spending time and resources.
Please share some idea of revenue.
My October 2022 launch was 136k and March 2022 launch was 75k
Previously my course had another name, and I had made between 18-24k a few times, and my very first launch, I made 1200 and only had a list of 50, so I was thrilled. I told you I priced it too low, but it helped me start from nothing, and I covered the cost of Kajabi at the time, so I was thrilled.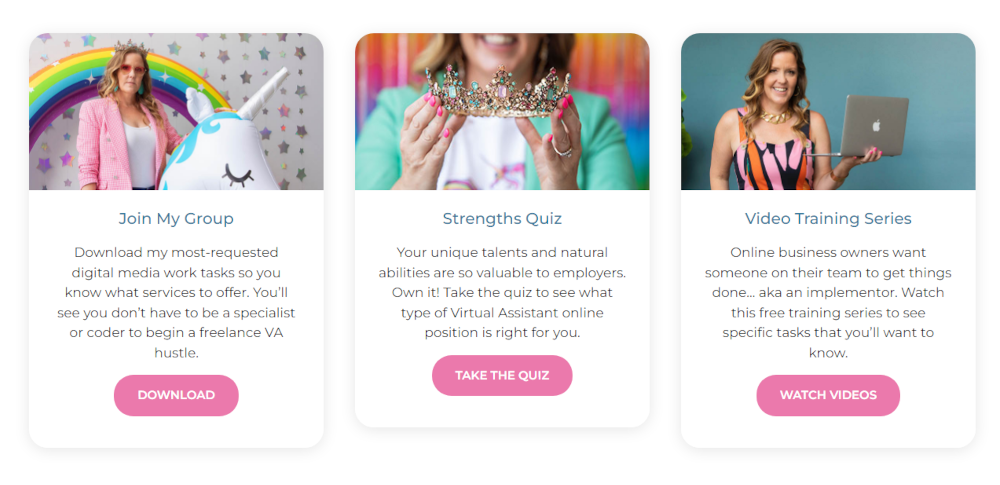 Please tell us a little about what the money you've earned from your course has done for you.
Honestly, I'm still working on profitability and am in the business growth stage. This last successful launch and being able to estimate payment plans allow me to plan my business for the next 12 months, knowing I have income coming in. I was able to hire two new teammates.
I also quit my last retainer clients, which was the most significant byproduct; it frees up time. For years I'm straddling two business worlds and doing the client work to pay for the course business. And now I can simplify and go all in!
In addition to revenue are there any numbers you would like to share?
My quiz funnel has brought in 4,500 leads.
I just hit my first 1,000 subscribers on Youtube
The podcast hit 25k downloads
Facebook group is at 6k.
This all feels so good coming from a girl who didn't think she had anything to say or didn't think she could rally an audience.
What has creating your course done for you personally?
There's an "I got to the next level" feeling when you get a six-figure launch. But it's really about the people I help.
Every day I hear from business owners who hire my students or my students who start making money and gaining back their confidence, and that makes me burst with pride. - Emily Reagan
Click To Tweet
I told you I had to take matters into my own hands, and I'm helping others do that too, giving them options to create wealth for themselves and assisting people in connecting who can mutually benefit. That's a true legacy.
I can also say that as a mom and military spouse, I have my own thing outside of my kids' schools or my husband's rank, which gives me the spark I need in life.
Do you have a story of a transformation from any of your clients?
I have so many success stories. Here are a few:
Natasha – an engineer by trade –  was making $13 as a Starbucks manager waking up at 4 am who now makes $50/hour during school hours
Claudia – an engineer by trade – was making $11/hour as a property manager assistant and now $40/hour – working school hours at home with kids and not commuting in Miami anymore!
Meg – a teacher who fought cancer and couldn't be on her feet anymore in the classroom – is working 30 hours for a 7 figure biz owner.
I have students making six figures in their businesses and some making a couple hundred a month. It feels incredible to empower women with skills that give them options. Once they learn good digital marketing skills, the world is there. They can rev up when they're ready when the youngest is in kindergarten, or they can go full-time. There are so many possibilities, and each student's journey is unique. I love the variety. And how this work can be tailored to our own lives.
What advice do you have for people just starting out?
It doesn't happen overnight. We all hear these success stories of people with six-figure launches, and we want it. We want the payout, but it can take years. Have patience, and invest in people who can support you long-term so you can finish the marathon. You can't do it all yourself and do it well. Not one successful person online is doing it on their own. Overnight successes are rare, so don't give yourself false expectations or make your work's value all about launch numbers. Nose to the ground, stay consistent and surround yourself with people who encourage you. It's hard work.
Learn more about Emily Reagan of emilyreaganpr.com: