How Ellie Diop Grew Her Business to 7-Figures with a Stimulus Check in One Year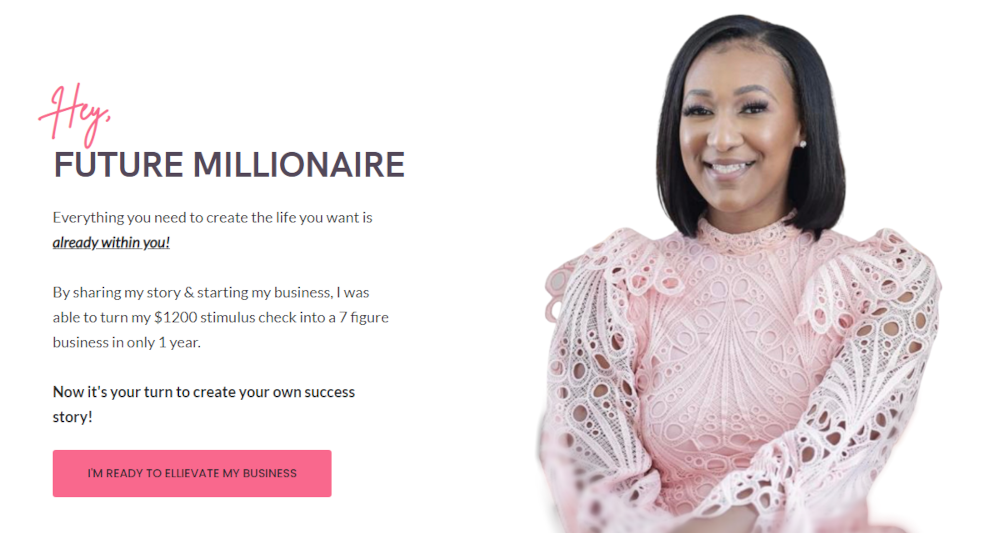 Our content is reader supported, which means when you buy from links you click on, we may earn a commission.
---
Who are you and what course have you created?
I am a Business & Strategy Coach for women. I help women secure funding so they can scale their businesses and ultimately build wealth. You can find my courses online at ellievatedacademy.com.
What market does your online course serve?
I serve Black women entrepreneurs who need to learn how to secure funding to build generational wealth. A large part of my audience is women who are working to be the first millionaires in the family. They want to build a legacy for their children.
What's the biggest benefit of taking your course?
The biggest benefit of taking my courses, specifically my most popular course, which is about business credit, is that you will understand how to correctly form and run your business so that you can strategically position yourself for funding. In that class, I educate entrepreneurs on how to establish business credit from the ground up. In addition, I show them how to secure larger loans and lines of credit so that they can effectively use that to scale. I also educate entrepreneurs on how to use that funding to grow their business revenue and expand into new markets.
How did you get into the market?
I entered this Market through experience that I gained in Corporate America. Prior to starting my business, I worked for a financial services company. Later I worked as director of sales for a financial services start-up.
In that startup environment, I learned a lot about business funding, scaling, marketing, and so much more. I came in where I was one of 10 employees and I was promoted to director of sales, where I managed an entire staff of 100. After I was laid off from that job, I began looking for work in my field. However, to my surprise, I was not being hired anywhere. So that led me to discover that perhaps instead of giving my Knowledge and Skills back to a corporate environment, I should instead share this information about business funding and scaling with small business owners.
Why did you decide to create an online course in the first place?
When I started my business, I initially began by creating content through Instagram under "Ellie Talks Money". I gave away free information. After that, I started to do coaching calls where I was able to give entrepreneurs direct information based on their needs. After a while, I found that I was giving the same advice repeatedly. I realized that if I wanted to scale my business, I needed to figure out how to serve many at once.
So that led me to create my first online course. Initially, that covered growing on Instagram and making your first thousand dollars. After that, I followed the demand again and created a course around business credit and business funding. That turned out to be my number one course and has been for the last two years.
Did you have any moments of doubt before you created/launched it?
When I first created my first course, I was dealing with so much doubt and so much imposter syndrome. There were several other creators that were educating people on how to make $10,000 and $100,000 dollars online. But I had only made my initial thousand dollars. I had been able to do that successfully and had been receiving tons of questions from business owners on how I did it. So, I knew that that was what I could speak authentically to.
Since it felt like so much less than other people I was riddled with imposter syndrome.  It was not necessarily hard to put the course together because I was very familiar with doing presentations and creating outlines. I was able to do it quickly and create something that I was proud of.
If so what made you turn it around and do it anyway?
When I was facing those doubts, what I did in order to overcome that simply remembered that while, yes, there may be people who are out there looking to make their first $10,000, $100,000, or $1,000,000 everyone needs to start by learning how to make their first thousand dollars. Since I knew that my class could confidently get someone to their $1,000, I decided that it was needed and that there would be a specific niche of people who would respond to what I had to offer.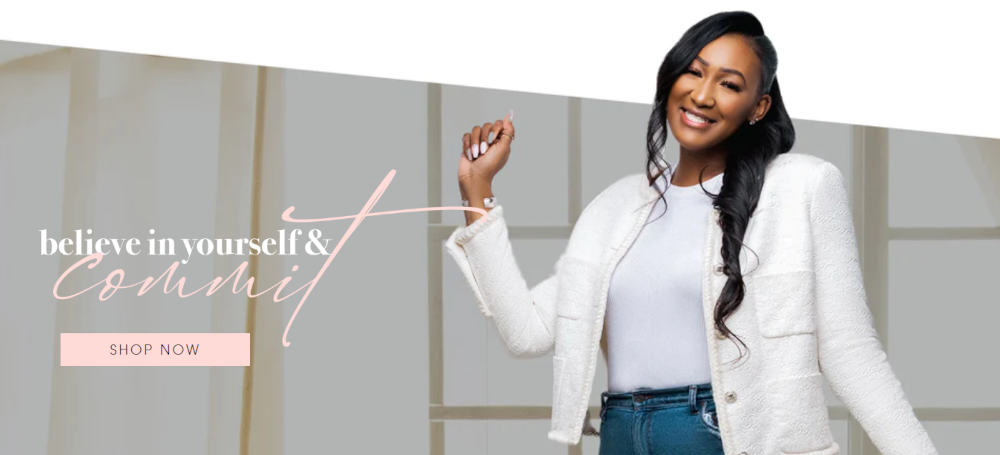 What's your online course like?
My most popular online course, which is my business credit master class, is a combination of video quizzes and presentation style. In fact, I taught that class lives with a live audience, and the course is an expanded version of that live class recording. The reason I chose to do it that way is I wanted to have some sense of interaction in the class, and when people who later enrolled and ended up watching the replay, they could feel some of that same sense of energy as if they were there in the class live.
I incorporated elements like quizzes into the class to really help ensure that people master what they're learning as well as to serve as checkpoints throughout the course so that my team and I could go through and look at the data to assess how many people had gotten to certain points throughout the class and how long it was taking them to get there.
How long did it take you to create your course?
I would say a total of one day, and what I did on that day was:
 Outlined my slides. I created a presentation on Canva.
After that, I opened up a zoom meeting with myself and taught the class in Zoom. I didn't have a live audience for my first go-round. I simply taught the class as if I was presenting in front of a group. I focused on pacing myself so that when customers watched the replay, it wouldn't be presented too quickly.
From there, I uploaded that recording to GumRoad, which is the course platform I was using at that time, and I created the cover art for the course product and sold it for a whopping $20.
Since then, I transitioned my courses to Thinkific earlier this year to elevate the quality of my customer experience, which has also enabled me to better engage with my customers.
Tell us a little about the process of launching your course and getting your first sale(s).
The strategy that I used was to pre-launch my product and start gaining pre-orders before the release date. This allowed me to gauge the interest of my audience in the product before actually completing the creation process. In addition, it allowed me to get a sense of what needs people had and what questions they had about the class so that I could Implement some of those elements into the class before releasing it.
In addition, one of the ways that I gained trust, so people felt encouraged to purchase my product is by sharing a lot of my own personal experiences. I did not have a ton of testimonials at that time, so I had to rely a lot on the success and challenges I overcame in my own business. Another strategy that I implemented is to give a few beta clients access to the course in advance so that they could take it and then, in exchange, give me a testimonial about what they learned and how valuable it was. I then used those video testimonials to market the course and help achieve more sales.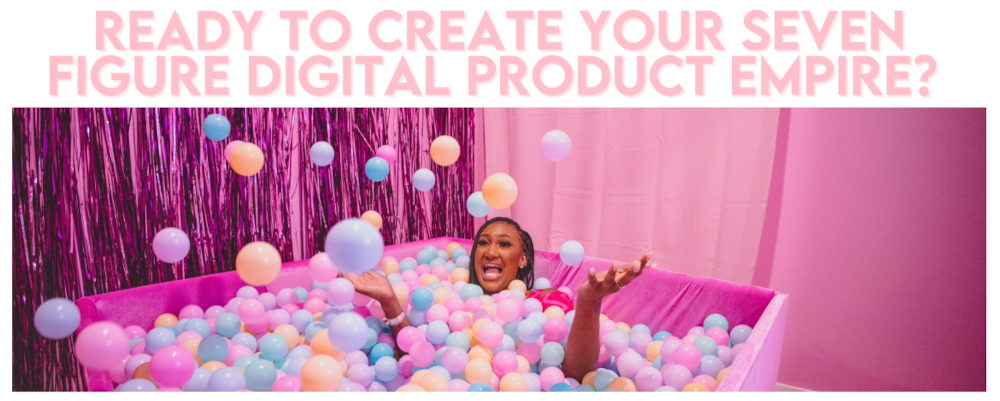 Do you have a lead magnet?
Yes, I do have a lead magnet, and I absolutely love lead magnets! My lead magnet is actually an evergreen webinar. I taught a free build your business master class in January, and I've been having that on replay since that time. It has earned over 10,000 registrations, and since that time, it consistently converts to sales every single day. I'm very glad that I added this to my business, and I will be adding more of these types of lead magnets that I will use on my YouTube channel.
What's the traffic strategy that works best for you?
The traffic strategy that works best for me and my business has been primarily through Instagram and leveraging short-form content. I have not utilized paid advertising very much in my business. My growth has been organic, and that is what has worked for me.
One of the key ways that I've been able to grow and leverage my organic traffic so much is by posting short-form videos that are high in value. - Ellie Diop
Click To Tweet
I give away a lot of great information, which in return gains me more followers and more trust, so people enrolled in my classes. I would say for any entrepreneur who wants to grow quickly, flood social media with value, value, value, and content, content, content.
What online course platform are you using?
I started out using Gumroad in my first year of business using Gumroad, and I have been using Thinkific since January 2022.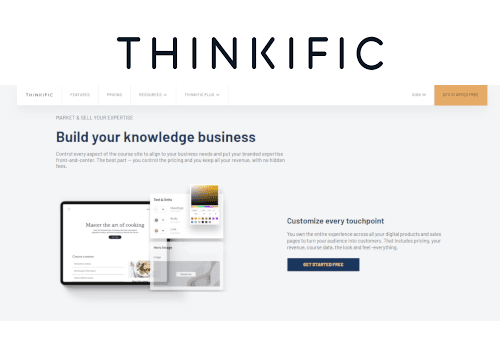 Take a Look at Thinkific!
Thinkific is the most popular online course platform used by successful course creators interviewed on coursemethod.com. It's a complete solution for creating sales pages, uploading all course content, taking payments, and more.
Price Range: Free to $499/month 
Most Popular Plan: Pro Plan at $99/month
Annual Discount: Yes, take 20% off!
Free Trial: Try out Thinkific's core features for free.
*Our content is reader supported, which means when you buy from links you click on, we may earn a commission.
Do you like it?
I love Thinkific! What initially made me want to switch is that I wanted a more comprehensive course packaging, and I wanted my students to take quizzes.
In addition to that, I wanted a course platform that allowed me to have insight into what my students had completed so far. Before that, with gumroad I could only see when they purchased it, and that was it. I could never see how many modules they had completed and in what time frame. That became important to me because I wanted to see the completion rate with my classes so that I could ensure people were implementing the knowledge.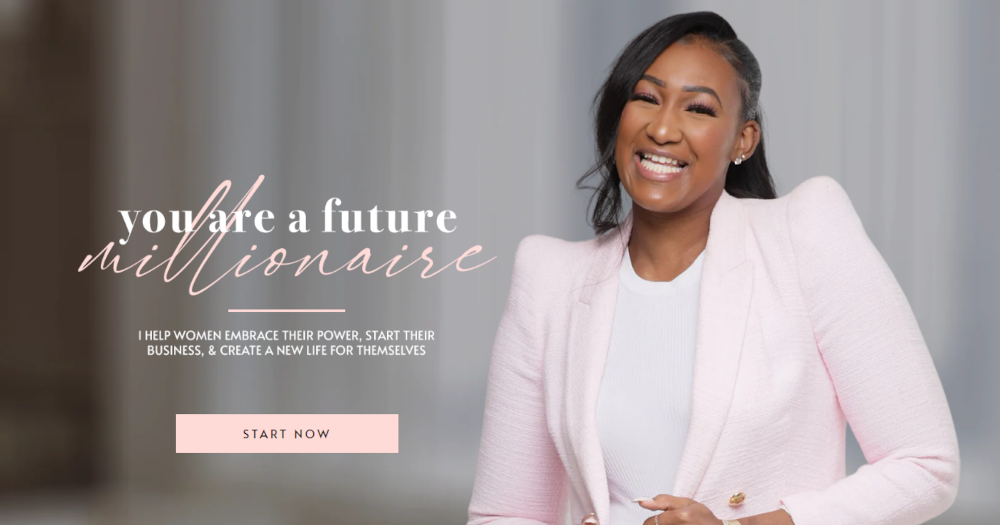 Are there any features you wish it had?
There are several features that I really like about Thinkific that have helped me to scale and improve the quality of my business this year. One area I do wish was improved with Thinkfic is the ability to incorporate funnels and a more comprehensive upsell ability.
What made you decide to use your chosen platform over others?
At the end of 2021, when I knew that I wanted to switch to another platform, I began looking for a platform that could incorporate quizzes that could incorporate the module style, as well as that I had back data to show where students were in progress with their courses. I ended up working with Thinkific actually because of a partnership that we began.
What other tools do you use to run your online course business?
In addition to my online course platform, I also use systems like ConvertKit for email marketing, Community for text messaging, and WebinarJam for my evergreen lead generators.
What books or training programs have you found useful on your journey to a successful business owner that others might find valuable too?
I read a lot of self-development books such as the 10x rule, Who Not How and Purple Cow are a few of my favorites.
A huge part of what has contributed to the success I have right now is truly networking. I have not enrolled in specific training programs or courses, but I have expanded my network. - Ellie Diop
Click To Tweet
And I asked a lot of questions to those in my industry who are making more money than I am to get an understanding of what systems and strategy guides they are using to achieve those results. So, I would say that entrepreneurs who may not have the means or ability to enroll in training programs can always reach out to those who are doing what they want to be doing and ask questions. I offer a lot of collaborations, services, and just overall assistance in exchange for getting a behind-the-scenes look at some people's businesses, and that serves me well.
Do you have any big mistakes you've made along the way that you'd be willing to share?
I would say that I made two big mistakes in building my business. Number one was not hiring sooner. The first hire I ended up making was a customer service assistant. That was after I had already hit my first seven figures in business. In hindsight, I should have made that hire months before that. Realistically, I should have made that higher when I could easily afford it, considering I started paying that individual $1,000 per month, and even when I was at the point of making 10 to 15 thousand a month could have been a good time to bring in that help.
By doing everything in my business by myself, I probably lost money. Since I was handling customer service issues, I wasn't able to market or create content.
Now I know that it's always a good idea to bring someone into the business much sooner so that we business owners can stay in our Zone of Genius. - Ellie Diop
Click To Tweet
The second mistake that I made was to enter into partnerships with individuals without any type of contract LLC or protective measures. This is probably a lesson a lot of business owners learn but don't always know how to avoid. When you want to do business with another individual, whether it's a friend or a family member, it is always a good idea to have a contract in place, an operating agreement, or any type of entity that can protect both parties.
In the event that either of you decides to stop the business or the arrangement goes sour, having these things in place protects both individuals on all ends. So that was a hard lesson where a friend who I went into business with completely changed. It caused a little bit more headaches than was needed. Now I've definitely learned my lesson on how to properly do business with friends, family, or partners.
Please share some idea of revenue.
My average monthly sales are $300,000 – $450,000 per month, and that has been consistent since March 2021.

Please tell us a little about what the money you've earned from your course has done for you.
The money I've earned in my business has done a lot for my family and me. It's given me the ability to truly start building wealth for myself and for my children. I've been able to purchase investment properties that will be passed down to my kids. I've been able to secure life insurance policies. I have the means to put money away that can truly benefit myself and them 10, 20, and 30 years from now.
In addition to revenue are there any numbers you would like to share?
In addition to my revenue, I've been able to grow my following from 300 followers to 385000 followers. That's been in the last two years, since July of 2020, on Instagram alone. This has been a huge learning experience. It's been a huge accomplishment and something that I enjoy educating entrepreneurs on.
My growth on Instagram has directly contributed to the revenue I've been able to achieve in my business. One of the ways that I begin to grow quickly on Instagram is by posting three to four pieces of content per day. Specifically using reels to grow. In addition to that, I did Instagram live once or twice a day consistently for almost a year. That was instrumental in helping to grow my following. It allowed me to build trust quickly with my audience. They could see me, hear me and engage with me live on a daily basis.
What has creating your course done for you personally?
Creating my course and overall launch in this business has made me more confident in myself. It has also allowed me to see that I can achieve anything I put my mind to. I started and scaled this business in the most difficult of circumstances back in 2020. I had just gotten a divorce, I was living back home at my mother's house with my four children, and I was unemployed. Using a stimulus check, I started my business and turned it into a multi-7-figure business within one year. That is never something I thought I would be able to achieve. But being able to do that and consistently maintain multiple seven-figure revenues going into my third year of business truly gives me the confidence to know that I can do this and I can help other women do it too.
Do you have a story of a transformation from any of your clients?
One, in particular, is the story of one of my mentees, who I worked with pretty closely for a year. She started her online business from scratch educating people who have 9 to 5s on how they can build their businesses. I helped her to develop her digital products and her courses. I also helped her implement marketing strategies on Instagram. After helping her with one of her challenges, she and her partner successfully achieved $100,000 in revenue in just a few months. That was a big moment of success for them. It was a big moment of success for me too. It allowed me to see that what I achieve is replicable and others could achieve it as well.
What advice do you have for people just starting out?
Before starting my business, I would have really loved to know more about taxes. One of the challenges of being a new entrepreneur, as well as being a Black entrepreneur, is that most of the time, we lack basic business information. Many of us are starting down the path of Entrepreneurship for the first time. We are the first ones in our family. Knowing about things like taxes, registering your business, and overall good bookkeeping for a business would have been helpful just to be more prepared.
Learn more about Ellie Diop of ellievatedacademy.com: