How Ellen Yin Got Her First 100 Paid Members to Cubicle to CEO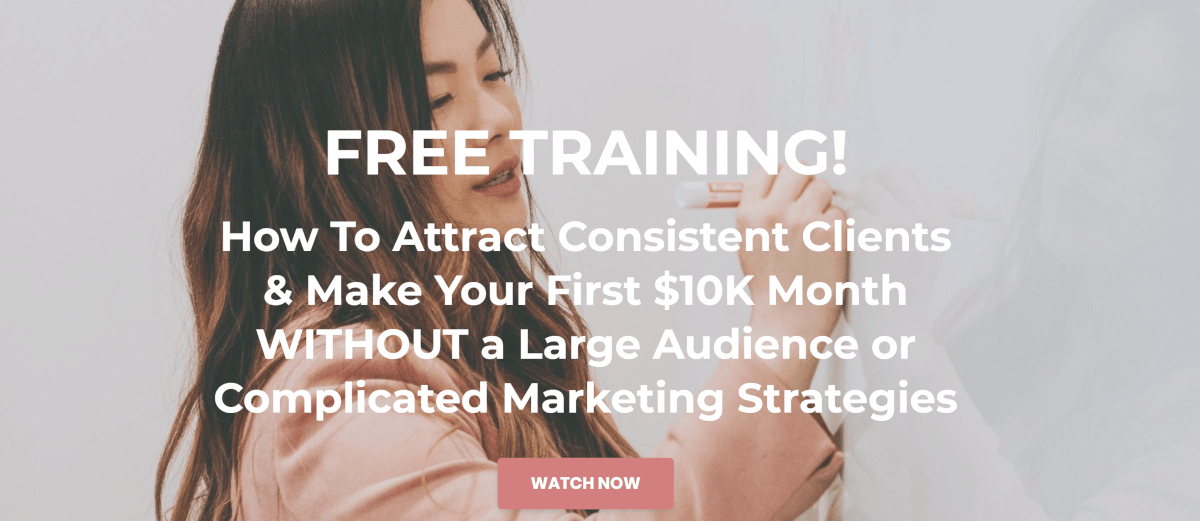 Our content is reader supported, which means when you buy from links you click on, we may earn a commission.
---
Who: Ellen Yin
Website: ellenyin.com
Course Topic: Helping Service-Based Entrepreneurs
Interesting Stats: 6-figures in course sales
Who are you and what course have you created?
My membership, Cubicle to CEO, helps service-based entrepreneurs attract consistent clients and make their first $10K month, WITHOUT a large audience, posting more, or expensive ads.
What market does your online course serve?
I help service-based entrepreneurs who are tired of being in the client chasing cycle and want to get off the content hamster wheel. We help traditional service providers (like photographers, real estate agents, hairstylists, and accountants) as well as online service-based business owners (like coaches, social media managers, and influencers) simplify their marketing and follow a step-by-step client attraction system (we call it the Consistent Clients Cashflow System).
What's the biggest benefit of taking your course?
The biggest benefit of our membership is that instead of chasing after every "shiny" strategy you hear about on a podcast or blog, you can focus your marketing efforts on a proven, repeatable system to attract clients. Our membership provides not only clarity but the support you need to actually implement. Unlike most courses that leave you to figure it out on your own, we are active in our members' Facebook group every single day to answer questions and help you work through obstacles as they come up. We also host a live monthly call so members can get feedback and support in real-time. Our hands-on coaching and accountability really make a difference in the results our members get.
Another thing that sets us apart is that most courses/programs out there are based on "gurus" selling strategies that worked well for them BECAUSE they have a large audience to leverage.
I wanted to be able to serve the everyday small business owner who has a tiny audience and provide them a step-by-step system that will still work for them. -Ellen Yin
Click To Tweet
How did you get into the market?
The name Cubicle to CEO closely mirrors my personal journey from working in a cubicle to becoming the CEO of a six-figure business within just 12 months. I am now in my third year of business, and I've learned that 99% of business is simply a mind game. My bigger goal is to create a community of leaders who feel empowered to break free from their limitations (whatever metaphorical "cubicle" they have in their life) and step into the role of the CEO of not only their business but their life.
Cubicle to CEO is also the name of my podcast, and one of my greatest privileges and joys is getting to interview inspiring founders, CEOs, and business leaders on how they built their success.
Why did you decide to create an online course in the first place?
I LOVE relationship-building, and a membership offer felt like the best way to create a community. I also wanted to be able to scale my business without trading more time for money, so a digital product made the most sense. Since growing my membership, I have been able to scale back significantly on the number of one-on-one clients I work with and build a brand, not just a business.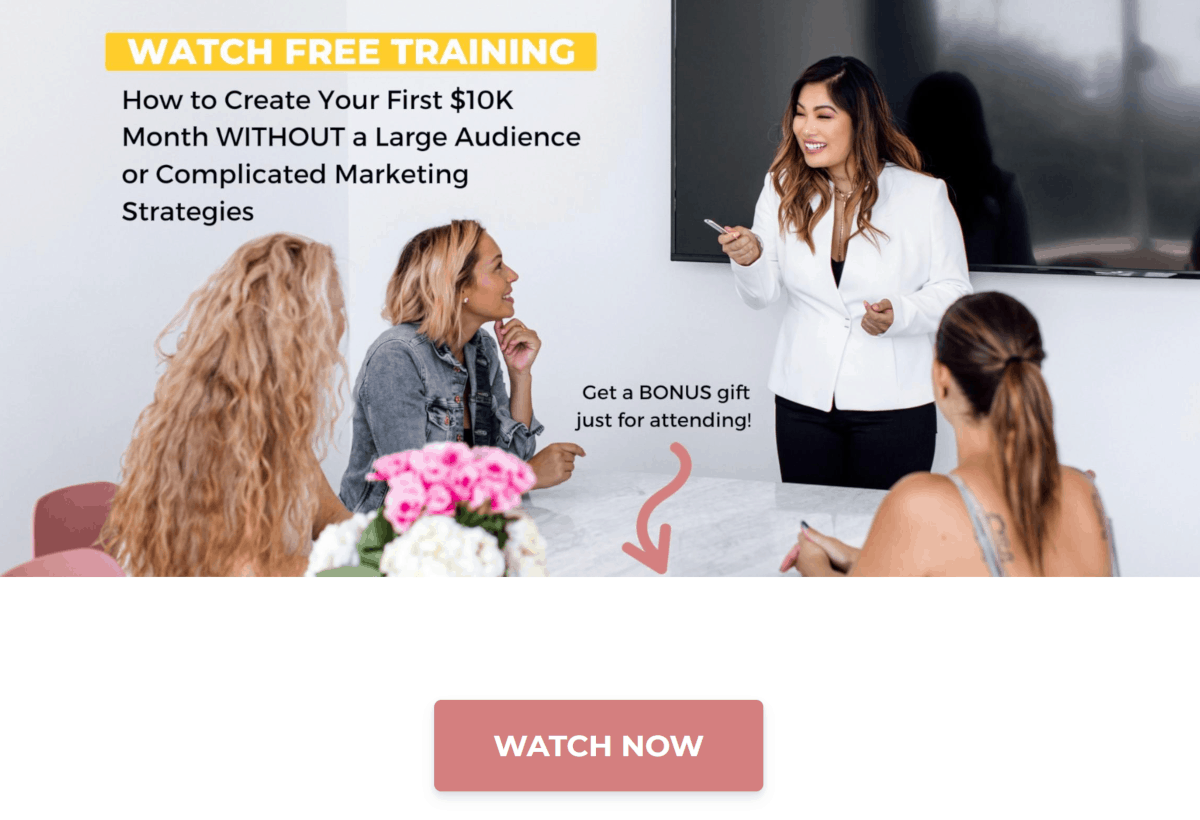 Did you have any moments of doubt before you created/launched it?
I think imposter syndrome is an expected part of the journey as an entrepreneur – there will always be more to learn, more to improve. I was confident in the material I created for my membership because I knew it worked, so I think my doubt came more from how I was going to scale this in a scrappy way. Most of my first two years of business were spent entirely on done-for-you services for clients, so this was brand new territory and required a different growth strategy.
If so what made you turn it around and do it anyway?
Something I learned early on in business: you can either spend money to save time, or you can spend time to save money. Only one of these resources is finite, and as I continue to progress as an entrepreneur, I'm learning more and more that I would rather conserve my time.
Don't get me wrong – money can't and shouldn't solve all your problems, but if I can shortcut my learning curve with a new skill by investing in a program or mentor, I absolutely will do it. So that's what I did! I invested in an amazing program called Recurring Profit that taught me a new skill (how to scale an evergreen membership) and am now on their coaching staff to help others do the same.

What's your online course like?
All the training is videos! It's a mix of slides + just me in front of the camera talking or with a whiteboard. My teaching style is definitely more organic and intimate than carefully scripted and manufactured.
How long did it take you to create your course?
When I first started, I actually launched my beta round with zero content created – just a list of topics that were going to be covered throughout a 4 week period (2 lessons/week).
I taught the content live to my founding members so I could get immediate feedback, prove market viability, and get paid to create. -Ellen Yin
Click To Tweet
Tell us a little about the process of launching your course and getting your first sale(s).
I offered the program for an 80% discount to 10 founding members and sold out at 12 spots – all of my leads came from Instagram stories!
Do you have a lead magnet?
I use an evergreen webinar funnel to sell my course, as well as live affiliate launches where I teach that webinar. I don't use free trials, but I guess you could say the webinar is my lead magnet. It's a 60-minute masterclass on "How To Make Your First $10K Month Without a Large Audience or Complicated Marketing Strategies.

What's the traffic strategy that works best for you?
Affiliate partnerships have been the best way to get leads fast and bootstrap my growth to my first 100 paid members. You can grow your list for free too!
I started by just reaching out to friends in my industry who served a similar audience as me but with a complimentary service/product.
What online course platform are you using?
I swear by Kajabi – they are an amazing all-in-one marketing system and have the best service I've ever experienced from an online platform/software system.
I love them so much that I've now become a Kajabi Partner and help others get set-up with their online courses for free.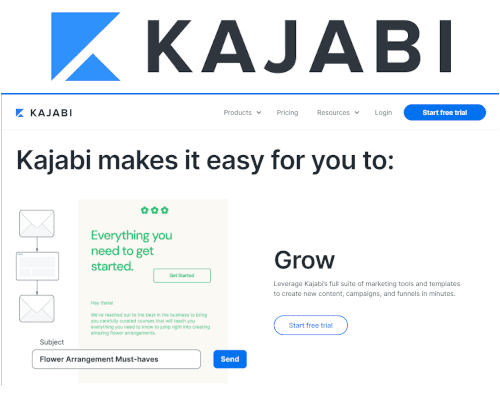 Kajabi is the All-In-One Course Platform
Kajabi is one of the top online course platforms used by successful course creators interviewed on coursemethod.com. Kajabi includes email marketing and other tools that make it easy to run your entire business from their platform.
Price Range: $149 to $399/month
Most Popular Plan: Growth Plan at $199/month
Annual Discount: Yes, take 20% off!
Free Trial: Get a 14-day free trial (credit card required)
*Our content is reader supported, which means when you buy from links you click on, we may earn a commission.
Are there any features you wish it had?
My needs have been met so far!
What made you decide to use your chosen platform over others?
The simplicity of their platform for a tech-challenged person like myself is AMAZING. Their drag + drop templates are super intuitive. There are cheaper online course/membership platforms out there, but none as all-inclusive as Kajabi for the price they offer. I didn't want to spend a bunch of time or money on multiple platforms and trying to get the tech to talk to each other with a million integrations.
Kajabi hosts my website, blog, sales funnels, landing pages, checkout cart, affiliate tracking, courses/memberships/digital products, AND email communication to my students on ONE platform. It's truly amazing.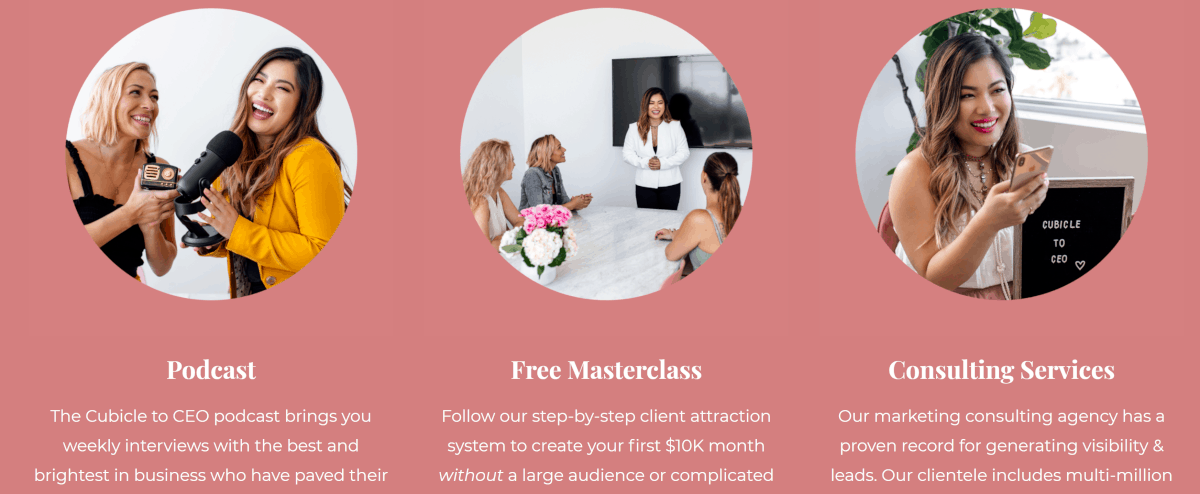 What other tools do you use to run your online course business?
WebinarJam and Flodesk!
What books or training programs have you found useful on your journey to a successful business owner that others might find valuable too?
I have too many books to name off the top of my head, but in terms of training programs – the one I mentioned before: Haley Burkhead's Recurring Profit. I tripled my membership size and reached my first $10K month in solely membership sales within 5 months of joining Recurring Profit.
Do you have any big mistakes you've made along the way that you'd be willing to share?
Honestly, not investing in Recurring Profit sooner. Once I had a proven framework and just had to implement, my membership gained momentum FAST.
Please share some idea of revenue.
I'm on track to make six figures from my membership alone this year. That's completely separate from the other income my business generates from client work or affiliate marketing.
Please tell us a little about what the money you've earned from your course has done for you.
It's going to (hopefully) allow me to hire my first full-time employee later this year!
What has creating your course done for you personally?
The relationships with my members have been, by far, my favorite part. Helping other entrepreneurs reach their first $10K month milestone is an incredible feeling.

Do you have a story of a transformation from any of your clients?
One of our members is a photographer who made $35,000 in just 90 days. We have a weekly wins thread in our group. Every single week, someone shares something that just blows me away.
What advice do you have for people just starting out?
Do not get caught up in having the perfect branding, creating all the content upfront, or the tech. The messaging is what sells your product 99% of the time.
Learn more about Ellen Yin of EllenYin.com: