The Important Piece of Advice David D. Simons Shares to Help You Build the Best Course for Your Audience

Our content is reader supported, which means when you buy from links you click on, we may earn a commission.
---
Who are you and what course have you created?
David D. Simons is a Mediapreneur who utilizes his offline and online skills to promote brands, increase businesses, support causes, and build relationships. His passion and excitement for media have attracted the likes of Fortune 500 companies, non-profits, churches, and entrepreneurs.
David is the CEO of Kingdom Social Media, which is an organization designed to help influential leaders and leading organizations dominate their market online through social media marketing.
David lives by this rule: "The biggest risk you will take in life is not taking risks."
What market does your online course serve?
We market to business owners, small businesses, people who are trying to start and build their own brand.
What's the biggest benefit of taking your course?
The biggest benefit one can get from my course is the ability to learn how to position yourself online and how to attract the target market and media attention. How to build your social media strategy and how to build a brand that helps you stand out.

How did you get into the market?
I thought about what separates companies that are generating a lot of interest from companies that don't. And I found out that it was the companies that have the best marketing and brand/appeal that has and gets the most media attention.
Why did you decide to create an online course in the first place?
I felt that it'd be great to teach the knowledge that I gained to other people so they can easily apply that knowledge at their own convenience.
Did you have any moments of doubt before you created/launched it?
Yeah! Certainly! It was kind of like who I am to put information out there. I haven't arrived on the level that I want to. I'm feeling a  little bit of an impostor syndrome and feeling like why do people will care about what I say.
If so what made you turn it around and do it anyway?
The thought that people need this information to help them stand out in their business and the fact that it's only fair to make sure that everyone has access and availability to knowledge that can separate them from others.
What's your online course like?
It's an on-screen video of me talking, sharing my screen, tutorials, and some PowerPoint.
How long did it take you to create your course?
This course (Brand Your Authority)  took maybe 2 months to create. The process was to start of with a brain document to organize the plan for the entire course and break down all the elements we need in advance to sort out our due dates, launch dates and also provide our subject titles and objectives of the course.
Tell us a little about the process of launching your course and getting your first sale(s).
We always do a pre-sell process. Before creating we pre-sell the course so we can gauge even if it's something that people will want to put their money on. My first-ever sale –  I will never forget, was a client of mine who bought my first course. Best $99 I ever made!
Do you have a lead magnet?
Yes, we do have a lead magnet and it's called the online authority checklist. It's been pretty helpful in bringing awareness to the course.
What's the traffic strategy that works best for you?
The most effective way for me is running webinars with paid advertising.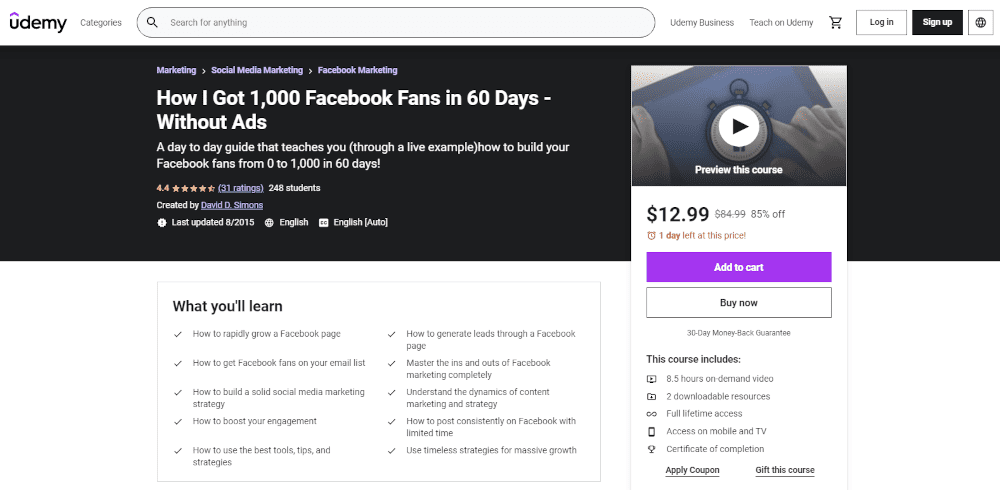 What online course platform are you using?
Thinkific is the course platform I use.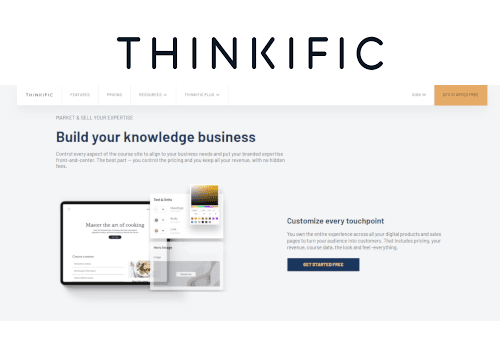 Take a Look at Thinkific!
Thinkific is the most popular online course platform used by successful course creators interviewed on coursemethod.com. It's a complete solution for creating sales pages, uploading all course content, taking payments, and more.
Price Range: Free to $499/month 
Most Popular Plan: Pro Plan at $99/month
Annual Discount: Yes, take 20% off!
Free Trial: Try out Thinkific's core features for free.
*Our content is reader supported, which means when you buy from links you click on, we may earn a commission.
Do you like it?
Yeah, I do, it's great. I recommend it to all my students.
Are there any features you wish it had?
Much better sales funnels.
What made you decide to use your chosen platform over others?
I like the user experience that it provides to my students. The tracking to the back end to see my students progress and because it's also more affordable than some of the other for my students.
What other tools do you use to run your online course business?
Active campaign, Easywebinar pro, Zapier & Clickfunnels.
What books or training programs have you found useful on your journey to a successful business owner that others might find valuable too?
How to Win Friends and Influence People Book by Dale Carnegie
The E-Myth Revisited by Michael E. Gerber
Rich Dad Poor Dad Book by Robert Kiyosaki
Do you have any big mistakes you've made along the way that you'd be willing to share?
Creating the course before determining if the market truly wanted it.

Please share some idea of revenue.
I typically make $20,000 at launch sales.
Please tell us a little about what the money you've earned from your course has done for you.
It's been able to help me support the growth of my business.
The revenue has very minimal expenses tied to that and the profit margin is great.
Do you have a story of a transformation from any of your clients?
Yes! I have a client that has no idea about technology, how to build sales funnels, and create campaigns and now she's enrolled people into her program and has enrolled an institution into her program. She started at a low price but now she charges a much more premium price.
What advice do you have for people just starting out?
Talk to your ideal customers first before creating anything. Understand their pain points and problems. - David D. Simons
Click To Tweet
If I got a deep understanding of that I'd probably have not created my first course and that's the reality of marketing, understanding your audience and the market.
Learn more about David D. Simons of kingdomsocialmediacourses.com: