How Daniel Galletta Started SlideScience.co After Many Failures and Now Earns a 4-Figure Monthly Income

Our content is reader supported, which means when you buy from links you click on, we may earn a commission.
---
Who: Daniel Galletta
Website: slidescience.co
Course Topic: PowerPoint Presentations
Interesting Stats: Earns a Few Thousand Dollars/Month After 10 Months
Who are you and what course have you created?
Hi, my name is Dan Galletta and I am the founder of Slide Science, where I teach a course on how to build PowerPoint presentations like top-tier strategy consulting firms (e.g. McKinsey & Co, BCG, and Bain & Co).
More recently, we have started selling pre-built slide templates and toolkits. These cover important project topics (e.g., market analysis, competitor mapping, customer research, etc), and can be easily re-branded and used for projects.
What market does your online course serve?
Our online courses and templates serve the corporate and professional services market. This includes people working as consultants, in non-consulting corporate roles, and students who want to break into consulting.
What's the biggest benefit of taking your course?
Once you take our course, you'll never again stare at a blank slide canvas and think "I don't know what to do next". You'll have the complete slide-building toolkit and the skills to communicate confidently using PowerPoint.
In consulting and corporate roles, communicating with PowerPoint is a core skill. Many of our students have shared stories of great performance reviews and early promotions. And they attribute at least some of their success to the Slide Science course!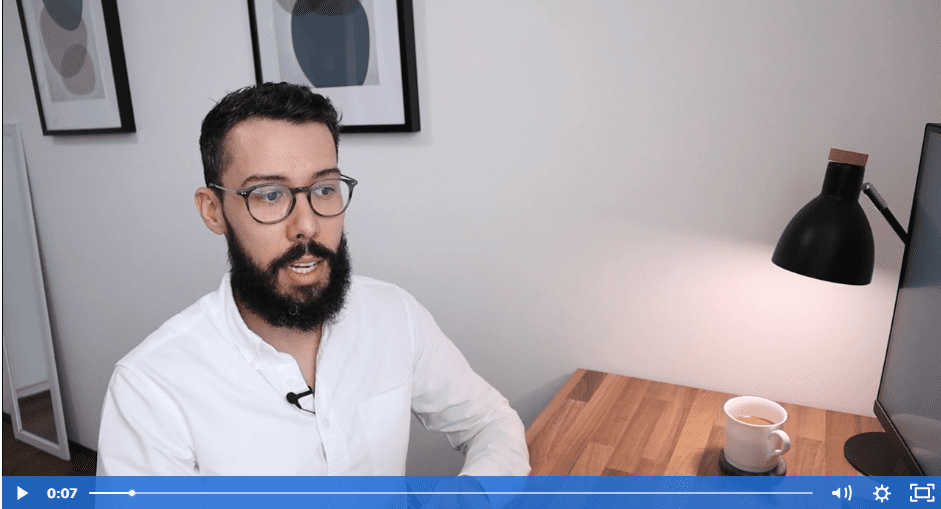 How did you get into the market?
I started my career as a management consultant at a global consulting firm, then moved into internal strategy at one of the world's largest banks. But when I first started as a consultant, I really struggled to build compelling presentations in PowerPoint. In fact, I found it so hard that I almost quit!
At that time, there was nothing available to help me. There were plenty of courses on how to use PowerPoint functionality and shortcuts – but nothing on how to build compelling presentations as a whole (e.g. crafting an argument, writing a storyline, visualization best practices, ensuring "flow" throughout the presentation, etc).
I figured that many other people probably had the same challenges as me, so I decided to start sharing my learnings online.
Why did you decide to create an online course in the first place?
There were a few reasons why I decided to create an online course. Firstly, I had seen other course creators launch successful courses, so I knew it was a viable business model. In particular, I was following David Perell's Write Of Passage and Tiago Forte's Building A Second Brain.
Secondly, I've always enjoyed teaching. At university I tutored statistics, and at previous employers, I taught short courses on problem-solving and building presentations.
And finally, digital products have great unit economics (i.e., once you've developed the product, the incremental cost per sale is minimal) and online courses fit the bill perfectly.
Did you have any moments of doubt before you created/launched it?
I'd say I was quite naive before I created the course. I thought that I would be able to film the entire thing in a couple of days!
In the end, it took four weeks to prepare the materials and film the course. And there were many times during that process that I thought it wasn't worth it. I kept getting stuck in a perfectionist rabbit hole and re-filming every time I made a mistake.
In the end, I compromised with myself and decided to not worry about the minor delivery mistakes. I figured, that so long as the content quality is great, students will be happy. - Daniel Galletta
Click To Tweet
And I was right; it turned out that I was agonizing over nothing.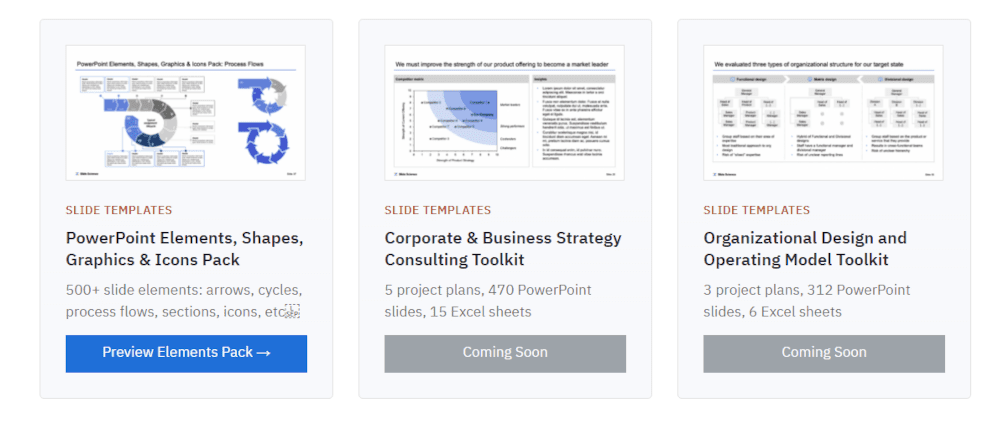 What's your online course like?
The course is primarily PowerPoint slides (it is a PowerPoint course, after all!). In the videos, I either talk through content that I have produced or review real-world consulting presentations to show the practical application of the content.
Students also get access to several free resources, such as a decision tree that helps them choose the best chart for their data every time and a chart formatting checklist.
How long did it take you to create your course?
It took about a month to create the course – much longer than I had anticipated!
I started by outlining the content that the course would cover and then grouped the content into chapters. Once I had the course online completed, I built the accompanying slides and gathered the real-world examples that I would cover in each chapter.
My original intention was to talk through the slides completely off-the-cuff. But I quickly realized that I need speaking notes, otherwise I fill my sentences with "umms" and "ahhs" or go completely blank.
Side note: I have a newfound appreciation for people that can speak clearly without notes!
So in the end, I decided to write bullet point speaking notes for each chapter. These weren't too detailed, but they helped keep me on track and ensure I covered everything that I needed to in each chapter.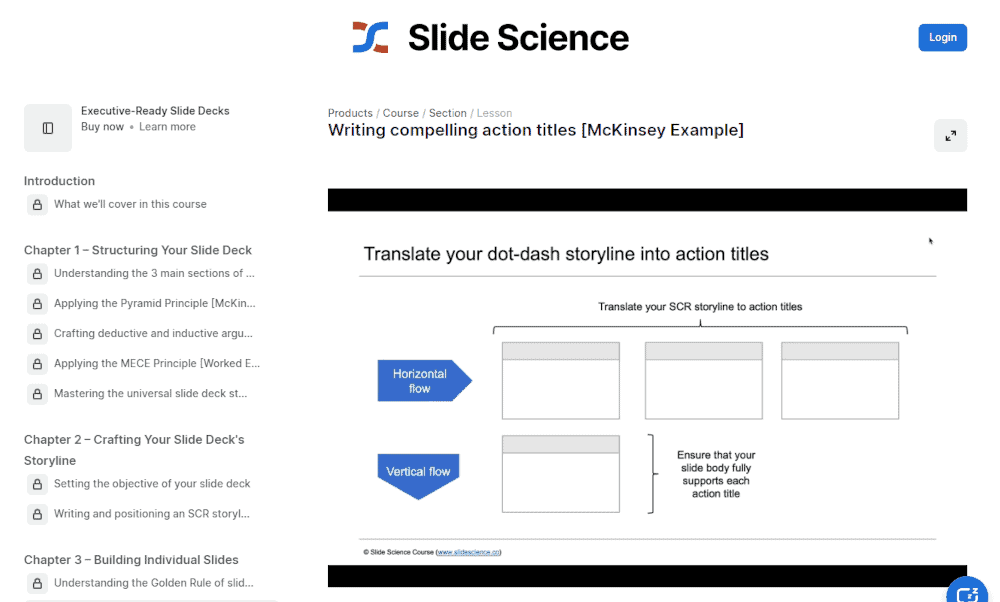 Tell us a little about the process of launching your course and getting your first sale(s).
I didn't have a very sophisticated strategy when I first launched the course. The only thing I kept in mind was that most people undercharge for their courses.
When I launched, I had an email list of about 400 people. I priced the course high and offered a large discount for people on the email list. The discount was available for a week but I found that most sales happened on the first day or two, and it trailed off very quickly after that.
Do you have a lead magnet?
I have a few lead magnets on the website. The most effective lead magnet is our free 5-day mini-course. Once somebody signs up, they get one PowerPoint presentation per day for five days (e.g. how to use text effectively on slides). After that, they go through a course pitch sequence.
As you can see in the screenshot below, this lead magnet has helped me get from 0 subscribers to ~1,500 subscribers in about 8 months!

What's the traffic strategy that works best for you?
I've tried both SEO and YouTube as customer acquisition channels. I started with YouTube and published a video every week. Unfortunately, I had very little success. I think the problem was that I wanted to keep the videos short and highly informative, which is the opposite of what the algorithm wants (it wants long watch times). I simply refused to "pad out" the videos for no good reason.
Then I started writing articles on the Slide Science website. And slowly but surely, we started acquiring organic traffic through Google. Nowadays, most of our traffic comes through Google.
What online course platform are you using?
I am currently using Podia.
Do you like it?
It's the only platform that I have tried and it's reasonably good. I especially like how easy it is to set up order bumps and cross-sells.
Are there any features you wish it had?
I'm really invested in the design of my website, but I find that the Podia page builder is quite poor. The text spacing is really inconsistent and the page builder is very restrictive of what you can include on the pages.
The only alternative is to integrate a Podia buy button on an external page (e.g. on WordPress) but that requires you to sign up for a more expensive tier of Podia. I find that pretty frustrating.
What made you decide to use your chosen platform over others?
Honestly, I chose Podia because the price was competitive and the dashboard UX was clean and intuitive.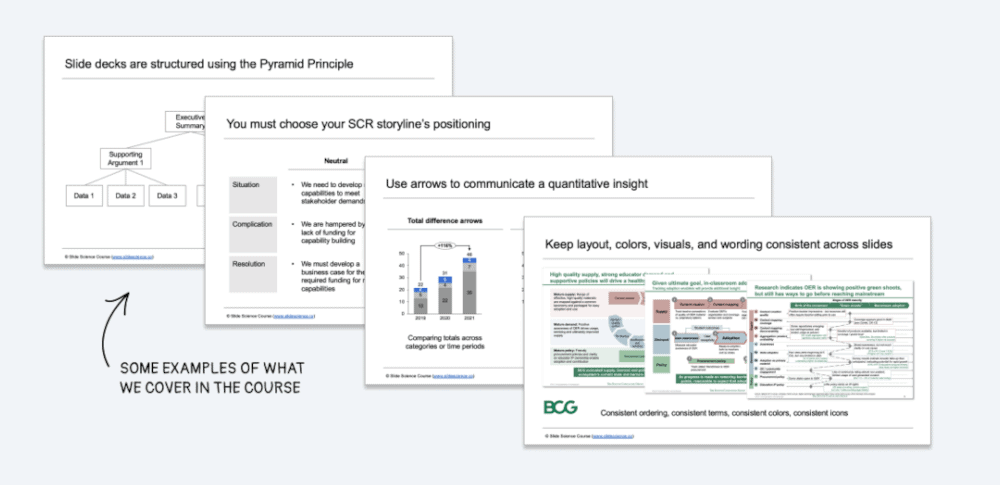 What other tools do you use to run your online course business?
The Slide Science website is built on WordPress and I try to keep plugins to a minimum to improve site load times. I use ConvertKit for email marketing, as they have good integration with Podia. And I manage almost everything on Notion.
What books or training programs have you found useful on your journey to a successful business owner that others might find valuable too?
I don't have too many books or training program recommendations. However, I would definitely recommend reading the Authority Hacker website and listening to their podcast. They discuss proven tactics for growing and monetizing websites effectively.
I'd also recommend joining the r/juststart subreddit. It's a little dead but you can look through the post history and find some deep discussions on the same topics.
Do you have any big mistakes you've made along the way that you'd be willing to share?
The biggest mistake I made was persisting with YouTube for so long. As you can see in the screenshot below, I saw some traction after about 6 months but that stalled very quickly. Instead of thinking about how I could change my approach (e.g. focus on different content, structure my videos to have a "hook", etc), I just kept doing the same thing.

Didn't Einstein once say insanity is doing the same thing over and over again and expecting different results? I'm a great example of that!
Please share some idea of revenue.
The Slide Science website has only been around for about 10 months but I'm happy to say that it's already making a few thousand dollars per month. - Daniel Galletta
Click To Tweet
Most of that comes from the course and various template packs that are sold on the website.
What people don't tell you is that revenue is quite inconsistent. You'll get a constant trickle of sales every week but most of your revenue comes when you launch a new product or offer a limited-time discount.
Please tell us a little about what the money you've earned from your course has done for you.
I'm certainly not earning enough from Slide Science to retire yet! But worst-case scenario, I'm now fortunate enough to be able to afford some extended leave when my partner and I decide to start a family. Best case scenario, I don't have to go back to my 9-5 ever again!
What has creating your course done for you personally?
I've been playing around with web development and trying to build online businesses for the last 20 years. Until Slide Science, I hadn't made a dollar online.
The fact that I've finally made something that people really like has given me an immense sense of satisfaction and accomplishment. - Daniel Galletta
Click To Tweet
And although Slide Science isn't making a lot of money compared to other courses, the fact that it's making some money has really changed my perspective on life. I'm now confident that anybody can make a living online, it's just a matter of finding the overlap of your expertise, your interests, and people's needs (and having quite a bit of patience and resilience).

Do you have a story of a transformation from any of your clients?
We've had a number of great student transformations!
For me personally, the most inspiring transformation was the first student testimonial I received. She was one of the first students to go through the course. About a month later, she told me that she'd applied the things she had learned and improved her skills noticeably.
Not only did she get a great post-project review from her manager, but he asked her to run workshops to teach her peers how to make high-quality presentations like she did!
What advice do you have for people just starting out?
The best advice is to just start. The second best advice is to not stop.
I have spent years trying to make a successful online business. And I have had so many failures.
I implore people to keep trying different things until they find something that works. Over time, you'll learn more and more, and your likelihood of success increases. - Daniel Galletta
Click To Tweet
Moreover, don't be afraid to promote your work. I was always a little self-conscious about "putting myself out there". But you'll quickly realize that there's nothing wrong with sharing your hard work with others, especially if you have a great product.
Learn more about Daniel Galletta of slidescience.co: