How Dale @Bloggingherway.com Paid Off $30K in Student Loan Debt in Just 9 Months Through Her Course

Our content is reader supported, which means when you buy from links you click on, we may earn a commission.
---
Who: Dale @bloggingherway.com
Website: bloggingherway.com
Course Topic: Blogging
Interesting Stats: 4,200 subscribers interested in blogging
Who are you and what course have you created?
Hello! My name is Dale and I'm the founder of Blogging Her Way. I have been blogging for five years, and I've started and sold multiple successful blogs. I've built a six-figure blogging business from scratch, and now I teach others how to do the same through my course 30 Days to Blogging Success. 
What market does your online course serve?
30 Days to Blogging Success is designed for beginner bloggers who want to learn how to start and grow a money-making blog, but need a step-by-step roadmap for getting there.
A lot of people are interested in blogging. They've heard success stories of how it's possible to make a living through blogging. But they don't fully understand how it all works, or feel overwhelmed when it comes to getting started.
My course helps aspiring bloggers get past that. I've had everyone from college students to retirees to single moms take my course because they want to start a money-making blog of their own.
What's the biggest benefit of taking your course?
The biggest benefit to my course is being able to kickstart your blog in just 30 days. You can follow step-by-step instructions and simple lessons that cover all the basics. Instead of spending months figuring it out yourself, you can have a proven roadmap from someone who has done this multiple times before.
How did you get into the market?
I had already started several successful blogs in niches like travel, lifestyle, and college. Meanwhile, I was sharing tips and tricks for bloggers on my website Blogging Her Way.
I came up with the idea of 30 Days to Blogging Success as a way to put all of my knowledge in one place, and offer a proven system for new bloggers who are just starting out.
Why did you decide to create an online course in the first place?
When I decided to create an online course, I had already created and sold several other digital products such as short ebooks on my website. However, a course seemed like the best format for 30 Days to Blogging Success. That's because I wanted to create an easy-to-follow plan for new bloggers. I like that courses are easier to keep updated than ebooks. Plus I can offer more types of content within the course.
Did you have any moments of doubt before you created/launched it?
Yes, I definitely had some moments of doubt when I was creating my course. I think every course creator experiences some form of imposter syndrome.
In my case, I had to remind myself I've started multiple successful blogs and been able to replicate my success time and time again. So why wouldn't I be qualified to sell a course teaching others how to do the same thing?
What's your online course like?
My course is primarily text-based. That's how I personally learn best, so that's how I created my own course. I do have some short videos in a few of the lessons. These are just screen recordings with voiceover showing how to do certain technical things.  Other than that, the lessons are text-based.
How long did it take you to create your course?
I challenged myself to create my course in one month. Since the course is called 30 Days to Blogging Success, I created one new lesson a day for the entire month before I launched it. - Dale
Click To Tweet
I also pre-sold it. So I had a timeline that I had to stick to in order to deliver the finished product on time to the first round of students who had purchased the course.
However, since then, I have made major updates to the course on an annual basis.
Tell us a little about the process of launching your course and getting your first sale(s).
At the time I first launched 30 Days to Blogging Success, I had an email list of around 4,200 subscribers who were all interested in blogging. I sent a series of emails over the course of a week announcing the pre-sale of the course, and offering it at a reduced price to the first round of students.
Since I did already have a small but engaged email list, I was able to make quite a few sales during that first week, which motivated me to finish the course.
Do you have a lead magnet?
Yes, I have a free 5-day email course called Blogging Bootcamp that I use as a lead magnet for selling my course.
When someone signs up for the free email course, they are immediately taken to a tripwire page where they can purchase 30 Days to Blogging Success at a discounted price. - Dale
Click To Tweet
I then also pitch the course (at another discounted price) at the end of the free Blogging Bootcamp email course. So both of these offers convert very well and help me sell my course.
What's the traffic strategy that works best for you?
The majority of my traffic is actually organic and comes from Pinterest! I also get a smaller amount of traffic from organic searches, but SEO has never been my strong suit.
However, Pinterest has been a goldmine for traffic because many people use it as a "visual search engine" of sorts. I have been sharing my content (blog posts and landing pages for lead magnets) on Pinterest for years, and it provides very consistent traffic for me.

What online course platform are you using?
The course platform I use is Teachable.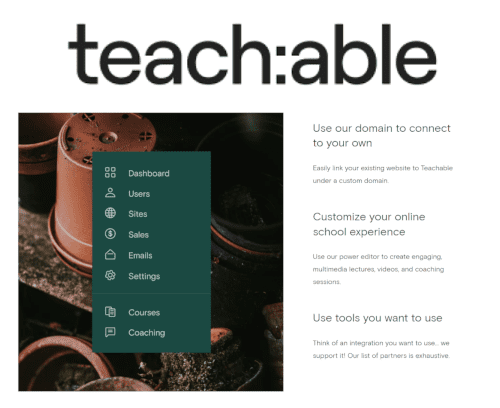 Check Out Teachable
Teachable is one of the top online course platforms used by successful course creators interviewed on coursemethod.com. It is easy to set up and build your site pages, and the course area looks great. 
Price Range: $0 (+ transaction fees) to $299/month
Most Popular Plan: Pro Plan at $119/month
Annual Discount: Yes, take 17% off!
Free Trial: Try out Teachable's core features for free
*Our content is reader supported, which means when you buy from links you click on, we may earn a commission.
Do you like it?
I like Teachable, and the reason I chose it is that I had already taken a number of online courses on various platforms, and found Teachable to be the easiest to use from a student perspective.
Are there any features you wish it had?
For my course, which just consists of text-based modules, the features that Teachable offers are sufficient. I did choose to create my own custom sales page rather than use one of the Teachable-hosted sales pages they offer because I wanted to be able to customize things more to fit my own branding.
What made you decide to use your chosen platform over others?
As I mentioned, I had already taken several courses on Teachable so I was familiar with the platform which made it a logical choice for creating my own course. And when I originally signed up for Teachable in 2018, I was grandfathered into a free plan that is no longer available, which is why I have kept my course on Teachable for so long.
What other tools do you use to run your online course business?
In addition to Teachable, I also use SendOwl to run my online course business. This is an eCommerce platform that I use to collect payments and deliver my other digital products (which include several ebooks.) It made sense to collect payments for my online course through SendOwl too, rather than using Teachable for that.
I also use ConvertKit for email marketing.
What books or training programs have you found useful on your journey to a successful business owner that others might find valuable too?
Suzi Whitford has a lot of great training for business owners that I have found helpful. Her online course "Course by Number" is helpful for anyone who is thinking about creating their own course.
I also highly recommend the online course "Pinteresting Strategies" from Carly Campbell which helped me learn how to use Pinterest to generate consistent traffic for my business.
Do you have any big mistakes you've made along the way that you'd be willing to share?
One mistake I made, in the beginning, was creating a sales page for my course on Teachable (instead of on my own domain) and not linking it to Google Analytics. So for a good six months, I was actually unable to see how much traffic my sales page was getting, and had no idea what my conversion rate was for visitors to sales!
Please share some idea of revenue.
Right now, 30 Days to Blogging Success brings in around $800 to $1,000 a month on autopilot. This is without running any ads or doing any additional promotion on it. Every couple of months I will promote it in my regular email newsletters and that will lead to a boost in sales.
Please tell us a little about what the money you've earned from your course has done for you.
30 Days to Blogging Success is just one source of income I have on Blogging Her Way, but out of all the digital products I sell, this course has actually become my top seller!
Thanks to blogging and selling my course, I was able to pay off $30,000 of student loan debt in just nine months. - Dale
Click To Tweet
I quit my corporate nine-to-five job to become a full-time blogger. And I saved enough money to travel the world for an entire year.
I've also been able to help hundreds of other people start their own blogs. There is nothing more rewarding than getting an email from a former student who is now making money from their blog!
What has creating your course done for you personally?
Creating a course gave me a sense of achievement, especially since I was overwhelmed about doing it at first. I'd only created smaller digital products like ebooks before I created my course. I had a mental block that creating a course would be much harder.
However, I ended up being able to do it in just one month. I accomplished this by pre-selling my course which forced me to have a strict deadline. I felt very accomplished afterward, plus a sense of relief.
Do you have a story of a transformation from any of your clients?
One of my students was a stay-at-home mom looking for an additional source of income. She followed my course. Then she emailed me less than a year later to say her blog about organization and planning was now earning $1,000 a month. In addition, she had just recently been accepted into the Mediavine ad network.
Since blogging was so impactful in my own life, it's amazing to be able to help others and see blogging transform their lives too.
What advice do you have for people just starting out?
My biggest piece of advice for people just starting out is to start before you're ready and don't doubt yourself. You don't need to wait until you're an "expert" in order to create a course. There's never going to be a "perfect" time to finally launch your course.
The sooner you can get started, the more you will learn what works and what doesn't work. Then you can iterate your course, your sales page, and your sales strategies and tweak things to get better results. But none of that can happen until you just get started!
Learn more about Dale of bloggingherway.com: