Cost of Email Marketing and How to Measure Your ROI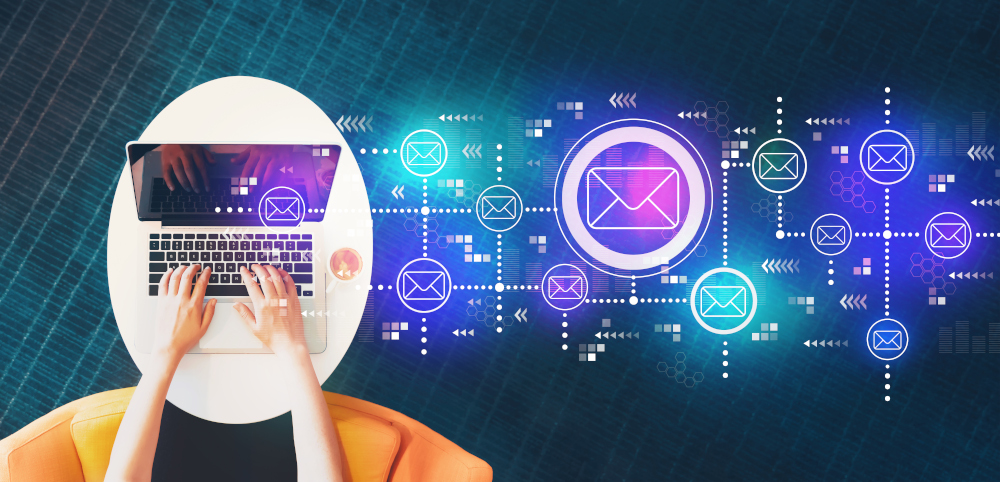 Our content is reader supported, which means when you buy from links you click on, we may earn a commission.
---
Email marketing is crucial to any online course creator's marketing plan. As a cost-effective way to reach your target audience and generate leads, HubSpot discovered that 37% of brands are working to increase their email marketing budgets.
But how much does email marketing cost? And how can you measure your return on investment?
This article will answer those questions and provide pricing plans from popular email marketing providers.
Why Email Marketing?
Email marketing allows you to reach customers interested in your product or service. You can use email marketing to nurture leads, build relationships and increase sales.
It can also help you make course sales on autopilot. For example, you can set up automated campaigns that send emails at intervals. Using this strategy helps nurture your new leads, provides time for them to trust you more, and can even help them make a buying decision.
What Factors Impact the Cost of Email Marketing?
Your email marketing cost will depend on a few factors: list quality and size, your platform, design elements, monthly email volume, and campaign automation capabilities. Let's review all the factors to consider: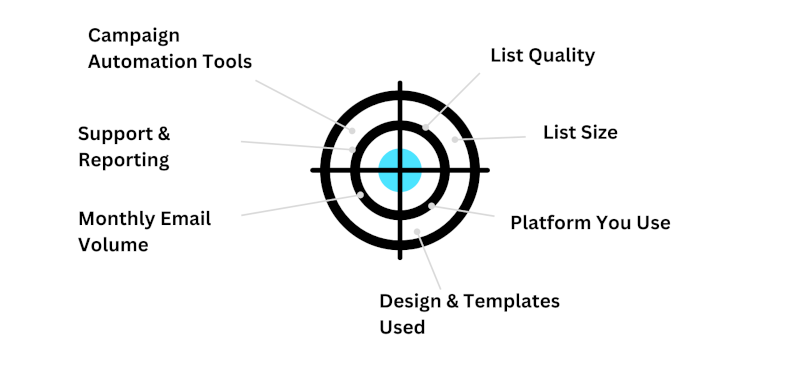 List Quality
An extensive email list isn't always better than a smaller, higher-quality list. Email costs will vary based on the quality of your contacts. It could cost more long-term if you have duplicate records or spam complaints. You can save money by periodically cleaning your list of duplicates or unengaged subscribers.
List Size
The size of your list will affect email marketing costs. The larger the list, the more it will cost. Some email service providers allow a certain number of free contacts, while others charge for every subscriber.
Platform You Use
Another cost factor is the platform you use for your email marketing campaigns. Each venue offers various features and tools. Compare costs, features, and services to find the right fit.
To keep your costs down, select an email marketing platform that fits the current size of your list. If that platform's cost rises too steeply as your list grows, you can switch to a service offering a more advantageous mid to high-tier pricing plan.
Design & Templates Used
The design of your email campaigns can also affect cost. It will cost more than a premade template if you need a custom-designed template. You will need to pay a designer to create and deliver the custom template. If you're starting with email marketing, you most likely don't need to invest in a custom template. Use the free templates offered by most email service providers to save.
Monthly Email Volume
Depending on your email marketing provider, the cost of email marketing can change based on the number of emails you send each month. Some providers offer different plans based on the monthly volume of emails sent. You may pay more per email if you send more emails than your plan allows.
For instance, the free Mailchimp plan only allows you to send 2500 emails per month. If you upgrade to its Standard plan, the monthly email send limit rises to 6000.
Support & Reporting
You may have to pay extra if you need additional support or reporting tools. Email service providers offer different levels of customer support and analytic data tools, from basic to advanced. You can use a low- or mid-priced plan if you don't require much monthly customer support. These plans will typically provide chat and email support.
If you're looking for more contact with your platform's support team, expect to pay more monthly. Drip, for instance, provides email and chat support for up to 100,000 email subscribers. If your list moves past 100,000 leads, you can access a dedicated customer success manager by paying over $1,300 per month.
Campaign Automation Tools
The cost of automation tools will depend on the platform you use for your email marketing as well as the complexity of your campaigns.
MailChimp and AWeber, for example, both offer essential automation tools in their mid-priced plans. If you need more advanced capabilities, such as dynamic content or segmentation, you'll need to upgrade to their higher-priced plans. On the other hand, you can access more sophisticated segmentation tools on Drip's lower-priced plans.
How to Measure Your Email Marketing ROI
The cost of email marketing only tells part of the story. To measure your ROI, you need to track how many purchases, signups, downloads, or goals each email campaign produces. Compare those results with how much you spent on that campaign to identify cost-effective email funnels.
Use the following data types to measure email marketing ROI:

Open Rate
The open rate is the percentage of people who open each email sent through your provider. It would be best if you worked to improve your open rates continuously. Doing so will keep your list engaged. An engaged list means you should generate more long-term revenue.
Think of the open rate as the first barrier to making sales. You can't make a sale to a prospect who doesn't open the email to see the offer or promotion. Here are a few things you can do to improve your email open rates:
Craft attention-grabbing subject lines
Send emails at optimal times
Send from a recognizable "from" name
Use emojis in your subject lines
One way to generate attention-grabbing subject lines is to use "power words." Powerful words are persuasive and can increase your open email rate significantly. Examples of power words include the following:
Beautiful
Discover
Dazzling
Memorable
Unforgettable
Click-Through Rate
The click-through rate (CTR) is the percentage of people who click on at least one link in your email. If you want to increase CTR, consider adding videos or visuals to your emails. Additionally, create compelling copy that entices readers to click on the link. A higher CTR means successfully moving your subscribers from email to sales pages.
Conversion Rate
The conversion rate is the percentage of people who complete the desired action, such as making a purchase. Include a clear call-to-action (CTA) in each email to increase conversions. Help your readers quickly find the CTA, so it's easier for them to complete your desired action.
Unsubscribe Rate
The unsubscribe rate is the percentage of people who opt out of your emails. To reduce unsubscribes, make sure you provide value in each email. Provide valuable content and resources so readers don't feel you're sending them constant sales pitches. Additionally, give readers the ability to adjust their subscription settings if they want fewer emails from you.
Consider creating a re-engagement campaign for subscribers who haven't opened or clicked on your emails. Using this strategy, you can determine whether they're still interested in receiving emails from you.
Email Marketing Provider Pricing Plans
Are you ready to start using an email service provider to build a list of buyers for your online course? Below you will find pricing plans for six of the best available email marketing providers.
Mailchimp
You can add up to 500 subscribers to Mailchimp for free. It's an excellent option when you want to try the service without paying for the first few hundred leads on your list. The following pricing plans offered by Mailchimp all offer pre-built email templates, over 300 software integrations, basic reporting and analytics features, and forms or landing pages.
Free: (2500 monthly email sends)
Essentials: $13 per month (5000 monthly email sends)
Standard: $20 per month (6000 monthly email sends)
Premium: $350 per month (150,000 monthly email sends)
GetResponse
GetResponse offers a free 30-day trial. After that, you can choose from three pricing plans. All paid plans offer unlimited email sends per month and access to the same features such as pre-built templates, unlimited landing pages, analytics tools, segmentation features, and a website builder. The free plan provides one landing page and various signup popups and forms.
Free Trial: 30-days
Email Marketing: $19 per month
Marketing Automation: $59 per month
eCommerce Marketing: $119 per month
HubSpot
With HubSpot, email marketing automation tools like forms and email sequences can be used. The Starter plan allows you to add up to 1000 contacts. You can add 2000 contacts to the Professional plan and 10,000 contacts to the Enterprise plan.
Starter: $45 per month
Professional: $800 per month
Enterprise: $3,600 per month
Drip
Drip offers everything you need to create a list of prospects for your online courses. You can set up welcome email sequences or send newsletter blasts once per week. Drip lets you segment your list based on which blog post a subscriber uses to join your list. You can also automatically switch subscribers from a prospect list to a customer list after they make a purchase.
Up to 2500 people: $39 per month
Up to 3500 people: $59 per month
From 3501 to 5000 people: $89 per month
Up to 10,000 people: $154 per month
Up to 50,000 people: $699 per month
From 50,001 to 100,000 people: $1199 per month
AWeber
AWeber offers a range of email marketing plans for businesses of all sizes. You can send autoresponder emails, segment your list, or set up automation rules so subscribers get targeted messages based on their behavior. The email marketing provider also gives you landing pages, advanced analytics, and reporting options.
Free: $0 (500 subscribers)
Lite: $14.99 per month (Unlimited subscribers)
Plus: $29.99 per month (Unlimited subscribers)
ConvertKit
ConvertKit is a simple option for email marketers who want to manage their lists from one place. The service lets you send automated emails, segment your list into groups, and track results easily.
Free: $0 (300 subscribers)
Creator: Tiered pricing (Starting at $15 per month)
Creator Pro: Tiered pricing (Starting at $29 per month)
FAQS on Email Marketing Costs
How do you calculate email CPM?
Calculating email CPM (cost per mille or cost per thousand) is a key metric in calculating the success of your email campaigns.  To calculate email CPM, divide the total cost of sending an email campaign by how many were delivered and then multiply by 1,000.
For example, if it costs $500 to send a campaign to 10,000 people, the CPM would equal $0.50.
How much does a custom email template cost?
The cost of a custom email template will largely depend on the complexity of the design, the elements that need to be included, and the time it takes the designer to complete it. Other considerations include the cost of coding and automation in addition to the cost of hosting and sending services.
With so many variables, costs can range between $50 – $1,000+ depending on your needs. Design services are available from hundreds of professionals through online freelance job sites such as Upwork, Fiverr, and Freelancer.
What is a good CPM for email?
When discussing good CPMs (cost per 1000 impressions) in email marketing, it is essential to note that different types of emails can drastically alter the effectiveness of your campaign.
For example, transactional emails tend to have a notably higher CPM than promotional emails. Transactional emails need constant design updates and have different usage metrics, such as open and click-through rates.
Regarding good CPM for email marketing campaigns, generally, you should aim for an average between $18-$30. However, this may vary depending on the specific industry or product/service sold. Good CPMs are achieved with consistent open/click-through rates and targeted content that resonates with readers.
Is email marketing low-cost?
Email marketing is one of the most cost-effective ways to reach customers. However, email marketing does cost something. You'll need to invest in a high-quality email platform, gain your email list through traffic which often costs money, and perhaps hire someone to create content for your campaigns.
When you look at the cost savings associated with email marketing — from branded messaging that drives significant traffic back to your website to automated follow-up messages that can qualify leads more effectively than ever before — there's no denying that email is an excellent way to engage customers without having to break the bank.
What are the most common types of email?
From gaining subscribers to keeping customers engaged and informed, common emails include welcome emails, newsletters, and promotional and transactional emails.
Welcome emails help companies build relationships with new customers by letting them know you exist and fostering sound customer relations at the start.
Newsletters keep current customers up-to-date on your products or services; they should offer value but also contain promotional material.
Promotional emails help spread the word about upcoming sales or discounts.
Transactional emails are automated messages that help the customer complete a transaction – for example, purchase confirmations or reminders of subscription payments.
All four common types of email attract attention and create opportunities to engage with new and existing customers who are already interested in your offers.
What is the best free email marketing service?
There are plenty of options for finding the best free email marketing services, such as MailChimp, Aweber, and ConvertKit. However, a few key considerations can help you make the best choice for your company.
Look for a service with good reporting capabilities to track your campaigns' performance.
Ensure that the service you choose allows for automation so you can make coordinating your campaigns simpler and more efficient.
Double-check what customer support is offered – some companies offer more extensive phone or video support than others.
It's worth a little extra time to explore all these factors to determine which best meets your email marketing needs.