Content Marketing Survey Report 2013

Our content is reader supported, which means when you buy from links you click on, we may earn a commission.
---
Are you interested in knowing how other marketers are using content marketing?
Would you like to know the benefits of publishing articles and videos?
In our first ever content marketing survey, we uncover trends and statistics on the state of the content marketing industry.
Why content marketing?
Content creation and distribution are at the heart of many marketing strategies.  These include search engine optimization (SEO) as well as social media marketing.
Both these types of marketing bring in large amounts of traffic due to the optimization and distribution of content (which can include video. audio, images, and text based content).
Content marketing differs from many forms of advertising.  Valuable content acts as a magnetic force for marketers and helps drive traffic as well as increase conversions with less friction than traditional sales pitches.
In this free 25-page report, we attempt to find out more about the use of content marketing strategies. Both content creation and distribution are examined.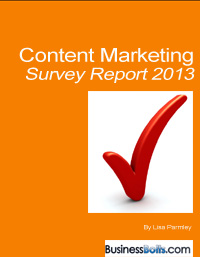 Inside this free report, you'll discover:
What type of content (articles, video, images, reports, podcasts) marketers are focusing on now and where they plan to head in the future.
The top 10 questions marketers have on content marketing.
Tools and services content marketers wish existed.
How much time and money marketers are spending on their content creation efforts.
The top benefits of creating and distributing content.
Revenue breakdowns so you can uncover trends of top earners.
Check-out this free report and see how your content marketing strategy compares with others.
If you're helping small businesses grow, you can use the statistics in this report to help show your clients the importance of content marketing. And if you're a service provider, you'll gain ideas from the needs of those surveyed.
There is no opt-in necessary. Just click on the Download Now link below to read the report:
Let us know what you think of the findings. Just enter a comment below.