Clickfunnels Alternatives: Top 7 Options

Our content is reader supported, which means when you buy from links you click on, we may earn a commission.
---
Russell Brunson and Todd Dickerson launched Clickfunnels in 2014. Their vision was to help businesses scale operations by making marketing easier for all. Clickfunnels is more or less a one-stop shop for all your digital marketing requirements.
In fact, the software is one of the fastest-growing marketing software to exist. Due to its success, many Clickfunnels alternatives have cropped up over the years.
Despite all the Clickfunnels alternatives, within the last seven years, Clickfunnels has grown to become a million-dollar business with over 100,000 customers.
But did you know that only about 800 of those active users generate over a million dollars in sales using a single sales/marketing funnel for their business?
As surprising as that figure may be, it is true. If you want to achieve success and scale your business, you will need more than one sales funnel. You will also need to pay attention to many funnel components, such as the sales funnel headline, its design, and the marketing automation running behind it.
In this article, we not only review Clickfunnels but also provide a list of Clickfunnel alternatives to help you create successful landing pages and sales funnels so you can grow your business to new heights.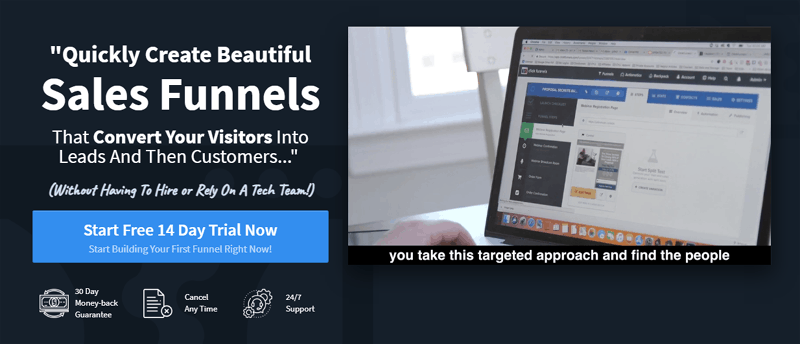 Overview of Clickfunnels
For your sales funnel and landing pages to be successful, they have to be captivating. In fact, according to a 2015 research study by Microsoft, you only have about 8 seconds to capture the user's attention. Some researchers claim that the average attention span has been reduced even further. It might only be 2 seconds! However, a safer bet would be somewhere around 4 to 5 seconds.
That being said, if you only have four seconds to capture the customer's attention, you will have to create a captivating headline and pay extra attention to the copy on your landing pages. Clickfunnels makes your life a whole lot easier by providing you a wide range of landing page templates so you can focus on the copy and not worry about the funnel design.
Initially, when Russell and his team launched Clickfunnels, they had high hopes for the software. But it did not deliver. Their campaigns failed, and they received little to no response. It seemed like there was no market for their landing page builder.
Pivoting to Success
In a final attempt to market the product, Russell put together a presentation and delivered it in person, explaining to people what Clickfunnels was all about and how it can help them build their business. By the end of the presentation, around 30% of attendees signed up for the product.
Soon after, they hit their 10,000 paying customers' mark. As mentioned earlier, Clickfunnels now has over 100,000 customers and earns more than a million dollars in revenue annually.
Here are some interesting facts and achievements about the company:
In 2018, Russell Brunson, co-founder, and CEO of Clickfunnels won the Entrepreneur of the Year award at the American Business Awards.
Users of Clickfunnels have created more than a million sales funnels to date.
Clickfunnel users have generated over 50 million leads through the sales funnels and landing pages.
Pros of Using Clickfunnels
For marketing automation software or platform to achieve the kind of success Clickfunnels has, it has to offer its customers a wide range of benefits and pros, giving it an edge over its competitors, and Clickfunnels does that and more. Here are just a few pros that make it one of the best all-in-one marketing solutions ever.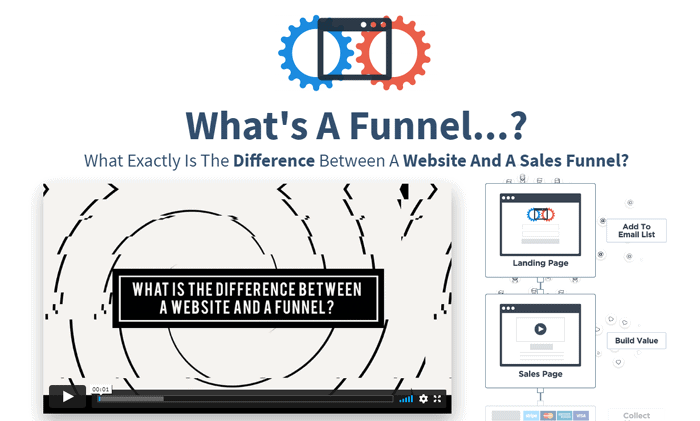 No Coding Skills Required
Not all digital entrepreneurs have coding skills, and they rely on website developers and professional coders to run and manage their websites. Imagine having to pay a web developer every time you want to edit your sales funnel. You could have to pay a developer several times a month! Thankfully, you don't need to know how to code to use Clickfunnels landing page builder, making it a cost-effective marketing solution and page builder for all entrepreneurs.
Another major advantage of using Clickfunnels is that the drag and drop builder is extremely easy to use. In fact, you can create beautiful, customized sales funnels for your business within a few minutes through the drag and drop editor and one of the many available landing page templates.
Upsell and Downsell Features
A customer sees your advertisement and visits your website to purchase a product. When they are about to checkout, you may offer them a discount if they chose to purchase another course or product from you. This strategy is called an upsell.
If a customer decides to reject your upsell offer, you may offer them another, slightly cheaper deal to make them reconsider their decision. The second, cheaper offer you make is known as a down-sell, and Clickfunnels allows you to build both options into your sales funnel by allowing you to work with multidimensional funnels.
You never really know which sales funnels are going to work for you until you run with it to see how well-received it is. If your funnel or the landing pages fails to help you reach your marketing goals, you can make changes and test it again with the help of the A/B Testing feature. The feature helps ensure that your sales funnels and landing pages are actually performing the functions you want them to.
If you think you've created mind-blowing sales funnels, you can share them with others also using Clickfunnels. You can also use landing page templates or funnels created by your friends or other users of Clickfunnels and customize them for your company.
You not only get the testing feature, but you can also measure the performance of your sales funnels through the integrated data analytics software already included in the tool. With the data, you can determine which landing page template was better received and achieved its targets faster and more efficiently. That way you know which landing page to rely on and which to improve.
In-Built Payment Gateways
You don't have to create a new billing and payment gateway for each landing page template or page that you create. Use the in-built payment gateways on the platform, making designing your funnel a whole lot easier.
Clickfunnels is not just a tool that helps you create funnels and marketing pages that sell; you can also use it to host online courses. Use the membership feature to create membership sites and pages for your online courses.
You can Create Product Launch Funnels
Clickfunnels is truly a one-stop shop for all your marketing needs. In fact, you can even use it to launch a new online course through the product launch funnel.
As an online course creator, you are probably well aware of how difficult and time-consuming a new product launch can be. Clickfunnels makes the entire launch process as easy as 1,2,3 for you.
Allows You to Create an Emailing List
Having an emailing list can do wonders for your brand now and in the future. It makes marketing your products and services a lot easier. You can use the mailing list to send clients updates on new courses that you may be offering or discounts and promos that you may have coming up. The next time you launch a course, you will already have a lengthy email marketing list making your marketing job even easier.
Cons of Using Clickfunnels
Where there are pros, there are always cons as well. What is important, though, is that with Clickfunnels, you don't particularly have a huge list of cons.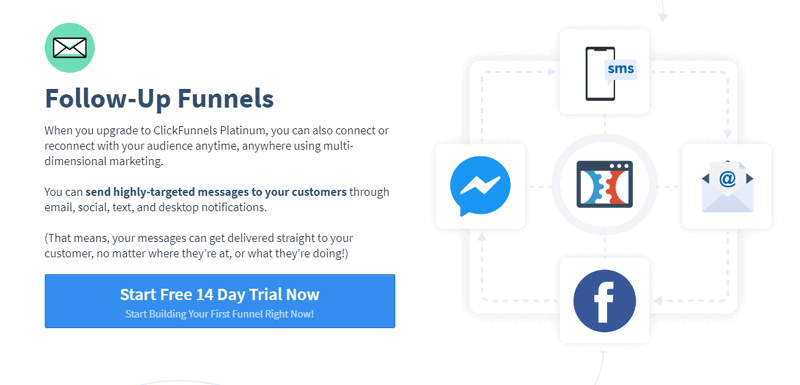 Here are the few things that customers would like the creators of the tool to improve in Clickfunnels.
Clickfunnels Does Not Allow You to Advertise
Online course creators can earn quite a substantial amount of money by featuring advertisements in the middle of their videos. Clickfunnels does not allow creators to feature advertisements in the middle of the videos. For that reason, many course creators prefer using YouTube to host their lessons.
Clickfunnels Free Trial for Only 14 Days
A free trial version or period can be extremely beneficial for new entrepreneurs. Clickfunnels only offers a free 14-day trial, which many users complain is not enough time to actually test the tool and rate its performance.
May Prove Quite Costly for New Entrepreneurs
Small businesses or new course creators may find the tool to be extremely expensive. In fact, not many have the budget to be able to afford tools like Clickfunnels. Once the trial expires, they turn to Clickfunnel alternatives that are cheaper or have longer free or discounted trial versions.
Poor or Slow Customer Support Network
Clickfunnels is growing at an unprecedented rate, and one of the staple complaints about the service is that it has a poor customer support network. This is another of the top reasons why small business owners look for Clickfunnels alternatives. Clients can wait for hours before they hear back from customer support, and getting a satisfactory answer or help usually takes multiple tries.
Clickfunnels Verdict
In terms of ease of use, reliability, design, features, speed, and technical usage, Clickfunnels scores an average of 8 and above in each category. The only two categories where it scored a 7 are pricing and customer support. For a platform/tool that has only been on the market for seven years, that is not bad at all.
Clickfunnels is now a staple tool for digital marketers and up-and-coming entrepreneurs. However, if you're looking for some Clickfunnel alternatives, we bring you a list of the top seven Clickfunnel competitors and what makes them worthy competitors.
The first tools on this list offer mainly the ability to build landing pages, marketing automation, and email marketing. The last Clickfunnel competitors on this list include the ability to build membership sites and host full online courses.
1. Get Response
If you're looking for more email-focused marketing software than a complete Clickfunnels alternative, Get Response is ideal for you. The platform has added a few new features and boasts an easy-to-use and integrate marketing interface. You can use Get Response with various other third-party platforms to increase its functionality.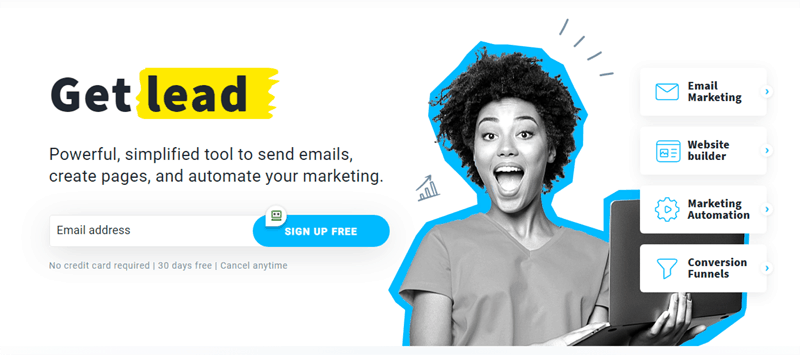 Other pros of the software include:
The ability to send emails and SMS to customers.
An in-depth email marketing feature, allowing you to create a bulk email marketing list.
Set up an autoresponder to handle queries on your behalf when you are not handling the business.
Affordable annual plans.
Benefit from the functional A/B testing feature.
However, there are also a few cons of the software.
You do not get access to a customer support network 24/7.
The integrated analytics function does not provide detailed information.
Get Response does not offer a free trial program.
If you are hoping to build an e-commerce focused marketing and funnel network, you should consider looking into GetResponse.
2. Unbounce
Unbounce is another Clickfunnels alternative. The platform offers some amazing benefits, including the ability to create and test landing pages. Did we mention you get unlimited A/B testing with Unbounce?
You don't have to wait weeks testing different landing pages and running split tests to determine which page is working and which isn't only to end up at square one having to create a new page and go through the hassle again. With Unbounce, you can run the pages and make changes in real-time to see what works and what doesn't, making it an extremely functional marketing tool.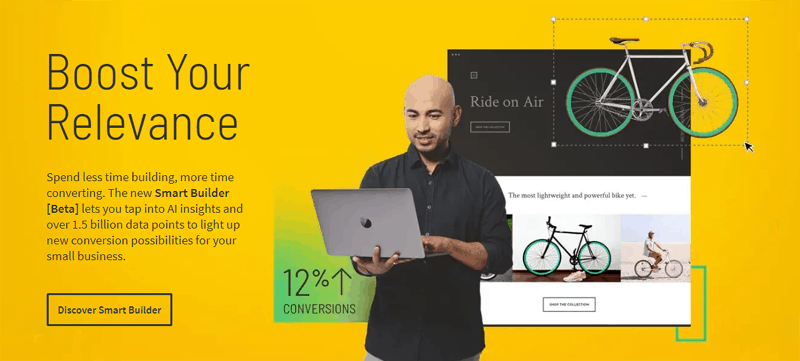 Pros of Unbounce:
Allows you to build and publish pages quickly.
You can create different variants for unlimited A/B testing.
Allows you to customize the pages as you like and when you like.
You have a wide range of templates to use, and you can even access templates from third-party sources.
It is more than just a landing page builder and comes with a wide range of unique features such as pop-up and sticky bar builder and clone and edit webpages.
Cons of Unbounce:
The analytics features are severely lacking in terms of functionality.
You cannot customize the buttons on the page.
Slightly expensive.
If you want to create a fancy landing page that will stand as one of the best Clickfunnels alternatives, Unbounce is the software to turn to.
3. Instapage
Instapage makes the landing page creation to the next level by allowing you to optimize and connect each advertisement to a different, personalized landing page. With Instapage, you can create a more personalized buyer's journey, which gives it an edge over other Clickfunnels alternatives.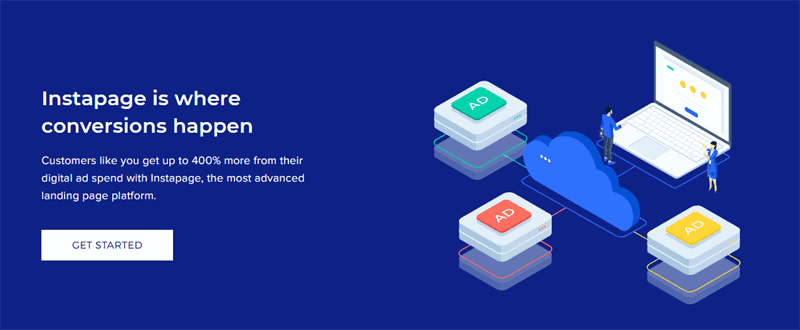 Pros of Instapage:
Instapage offers better conversion rates than other funnel builders.
It features a wide range of tools and services that allows you to create organized and functional web pages.
Get an unlimited A/B testing feature.
Customize your landing pages to enhance their performance.
Gain access to heat maps and other analytics features that help you improve the pages.
Cons of Instapage:
You cannot integrate third-party platforms with Instapage.
Some of the analytics tools are very underwhelming.
The customer service has received many negative reviews.
Also, the platform is not as easy to use or functional as some of the other Clickfunnel alternatives.
If you are looking for marketing software that offers higher conversion rates, Instapage might be the ideal Clickfunnels alternative for you.
4. Simvoly
Simvoly is another great Clickfunnels alternative. It is a website builder, a funnel builder, an e-commerce marketing tool, and a Customer Relationship Management System builder all in one. If you're looking for a Clickfunnels alternative with diverse functionality, you should definitely look into Simvoly. It is functional, affordable, and efficient. The platform is also very easy to use. It comes with a wealth of resources for first-time funnel and webpage builders.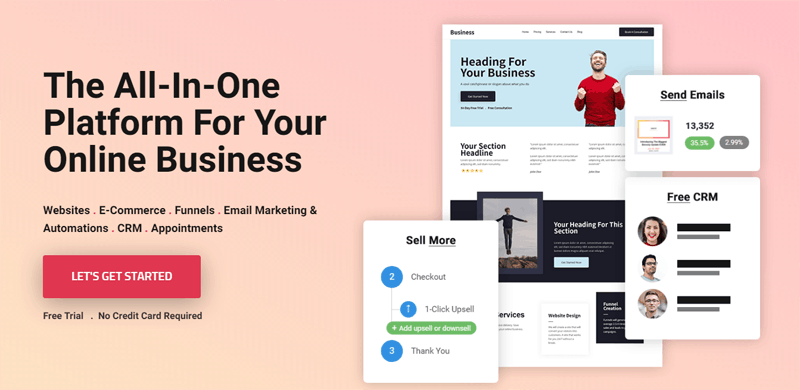 Pros of Simvoly:
The platform is extremely easy to use and set up.
You get access to a wide range of resource material that makes getting to know the platform a lot easier.
The company offers competitive pricing making it ideal for those looking for value for money.
Many customers praise Simvoly's customer support network.
Cons of Simvoly:
Some of the features, such as editing/customization for mobile devices glitches and, needs to be updated.
The platform does not record the changes you make, so you have to remake the changes if you aren't happy with the end product.
Some of the tools are not usable on all the templates.
It is ideal for new entrepreneurs looking for an alternative to Clickfunnels who want to build an e-commerce website and are looking for value for money.
5. Groovefunnels
Groovefunnels is ideal for all those who are looking for a free alternative to Clickfunnels. It has all the functionality you could desire in a landing page and funnel builder, and that too for free.
You can create new pages using new templates, edit old templates, or make changes to existing funnels with their page builder. Groovefunnels also allows you to create high converting landing pages This allows you to market and sell your products online easily.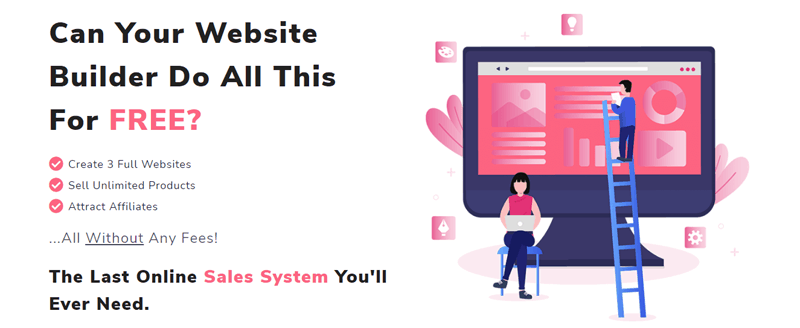 Pros of Groovefunnels:
You can get lifetime access to Groovefunnels at a discounted price. This means it only costs a fraction of what other Clickfunnels alternatives cost.
Groovefunnels features inbuilt SEO components allowing you to customize your landing pages and marketing platform for the Search Engines.
This Clickfunnels alternative is highly customizable, easy to use, and includes simple features such as a drag and drop tool.
You can get access to several landing page templates in over 30 different categories.
Cons of Groovefunnels
Groovefunnels is still under development, so there are constant changes to this marketing platform.
There are still some glitches in some of the marketing automation tools that the creators need to fix.
If you are looking for a free alternative to Clickfunnels, give Groovefunnels a try.
6. Kartra
Kartra is another all-in-one Clickfunnels alternative. They offer sales funnel builder and page builder so you design your website and funnels for high conversions. In addition, you can also host digital training from within your Kartra account with easy delivery to your clients. That means you can host online courses within Kartra. Best of all, Kartra is a little less expensive than Clickfunnels and many other Clickfunnels alternatives.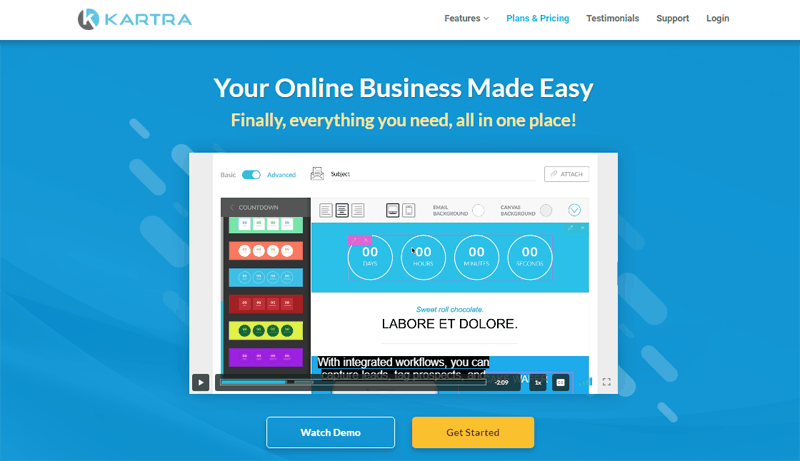 Pros of Kartra
Kartra offers an easy-to-use drag-and-drop page builder that is 100% mobile optimized.
It has a built-in email marketing/SMS marketing system so you can communicate with your users.
Kartra offers helpdesks, calendars, and built-in sales funnels.
Cons of Kartra
It can be difficult to integrate Kartra with other tools.
Although Kartra offers sales funnels, they are limited in comparison to those offered through Clickfunnels and many of the other alternatives to Clickfunnels.
Kartra is a good, affordable Clickfunnels alternative and will work for many. It's robust, but not really a stand-out winner when it comes to funnel building. You will however save time using the tools Kartra offers you.
7. Kajabi
Kajabi is one of the best Clickfunnels alternatives in that you can use it to create your site, landing pages, and host digital training materials. However, Kajabi's site-building and funnel-building capabilities are once again limited in comparison to Clickfunnels.
The edge with Clickfunnels is that you are creating a sales machine. Kajabi shines when it comes to using it as an online course platform or membership site.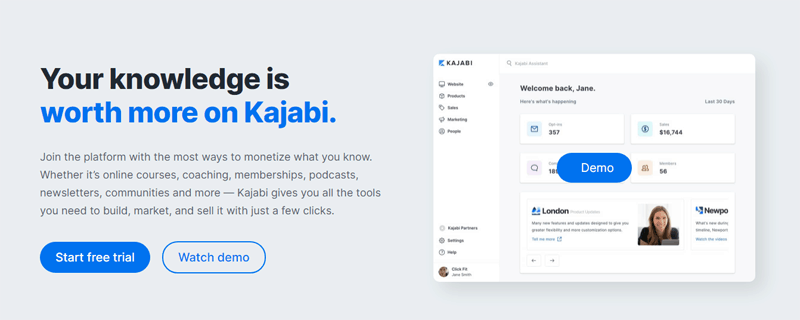 Take the time to consider what your priority is. That way you can easily figure out whether Kajabi or Clickfunnels is the better fit for you.
Pros of Kajabi
Kajabi offers built-in email marketing, marketing automation, and landing pages to rival the best Clickfunnels alternatives.
It has a more robust learning management system within it and is geared primarily for those offering digital products (like membership sites and online courses).
Cons of Kajabi
Kajabi is not built for selling physical products.
It can be difficult to integrate payment processing tools within Kajabi.
Kajabi doesn't offer anything like the Clickfunnel Two Comma Club where you will learn how to build and grow your business.
Kajabi is a top Clickfunnels alternative to look into especially if you are offering online courses and digital training. It is one of the best Clickfunnels alternatives for those offering digital products.
Final Word
While all Clickfunnel alternatives sound appealing, none of the Clickfunnel competitors offer its users what Clickfunnel does. It guarantees ease of use, affordable pricing, functionality, good customer service, and so much more.  The drag and drop Clickfunnels landing page builder, funnel builder, and marketing automation will allow you to create high converting landing pages sure to lead you to success.