How Carmine Mastropierro Brings In 6-Figures/Year with His Freelance Copywriting Courses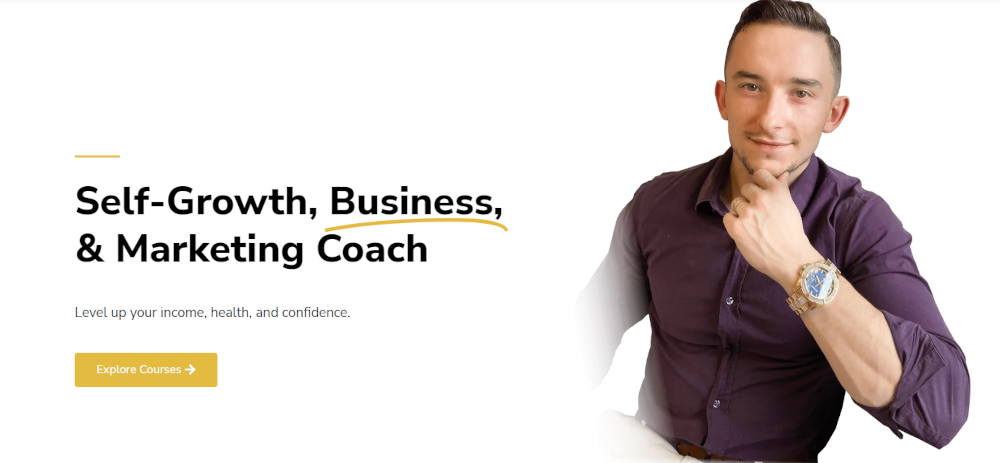 Our content is reader supported, which means when you buy from links you click on, we may earn a commission.
---
Who: Carmine Mastropierro
Website: carminemastropierro.com
Course Topic: Freelance Copywriting
Interesting Stats: 5,000+ course students
Who are you and what course have you created?
I'm a freelance copywriter and marketer that's worked with Neil Patel, Dan Lok, and other large companies. I'm also the Co-Founder of a legal marketing agency and the Marketing Director for a SaaS company.
I've created courses specifically on how to write effective sales copy, and how to build a profitable freelance copywriting business.
What market does your online course serve?
My online courses serve two different audiences. The first is freelancers and beginners to copywriting who want to improve their skills and value to offer to clients or the job market. Secondly, I also sell to business owners who wish to write their own sales copy, or at least, be able to know what good copy looks like.
What's the biggest benefit of taking your course?
The biggest benefit of taking my online courses is the direct feedback and relationship you get with me as your instructor. Every day, I give students critiques and help with their copywriting, clients, and businesses. Similarly, they gain access to a private Facebook community to network, ask questions, and get help.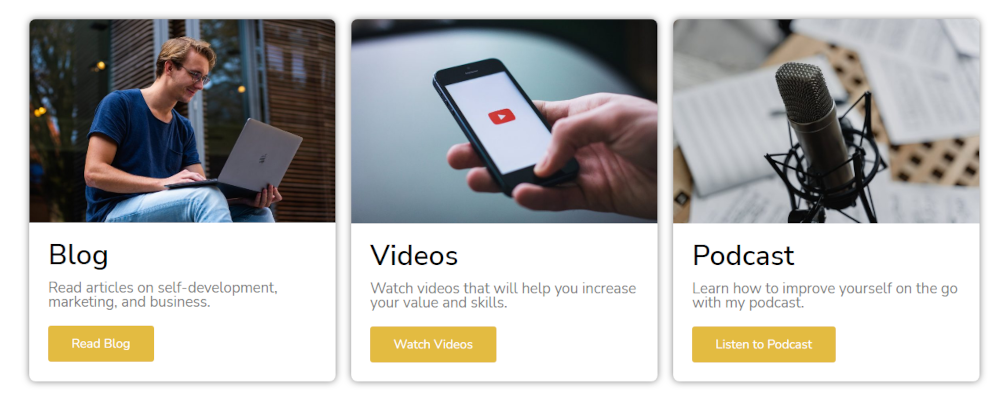 How did you get into the market?
I was a freelance copywriter for many years, and I would regularly have people emailing me or reaching out via social media for help. I even had a few clients and followers suggest that I create an online course because it would be very helpful. I used this as inspiration along with scouting out some of my competitors to see that they were selling profitable courses.
Why did you decide to create an online course in the first place?
I created online courses for a few reasons. Firstly, it was a new channel to help my followers and clients as they could take the training at their own pace. Selling online courses also created a passive income stream alongside my freelance writing business. And, frankly, I just love teaching people about copywriting and marketing! It was a natural next step in my business journey.
Did you have any moments of doubt before you created/launched it?
Absolutely. At first, as you could expect, I didn't really know what I was doing. I didn't know what made an online course good and what people expected. I researched, read books, and analyzed my competitors to come up with ideas and strategies. However, there were times I had doubts about my pricing, if people wanted the course, etc.
Once I started to get sales and positive feedback from students, it was clear that I had made a good decision, and my hard work paid off. That spoke for itself and gave me a lot more confidence.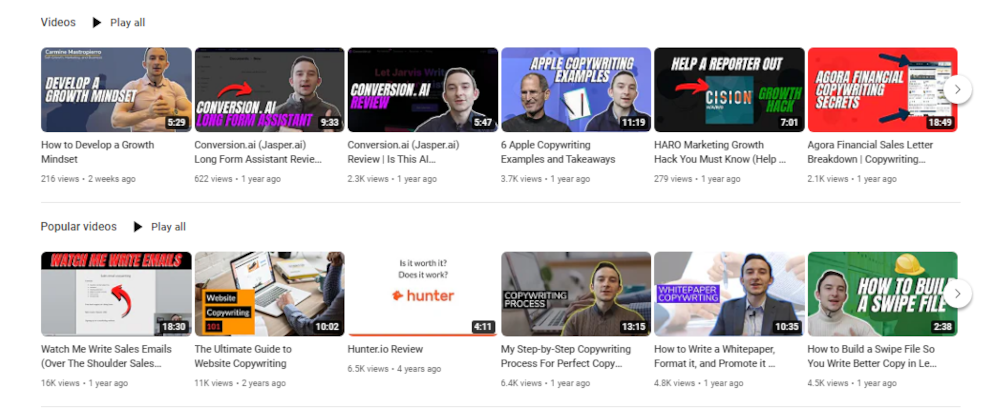 What's your online course like?
My online courses are a mixture of different elements. There are videos in almost every lesson where I go over theory, and strategies, or write sales copy from scratch so my students can see my process. Some of the videos are talking-head style or me going through PowerPoints depending on the exact topic. There's also text below each video to recap the main points, along with exercises, quizzes, and PDFs. The combination of these formats helps me reach the most amount of students and gives them the resources to succeed.
How long did it take you to create your course?
I began by creating an outline of the course, including all of its modules, lessons, exercises, quizzes, and downloadables. From there, I recorded each lesson with a script and focused on an MVP (minimal viable product). This allowed me to publish a valuable online course and determine if it had a product market fit without overinvesting. From there, I reiterated and improved the course with student feedback. Planning, recording, and launching my first online course took approximately 6 months of work. The process has gotten consistently faster as I've learned more and more.
Tell us a little about the process of launching your course and getting your first sale(s).
One of the first things I did was announce the online course to my email list.
I promoted it on social media, created a dedicated landing page, and adjusted my website to have calls to action for the course. - Carmine Mastropierro
Click To Tweet
I also intertwined the course into my content to organically drive awareness and sales. Within 24 hours of launch, I had students purchasing it!
Do you have a lead magnet?
Yes, all of my blog posts have a copywriting lead magnet since that is the main topic of my website and online courses. I use SendFox, an email marketing software, to place a section at the top of each blog offering a copywriting resource bundle in exchange for the subscriber's email. From there, they opt in to an email sequence that gives them more free resources and also sells them on my course.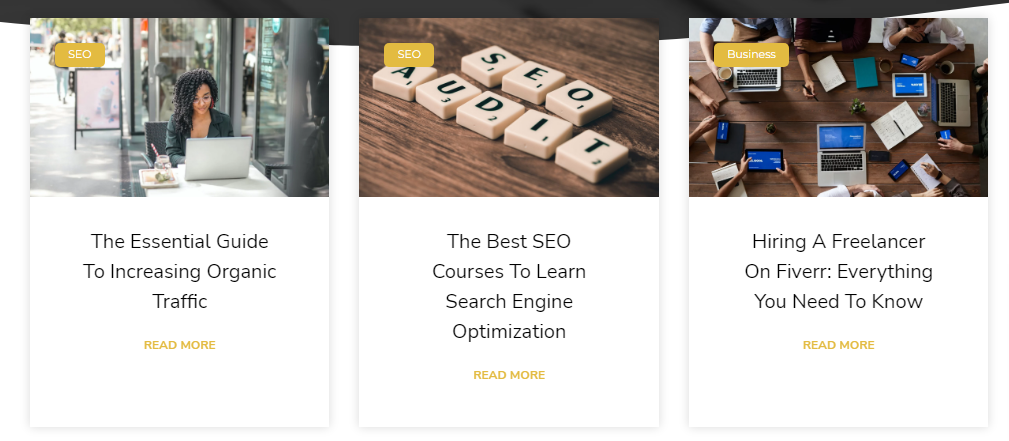 What's the traffic strategy that works best for you?
The best traffic strategy has been a mixture of organic, email, and referrals. My email list is large and takes advantage of drip sequences to build a relationship with subscribers before introducing them to my paid course. Similarly, all of my content, including my blog, YouTube channel, and podcast build value and then pitches the course after. This has allowed me to create a truly passive income stream.
What online course platform are you using?
I currently use Teachable. I tried other platforms, including WordPress plugins, but found Teachable to be the easiest to use and have the best features. I started on the free plan to get a hang of the software and eventually upgraded to the paid version, which you must do for further capabilities.
Do you like it?
I love it! If you are thinking of launching an online course, I can't recommend Teachable enough.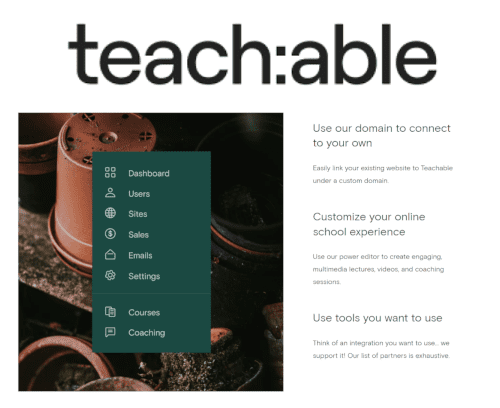 Check Out Teachable
Teachable is one of the top online course platforms used by successful course creators interviewed on coursemethod.com. It is easy to set up and build your site pages, and the course area looks great. 
Price Range: $0 (+ transaction fees) to $299/month
Most Popular Plan: Pro Plan at $119/month
Annual Discount: Yes, take 17% off!
Free Trial: Try out Teachable's core features for free
*Our content is reader supported, which means when you buy from links you click on, we may earn a commission.
Are there any features you wish it had?
Honestly, it has everything that I want. You can create courses, coupons, affiliate codes, bundles, offer coaching, and they recently added an extra community feature you can pay for. There's nothing it doesn't have that I need.
What made you decide to use your chosen platform over others?
A few things stood out about Teachable for me. Firstly, it's a very fast and professional platform that makes my courses look better and gives a great user experience to students. I don't have to worry about slow loading times or clunky plugins. It also keeps my website loading faster since I'm not hosting the courses directly on my servers. Once I swapped over, I immediately saw more sales and better feedback from students, so I was sold instantly.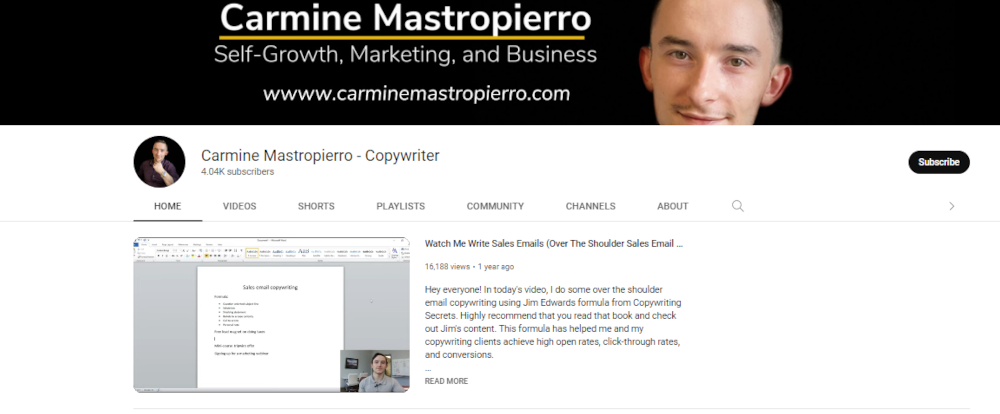 What other tools do you use to run your online course business?
Overall, there are quite a few different pieces of technology that go into my online courses. Most notably would be WordPress, Elementor, SendFox, Teachable, and Facebook since I offer a private group with my courses. Those are the main tools I use.
What books or training programs have you found useful on your journey to a successful business owner that others might find valuable too?
When I first started learning about online courses, Thinkific and Podia were great resources. I also recommend reading the books "Teach and Grow Rich" by Danny Iny and Leading the Learning Revolution by Jeff Cobb. Those two books gave me the paradigms to understand what goes into creating a successful online course and why so many fail. Other resources and experts I would recommend include Alex Hormozi, Neil Patel, and Gary Vaynerchuk.
Do you have any big mistakes you've made along the way that you'd be willing to share?
One of the biggest mistakes I made early on was not being involved enough with my students. - Carmine Mastropierro
Click To Tweet
I thought, like many, I could sell an online course and it'd be nearly 100% passive. I couldn't have been more wrong. When people are buying an online course, they aren't buying a digital product, but rather education. This means they want your feedback, critique, communication, and help every step of the way. I noticed a day and night difference in student performance and business growth when I started approaching it with the latter.
Please share some idea of revenue.
At the moment, my online courses generate six figures.
Please tell us a little about what the money you've earned from your course has done for you.
It has given me incredible financial freedom. I'm very frugal and modest, so outside of a house and business office, I do my best to live within my means and reinvest in the business!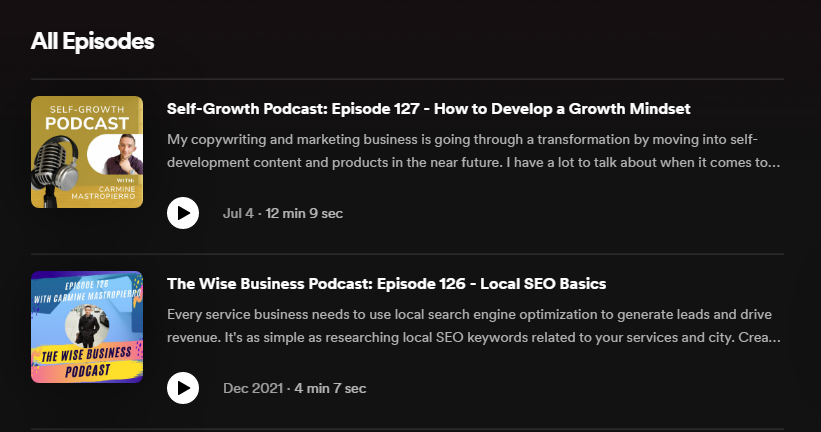 In addition to revenue are there any numbers you would like to share?
One of the ways I was able to attain 5,000+ course students was thanks to all of the content marketing I did along with lead magnets and offering free courses as well.
Just offer as much free value up front and even if it takes months or years, I guarantee it will come back tenfold. - Carmine Mastropierro
Click To Tweet
What has creating your course done for you personally?
I love that I'm able to share things that I'm passionate about and can help people in a very specific way. It's awesome having students contact me and tell me that they landed a new job or client with what they learned.
Do you have a story of a transformation from any of your clients?
There was one in particular where a freelance writer took my course and was very disciplined. She regularly held Zoom meetings with me, asked for critique, and so on. She struggled with confidence and raising her rates, so I told her to charge double for a website copywriting project she had the opportunity to do. She was reluctant but emailed a couple of days later saying she got the gig and moving forward she'll keep those as her new rates, effectively doubling her income!
What advice do you have for people just starting out?
Learn lots and be patient. It's a new skill you're going to have to master, and it will take time to get good. Consume everything you can about online courses like blog posts, videos, and podcasts. Get something out there quickly and don't worry if it's not perfect. It never will be. Use student feedback to make it better, and continually reinvest in your craft.
Learn more about Carmine Mastropierro of carminemastropierro.com: