How Carin Hunt Elevates the Wedding Industry Through Her 14-Years of Experience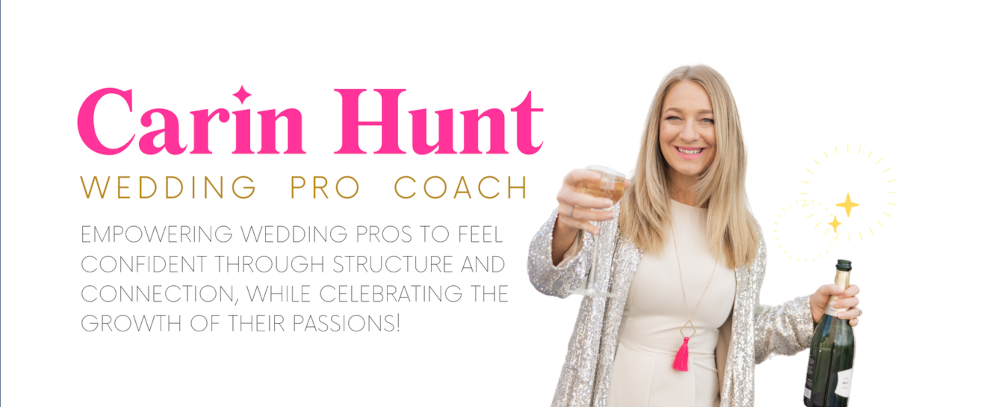 Our content is reader supported, which means when you buy from links you click on, we may earn a commission.
---
Who: Carin Hunt
Website: carinhunt.com
Course Topic: Wedding Business Training
Interesting Stats: 50% of masterclass registrations attended the live class
Who are you and what course have you created?
I'm a seasoned Event Industry Mentor, previously known for my 6-figure wedding planner business and professional development junkie. I worked my business from the ground up and know your struggles. I want to empower you with simple solutions so you can use your time for what matters most.
Reflecting and growing on 14 years of industry experience, I've set out to inspire and elevate the wedding industry through professional development and community rising.
I've created the Talk of the Town Masterclass, where wedding professionals (and small business owners alike) learn actionable steps towards leveraging their most substantial – and least utilized – marketing tool: word of mouth.
What market does your online course serve?
I empower wedding pros to find confidence in their businesses through strategy and a robust community.
What's the biggest benefit of taking your course?
Growing the exposure of your business in a way that attracts the clients and vendors you love to work with!

How did you get into the market?
Since I was a child, I have held the entrepreneurial spirit; I started a print marketing business called the Stop Shoppe before I even began high school! So, it is natural that I should become a small business owner. I fell in love with weddings at the prestigious Rosen College of Hospitality Management, where I learned the building blocks to becoming an event planner.
Over the next 14 years, I worked in luxury and flagship hotels and built a 6-figure wedding planning business. During my time as a planner in the Florida Keys, I noticed an obvious problem: very little support or continued education in the wedding industry. To fill the gap, I hosted three annual boutique bridal expos, educational Zoom calls, and bi-monthly networking events to build up the professionals in my local area.
This leads me to today; I've recently left a corporate career to help wedding professionals break through their glass ceiling of limiting beliefs and flourish into tremendous success!
Why did you decide to create an online course in the first place?
As a small business owner, I'm very familiar with the sales calls from marketing and PR firms encouraging a paid listing or advertisement. I see pros often using hundreds or thousands of dollars on paid marketing, forgetting the most powerful way to grow an audience: word of mouth. But it takes more than just talking about your business. It's finding ways to show up in front of cold markets with a message that leaves an impression. I walk the students through why brand messaging, creating value, intentional relationships, content planning, and leveraging testimonials can all lead to their desired results.
Did you have any moments of doubt before you created/launched it?
Doubts? My goodness, yes. I had to learn an entirely new email marketing program, which felt like math or a foreign language. I often worried that I wasn't offering enough value, when funny enough, my first class was so value-packed I talked for 20 minutes longer than planned! What I feared the most was that no one would show up or engage – and all this work would be for nothing. Can I tell how wrong I was?!
If so what made you turn it around and do it anyway?
Mindset + Action = Success. Without one or the other, you'll never reach your goals. I recently joined a Mastermind to teach me what I didn't know about the digital coaching space and linked arms with an accountability partner who is building at a similar level to myself. I leaned into the community, education, and my business coach when I hit any roadblocks, which created the confidence I showed up with on my launch date.
What's your online course like?
The Masterclass has three mediums:
It is held on Zoom, where you can see me presenting the information.
I share my screen with PowerPoint slides for visual appeal. If you aren't PPT savvy, you can find easy-to-brand presentation templates in Canva.
Through Canva, I created a workbook that put the information into action during the class.
I also engage with the group during the class, asking for their opinions and thoughts. There should always be a two-sided conversation so everyone can learn from different perspectives.
Lastly, I offer a 30-minute Q&A session immediately following and another 60-minute support session two weeks after the class date. So often, I take classes where I'm left with an overload of information and wish I could ask questions after it all sinks in. The second group session gives the students a chance to share what is working or not working for them in a setting where I can help solve their roadblocks and others can learn from them.
How long did it take you to create your course?
From the moment I had the idea for Talk of the Town to the first live class, it was roughly a 3-month journey. Once I had the idea, I started to talk about the subject to anyone who would listen so I could gauge the need for the topic. Once I received positive feedback on the idea, it was time to start brainstorming—everything from the lead magnet to researching facts, pulling past experiences, and drafting a presentation outline. I created a content and marketing plan to launch the masterclass. Then, during the launch, I made the actual class and workbook. The Talk of the Town will run as a live masterclass for three months, and then I plan to move it to an evergreen format.
Tell us a little about the process of launching your course and getting your first sale(s).
The launch of the course was and has been an eye-opening experience. When playing heavily on social media, I've found that my engagement has been with more of my warm market. To gain a broader range of exposure, I've created a podcast tour (interviewing on other podcasts), pitched to be included in publications, and created value for other groups such as associations, networks, and even Facebook groups that speak to my niche. With this newfound following, I used email marketing and my lead magnet to keep the conversation going until they were ready to commit.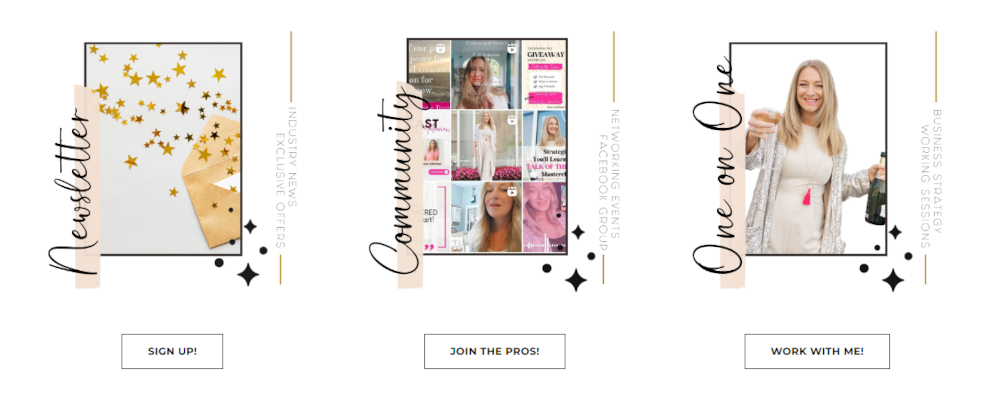 Do you have a lead magnet?
I created the lead magnet 'Be the Gossip' worksheet for potential clients to taste the masterclass. The document asks questions for business owners to reflect on their current brand messaging and positioning in the wedding market. Using landforms, I can collect email addresses from funneling through an email marketing sequence that offers bonus tips and an introduction to the Talk of the Town Masterclass.
What's the traffic strategy that works best for you?
Creating a content & growth plan is a large part of the launch. How will you speak to your current audience and reel in new customers who can benefit from your teachings? When I started Celebration Pros, I created a free Facebook group where wedding professionals could keep up to date, enjoy weekly q+a sessions, and feed off each other for advice.
In this space and on Instagram, I can create video-style moments of inspiration and conversation around topics about the class. To reach a colder market, finding those audiences through podcast interviews, summits, collaborations, and publications is the best way to get in front of new faces. It's essential to check in with your values to ensure the medium you are speaking on aligns with your end goal. For example, speaking on a podcast about marriage wouldn't likely create much traction with a marketing class for wedding pros.
What online course platform are you using?
I am a bit new to the digital coaching world, so I aspire to use Kajabi as my course platform. For now, I've created my website on Weebly, presented the class on Zoom with Powerpoint, and managed my marketing & documents with Convert Kit and Canva.
Do you like it?
The platforms I'm currently using are great because I'm familiar with them. I only needed a crash course in ConvertKit, an email marketing hub. This made it easier to focus on the content and "do the dang thing."
I look forward to using a more well-rounded approach, especially for evergreen classes and course creation.
Are there any features you wish it had?
So far, I'm enjoying using the apps and platforms I'm used to. I'm currently focused on growing my audience and pushing higher ticket items.
What made you decide to use your chosen platform over others?
I mind my dollars as I'm in my first year of business. Overall my process is less expensive, and again, I'm comfortable using the tools until I'm ready to grow into a more appropriate platform. We've all heard "better done than perfect," or it's better to do it messy than not.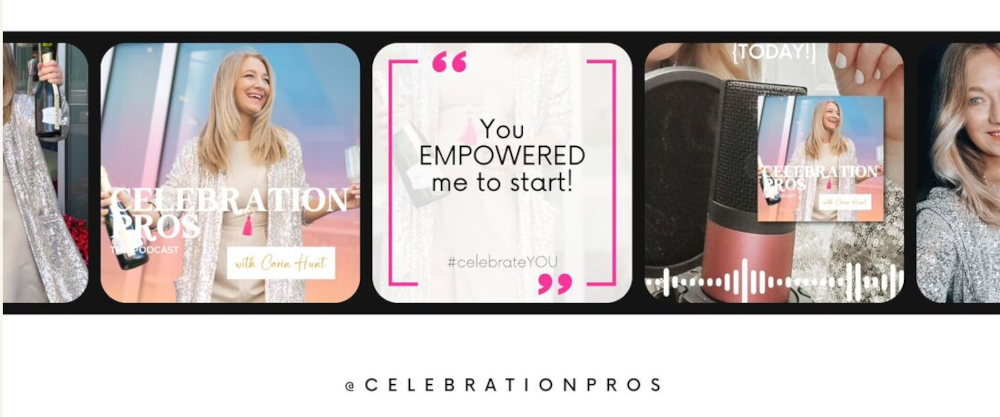 What other tools do you use to run your online course business?
I like my students to know that I'm not full of fluff, so it's important to me to share my sources. I often point them in the direction of other publications and entrepreneurs. For example, when I share ways to strengthen brand messaging, I guide my students to a genius Branding Photographer specializing in brand personality. This also emphasizes the "rise together" mentality I stand for.
What books or training programs have you found useful on your journey to a successful business owner that others might find valuable too?
I'm currently a part of the Crush the Rush Mastermind by Holly Haynes. I listen to podcasts daily: Crush the Rush, EmpowerHer, Power in Purpose, She's Making an Impact, The Jasmine Star Show, and Goal Digger are all favorites. Leaders are readers, so here are my top 6 must-reads: Compound Effect by Darren Hardy, Atomic Habits by James Clear, Miracle Morning by Hal Elrod, The Energy Bus by Jon Gordon, and On Fire by John O'Leary, and How to Talk to Anyone by Leil Lowndes.
Do you have any big mistakes you've made along the way that you'd be willing to share?
When I first started, I took a deep dive into branding before sharing what I was doing. I thought the grand reveal would have such an impact that it would take off! And while everything looked pretty, no one understood my offer. And then I was hit with – what I thought at the time – was a massive bomb to my business. The original name of my business was Celebration Society until I found out BRAVO! owned the trademark – whoops! I had to shift quickly unless I was to become a wedding-planning housewife. This time I focused more on growth than the glitz and glam, only using my name until Celebration Pros organically became the business's name. The new strategy worked; I had more engagement than ever, and most people didn't even realize the name change.
Are there any numbers you would like to share?
My first class was offered for free in exchange for reviews and feedback that I could share to entice others to purchase future classes.
One-third of my email list signed up for the masterclass, and 50% of those participants attended the live class. - Carin Hunt
Click To Tweet
A conversion I am very proud of!

What has creating your course done for you personally?
The testimonials will act as a lead magnet, creating traffic toward my mid & high-ticket offers. The success of this business will create a life full of experiences, opportunities, and giving back to my family.
My mother always said I'd be a great teacher, yet if you asked me even a year ago if I'd be offering education for small businesses, I'd probably scratch my head. They say to "be your best client," so in creating my coaching style, I've found ways to hold integrity and keep myself accountable to my values. I've committed to personal and professional growth, which has built my confidence and refined my skillset.
Do you have a story of a transformation from any of your clients?
"Starting the process, I was unsure what the outcome would be as I have already been in business for ten years and felt I had hit my growth ceiling. I was so wrong, as Carin held my hand, step by step, and showed me new ways of approaching business, hitting milestones I only dreamed of, and giving me the tools and confidence to burst through that ceiling.
No matter what point you are in your business, I highly encourage you to join "Celebration Pros." This was one of the best business decisions I have made, and I am so grateful to have Carin as my coach and dear friend!"
– Elizabeth, Island Life Events
What advice do you have for people just starting out?
Again, done is better than perfect.
Start with a rough draft idea and run with it. If it gains a positive response from your audience, keep going. If it's a slow start, shift and keep trying. - Carin Hunt
Click To Tweet
Create a plan for exposure and implement it! They will only know what you do if you tell them! And if you don't have one yet, hire a coach!
Learn more about Carin Hunt of carinhunt.com: