How Calan Breckon Uses a Podcast and Quiz Funnel to Grow His Email List

Our content is reader supported, which means when you buy from links you click on, we may earn a commission.
---
Who: Calan Breckon
Website: calanbreckon.com
Course Topic: Membership Businesses
Interesting Stats: First year of operations = five digits
Who are you and what course have you created?
I'm a Business Coach & Consultant, Writer, and Podcast Host. I teach entrepreneurs, influencers, and business owners the profitable action steps for setting up and maintaining a successful online membership business while guiding them on how to map it all out and build it in manageable steps.
I have been in the personal development world for over 10 years and coaching professionally since 2018. You may have caught me on episode 483 of the Online Marketing Made Easy podcast with Amy Porterfield talking about how to be curious as an entrepreneur and also serving as one of Amy's Advisors for her 2022 launch of Digital Course Academy.
I love creating clarity with his clients by mapping everything out and then breaking it down into easy, manageable action steps. I also enjoy being a tech wizard, so if the backend is causing you a headache, I'm your person. I'm also a giant fantasy fiction book nerd, obsessed with tea, and love playing dodgeball.
I currently have 2 courses with a company that I co-run with 2 other coaches which is now a well-oiled and automated machine.
What market does your online course serve?
The 2 courses and membership that I currently run serve the LGBTQ+ community within the personal development world. "Healing Your Shame" was the first course we developed followed by "Building Better Relationships" which came about because the community we serve asked us to do a course specifically about Gay and LGBTQ+ relationships.
We also host one of the top LGBTQ+ podcasts called "Gay Men Going Deeper" all about personal development, sexuality, and mental health which is currently nominated for a people's choice podcast award (Winners announced Sept 30th, 2022).
Our courses and membership program were really born out of the work we do with the podcast and the community asking for them.
What's the biggest benefit of taking your course?
For our "Healing Your Shame" course we do a lot of deep work around the trauma experienced growing up as a person from the LGBTQ+ community. There is a lot of secret shame we still carry around with us so the course is meant to be a way for someone to dip their toe into the personal development world and begin the healing. We are no substitute for 1:1 therapy though and we encourage all of our members to seek professional help in all forms.
"Building Better Relationships" is a 6-week online course geared toward gay men who want to learn how to build better relationships in their life as well as deepen the ones they have with themself. They will be guided on how to move from feeling alone and disconnected to feeling empowered and interconnected and be provided with the tools to move them forward with confidence.
We've had hundreds of men go through our courses and membership program tell us that it's changed their lives and how they look at the world and that's all you can really ask for as a course creator, right?
You can check out the reviews on Apple Podcast for Gay Men Going Deeper to see just a sampling of the amazing feedback we get about our work.

How did you get into the market?
Originally, I had taken Amy Porterfield's Digital Course Academy knowing that the only way to level up your business was to add a few digital assets to your business model. I was already working with the other 2 coaches on the podcast. Then I presented them with the idea of putting together a course to better serve our community. We're constantly being asked for more from our listeners and Facebook community.
At the time we were doing a lot of work around Shame, so the first course just made sense for us to start there. Looking back now, we should have done more market research on how to position and name the course. Shame isn't exactly an easy sale, people prefer to pretend they don't have it and that it's not there.
Our second course did much better and was received better. That's because it was something everyone was wanting and asked for. Relationships make the world go round. There are so many people out there who just need the tools we provide in order to make massive and major shifts in their lives.
Why did you decide to create an online course in the first place?
Having online digital assets is the only way you're going to be able to leverage your knowledge and actually make more than just an hourly salary.
I have big plans to help people in the world. That's going to take big money to do that. You can help more people with more money than you can with no money. It's pretty straightforward math in my books. - Calan Breckon
Click To Tweet
Did you have any moments of doubt before you created/launched it?
When we created our first course it took ages. That's because we were trying to make sure that it was perfect. We had our doubts about if we were doing any of it right. I had my course-building and launching knowledge so I knew we would at least be somewhat profitable.
The thing that took the longest time was probably getting us all on the same page in regard to what we wanted to teach and what was going to go into what module.
Our 2nd course went much faster because we had done it before. We also trusted each other a lot more. We had a few meetings around content. Then we each took 2 modules and we were off to the races. I can't say we ever doubted if we were good enough because we know what we deliver is valued by people. What I will say is that a lot more of your success comes down to marketing at first. Then the content is what's going to push the word of mouth.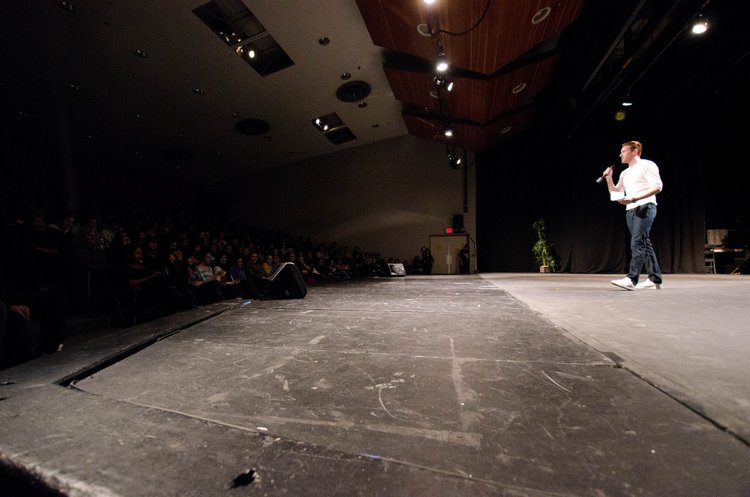 What's your online course like?
All of our courses are video based with some text and PDF support documents for "homework."
Our 1st course was point-and-shoot talking head videos but then in our 2nd course I opted to do a mix of talking head and then PowerPoint slides that I designed in Canva which was so simple and easy.
We don't have any quizzes or anything like that because it's all very personal work but we do have support PDF documents that have journaling prompts for people to take the work deeper as well as other resources.
How long did it take you to create your course?
Healing Your Shame probably took us a solid 3-4 months simply because we were all working together in that capacity for the first time and we were still building trust as coaches with each other.
Building Better Relationships literally took a few weeks and way fewer meeting hours to put it all together and launch it.
Tell us a little about the process of launching your course and getting your first sale(s).
Launching for us had a nice long runway because we got to use our weekly podcast episodes to promote our email list and then prep people for the fact that we were launching the course.
We gave ourselves about 2 months of time to warm everyone up and tease out details before we launched. We did a nice big webinar for the actual launch that went over pretty well and we were happy to finally have the course out there.
Now both of our courses are on Evergreen as one-off sales but we live launch them quarterly inside of our membership program so if people want to go through the course with one of us as their guide for 3 months they can join the membership and do that when we have them.
It's turned into a pretty good system because we also love the consistency of the membership payments coming in monthly and we don't have to depend so heavily on marketing for sales each month. - Calan Breckon
Click To Tweet
Do you have a lead magnet?
We have multiple lead magnets. Our first was our free Facebook group to support the podcast community which still brings in loads of emails each week. We also have a 7-day trial of the membership that gives people a taste of what they get when they join but they aren't allowed to join any live workshops until they're fully paying members.
We also use the podcast to promote all of these lead magnets and our programs which works out really nicely.
What's the traffic strategy that works best for you?
I've already shared but the podcast is our biggest traffic driver. We also post the videos of the podcast recording on YouTube and double up on the content so that's a pretty big driver we just recently launched a TikTok and our 3rd video ended up going a little viral with 22k views and 800 new subs in less than a day so we're going to continue to work with that platform to see how much natural growth we can get from it.
We've used Facebook ads and still do a little but over time the platform just gets worse and worse. Right now we only have our Attachment Style quiz listed on there and it does alright.
What online course platform are you using?
We use Thinkific for all of our courses for the simple fact that it's one of the most reliable platforms. We also really love that they have 0% transaction fees even on their free plans.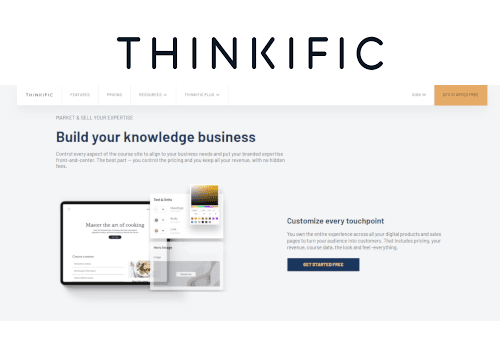 Take a Look at Thinkific!
Thinkific is the most popular online course platform used by successful course creators interviewed on coursemethod.com. It's a complete solution for creating sales pages, uploading all course content, taking payments, and more.
Price Range: Free to $499/month 
Most Popular Plan: Pro Plan at $99/month
Annual Discount: Yes, take 20% off!
Free Trial: Try out Thinkific's core features for free.
*Our content is reader supported, which means when you buy from links you click on, we may earn a commission.
Do you like it?
I could go on and on about how much I like the platform and for what reasons but I've already written a full Thinkific review in my blog that has all the details if people what to know all the nitty-gritty.

Are there any features you wish it had?
I do wish they offered a better affiliate system for their backend users because it's still very manual for now and they also don't have the option to limit the cookie length for your affiliates. Other platforms allow you to limit the time limit for the cookies, say for 30 days, and then it's removed which is how most affiliate programs work. I also wish they had more automation when it came down to payouts and such.
What made you decide to use your chosen platform over others?
We chose Thinkific because they offered a great free option with 0% transaction fees and you can host up to 3 courses. For us, especially when we started, that was perfect for what we needed.
What other tools do you use to run your online course business?
We use a platform called Searchie for our membership platform and it has been worth every penny. One of the best things it offers is automatic transcripts for all your content. So we upload all of the podcast episodes there for early access to our members. Then we download the transcripts for use in our show notes. Lots of programs are out there offering this service for a fee. We get kind of a 2-4-1 deal with Searchie. Because of the automatic transcripts, it allows users to also easily search our entire database. That way they can find any video they're looking for, it's 100% my overall favorite platform.
What books or training programs have you found useful on your journey to a successful business owner that others might find valuable too?
Here are some books I like:
Atomic Habits – James Clear
Mindset – Carol Dweck
Atlas of the Heart – but really anything Brené Brown
Amy Porterfields Digital Course Academy
Stu McLarens Membership Experience (formerly TRIBE)
Untamed – Glennon Doyle
Big Magic – Elizabeth Gilbert
Burnout – Emily and Amelia Nagoski
Profit First – Mike Michalowicz
Do you have any big mistakes you've made along the way that you'd be willing to share?
OH, SO MANY! Hahaha. That's part of the process.
If you're not screwing and messing up then you're not doing it right. You have to make mistakes in order to learn and grow, it's how life works. - Calan Breckon
Click To Tweet
I learned a lot about this from Carol Dweck in her book "Mindset". It really changed my life and how I approach "failure."
One mistake that I'll share is not doing your market research before you build it. The first-ever course I created sold TWO spots. I put in MONTHS of work into that course to make it "perfect" and it was a huge flop. I will say that I learned a lot from the experience which informed my new business but yea, it was no fun spending thousands of dollars only to land flat on my face.
Before you start, learn what people want, and then built that. Don't assume you know what people want and then build with an attitude of "if I build it, they will come," because they won't and you'll be left broke, tired, and upset.
Please share some idea of revenue.
Because I run my business with 2 other coaches for my courses I can't share any numbers. But I will say that within our first year of operations we were in the five digits and continue to grow each year.
Please tell us a little about what the money you've earned from your course has done for you.
So far we've been taking a good amount and reinvesting it back into our business. They pay for themselves, and our membership program gives us what we need each month.
The knowledge I gained from all of these experiences is what sent me into the business coaching world because I just love all the tech setup and backend stuff so I guess you could say it gave me my freedom to learn, grow and evolve…and have some fun along the way.
In addition to revenue are there any numbers you would like to share?
The best marketing advice I have so far is to start a podcast and create a quiz funnel. We just recently designed and launched our quiz for capturing emails. It's already gotten over 700 emails in a short amount of time running off a $ 5-a-day Facebook ad. If you want to scale your email, that's where I'd say to start.
For a podcast, you need to be in it for the long haul. We launch ours just over 2 years ago and we consistently put out a new episode every Thursday. Consistency is king when you're trying to build know, like, trust factor. If people know they can depend on you to deliver each week and stay consistent then when you launch a program that trust will transfer over.
We now get around 20k downloads a month for the podcast and have over 10k subscribers worldwide and our numbers keep growing substantially in recent months. It takes a long time to get off the ground but once it starts to pick up it's like a snowball rolling down a hill, it's going to keep going and growing and all you have to do is stay consistent.
What has creating your course done for you personally?
It's definitely given me a lot more confidence in my business and coaching. I now know what works, what doesn't work and how to get from point A to point B much faster than when I was in the major learning phase. Going on this journey allowed me to figure out that I'm more in love with the backend and tech setup side of things and coaching people through that than I am working on personal development with people. I still love that work and it's sprinkled into my coaching now, but this whole adventure allowed me to really figure out what fit best with me, and now that I have things keep taking off for me which tells me I'm in the right space now.
Do you have a story of a transformation from any of your clients?
"I will be completely transparent, I was skeptical. I have worked with people using the same foundational principles before, but this time it was different. This time it was relevant and actually shifted stuff.
After just a few sessions, Calan unblocked a barrier for me that has changed my life. I have made almost 10k in sales in the last month alone where I struggled to make 1! I've financially caught up and actually able to have a full fridge of food for the first time in over 6 years. I can breathe easily now.
A HUGE thank you!
I highly recommend giving him a go!"
-Veronica
It's always such a joy to get feedback from clients and people who listen to podcasts. We get a LOAD of them on our YouTube. It reminds me that what we're doing really matters to people. There is a fair share of hate out there as well, given who I am and the community I serve. I believe that love is louder and even if I get a few hate messages it just means I must be doing something right. You only get hate mail when you're making a big enough difference to notice!
What advice do you have for people just starting out?
It's not going to be perfect, but do it anyway. Stop delaying your launch. The sooner you get it out there, the sooner you can start learning what your people want. And the sooner you can start making adjustments to grow and improve it for them. You can't serve your people if you don't have anything to serve them with. Stop playing small and make as BIG of a mess as you possibly can. Then learn and go from there.
It's scary stepping out and saying "I want to do this." It means putting a dream out into the world and the world loves crushing dreams.
Sometimes a dream needs to get crushed so that the right one can find you. - Calan Breckon
Click To Tweet
Look at me, I thought personal development was my dream, and then I did it for a while and realized "oh, no…I like this other thing!" I wouldn't have gotten to where I am now had I not walked the path to get here. If I hadn't, I'd still be working for someone else hating my life but holding on tightly to those dreams that would never go anywhere.
Learn more about Calan Breckon of calanbreckon.com: