12 Best Blog Topic Generator Tools For Uncovering Popular Blog Post Ideas

Our content is reader supported, which means when you buy from links you click on, we may earn a commission.
---
Do you want to create the next best blog on your topic?
You need a blog if you want to use content marketing to increase your online presence and attract customers by getting to the top of a search engine results page for a high-traffic keyword.
A blog keeps your website current (that way your website visitors know the business is still moving forward and has not been abandoned)
It also gives you a way to reach out to potential customers and tell them about new features, products, and services.
An excellent blog may even get shared and attract your target audience without you lifting a finger, and bringing in new visitors.
Of course, for all this to work effectively, you need to write high-quality content. You need to know what topics are trending in your industry and what topics your potential clients want to learn more about.
So how do you know what topics are trending or important to your customers? You're going to have to do a little research.
Here are the 12 best tools for uncovering blog post ideas that are trending and are topics your readers want to learn more about. If you use even a couple of these tools, you'll never sit around wondering what your next blog post will cover.
1. Google Trends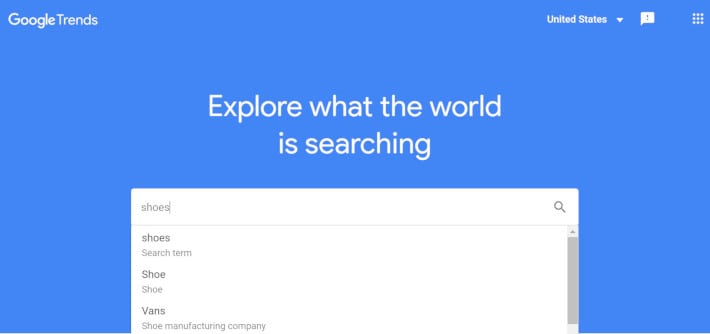 It's essential to stay on trend with your blog content. Set up industry notifications on your phone or desktop and keep up on the news to learn about current affairs in your industry. You can do this by searching Google Trends.
For example, when you type 'shoes' into Google Trends, you'll see that you get these results (at least at the time I'm writing this):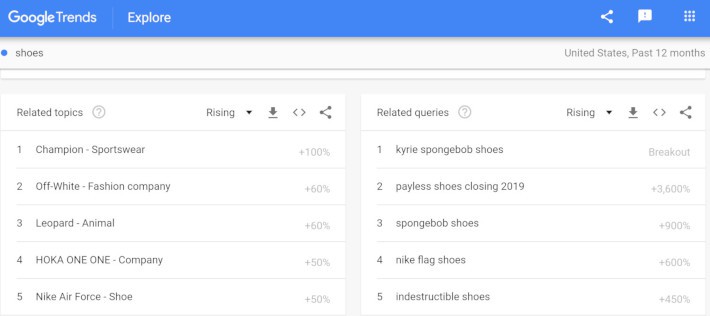 The keyword "Kyrie SpongeBob shoes" comes up first. When something is trending, it's vital to write the content right away before the topic gets old and cold. So this might make a good topic phrase to write about or at least include in an article if you're covering the topic of shoes.
Browse already existing articles before you write to research the competition. You should also attempt to spin your article a different way to make it stand out compared to the other content. If you write the same thing as everyone else, you won't look unique.
2. Answer the Public
Answer the Public is another keyword tool that can be used as a content idea generator, this one also free.
You start by entering your keyword and the tool will find all the questions people commonly ask about that keyword. It's all organized into a cool diagram like the one shown below: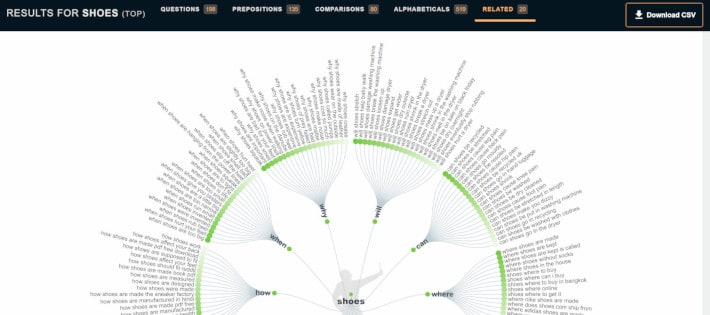 In this example, questions like "can shoes be recycled" and "will shoes expand" show up in the results. Those would make for good blog post topics to write about if you're in the shoe industry.
Answer the Public also offers keyword options like prepositions, comparisons, alphabeticals, and related. You can find a lot of trending blog topic ideas by using this tool.
3. Buzzsumo
BuzzSumo searches the internet for the most talked about topics in your industry for you. With Buzzsumo, you don't have to guess what people want to learn about – it does the work for you.
This tool will give you plenty of ideas and then sort them by popularity online. It also comes with several different search filters to help you narrow down your results by dates, sources of information, and more.
Take a look at the image below, also using the keyword "shoes":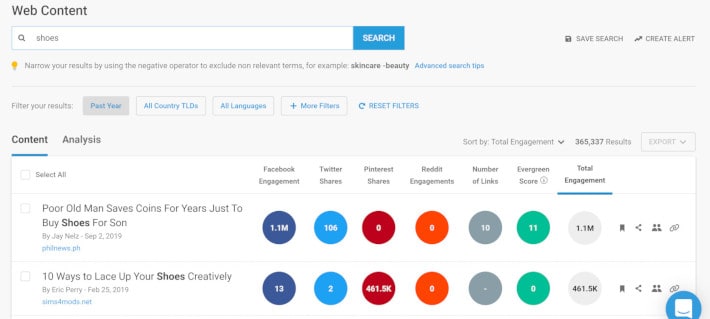 Buzzsumo scans a tremendous amount of articles and social media posts to get an idea of what people are discussing. They'll even analyze responses to social media posts. They tell you what's trending in general, or you can select your industry.
This tool follows everything from business to tech to health. There is a fee for the service, but you can try it free for seven days by entering your email address.
This online tool was created as a blog topic generator, but you can even use it to scan for the best blog post title options. Mix and match from the top content on your topic to come up with the best title.
4. Quora
Quora is an online platform where random people can ask questions on a wide variety of topics. There are sure to be questions regarding your industry as well.
Scan the site for specific keywords to see what questions people have asked on your topic like in the screenshot below: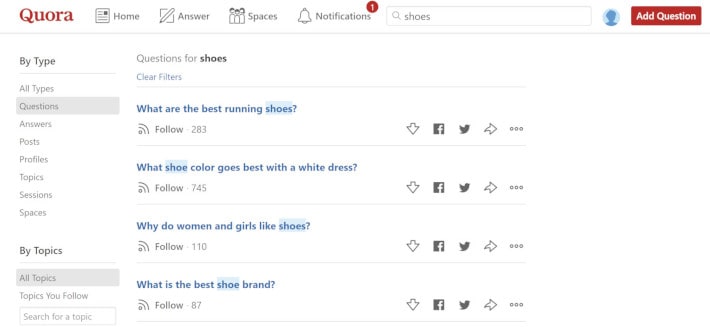 As you can see, the question, "what are the best running shoes" is a popular topic with some answers. You can get a lot of trending content ideas from Quora as it's an incredibly popular online site.
Even if there's already an answer to the question on Quora, you may be able to answer the question in more detail in a full blog post.
5. Ubersuggest
Ubersuggest can give you keyword ideas as well as content ideas (similar to Buzzsumo). It's well worth consulting this tool to help you find trending topics to add to your mix of ideas.
The screenshot below shows some popular topics on shoes as shown by Ubersuggest: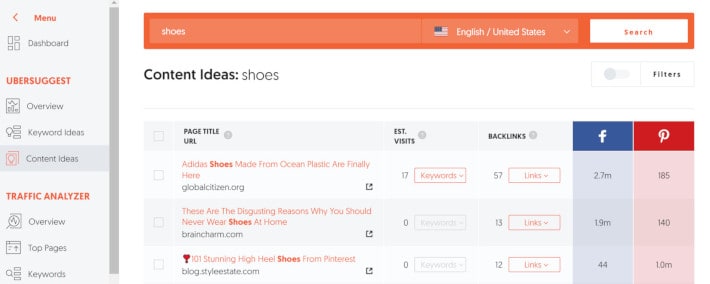 6. Google related searches
You may think you have the perfect keyword. However, some people will phrase the keyword slightly differently. To reach these people, you want to use Google's related searches feature to get ideas for additional keywords and content topics.
All you need is Google. Search for your particular keyword. Under the search results, you'll see several related topics like shown below: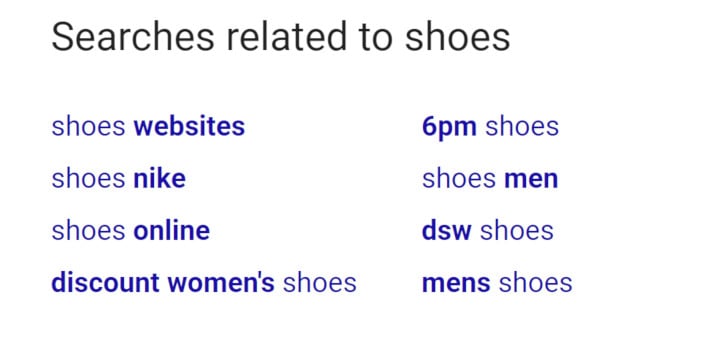 You can also look at the "People also ask" box that is mixed into the search results as well as shown here:

These are often popular, trending questions. Include these keywords and questions into your content. In some cases, you might even come up with a brand new idea for a topic.
7. Keyword Tool (autocomplete)
One thing to mention is using Google (or another search engine), you don't even need to completely type in your keyword to get new ideas for keywords and blog topics.
Start typing in your keyword and see what Google suggests as you type. It likes to direct people to what they want before they even finish typing as shown in the screenshot below: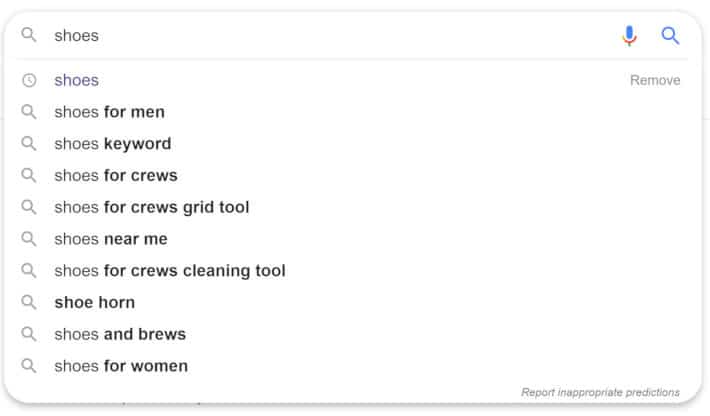 Google comes up with these suggestions based on what is trending and popular so pay attention to the recommendations. You might see a specific keyword you didn't think of previously.
You don't always need a sophisticated marketing tool to learn what you need to know. Sometimes, Google can let you know right from the search bar.
8. Twitter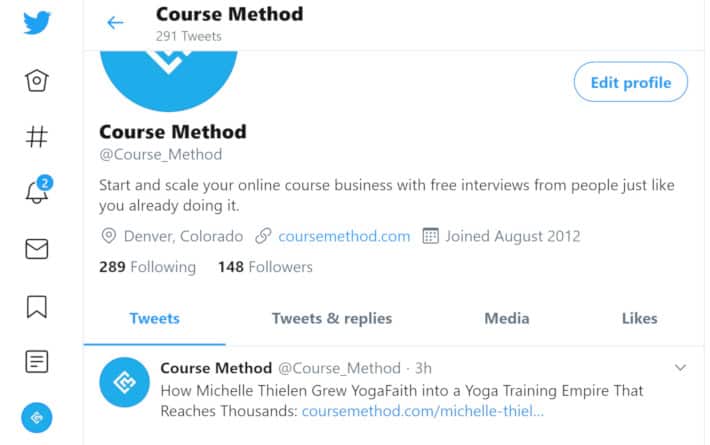 Social media is a powerful tool nowadays. Use your Twitter account to ask open-ended questions to your followers. You can also use polls to ask people what they want to know about your industry.
Pay attention to any hashtags that may be trending, too. Stay active and connect with other people in your industry so that you will be one of the first to know about trending topics, news, or interesting blog post ideas people want to learn more about.
9. SEMrush
SEMrush is another online marketing tool. This one allows you to analyze over 16 billion keywords. It will give you trending topics in your industry, but it does a lot more than that. It will also provide you with ideas on how to improve your SEO.
Here's a screenshot of the SEMrush Keyword Magic Tool: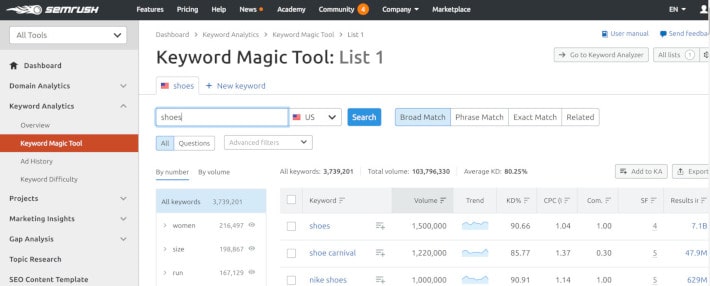 This tool gives you related keywords organized by popularity along with approximate search volume. It's a very sophisticated paid keyword tool and you can use it to find trends and popular searches on your particular topic. Use these keywords to generate blog post ideas.
10. Ahrefs
Your competitors won't outrank you anymore when you use Ahrefs. They offer competitive analysis, keyword research, backlink research, content research, rank tracking, and web monitoring to help take you to the top of the search engine results pages.
Ahrefs will help you uncover what keywords to use in your content and what topics are trending like shown below: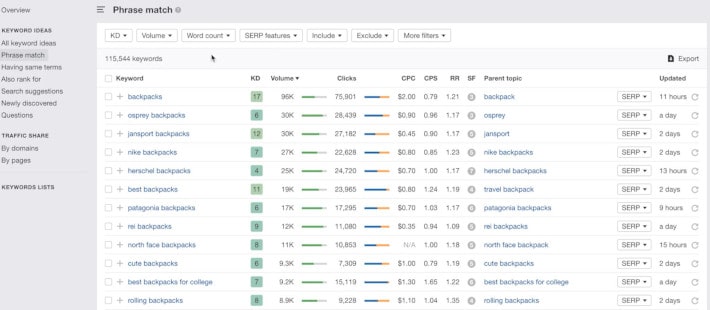 You'll also be able to monitor your ranking in search engines quickly and easily. This is another paid tool, but very worth it.
11. Hubspot's Blog Topic Generator
The Hubspot ideas generator tool is completely free. You simply navigate to the tool page and type in a descriptive noun around your topic.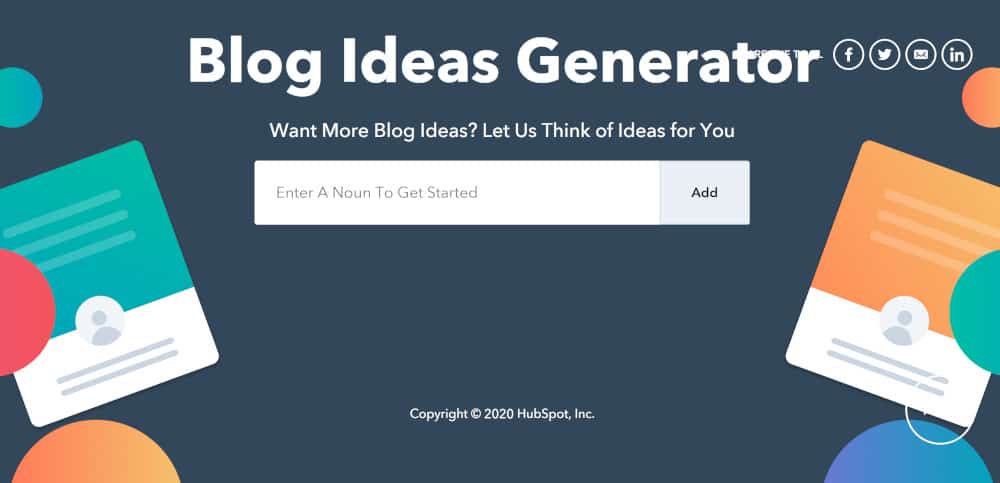 You can add up to five nouns. From there it'll spit out 5 blog post ideas.
Enter your contact information to get 250 more blog posts ideas from this tool that they'll send to you over email.
Basically, this tool gives you some pretty good blog title ideas and angles for topics, but it doesn't research keywords or give you any information on top content in your market. It is free though and it'll only take a couple of minutes of your time to generate a list of topic ideas.
12. Portent's Content Idea Generator
This tool is very easy to use and free. Simply type in your topic in the form field and Portent's idea generator will give you a blog post title you can use to create your next piece of content.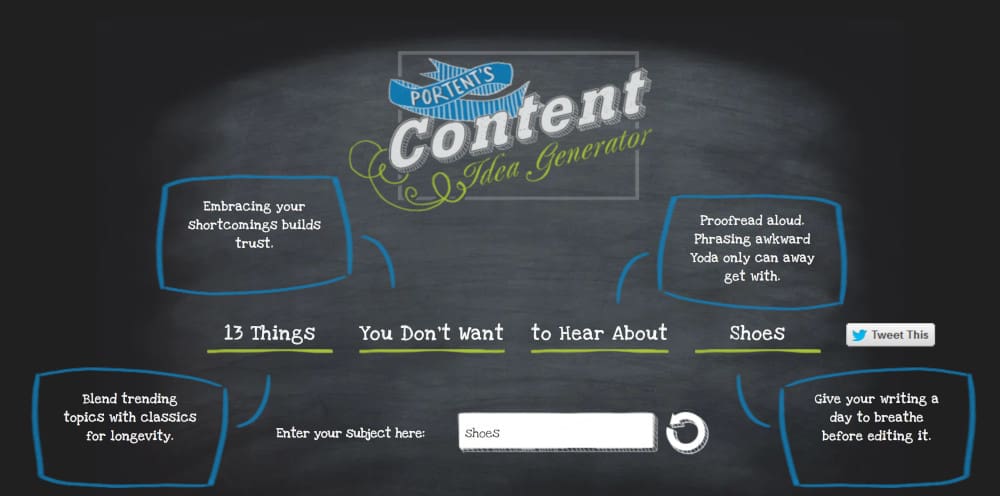 You can click on the refresh button and it'll give you yet another new blog title idea.
The titles are really creative and will help you come up with some fresh and interesting content. But like Hubspot's tool, Portent's idea generator doesn't do any research, it just comes up with interesting angles and title ideas for you.
Frequently Asked Questions on Blog Topic Generators
What is the best length for a blog post?
The ideal length for a blog post varies depending on the topic you're writing about and your audience. Longer posts tend to perform better in terms of engagement and search engine optimization, which can be a good indicator of whether or not people are reading the content.
With that said, it's important to keep in mind there is no set length for a blog post. The length depends on what works best for your story and what type of reader you are targeting.
When writing a blog post, it's important to consider the time it takes to read a short one versus a long one. A person may not have the patience to read through a long blog post in one sitting, so if you want them to stay engaged, make sure to keep it short and sweet.
Where to get blog topic ideas?
You can find blog topic ideas in several places online.
The first is to find blogs you like. You'll notice there are often categories or tags on the blog which allow you to narrow down what type of topics are being written about. Use this to come up with ideas.
There are also many online platforms where people share their ideas for topics. On LinkedIn, Twitter, and Instagram, there are groups set up specifically for this purpose. Online forums are another great place for finding topics people want answers on.
How can you generate unique blog ideas?
One way to generate unique blog ideas is to look at what other bloggers in your niche are writing about and try to come up with something unique that adds to the conversation.
Another way is to look at popular trends and hot topics in your industry and write about those from a unique perspective. You can also conduct customer research by surveying them, interviewing them, or asking for their feedback.
Finally, brainstorming sessions with your team (which may even include your friends and family if you don't have a work team) can also be a great way to generate unique blog post ideas.
Whatever method you choose, the important thing is to make sure you're writing about something that will interest and engage your audience.
What are some high-demand blog topics?
High-demand blog topics include health and fitness, lifestyle, travel, personal finance, and food.
Health and fitness blogs are popular because many people are interested in leading a healthier lifestyle.
Lifestyle blogs can cover a wide range of topics, such as fashion, beauty, interior design, and parenting.
Travel blogs are also popular, as many people love to read about other people's travel experiences.
Personal finance blogs are often popular among people who are looking for ways to save money and make wise financial decisions.
Food blogs are also popular, as many people enjoy reading about new recipes and restaurant reviews.
What are some blog ideas for beginners?
If you're thinking about starting a blog, but aren't sure what to write about, don't worry! There are plenty of great ideas for beginner bloggers. Here are a few suggestions to get you started:
Write about your hobbies and interests. Do you love to cook? Are you passionate about fashion? Do you enjoy gardening? Share your knowledge and experiences with your readers.
Give advice and tips. Are you an expert on financial planning? Do you know how to make the perfect cake? Use your skills and expertise to help others by sharing your advice and tips on your blog.
Review products and services. Have you tried a new restaurant in town? Checked out a new beauty product? Blog about your experiences and share your opinions with others.
Share news and current events. Keep your readers up-to-date on what's going on in the world by sharing news articles, opinion pieces, and other interesting content on your blog.
Tell stories. Everyone loves a good story! Share personal anecdotes, fictional tales, or inspiring stories on your blog to entertain and engage your readers.
Conclusion
You have full control over what you publish on your blog, but tying your content into trends and unique angles people are actually searching for will lead to significant gains.
Start with the free blog topic generators listed here and move onto the free version of the paid tools. See if you can come up with exciting ideas for new content to attract your target audience.