How Ben Donovan Grew Brand Builder University to 6-Figures a Year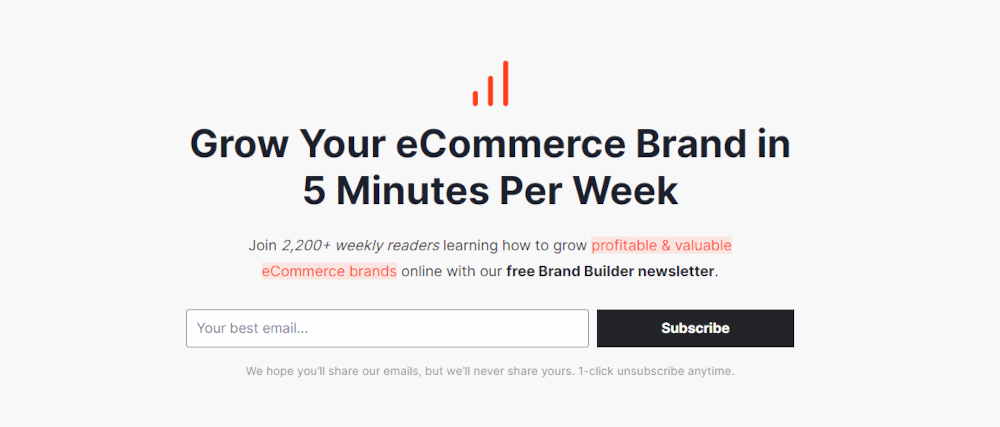 Our content is reader supported, which means when you buy from links you click on, we may earn a commission.
---
Who: Ben Donovan
Website: brandbuilderuni.com
Course Topic: eCommerce Business
Interesting Stats: Over 10,000 visits to our website/month
Who are you and what course have you created?
My name is Ben Donovan and I am the founder of Brand Builder University, a community for eCommerce brand owners.
What market does your online course serve?
We help current and aspiring eCommerce entrepreneurs start and scale their own online business.
We're passionate about helping new entrepreneurs build businesses that create value in the market and as a result creates a valuable asset that can one day be sold and help the owner achieve financial freedom.
What's the biggest benefit of taking your course?
eCommerce is a constantly evolving landscape and as such having an up-to-date, step-by-step course along with the support of a community and weekly coaching calls helps members stay sharp with latest strategies and stay encouraged with community feedback.

How did you get into the market?
When I started selling online in 2016 I had no idea what I was doing. I did the inevitable YouTube search and found some good content, and some not so good.
I realized there was a gap in the market for a more holistic approach to selling online rather than just focusing on one platform like Amazon or Shopify.
Why did you decide to create an online course in the first place?
I speak to so many people who are frustrated by being held in the grip that the need for money places over our time. We work jobs we don't enjoy to pay bills, enjoy one or two days off a week and continue to repeat that process until we can (hopefully) enjoy retirement.
When I found a business model that helped me claw back more time freedom I felt passionate about sharing this with others. - Ben Donovan
Click To Tweet
Did you have any moments of doubt before you created/launched it?
Yes – absolutely. I struggled with it before I launched and some days still do. I've found imposter syndrome doesn't ever really go away. You just have to keep overcoming it by focusing on the results you're helping clients generate.

If so what made you turn it around and do it anyway?
It's so easy to allow what others think to dictate the decisions you make, but I am trying more and more through life to forget about the opinions of strangers on the internet. Instead, I focus first on how I can provide a better future for my family, and support our members towards the same end goal.
What's your online course like?
We have a library of courses on different topics from marketing to managing team and everything in between. Each course contains video tutorials along with step by step written SOPs where needed.
Most of the videos are screen recordings of pre-prepared slides, but there are also some talking head style videos.
There are also a whole range of checklists, templates, and other resources inside our 'Vault'.
How long did it take you to create your course?
It always takes longer than expected, I'll say that!
However, it's hard to say exactly as our courses are never 'done'.
eCommerce is constantly changing so we keep our courses up to date with fresh new content all the time.
But on the whole, I'd say the main courses that are 8-10 modules in size take 3-4 months from planning to recording, editing and publishing. - Ben Donovan
Click To Tweet

Tell us a little about the process of launching your course and getting your first sale(s).
I had created a YouTube channel before I launched a course and attracted a small like-minded audience. I created content that was honest and practical as a lot of the content in the eCommerce space can be filled with hype. My approach attracted a group of people interested in starting their own eCommerce business and created a lot of questions from them. Given there were so many questions and a good amount of demand, I then went about creating a step-by-step course to answer every question they could have.
Do you have a lead magnet?
Yes, we have had lots over the years. The ones that work well for us are free training sessions – usually a 30-60 minute webinar on a specific topic – or simple checklists and cheat sheets. They help show people we create valuable content and are here to support them, so they work well.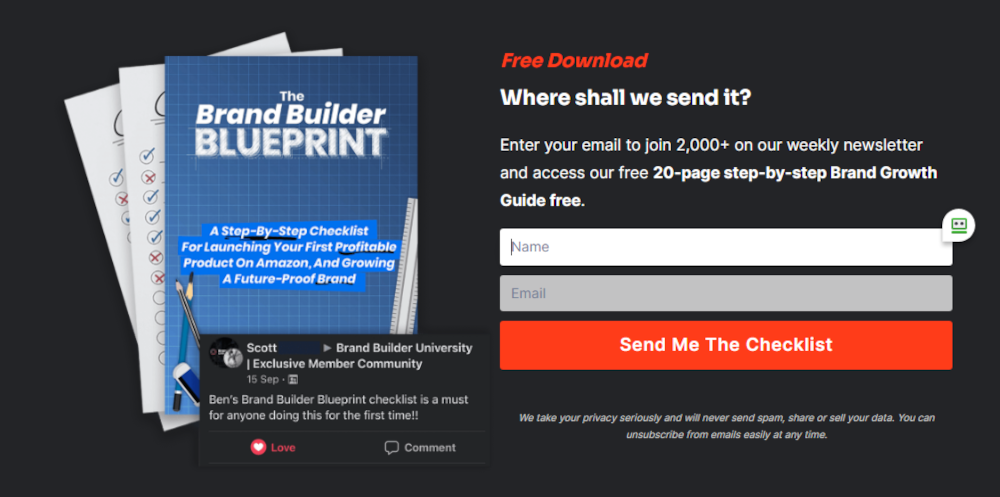 What's the traffic strategy that works best for you?
In the early days it was definitely YouTube, however in more recent times we have diversified with social media, a podcast, and SEO. It's working well – we currently average 2-300 listens to each podcast episode and over 10,000 visits to our website per month.
What online course platform are you using?
We used Kajabi for around 4 years but have recently moved to Circle.
Do you like it?
Yes – it's fantastic. It's a relatively new platform so there are some things still improving, but on the whole it is much better for us to have courses, community and coaching calls all in the one platform.
Are there any features you wish it had?
No big features – there are just small things that I think need to be added over time. For example, we host live coaching sessions and I'd like to bring outside guests in but Circle forces you to make them a member in your community to be able to invite them to a call.
The other main negative in comparison to Kajabi is the checkout customization is very limited and there is no affiliate functionality at time of writing.
What made you decide to use your chosen platform over others?
Because we host a community alongside the course there have always been a number of different locations or links members needed. Previously we had our courses in Kajabi, our community on Facebook, and our live calls on Zoom.
This meant members had to try and locate links, go back and forth between platforms, etc.
Whereas Circle allows us to host courses, create spaces for community discussion (away from the distraction of Facebook) and host live calls.
Plus, it's half the price of Kajabi alone!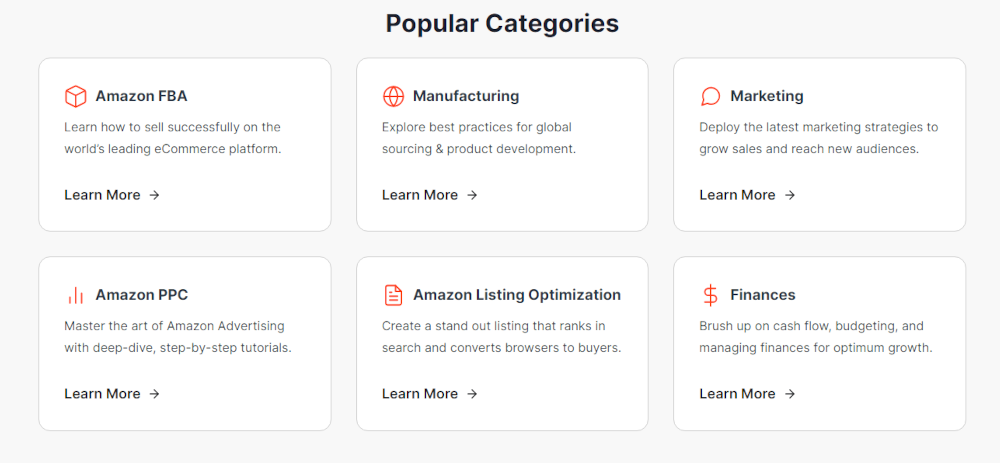 What other tools do you use to run your online course business?
We try to keep things as lean as possible but the other main tools we use are MailerLite for email marketing, Xero for bookkeeping, Notion and Loom for SOPs, and ThriveCart for our checkout.
What books or training programs have you found useful on your journey to a successful business owner that others might find valuable too?
I took Business By Design by James Wedmore in 2019 which was very helpful from a mindset perspective and becoming a 'Digital CEO' as opposed to doing every small tasks in the business myself.
Do you have any big mistakes you've made along the way that you'd be willing to share?
Lots! But mainly not staying consistent with particular strategies. Jumping around from YouTube, to social, to webinars, to challenges and so on. Sticking to one channel or strategy and mastering it would be the approach I'd recommend to new course creators.
Please share some idea of revenue.
Our training business as a whole generates 6-figures per year, and this includes course sales and partnerships.
Please tell us a little about what the money you've earned from your course has done for you.
The income from our training business has helped me reinvest profits from my eCommerce business to continue to grow that towards a potential exit in the next couple of years. It's also given me the time freedom to be able to spend more time with my family, pick my kids up from school, and just recently start coaching my son's football (soccer!) team.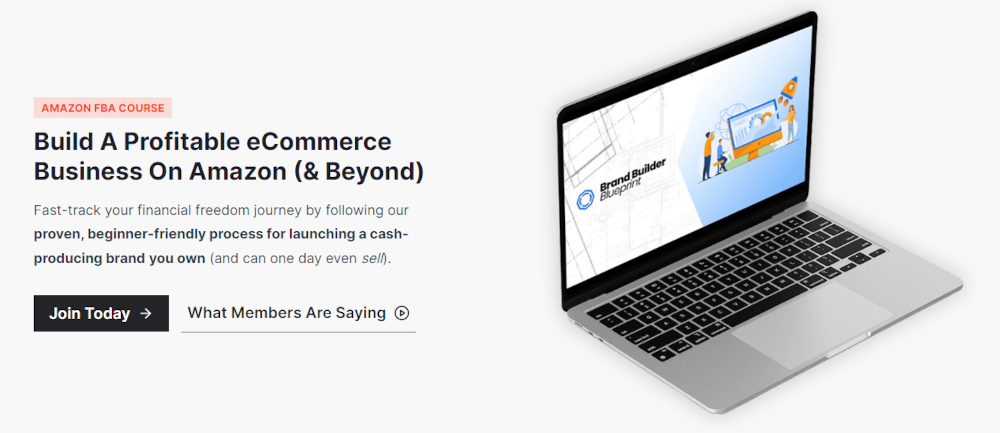 What has creating your course done for you personally?
It has created a lot of fulfilment in my life knowing that many of our members have built a business that has created time and financial freedom in their lives.
Do you have a story of a transformation from any of your clients?
One of our members joined our community after reaching out to me and asking for an extended payment plan. He was driving for Uber at the time to make ends meet. Fast forward to today and his business generates 7-figures per year and he is in the process of selling the business for a life-changing sum. He did all the work, and the success is totally his – but it's a joy to have been even slightly involved in that journey.
What advice do you have for people just starting out?
Approach this business like you should any business – for the long haul. Try and go too fast and you'll end up costing yourself more in the long run.
Invest the majority of your time and energy into activities that compound over time so that in a year or two you're still benefiting from the work you did today. - Ben Donovan
Click To Tweet
Learn more about Ben Donovan of brandbuilderuni.com: