How Arvin Khamseh Earns by Helping Contractors Get More Jobs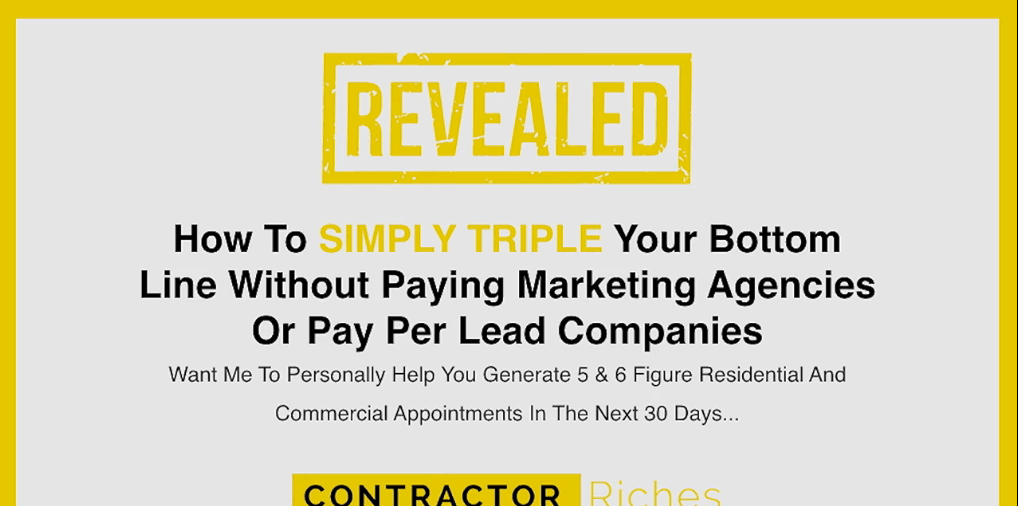 Our content is reader supported, which means when you buy from links you click on, we may earn a commission.
---
Who: Arvin Khamseh
Website: contractorriches.com
Course Topic: Contractor Marketing
Interesting Stats: 60K in revenues so far
Who are you and what course have you created?
My name is Arvin Khamseh and the course I've created is called Contractor Riches.
What market does your online course serve?
It covers trades like Remodeling, Roofing, Cleaning, etc. The course is for you if …
you're a General or Speciality Contractor who is tired of overpaying for leads to a middle-man and wants control and certainty.
you already have 10-20k residential jobs but want 50K+ residential jobs.
you've never experienced a predictable system to spit out commercial leads at will.
you're a Subcontractor or Interior Designer that wants to get out of hustle mode get into business cruise control.
you want a simple way to hire an A-team crew (without having to spend time qualifying them).
you're looking to get your business to the point of franchising simply and predictably.
Here's a more granular view:
Male 30+ US citizens married established building contractors (roofing, remodeling, HVAC, etc) making at least 1 million annually. They like Gary V., Donald Trump, watch UFC fights, Unilad (FB page).
Some star students are Lance and Valentine.
They show up on calls on time
Valentine is making 150K/mo
Lance is making 500k annually
Basically closer to 1 Million annually is our sweet spot
People in the renovation industry (specifically we are looking for contractors that do remodeling, home improvement, extension homes). It's likely that they are using home advisors, home stars, thumbtack, Houzz, etc they get non-exclusive leads that that are also given to the other renovation owners too (up to 4 of them).
The leads they buy are anywhere from $USD 45 to 80. Some other ones are that they don't have any jobs in wintertime (slow time in their industry) so they pick random jobs with homeowners (clients) because they have no options. We keep their pipeline full so they have options and pick the type of job they want. Those clients who were picked up out of obligation turn into being a pain in the ass so that may also have the renovation biz owners stressed out.
People we are looking for do 15k jobs minimum. Some do a minimum of 250k home extensions. Our target market is established Home Improvement Contractors (roofers, kitchen remodelers, water damage restoration).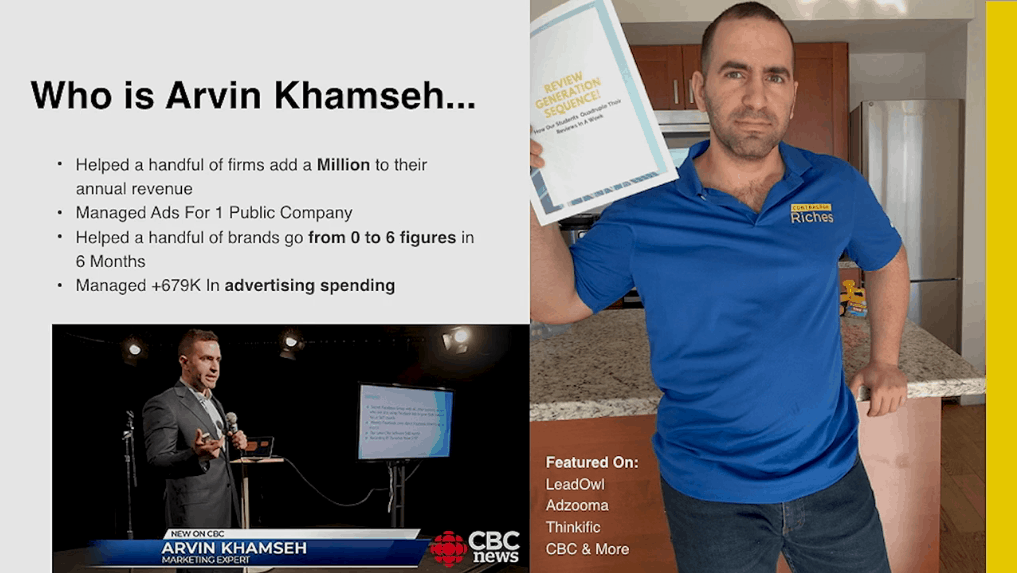 What's the biggest benefit of taking your course?
Saving 2-10K/month paying a media buyer or PPC specialist to run and manage ads.
How did you get into the market?
I was charging 2-10k/month (done for you) and also approached by lead factories (think Home Advisors, Houzz, etc) to run their ads.
One of the OGs of the campaign was John's campaign who got 50K sales in the first 30 days of using what is now called Contractor Riches training. I tried it for Valentine in NYC for larger jobs that also worked so went all in this niche to solve a few problems.
Buying leads (from Home advisor, thumbtack, Houzz, Home depot, Craftjack, Sweeten, Buildzoom)  for 45-100 bucks that are nonexclusive and contractors have to compete for led to them not charging what they are worth and being selective with clients they pick up because nonexclusivity and also the leads are generated for HomeAdvisor, not for a specific brand of a business).
Pumping 10k a month to companies including ourselves would leave contractors not knowing where their money is going to and frankly they could save a lot of money by just learning how to manage what we built for them.
Commercial jobs (think painting a hospital) and high-paying jobs (100K+ think additional homes) are hard to get leads for.
Wasting time with tire-kicker leads is brutal it's like scratching 1,000 lottery tickets to find one winning one.
They don't have any form of lead generation system so they are basically posting here and there on Facebook groups and for the most part praying some job lands on them. They don't have a full pipeline. So sometimes they have leads and sometimes they don't. For example, right now they can't do networking, BNI, etc.
They have a hard time keeping and hiring top talents (crew members). The root cause is not having an in-house lead generation system which has them not being selective with the jobs they take. Therefore, they get bad reviews, the crew can't get paid enough, they leave and get more bad reviews, it gets harder to be selective and charge what they are worth so it's a downward spiral.
Solution: We solve this problem in a way none of those existing big companies do. We teach them how to generate consistent exclusive highly qualified leads in-house instead of pumping 10k/month to marketing companies.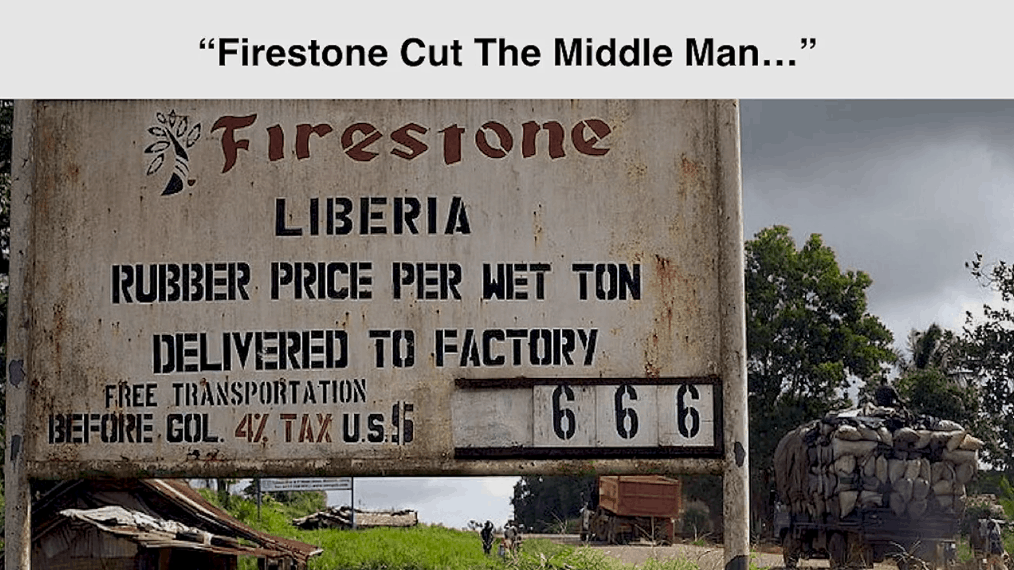 Why did you decide to create an online course in the first place?
Often times contractors have no clue how to measure the success of marketing campaigns so I almost had to do the course every time I signed up a client.
I've maxed out my time and not into building an agency with 10 employees.
Back in 2016, I started the brand hackmybiology.com and biohackingresources.com. I grew a following and some of my blog posts to this date get 150K+ views. The problem was that I was not making money with those brands. I was just popular. I hired a FB ads dude and asked him to run ads for me. He got webinar registrations for $12 a lead. I paid the expert 1K USD if I remember. He got me 600 email sign-ups and they went to a funnel that did not convert. That was all the money I had for marketing that brand. Dreams were shattered. I learned that having a great product is not enough you gotta be able to market it.
I did marketing and project management for small companies until 2018 when my girlfriend left me. My doctor told me I'm a ticking bomb, my best friend stopped talking to me and at a time I had a 2k contract that fell through (it was a big deal when I was making only making 2k/mo) so I had to do something. [btw I solved the health issue and I don't plan on dying anytime soon :)]
In November of 2018, someone asked me to market a service that was really hard to market in a creative way. Of course, I thought about FB ads. I watched courses and ran ads and in the first week got them 2 new clients for intravenous therapy service. It turned out at that time no one had done an ad for IV therapy in Canada. I was the first one but I did not have that information and I had nothing to lose.
That campaign did really well and the founder of that biz introduced me to 5+ other businesses. That same month they all signed up. My income went from 1k to 10k/month.
I worked with 67+ businesses, managed a 250K+ ad spend, and got 20+ video testimonials in 2019.
Fast forward to today, I …
Helped a handful of startups go from 0 to 6 figures in less than one calendar year.
Helped a handful of small businesses add a million to their annual gross revenue.
Currently, work with one public company and focused on growing my course.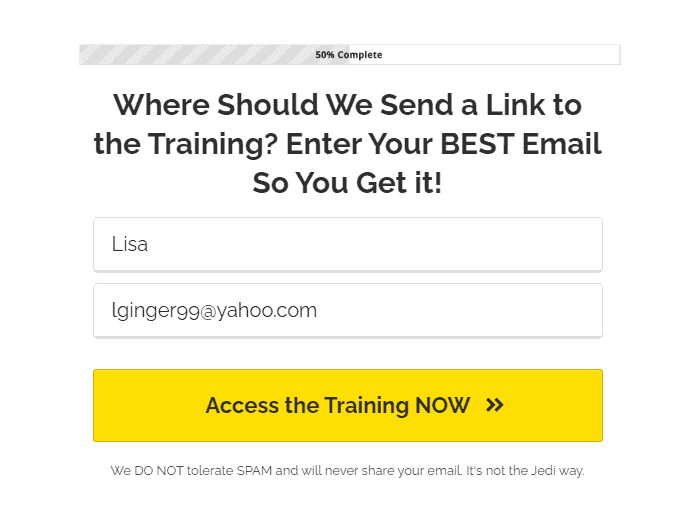 Did you have any moments of doubt before you created/launched it?
100%  and I still do.
An example would be that I had a whole module teaching granular details about advertising on Facebook. I cut that. It's no victory over the past to teach everything I know. It's valuable when I teach my community exactly what they need. So I've recreated the course many times and the current version is set up that in the first week they triple their online reviews and ethically get rid of/bury bad/fake reviews.
In week 3, they already have conversations about getting a job. The guarantee is that in 4 weeks they land a project. The current version is uber focused on getting results.
It worked in my favor though.
Sometimes thinking I'm not good enough makes me become better. I'm not into constantly criticizing myself or ruminating about how I'm not good enough but there is a high standard I aspire to. - Arvin Khamseh
Click To Tweet
Something that helped me along the way was that I had a personal connection to the industry I was helping. I have no friends, family, and really no personal gain whatsoever in transforming the trades community.
So it was never about me. It was very clean and separated from the top. When I interviewed 100's of contractors it became clear though that they do have some problems no one except me may solve – so I let that drive me.
What's your online course like?
Video, text, full of quizzes
Both live-action (we call it the Big Day) and PowerPoint
Weekly coaching calls
Weekly technical calls
How long did it take you to create your course?
The actual process was 1-2 years to beta test. The sales cycle for my students is 6-12 months and contractors are the least techy people on earth. Production took one week.
Tell us a little about the process of launching your course and getting your first sale(s).
I sold it first then I created it in a drip format. Then I went back and redid the whole thing. Once I have a few more success stories I will revise the whole thing once more. Every time I revise I take out unnecessary training that are useful but not needed.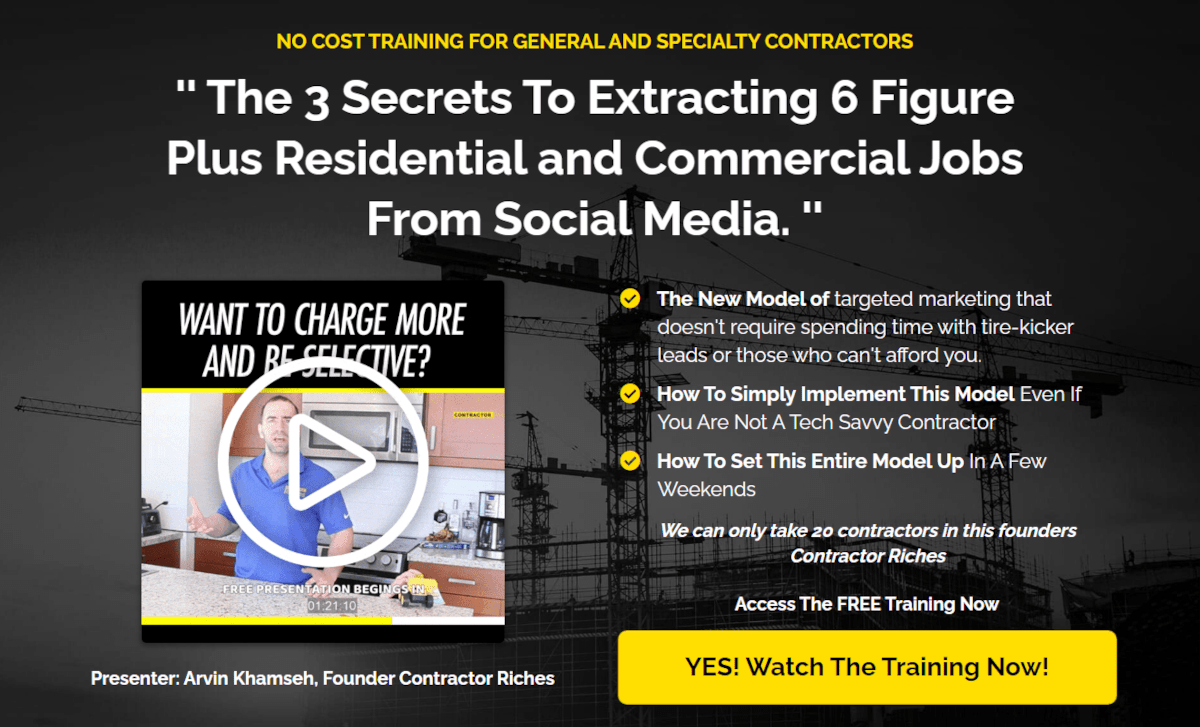 Do you have a lead magnet?
Yes I have a webinar/vsl. I'm building a free trial of the course too.
What's the traffic strategy that works best for you?
I wasn't sure about my buyer persona so I did cold email, cold calls, and referrals.
I ran YouTube ads and spent 1k ish got a new client as a test.
So now I've revised the webinar and traffic ideas and am getting ready to launch again.
My new traffic strategy will be LinkedIn ads to a landing page, then retarget them with other socials to nurture and convert.
What online course platform are you using?
I'm hosting it on Clickfunnels – it's possible I will later host it on Kajabi. For right now I love it.
Are there any features you wish it had?
It does the job. Giving log in access to students is a bit complicated but other than that it's great.
What made you decide to use your chosen platform over others?
I like simple setups and I was already using Clickfunnels so went with it.
What other tools do you use to run your online course business?
Loads! Gohighlevel, Active Campaign, Clickfunnels, Proof, Plusthis, Wistia, Software for ads monitoring, competition analysis etc.
What books or training programs have you found useful on your journey to a successful business owner that others might find valuable too?
I've taken Dan Henry's sold-out courses. I've also consumed Sam Oven's contents religiously.
Do you have any big mistakes you've made along the way that you'd be willing to share?
I'd say my biggest mistake was not having 10-20k cash so I'd not go so slow.
Please share some idea of revenue.
60K which is 12 students at 5K.
Please tell us a little about what the money you've earned from your course has done for you.
The biggest thing is that it has given me proof of concept enough for me to shoot for the first milestone of 100K+/mo (20 new students/mo).

In addition to revenue are there any numbers you would like to share?
My first webinar converted at 20 leads. My second webinar and 3rd webinar did not convert at all. I'm at my 4th iteration.
Leads wise I was crushing it, I had leads as cheap as $1 from Facebook ads.
I built 400ish webinar registrations in a week or two.
Getting contractors who are on site all the time, supposedly not techy to watch a 2-hour webinar was a challenge.
My current webinar is 33 minutes long.
What has creating your course done for you personally?
The results can be hit or miss because the education was missing. I never had problems producing leads but I'd not have the resource to teach contractors what to do with the leads generated so ultimately some campaigns failed. The ones that were successful were the ones that already had a solid sales game so I'd generate leads and they would close.
Had I known what I now know I'd start with the course then I'd have a done for you service. The problem is the chicken and egg problem. I couldn't do a course if I didn't know how to run marketing for contractors as a done for you to begin with.
Do you have a story of a transformation from any of your clients?
Yes, Lance was majoring in minor projects of less than 10k. Now he is only taking on 30K+ projects. Started at 500Kish on track for 1Mil in one calendar year …
2300% Increase In Online Reviews
Commercial Leads At ~$500k-1.2M
10% Higher Split With A Major Entity
Subcontracted All Small Jobs
Saved 20 hours/week
Invested In Real Estate
What advice do you have for people just starting out?
I was told to focus on my offer but I didn't know-how. This is how I'd teach someone to do it:
I'd say grab a few people in the market you want to transform. Ask about their problems and start solving the problems. Create an offer based on the problems you can solve while still attacking the problems you cannot solve. - Arvin…
Click To Tweet
Learn more about Arvin Khamseh of contractorriches.com: