Andrea Angella's 5-Figure Productive C# Membership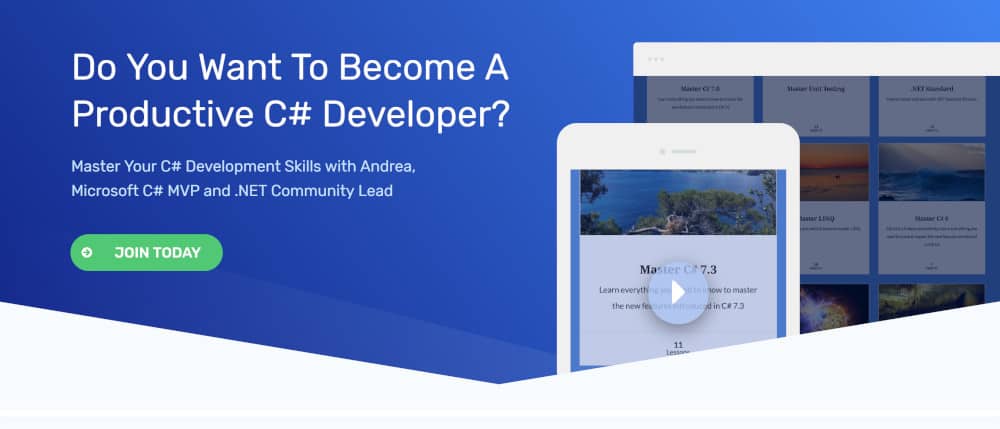 Our content is reader supported, which means when you buy from links you click on, we may earn a commission.
---
Who: Andrea Angella
Website: productivecsharp.com
Course Topic: Software 
Revenue Stats: $1,000+ in the first week of launch
Who are you and what course did you create?
My name is Andrea Angella and I started productivecsharp.com. I created many courses as part of a membership site. It's called My Productive C#.
C# is a programming language used by millions of developers worldwide. It's one of the top 5 most used programming languages in the world and there is a high demand for professional C# developers in the market.
My market is everyone who wants to become a master and productive C# developer. Productive C# is the only learning platform on the planet completely dedicated to serving professional C# developers.
What's the biggest benefit of taking your course?
Technology is changing fast and developers are busy people. The biggest benefit is saving time staying up-to-date with the technology they regularly use at work. My approach is to create extremely practical videos that teach the essential skills you need on the job. I condense down into 10 minutes what can be hours of research and experience.
How did you get into the market?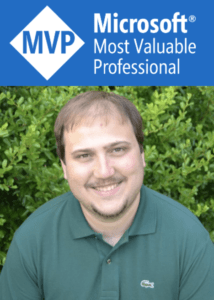 I worked as a professional C# Software Engineer for more than 10 years. I founded and lead the Cambridge .NET User Group, the official community on .NET in Cambridge (UK), for almost 5 years. It's a vibrant community of 800+ passional .NET developers.
In March 2017, I started to create technical videos on C# on my YouTube channel on a weekly basis.
After 6 months Microsoft noticed my efforts and nominated me as a Microsoft MVP. This is a prestigious title given to exceptional contribution and commitment to technical communities worldwide.
The extremely positive response from the technical community and the recognition from Microsoft gave me the extra confidence to think about monetizing my efforts.
Why did you decide to create an online course in the first place?
Since I became a father and my wife was not yet working, our family expenses increased significantly. I was looking for ways to earn more money on top of my full-time job to help my family. Learning and teaching is something I always loved and getting into the online education business was the most natural thing for me to do.
Did you have any moments of doubt before you created/launched it?
All the time! Initially I wanted to create an individual course and launch it on September 2017 but after some research and reflection I realized the membership model was a better fit for me. My videos are self-contained, so I didn't need to complete courses in order to launch. I procrastinated the launch for months because I wasn't sure I had enough content.
I was so scared and I kept thinking 'What if nobody buys'?
Then around Christmas I made a decision that I would launch on January 1st 2018 no matter what. I set a hard deadline and I had to be ready for launch by that day. Every single hour of my Christmas holidays was spent making sure everything was ready. At 5 AM on January 1st 2018 I pressed the button to announce the membership to my email list (which at the time was very small, only 250 people) and later to everyone on my social networks.
I made more than a thousand dollars in the first week and I was shocked. After that week, I knew my life would have never be the same.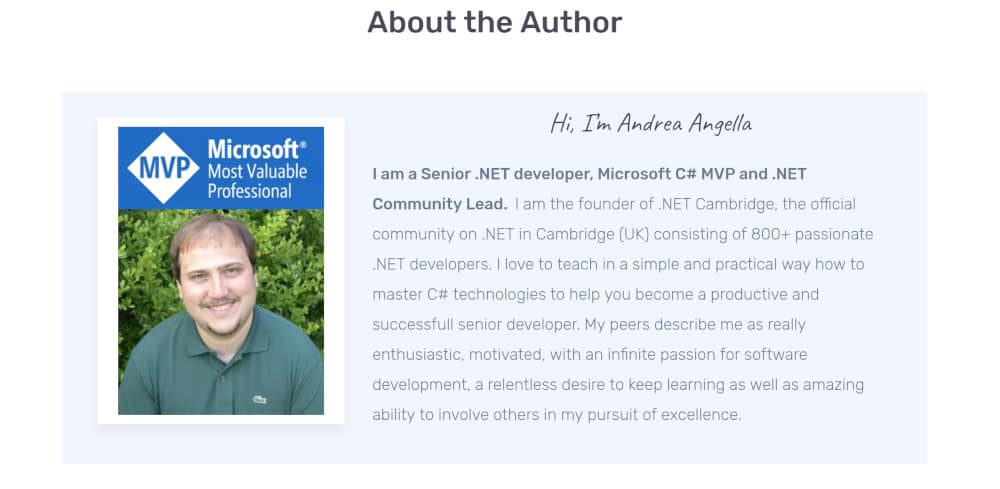 Even with that doubt what made you turn it around and do it anyway?
On October 2017 I started a mastermind relationship with a friend of mine that was also on a similar journey to me in a totally different field. We met every week since then (and we still do) to discuss our businesses and how to improve them.
I have to say, the discussion and the accountability systems we put in place helped me commit to my project. As I mentioned earlier, being recognized Microsoft MVP gave me a strong push in confidence. It really helped me to "sell" myself better to the development community. I strongly recommend finding a mastermind buddy to make your journey less lonely and to challenge yourself more.
What's your online course like?
Most of the content in my membership site are videos. In my opinion, this is the best medium to teach how to code. Each video is short, hands-on, and to the point. I show clients how a feature of the language works.
The source code is available for members to download and practice what they see in the videos. Some of the videos have quizzes to help consolidate the learning. Every week I send a curated newsletter with all the relevant news from the industry to help members stay up-to-date with the latest Microsoft developer technologies.
Members also get access to a private Slack group where they can ask questions to me and other members, start discussions, and share what they've learned.
How long did it take you to create your course?
My membership consists of many courses and you might find it surprising some of them are not yet complete.
That's because each course contains many videos on a specific topic. Each video is self-contained and aims to teach a small topic in depth but in the most easy and succinct way.
I'm using a process I call Agile Course Development. I give members permission to alter the direction of what I produce, asking them what they want to learn next.
Based on customer feedback, I then produce new videos adding more content to each course. You can say my courses are more like category buckets.
I make it very clear to my members that I only have bandwidth to create one video a week and that's what I do. Every week I produce more content to increase the value inside the membership. I cover as many topics as possible based on member feedback and my own intuition on what's trending in the industry.
How do you decide what to cover in your membership?
Videos are prioritized based on the latest features in the C# programming language as that is the main focus of the membership. I also produce videos on related technologies like Blazor, Azure, .NET Standard, Docker, and so on.
It's only a matter of time that all the features of C# will be covered. My mission is to make the Productive C# membership the most productive way to learn and master C#.
A video is usually only about 5 to 10 minutes long, but it can take me hours if not days to produce. After I identify the topic I want to talk about, I research the topic from every possible angle. That means reading books, articles, blog posts, watching videos, and reviewing official documentation.
I integrate all of what I have learned along with my 25+ years of experience in the field of programming. Next, I write the sample code I want to use in the video and I constantly ask myself if that is the simplest way to introduce the concept. I also ask what is necessary and what is not necessary, and I remove all the irrelevant details.
Finally, I write small bullet lists of things I want to cover and hit record. Most of the time I record all the video in one go. Sometimes I do it 2 or 3 times. I do very little editing post recording and then I upload the video to the membership area. It's a lot of work to produce just 10 minutes of content but I am proud of the result.
Tell us a little about the process of launching your course and getting your first sale(s).
At the end of 2017, I joined the online course creator summit organized by Dr. Carrie Rose. This was a collection of interviews with many experts and it was very useful for me to learn more about launches and everything to think about when creating an online course. One of the benefits of the summit was 3 months free access to Thinkific Professional and after playing with it I choose it as my online course platform.
Thinkific provided training on how to launch a course that was very useful. I used some of their email scripts to craft my launch email sequence. Since I wanted to focus on the content first Thinkific has been a good platform to start with.
I wish I could say I planned everything carefully, but I didn't. Most of the work was done in the last 2 weeks before the launch hoping for the best 😊 Honestly, at the time, I was scared of not getting any sales. You can imagine my emotions when I was able to tell my wife I made 1,000 dollars in the first week!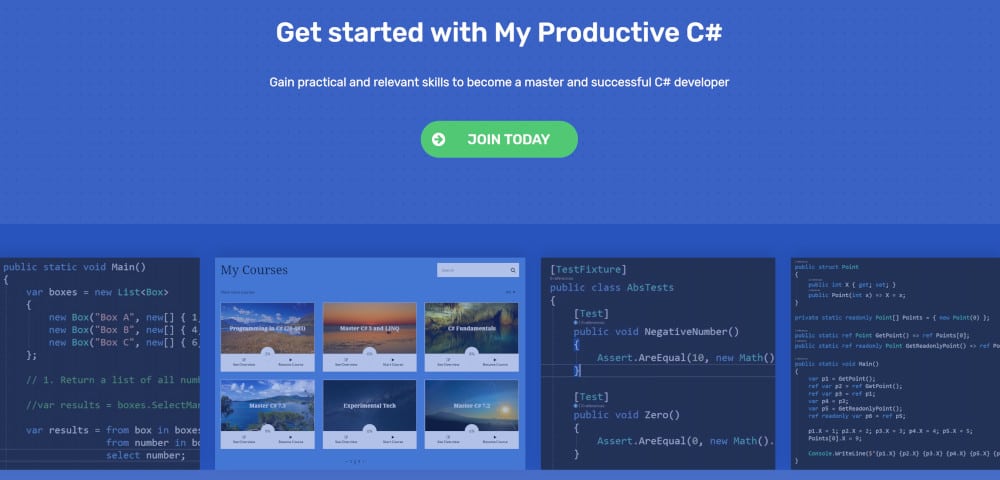 Do you have a lead magnet that's working to help you sell your online course?
I experimented with a lot of things since the launch (and I keep experimenting) but I recently found webinars to be the best way to attract new leads. New people who attend the webinar get a full masterclass on the new C# features. They also get a very good one time offer to join the membership. It's a big discount for the first year so that they can experience the big value of joining my membership.
After the first year of me delivering value to them with new videos and news every week and my personal time in answering their questions, the renewal is often a no brainer for them. Developers can join the webinar. I am planning to do more webinars in the future.
What's the traffic strategy that's working best for you?
Sharing blog posts and videos on my social profiles (mainly Youtube, Facebook, Twitter, LinkedIn, and Instagram) and various groups was my only strategy for the first year.
I built a strong reputation on the C# Corner website by publishing my videos there and becoming one of the top 100 authors among 3 million members, they awarded me a C# Corner MVP for this. That site has been a great source of traffic.
I experimented with Facebook ads and am now consistently running Google Ads to drive traffic to my webinar registration page. It's currently working very well for me. Another source of traffic is my Productive C# podcast and a bit of guest blogging.
What online course platform are you using?
I use Thinkific to run my course and I like it. I like their support and found their training material especially useful when I started.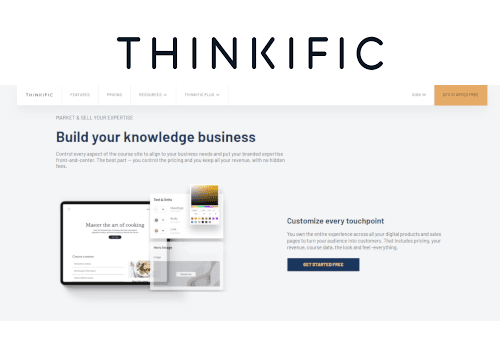 Take a Look at Thinkific!
Thinkific is the most popular online course platform used by successful course creators interviewed on coursemethod.com. It's a complete solution for creating sales pages, uploading all course content, taking payments, and more.
Price Range: Free to $499/month 
Most Popular Plan: Pro Plan at $99/month
Annual Discount: Yes, take 20% off!
Free Trial: Try out Thinkific's core features for free.
*Our content is reader supported, which means when you buy from links you click on, we may earn a commission.
Are there features you wish it had?
Oh yes, and I actively contribute to feature requests with their development team. Thinkific is an awesome choice for course creators but less good for membership site owners. I use bundles to create membership packages that are a collection of courses. This required some technical customizations to get up and running.
I do wish they had a better dashboard so I could understand how my students learn on the platform. That way I could more easily identify students that need help and identify what content is consumed most across multiple courses. They offer good course-specific statistics but not bundle related statistics. That is probably my biggest feature request.
What made you decide to use your chosen platform over others?
I wanted to act fast and go live with my membership as soon as possible. My preference was an easy to use platform so that I could focus on producing content instead of maintaining the site. I knew I didn't want to host my membership on WordPress. Instead, I wanted a cloud solution able to scale with almost no maintenance on my part. I found Thinkific in many of my searches, I watched courses on it, and decided to use that in the end.
What other tools do you use to run your online course business?
I am constantly trying out new tools and experimenting with them in order to improve my business, but the following are tools I've used consistently from some time now:
Did you use any training to help you get going?
When I started I knew almost nothing about digital marketing, sales and honestly I didn't have the right mindset.
In the past couple of years, I have learned a lot. The following are the main resources I've used:
Here the top 10 books that influenced me the most:
The 10x Rule
Rise of the Youpreneur
Expert Secrets
Crushing It
How to Be an Imperfectionist
Think and Grow Rich
Be Obsessed or Be Average
Sell or Be Sold
The Ultimate Webinar Marketing Guide
Atomic Habits
Are you willing to share some idea of revenue?
I made 1,000+ dollars in the first week after the launch. Productive C# is currently a 5 figure business. My goal is making it a 6 figure business in the next few years.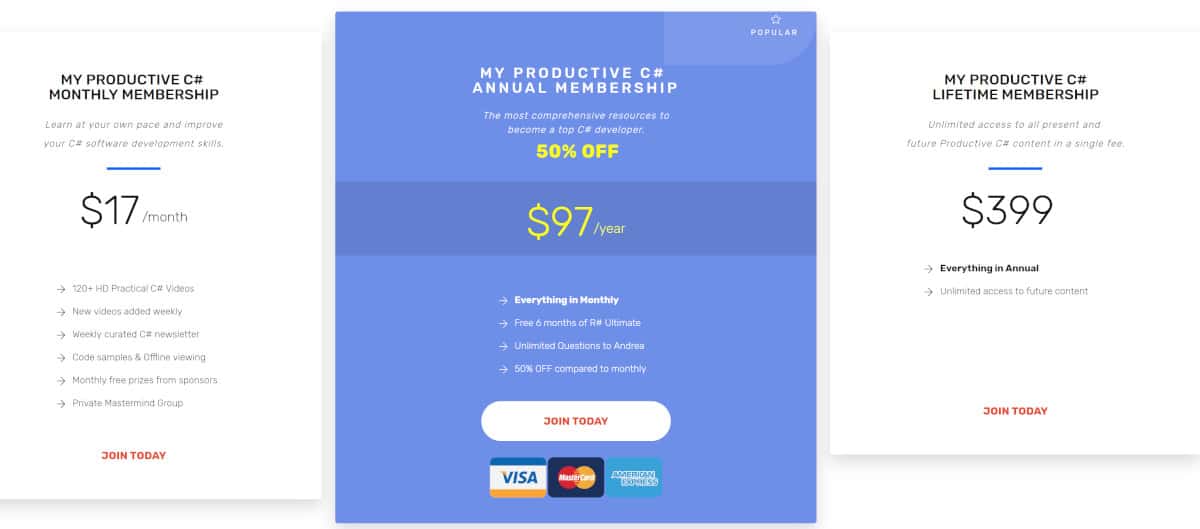 Would you mind telling us a little about what the money you've earned from your course has done for you?
My son is going to nursery full time and nursery is very expensive in the UK. My side business really helped to partially cover this big expense for my family.
What has creating your course done for you personally?
Launching and running the Productive C# membership gave me joy and a new level of confidence in my ability to sell and provide for my family.
I love knowing that I have no barriers in terms of what I can achieve financially. - Andrea Angella
Click To Tweet
The business I created is scalable and it's up to me to bring it to new levels.
I found something that took all my passions and put them together. I love writing code, I love learning and teaching, and I love making an impact on other peoples lives in a practical way.
Do you have a story of a transformation from any of your clients?
One of my first members was able to quickly develop his coding skills and secure a job as a senior C#.NET engineer in the UK. The membership plus the hard work in practicing C# helped him almost double his salary in less than 2 years! One of the main benefits of the membership is the ability for members to ask me unlimited questions via email. This helped me clarify technical content and provide him with all the advice he needed to progress in his career.
These are some of the highlights of what other members have to say about the membership:
Andrea's enthusiasm and passion are contagious.
Saves me time by explaining complex topics in short, useful and easy to understand videos.
Andrea has an essential and effective teaching style.
Helps me keep informed about all the latest .NET news.
Andrea has a genuine interest in your learning.
What do you wish you knew before you started?
I wish I started to collect email addressed from my blog when I started blogging in 2008. My email list would have been way bigger if I did that.
Your email list is your biggest asset, so the most important advice I can give is to start creating your email list as soon as you start a blog even if you do not intend to launch an online business yet. - Andrea Angella
Click To Tweet
Trust me, you will thank me later.
Learn more about Andrea Angella and Productive C#: