How AMP Creative Brings In Over $5 Million/Year Designing Learning Solutions [Amy Lou Abernethy]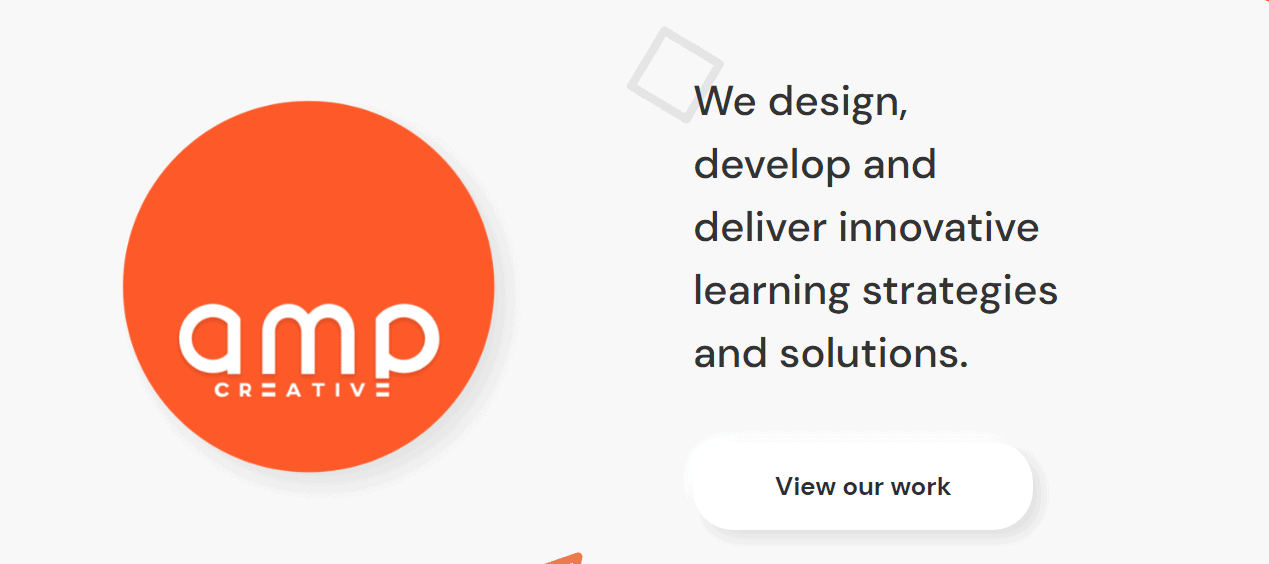 Our content is reader supported, which means when you buy from links you click on, we may earn a commission.
---
Who: Amy Lou Abernethy
Website: ampcreative.com
Service: Design Learning Experiences
Interesting Stats: $5 million annually
Who are you and what digital training company have you created?
I'm Amy Lou Abernethy, co-founder of AMP Creative and a founding member of Apetala Innovations, LLC. AMP Creative is a creative agency that specializes in the design of learning experiences. Apetala Innovations develops learning products that focus on creating respectful and productive workplaces.
AMP Creative designs and develops learning ecosystems for some of the world's largest companies—and almost all of it can't be shared with people outside of the company for which it was created. Whether it's because the course contains sensitive company information or because of non-disclosure agreements (or both), our most exciting and innovative work is often confidential.
How, then, do we develop a portfolio to show potential clients? We do it the same way that people new to the business do it: we create experiences that we can use as products. That is, without having a confirmed and waiting customer but with a target audience of buyers for the completed product.
About Transform Workplaces …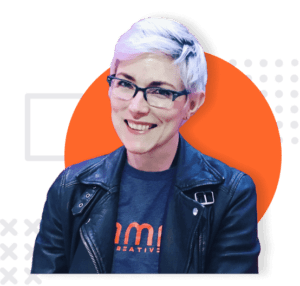 That's partially the story behind Transform Workplaces, an e-learning experience designed to empower students interns so they can cultivate respectful, inclusive environments free from workplace harassment. I teamed up with Dr. Shannon Rawski, a leading expert in workplace sexual harassment, to design the course and, with production support from AMP Creative and platform support from Apetala cofounder Dr. Joshua Foster, we launched this product.
Our main goals were to help educate and prepare student interns, a vulnerable and inexperienced population in the workplace, and to gather data on how sexual harassment training can change behavior and improve workplace experiences. It also serves as a portfolio piece and calling card to potential clients who want to see examples of our work.
Find out more about the course here: transformworkplaces.com
AMP Creative also created Perspectives on Bias, a VR experience that allows the learner to be immersed in the perspective of someone experiencing microaggressions in the workplace. You can download a demo of that here.

What market does your digital training serve?
AMP Creative primarily creates learning experiences for global enterprise companies. We focus on creating learning that's effective by partnering with experts, using the advantages of new technology, using narrative frameworks to engage learners, and measuring and iterating on what we make.
For Transform Workplaces, we focused on creating a meaningful and effective course for students entering the workforce in internship programs. Sexual harassment is a complex issue faced by many students. Transform Workplaces is an eLearning experience developed with the conviction that we can do more than train students to identify instances of sexual harassment in the workplace — we can prepare them to be catalysts for change.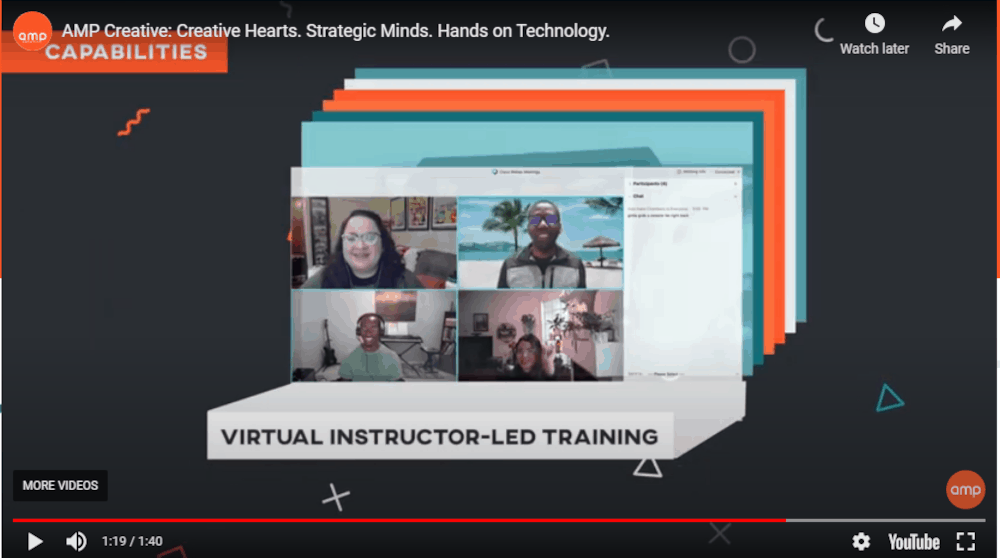 What's the biggest benefit of taking your online courses?
AMP Creative began almost 20 years ago as a video production company that developed everything from television programs to commercial spots. Because of this, we have a strong background in visual storytelling and have always integrated our storytelling with technology. That continues to be a hallmark of our learning experiences: they are narrative and cinematic, which increases learner engagement and comprehension. We also ground our learning solutions in adult learning theory and evidence-based practices, so that the time our learners spend has lasting value for them.
How did you get into the market?
I'm an educator who saw the value of integrating learning with video production about 25 years ago. I began my career making videos for a curriculum development company. Then, I co-founded a video production company that made much more than training videos—we developed television shows and marketing campaigns.
Several years ago, I got my master's in learning in digital environments and AMP Creative turned more and more towards the design and development of sophisticated learning ecosystems for enterprise companies. I asked Dr. Shannon Rawski to consult on a training program that we developed for one of those companies. We share similar perspectives on how training and learning should be developed, so we partnered to create Transform Workplaces.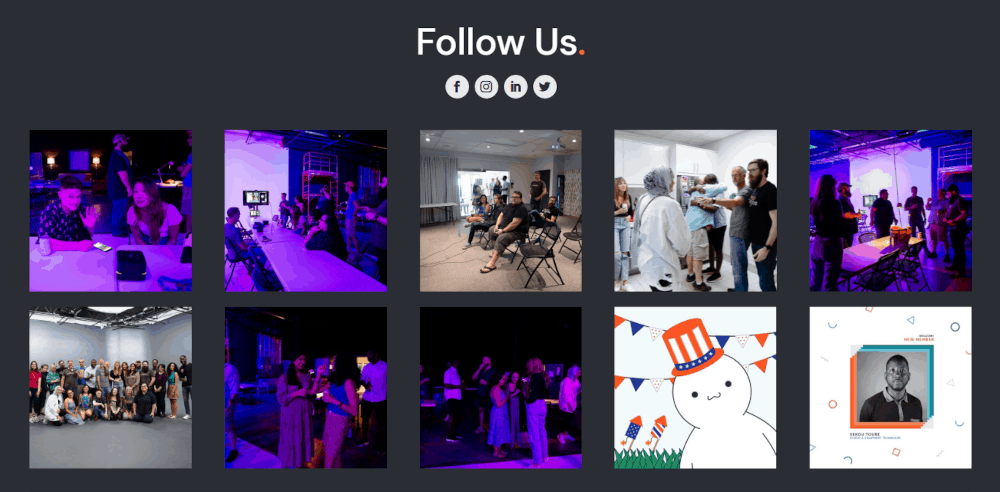 Did you have any moments of doubt before you launched your training company?
We have just entered our 20th year, so there have been lots of ups and downs along the way! With almost 45 people who are part of the AMP Creative community, I'm grateful for the wonderful team members who help to create amazing learning experiences for our clients.
If so what made you turn it around and do it anyway?
Honestly, the people who I've worked with at AMP Creative have come together to solve all sorts of challenges. They are my source of inspiration and the glue that holds it all together.
What are your online courses like?
We use a narrative learning approach and create a learning journey with the learner at the center of the story as the hero.
We're highly visual storytellers and use video or gameplay/discovery to deliver content. We also employ blended learning with XR (virtual reality/augmented reality) in some experiences.
Depending on the project, a live-action video or animation might be the right fit. Audio might be the right fit. Here's an example of our work.
We don't have a formula. Rather, we consider the creative approach that works best for the learning experience.
How long does it take you or your team to create a new course?
We use a design thinking model to work with clients and learners as co-designers of the learning experience.
That means we follow the design thinking process of empathizing, define, ideate, prototype, and test—and our learners and clients are with us every step of the way. - Amy Lou Abernethy
Click To Tweet
We start by working with the client to put together a team with a variety of perspectives on the problem. Then we guide that team through the design process. Our goal is to keep the learners/users at the center of the process, so we use techniques like learner personas, empathy maps, and user/learner scenarios to understand the users and make sure their needs are our focus. We test assumptions and iterate on our solutions using learner feedback.
Next, we use the understanding we've gained from empathizing to truly define the problem. The actual issue isn't always what's first presenting itself as a problem, and we need to address the root issue learners are experiencing to make sure we provide them with what they need to succeed.
Our team then ideates to find solutions. That's when we come up with design concepts, wireframes, prototypes, etc. so that we can move forward with testing. We build a roadmap and use low-cost prototypes to test our understanding of learners' needs before moving forward with the project. Depending on the project, development might take 6 weeks or stretch over a year. We have in-house teams who do this. Even once a project is "done" we stay in touch with clients to check in on the success of the project and iterate to improve the initial version.

Tell us a little about the process of launching your first course and getting your first enrollment(s).
Our first courses were video-based on VHS tapes! That was a long time ago. Over time, we realized the power of digital learning experiences and began to design them as simple wrappers for video-based learning. We have since become more sophisticated—as have the platforms and products that we use. In the last few years, we've been creating VR experiences for clients using 360 and 180-degree immersive video.
What online course platform are you using?
Transform Workplaces uses LearnDash. Our other courses for our enterprise clients use their internal LMSs. We are eager to build or find ways to integrate VR into our eLearning experiences in more lightweight ways.
For now, it serves our needs.
Are there any features you wish it had?
In the future, we may be interested in data that we can't collect from LearnDash and may need to explore other platforms.
What made you decide to use your chosen platform over others?
It allowed us to quickly stand up the features and backend that we needed to administer the course and get the data that we need at this time.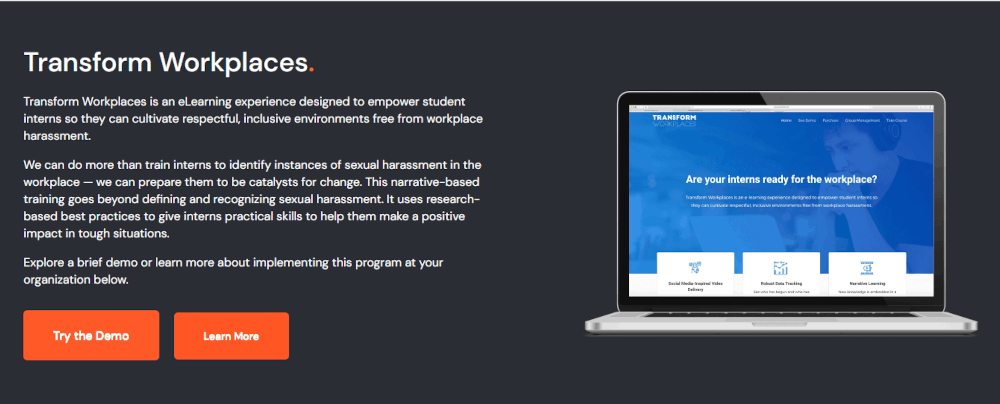 What other tools do you use to run your digital training business?
We use the following tools:
Accelo
Quickbooks
Microsoft Offices
Microsoft Teams
Gusto
HubSpot
What books or training programs have you found useful on your journey to a successful business owner that others might find valuable too?
Goldman Sacks 10,000 Small Business program
Do you have any big mistakes you've made along the way that you'd be willing to share?
The big mistakes are the most important ones to be transparent about. No one is perfect and that is okay. Own up, take responsibility, let everyone know what is going on and how you are going to fix it. Ask for help if you need it.
Please share some idea of revenue for your digital training company.
AMP Creative makes over $5 million annually from designing, developing, and delivering learning solutions.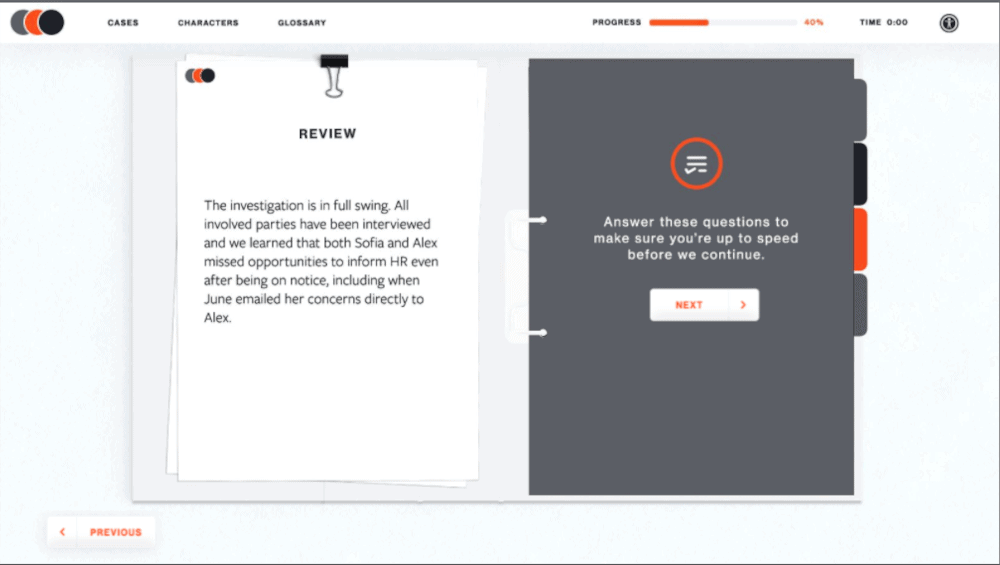 Please tell us a little about what the money you've earned from running your digital training company has done for you.
AMP Creative has a beautiful studio and a 45-member team. We have entered our 20th year and have a solid reputation and dedicated fans. I'm able to follow my interests and, this year, gave 10% of the company to the employees. I'm financially stable and looking forward to being a part of this creative community to is passionate about making amazing learning experiences for people.
What advice do you have for people just starting out?
Some people say, "Follow your passion." Your passion will change, and that's okay. Follow it. Follow the dopamine.
Whatever interests you, whatever you nerd out on, talk about it and inject it into your business. - Amy Lou Abernethy
Click To Tweet
Just make sure you stay interested!
Learn more about Amy Lou Abernethy of ampcreative.com:
AMP Creative's Socials:
Amy Lou's Socials: