How Amira Irfan Started Her Legal Templates Business and Just Had a $78,000 Month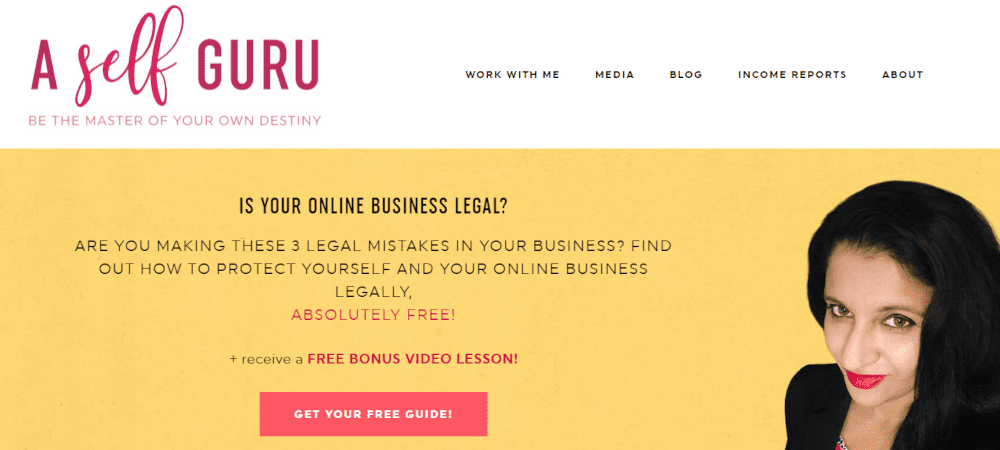 Our content is reader supported, which means when you buy from links you click on, we may earn a commission.
---
Who: Amira Irfan
Website: aselfguru.com
Course Topic: Legal Templates
Interesting Stats: Grew email list to 50,000 in two years
Who are you and what course have you created?
I've created affordable DIY legal template bundles that any entrepreneur can instantly download to legally protect their online business in just 15 minutes without hiring an expensive lawyer or wasting valuable time. You can now have lawyer-level protection for your business without the hefty legal fees.
Visit my legal store to get your legal bundle.
Here are the links to my most popular legal bundles for entrepreneurs and their websites.
What market does your online course serve?
Any online entrepreneur (bloggers, coaches, marketers, freelancers, and others).
What's the biggest benefit of taking your course?
You can legally protect your online business in just 15 minutes without hiring an expensive lawyer, saving thousands of dollars and hours of your time! In addition, you will receive free lifetime updates and will be able to use the legal templates for multiple businesses of your own.
How did you get into the market?
I watched my dad's business get sued for $90,000 for a legal mistake he wished he hadn't made.
Many entrepreneurs, like my father, struggle with the legal aspects of their businesses. They are often confused, frustrated, and intimated by the law. That's why I became a lawyer to prevent other entrepreneurs from making costly legal mistakes, and I enjoy helping and making the legal process as simple as possible for them.
Why did you decide to create an online course in the first place?
Prior to creating my digital legal templates and bundles, I worked one-on-one with several bloggers and entrepreneurs, drafting their website legal policies such as Privacy policies, Disclaimers, and Terms and Conditions. But I quickly realized that I could only help a few people per day with that. I reasoned that there had to be a better, faster, and less expensive legal solution for their business needs.
So I came up with the idea of creating DIY legal templates that entrepreneurs could download and use right away without having to pay exorbitant lawyer fees while still receiving lawyer-level protections. I decided to launch my online legal store and 20+ legal templates that entrepreneurs required for their businesses.
This allowed me to help thousands of people at once, which I couldn't do when working one-on-one. And my customers appreciated the fact that they could get professional legal documents from a lawyer immediately without having to pay exorbitant legal fees.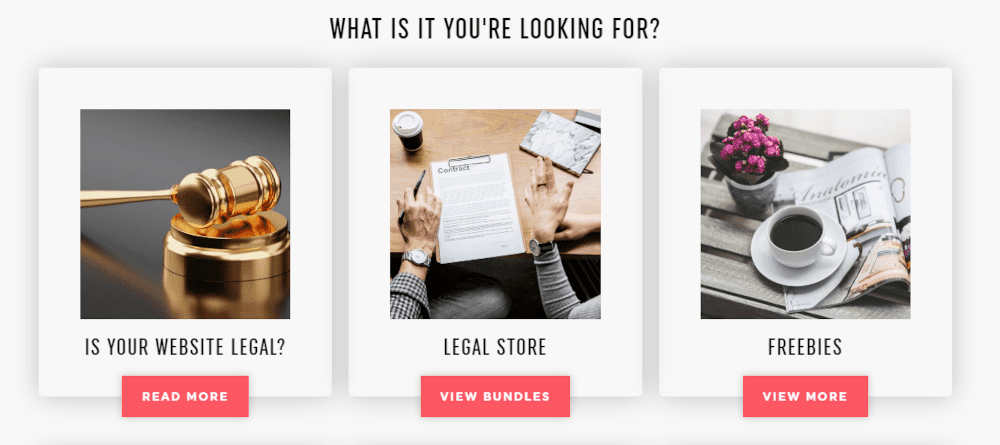 Did you have any moments of doubt before you created/launched it?
Yes, I did have moments of self-doubt just like everyone else! I believe it's natural to second guess yourself when you are working on something new and you have no idea how it will be received by others.
But I always remind myself that "every entrepreneur was once an amateur", and if I don't do it, I'll never know what happens. It is always best to try and fail than to never try at all.
What's your online course like?
Before purchasing my legal templates, you can take a quiz on my website to determine which legal bundle or template they need for their business. Once you purchase the templates, you'll receive simple legal templates into which you can enter your business information as instructed. Then, start using these templates on your website or when working with others, such as clients, other businesses, virtual assistants, and so on.
How long did it take you to create your course?
Because I've been doing legal work for over ten years, writing the content for legal templates, legal documents, or business contracts took a few days, but creating the sales page, sales funnel, and behind-the-scenes work of launching a product took much longer.
Tell us a little about the process of launching your course and getting your first sale(s).
I first launched my legal bundles to my email list. At that time, I had 500 people on my email list, and that's how I made my first sale! I also had thousands of entrepreneurs in my Facebook group who bought my legal templates.
So, on the first day of launching my legal bundles, I made $2000 between my Facebook group and email list. - Amira Irfan
Click To Tweet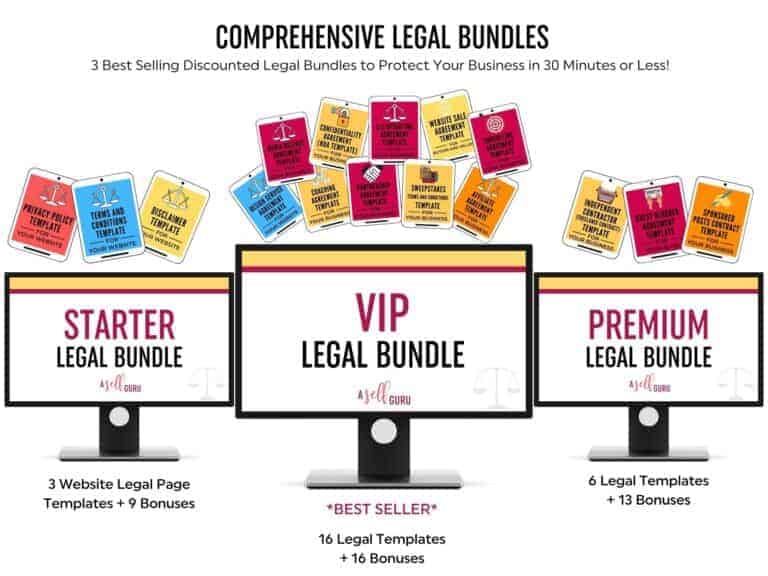 Do you have a lead magnet?
Yes, it's my free legal guide here that teaches entrepreneurs how to avoid three costly legal mistakes in their businesses. In other words, it shows them the legal documents they need to protect their online business. This legal guide helps to sell my legal bundles because those are the actual legal documents or "solutions" to their legal problems.
What's the traffic strategy that works best for you?
Writing valuable content and focusing on Google SEO, and using Pinterest to drive traffic to my blog. I also rely on my Facebook support group of 7,000+ entrepreneurs, which has been one of the best ways to connect and raise awareness for my business and products.
What online course platform are you using?
I use Kartra as my online course platform.
Do you like it?
Yes, I love it! I use it to run my entire online business from email marketing, product checkouts, landing pages, sales funnels, affiliate program, membership sites, calendars, and more!
Are there any features you wish it had?
The only feature I wish it had was the ability to add multiple products to a single order, as Shopify and Woocommerce do.
What made you decide to use your chosen platform over others?
It's an all-in-one business platform. I use Kartra to run my entire business online. This business tool makes it easy for me to keep track of my products, services, and customers. I can even use this business tool to create landing pages to market our products, host our affiliate program, and membership sites.
Having one tool that does everything makes it easy to manage your business instead of learning 10 different platforms. This saves me time and money.
What other tools do you use to run your online course business?
Besides Microsoft Word to download my legal templates, nothing else is needed.
What books or training programs have you found useful on your journey to a successful business owner that others might find valuable too?
Million-dollar habits is my favorite book by Brian Tracy because it covers the most important things entrepreneurs need to succeed, no matter what they are doing. I read this book every year to stay focused and remind myself how important these habits truly are.

Do you have any big mistakes you've made along the way that you'd be willing to share?
1) Not having a backup of my products and accidentally deleting one of my best-selling digital products, forcing me to restart from scratch.
2) I also made the mistake of being a perfectionist in my business, but I quickly realized that this was not the best approach if I wanted to make progress.
How Amira Irfan Started Her Legal Templates Business and Just Had a $78,000 Month
Click To Tweet
Please share some idea of revenue.
Sure, here's my most recent blog income report, which shows how I made $78,000 in a single month, allowing me to quit my 9-to-5 job as a lawyer and become my own boss!
Prior to that, I was earning $44,000 per month, and prior to that, I was earning $35,000 per month. This page on my website displays all my income reports as well as the different sources of income.
Please tell us a little about what the money you've earned from your course has done for you.
I started my online business because I was in debt. I owed $150,000 in law school student loans, which I needed to repay. Each month, it felt like I was paying a second mortgage.
Because of my seven-figure blogging business now, I was able to pay off my debt, take family vacations I could never afford before, and, most importantly, quit my 9 to 5 job and gain complete control over my time. This company has truly changed my life, and I am eternally grateful!
In addition to revenue are there any numbers you would like to share?
How I Made $78,000 a Month from my Blog (with my full-time job as a lawyer)
How I grew my email list to 50,000 subscribers in two years by creating different lead magnets that provided massive value to my audience for free and promoted these on different social media channels.
What has creating your course done for you personally?
It has given me more confidence and faith in my abilities. I always believed I was destined for big things but when you have a new customer raving about your product every day, it's the best compliment and feeling in the world! See 100's of examples here.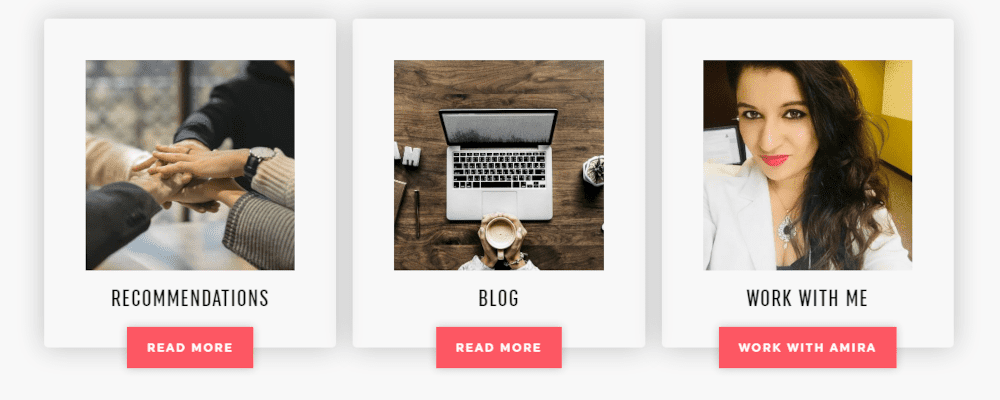 Do you have a story of a transformation from any of your clients?
One of my customers was completely lost about the legal side of blogging and she had no idea how to protect herself from legal issues.
She also wanted to monetize her blog through affiliate marketing and ads, so she needed to have proper disclaimers for those on her website. But she didn't know how to write those disclaimers herself.
My affordable legal bundle was able to alleviate all of her legal concerns, providing immediate relief and peace of mind. The legal bundles showed her exactly what she needed on her website and provided the language she needed for affiliate marketing disclosures to ensure her website was legally compliant.
After purchasing my VIP legal bundle, she sent us a love note saying, "I can finally feel truly confident about my business knowing it's legally protected! This was the BEST investment I made for my business. Amira's legal templates are priceless, and you won't regret this."
Thousands of customers promote my legal templates for free because they simply loved them and our customer service. They are always surprised by the number of bonuses they receive with our legal templates that they didn't expect. Those extra bonuses alone are worth the cost of our legal templates. We truly believe in overdelivering and exceeding expectations. In addition, our legal templates are extremely affordable.
That's why we have over 100's of 5-star reviews and customers who always send us love notes like, "your legal templates are a lifesaver," or "your legal bundle was the best investment for my business that didn't break my wallet," or "thanks to your templates, I am able to sleep better at night knowing that my business is now protected."
Receiving these love notes from my customers never gets old! Every time, it fills my heart with joy and gratitude.
What advice do you have for people just starting out?
Always remember your "why" and don't give up when things get tough!
In my business, there were times when things broke, and we lost all of our hard work and failed to meet our objectives. Working 14-hour days on top of my full-time job to run the business was so exhausting that I wanted to give up and return to my regular 9-to-5 lawyer job. But then I remembered "why" I started this business in the first place, and why I couldn't give up in the face of failure.
Learn more about Amira Irfan of aselfguru.com: