How Amelia Servis Turned Her Enjoyment of Crocheting into a Popular Crochet Blog with Training Courses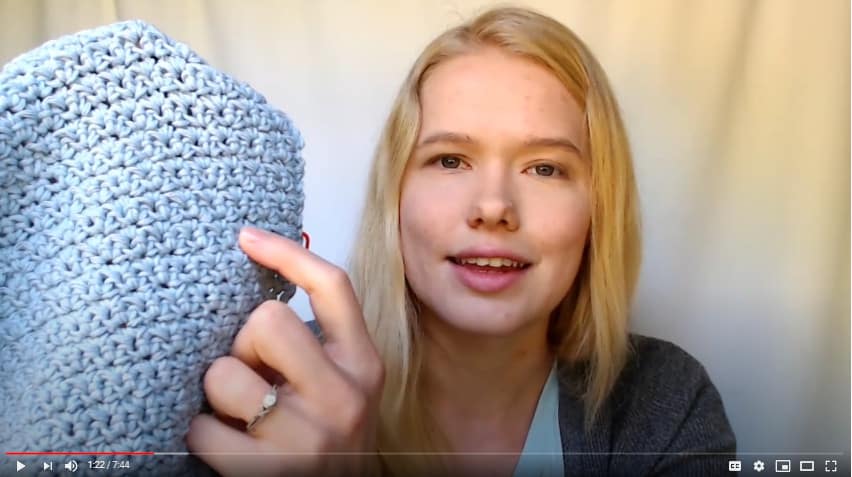 Our content is reader supported, which means when you buy from links you click on, we may earn a commission.
---
Who: Amelia Servis
Website: ameliamakes.com
Course Topic: Crocheting
Interesting Stats: Her courses generate a few hundred dollars a month
Who are you and what course have you created?
I've created Pattern Confidence which is a course on crocheting.
What market does your online course serve?
My course serves anyone who has learned at least the basics of crocheting but who is intimidated by following patterns.
What's the biggest benefit of taking your course?
The benefit of Pattern Confidence is being able to systematically follow along with someone (me) as they crochet from the same pattern or graph. I take people from being intimidated to at least understanding how patterns work. They become comfortable with a lot of the abbreviations and visual symbols that patterns use.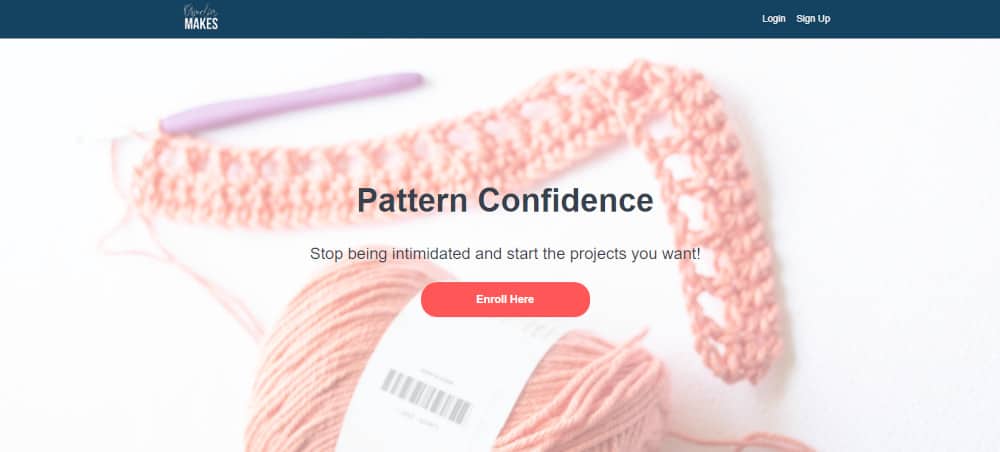 How did you get into the market?
I have Crocheted myself for over 20 years, and I started my website/blog with the intention of sharing my knowledge and enjoyment of the craft with others. The idea of this course came straight from reader feedback about what I could help them with.
Why did you decide to create an online course in the first place?
Well, I set out in Amelia Makes to create a business around helping people crochet. A course was a very logical way to teach my readers. As a student of Elite Blog Academy, I had also reached a point where it was time to create my first product…so I did!
Did you have any moments of doubt before you created/launched it?
Honestly, this was not an issue for me at that time. While I have had my struggles with being consistent in my business, I was very driven to make this course and confident that it would be valuable. I also had a lot of help writing my sales emails and pages, so that took a lot of pressure off of me in an area I was not as experienced in.
What's your online course like?
Pattern Confidence uses a printable workbook and a few video lessons to let students follow along as I make some small crochet patterns. The patterns are there for them in both written and graph format (which are just two different kinds of crochet instructions) so that they can focus on whichever type they want to learn.
The videos are live-action, mostly just showing my hands working. But, the patterns are also right there on the screen so that my students can see the directions in multiple places, as well as what it actually looks like for me to follow the directions.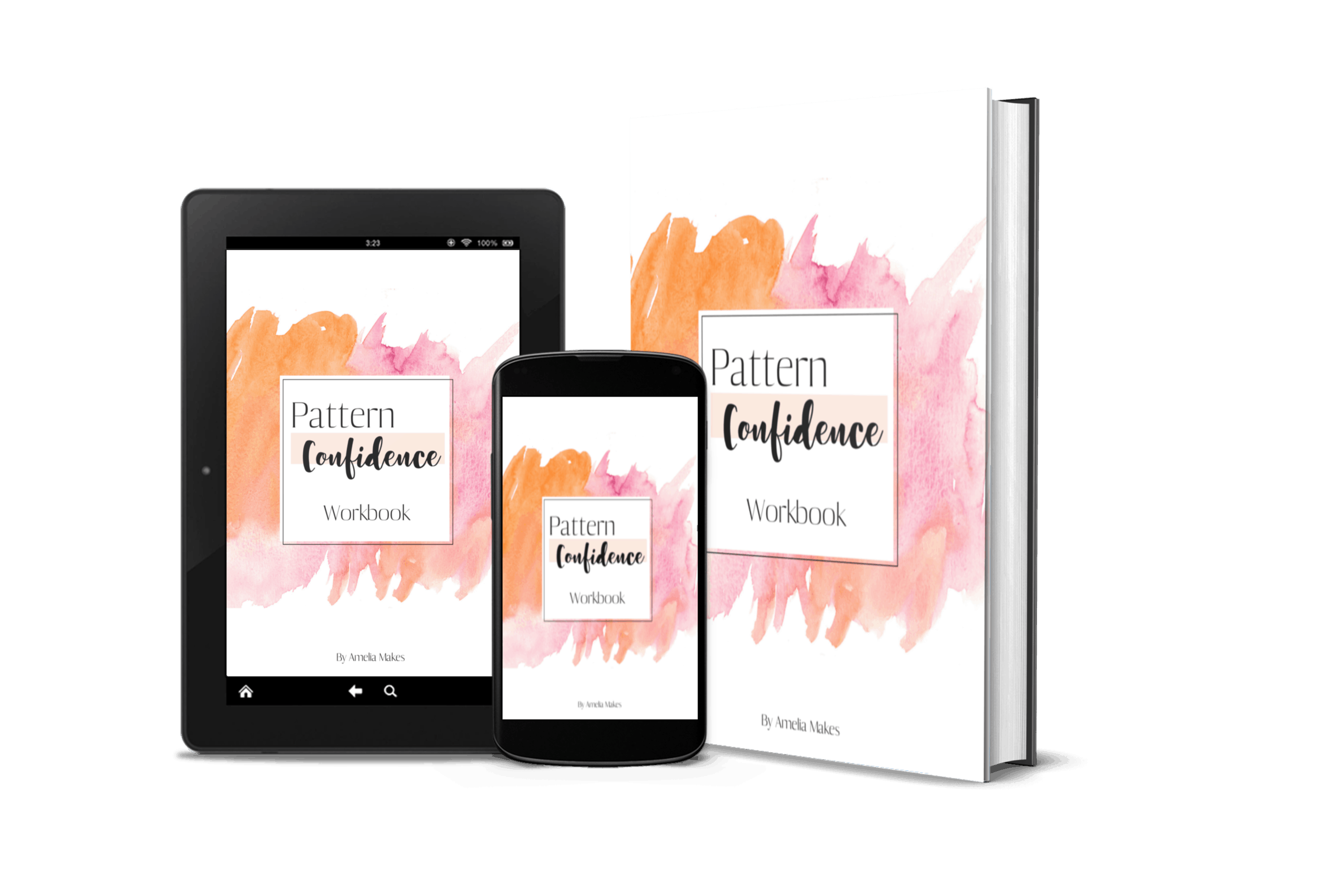 How long did it take you to create your course?
From beginning to end, my course creation process probably took a couple of months, but I had a big push at the end (which I talk about a bit further down).
The most important part was definitely taking plenty of time to ask my audience about their struggles, and then follow up to ask about what formats (video, text, etc) they would like the most in a resource. - Amelia Servis
Click To Tweet
Once I had that information, outlining and planning the course was actually very easy.
Tell us a little about the process of launching your course and getting your first sale(s).
Well, I was actually able to do most of the work creating my course in just one week. This does not include the time I spent surveying my audience and analyzing their feedback (which was a very important part of the process). But creating my videos, workbook, and formatting all my lessons happened very quickly.
In fact, because I had a busy week with my kids, I was behind the day before I had told my audience the course would be available. When my husband got home that day, I had to work hard to get everything ready, even taking some of the videos last-minute.
Once I had everything together, Teachable's platform made it very easy for me to format the course and get everything uploaded. I stayed up reeeeeaaally late, did all of that in one night, and successfully launched the next morning.
Just for the record, this is NOT how I recommend anyone launch a course or any type of product, and I have tried not to repeat the process since then. It does make for a good story though!
Do you have a lead magnet?
On my blog, I do have a printable reference chart for some crochet abbreviations and symbols. So far that has been helpful, but I still get most of my sales through people on my email list.

What's the traffic strategy that works best for you?
Last year, I had some amazing traffic through Pinterest. Using Tailwind and Canva, I developed a pretty good routine for getting new pins out regularly. While it continues to work, it isn't yet consistent at the same level for me.
However, I have also committed more time recently to grow through SEO. I like that option better for long-term growth. Getting my work out in more places so that people can find my site is what I'm working on right at the moment.
What online course platform are you using?
I am currently using Teachable for my Pattern Confidence online course platform.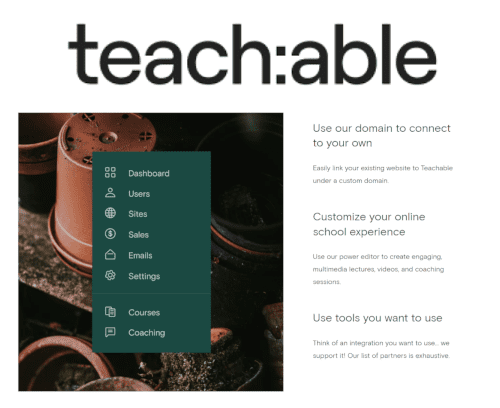 Check Out Teachable
Teachable is one of the top online course platforms used by successful course creators interviewed on coursemethod.com. It is easy to set up and build your site pages, and the course area looks great. 
Price Range: $0 (+ transaction fees) to $299/month
Most Popular Plan: Pro Plan at $119/month
Annual Discount: Yes, take 17% off!
Free Trial: Try out Teachable's core features for free
*Our content is reader supported, which means when you buy from links you click on, we may earn a commission.
Do you like it?
Yes! I have found it very easy to use and reliable, and my students have commented that they like the experience of going through my products there.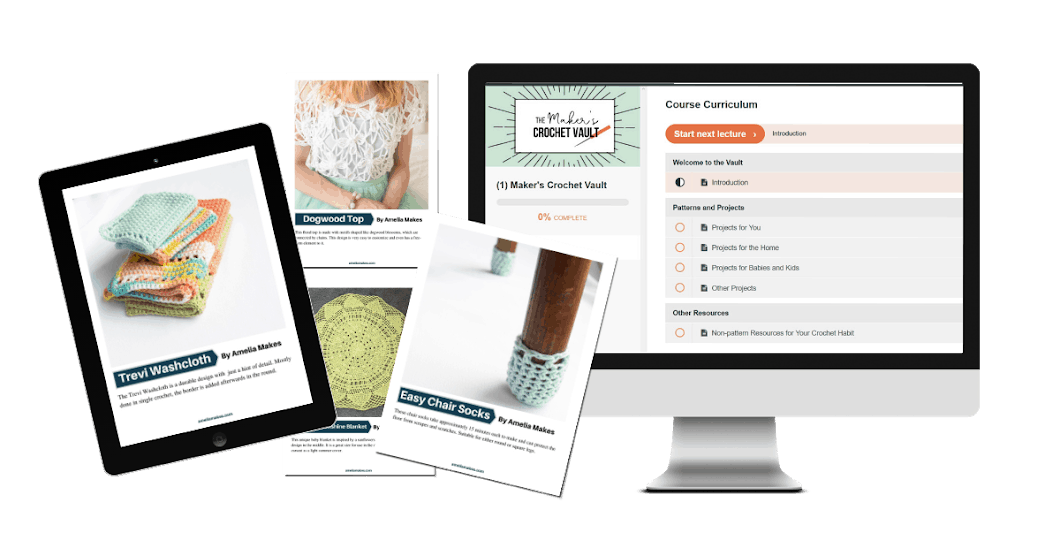 Are there any features you wish it had?
Actually, I have not yet felt limited at all!
What made you decide to use your chosen platform over others?
Several bloggers who I look up to (and who are definitely successful with their courses) were on Teachable and highly recommended it. I decided not to overthink it and just went with it. It also helped that I had actually taken courses on Teachable and liked the experience as a user.
What other tools do you use to run your online course business?
I currently use Leadpages, Flodesk, Zapier, Adobe software, Tailwind, and Canva.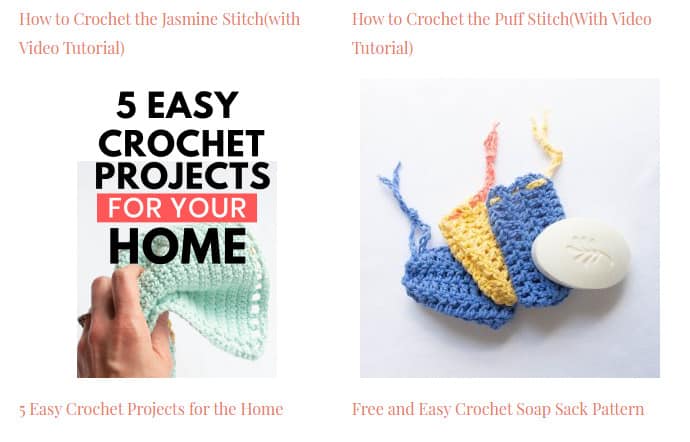 What books or training programs have you found useful on your journey to a successful business owner that others might find valuable too?
I owe a lot of my online business and blogging journey to Ruth Soukup and Elite Blog Academy. A few other extremely helpful programs and books have been Jennifer Maker's Pinterest Launch Plan, Mike Pearson's Stupid Simple SEO, Kara Fidd's design, and product creation resources at Simplifying DIY Design, and Debbie Gartner's Ebooks.
Do you have any big mistakes you've made along the way that you'd be willing to share?
Towards the beginning of my journey, I was overly focused on branding, logos, and how my website looked. As time has gone on I've seen that while this is very common, there are far more important areas to focus on.
I've also learned that it's very important to make sure you double-check all the links in an email before it gets sent out!
Please share some idea of revenue.
I am still a very small fish, so to speak, but very proud nonetheless to have made some money online and have a way of growing. Currently, Amelia Makes is generating a few hundred dollars a month, which I actually think is amazing based on my traffic and email numbers.
As I get my work in more places and especially as the cooler season comes back around, I think the whole business will see a higher rate of growth. More importantly, I have learned and implemented some important strategies that put me in a much better place for converting people.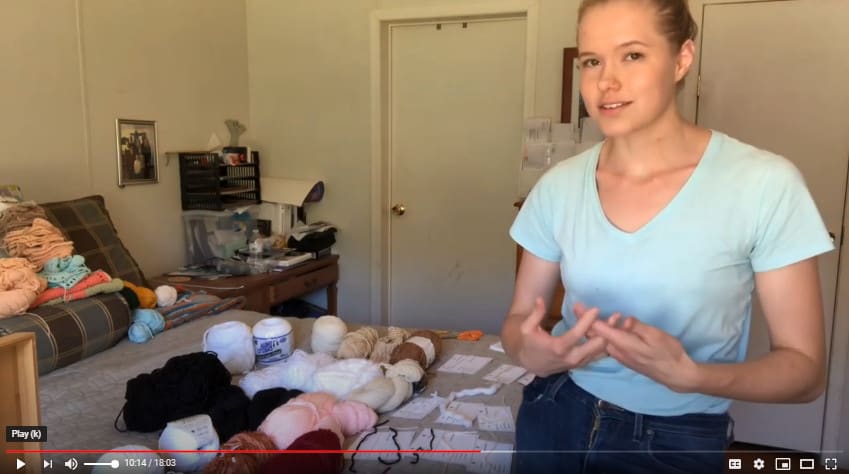 Please tell us a little about what the money you've earned from your course has done for you.
Well, I can't yet say that my course sales have paid for anything huge. But it has made a huge difference for me. At the time of my launch, I was on more or less of a shoestring budget and using the free trials of a few things.
With my course sales and other income, I have been able to invest in more tools to up-level my business. This has made things a little easier for me to run. I've also rewarded myself here and there with small, fun purchases. So far simply making my business better has been the focus.
The other thing that has meant a lot to me is using Amelia Makes to make a difference. Recently I ran a special on my Teachable products. A large part of that went towards a cause I am passionate about. It was wonderful to let my readers partner with me and get them involved in something very meaningful.
In addition to revenue are there any numbers you would like to share?
I feel like I got very lucky with Pinterest last year, but good copy had something to do with it. There were a few Christmas-themed pins where I put extra thought into addressing pain points in my ideal readers. The pins went crazy and I got thousands of new email subscribers in less than two weeks.
What has creating your course done for you personally?
Creating Pattern Confidence has given me a wonderful taste of business success. I've made sales and gotten positive feedback from my readers-turned-customers. I have been so happy to serve them and at the same time start to have the personal rewards that I started my business for.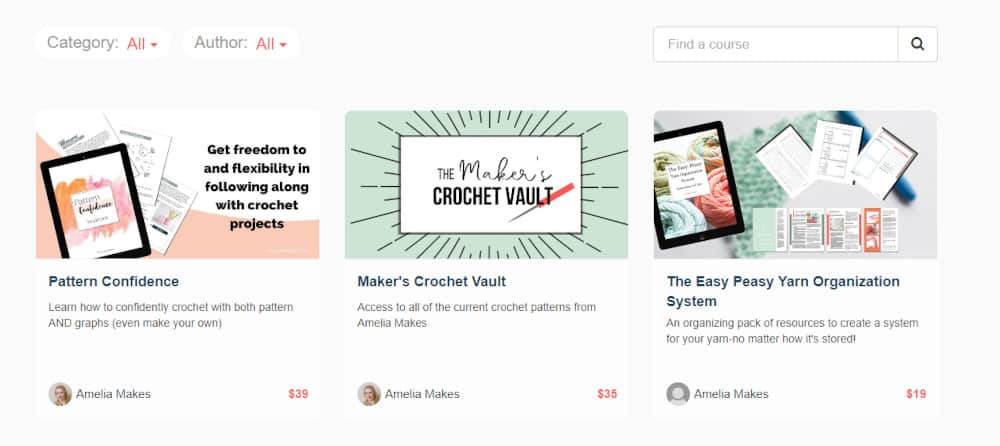 Do you have a story of a transformation from any of your clients?
I've had several of my students reach out to me about how crochet patterns actually make sense to them after taking my course. This opens up a whole new world of designs that they will be able to make. For many crocheters, it means being less reliant on video lessons. That means they can take projects with them on the go a lot more easily.
What advice do you have for people just starting out?
I have been very fortunate to have gotten on a good path very early on when it comes to mentors, classes, and resources. This has helped me immensely as much as my life has allowed me to work on my business as a stay at home mom. I don't think much time has been wasted in my trajectory so far.
For people just starting out, I would encourage you to have a compelling reason behind why you are starting your business. You will need reasons to keep going when results do not come as quickly as you want. - Amelia Servis Click To Tweet
Secondly, it is important to find the right people to follow. Don't try to follow everyone's advice at once, because there will always be something else you could be doing.
Instead, find someone who's style of teaching you can follow, and who has gotten the kind of results you want. Listen to them and give things time to work before you jump around on a bunch of different rabbit trails. There is so much to learn in this business, but I think those two points are very important.
Learn more about Amelia Servis of ameliamakes.com: