How Allison Chaney is Transforming Business While Transforming the World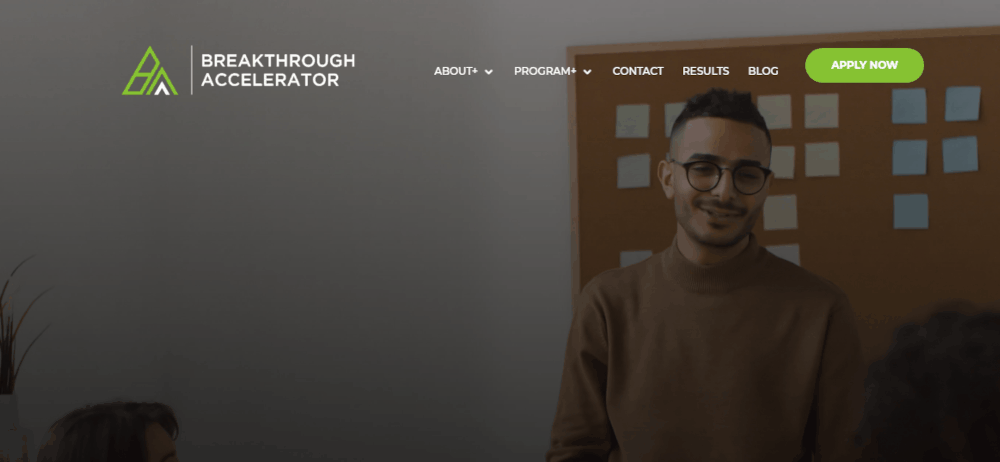 Our content is reader supported, which means when you buy from links you click on, we may earn a commission.
---
Who: Allison Chaney
Website: breakthroughaccelerate.com
Course Topic: Business Growth
Interesting Stats: Revenue ~$80K in first year
Who are you and what course have you created?
I am CEO of Breakthrough Accelerator, a business accelerator that teaches the tools of emotional intelligence to entrepreneurs. Through the intentional investment of time, money, and talent, we are transforming business while transforming the world. The result of our work is abundance.
Our curriculum can be found here.
What market does your online course serve?
We serve businesses who are generating between $200K and $1M in yearly revenue, who are interested in raising investment capital and learning the tools of emotional intelligence to break through what is standing in the way of their accelerated success.
What's the biggest benefit of taking your course?
We support entrepreneurs in breaking through their limiting beliefs and the barriers to success they create. Our students accelerate success in their business as well as a positive impact on the world.
How did you get into the market?
I came up with the idea to bring emotional intelligence to business while taking a leadership personal development course. During the course, I had the ah-ha moment where I asked – what if we ran businesses with this mindset? The concept for this business accelerator was created by a colleague and I was invited to be CEO to bring the vision to life.
Why did you decide to create an online course in the first place?
It actually happened out of necessity. We originally planned to do our weekend trainings in person, and conduct our weekly educational modules via Zoom. As the world started to shut down early last year, we pivoted to a fully virtual model. The decision was not easy at first as we had students who were booking flights and travel arrangements, and we even had a training space booked and a COVID safety plan in place.
I was concerned at first that changing to virtual would cause frustration with students who were already making plans. But then I listened to my audience and how several of them were concerned with doing in-person trainings. So I grounded myself in the values for the business which are to build community, operate in integrity, and that business gets to be fun. When I came from my values, the decision was easy. I could not be in full integrity if I said our training would be safe.
In the interest of building community and creating an inclusive setting, I realized that in-person training would actually exclude a lot of people. As soon as we announced that we'd be all virtual, our students were relieved and more of them enrolled. I already successfully conduct virtual and online courses for another company, so I know it could be done.
Did you have any moments of doubt before you created/launched it?
Of course! We created something that had never been done before. Our curriculum is also highly experiential, which is challenging to recreate effectively in a virtual environment. There were many moments of doubt early on that this might not work.
If so what made you turn it around and do it anyway?
What shifted in us was our mindset. Because we teach the tools of emotional intelligence, we were able to apply those tools to work together as a team to create success. We remained grounded in our vision for the students and came from a place of possibility in every conversation.
Instead of letting doubt take over, we recognized it and shifted into the excitement and possibility of what we were creating. - Allison Chaney
Click To Tweet
We knew that as a team, we would not let each other or the students down. We made a commitment to succeed.
What's your online course like?
Our online course is a live zoom course. We have a main trainer who guides the experiences, and then we have mentors and guest speakers throughout to support. We have very few slides, as we aim to maintain a high-energy experience. Students are often moved into breakout rooms to focus on a project, or answer questions to a prompt. The students are working towards building a business plan and pitch deck. Each module is focused on creating content for the plan and pitch deck. At the end of the course, students are presented with a full business plan that they have been working on throughout the course.
How long did it take you to create your course?
It took about a year to create the course. We started with a curriculum outline, then created a team of advisors and the main trainer, who conducted weekly calls to build the curriculum. Each week we would go through the flow, the next steps, and we had feedback from an entrepreneur who already created and sold a successful business accelerator curriculum.
Tell us a little about the process of launching your course and getting your first sale(s).
Our first course targeted graduates of leadership academies. We relied heavily on word of mouth and referrals. Because of the high level of trust within the community, enrolling students was easy. We also ran weekly free webinars to raise awareness and drove a lot of leads through that.

Do you have a lead magnet?
We have weekly free webinars for entrepreneurs. We address the issues that most entrepreneurs have, and have guest speakers who have an incredible experience. We've had speakers such as Tony Robbins' top salesperson, one of the Priceline founders, and several other successful entrepreneurs. This works great to drive awareness and build credibility for our course.
What's the traffic strategy that works best for you?
The webinars. They work great when promoted, and when we have guests who have influence. They don't work when we don't promote, and when our guest speakers are not dynamic or interesting. We've learned along the way what works and doesn't, and we look for high-energy, inspiring, and influential speakers. These speakers often become mentors for our students as well.
What online course platform are you using?
We are using Zoom. We also have our recorded modules in a private YouTube playlist for students only. Then we have a public playlist with all of our free weekly webinars.
Do you like it?
We didn't start with the intention of having an online on-demand course library. However, due to the high quality of our content, we're getting a lot of suggestions that we should create an online course library with a paid subscription. YouTube just won't work for that, so we'll need to upgrade when we take that step. For now, YouTube works fine.
Are there any features you wish it had?
I wish YouTube had a way to add a paid subscription feature and integrate it into a place on our website.
What made you decide to use your chosen platform over others?
It was easy and served the purpose for what we needed at the time.
What other tools do you use to run your online course business?
We're exploring the mmhmm app, to add interest and engagement to our zoom experiences.

What books or training programs have you found useful on your journey to a successful business owner that others might find valuable too?
The Boot Camp Digital library of courses is phenomenal for any business that wants to learn how to market successfully. It helps businesses build a strategic plan, and learn how to execute, and the segments are short bite-sized sessions that are easy to consume and process before jumping into the next topic. You can learn by doing as you go and test the tools as they are taught.
Boston Breakthrough Academy is also a great personal development leadership course. It taught me the tools of emotional intelligence that empower me to break through what's in the way of success.
Do you have any big mistakes you've made along the way that you'd be willing to share?
Going too small with our target audience at first. We have expanded our audience to all entrepreneurs, not just graduates of leadership academies.
Giving away too much for free. We started with 90-minute webinars, and the content has always been highly valuable. In hindsight, we could have leveraged more of an entry-level paid program to drive interest for the accelerator.
Please share some idea of revenue.
In our first year, our revenue was about $80K for our first class. We're projecting a $400K/year revenue stream from our main course. Going forward, our students will share equity in their businesses, which will create additional revenue streams for the accelerator with either dividends or payouts on exit. We are also looking to license our curriculum to other accelerators and leadership academies.
Please tell us a little about what the money you've earned from your course has done for you.
It has created freedom in ways I didn't even expect. Because of the strong community support, we have a powerful team that works efficiently. No one person is stuck doing all the work, and the entire team is fully supported at all times so that no one gets overwhelmed. We were able to fund a company retreat at the end of cohort 1, to retool the accelerator for the next class, and to celebrate our first year of success. I was able to shift from a full-time job to a contractor position, and focus more time on the accelerator and generating success for other businesses.
In addition to revenue are there any numbers you would like to share?
We built an email list of almost 1000 subscribers in less than a year, just from our free webinar series. Our students generated an average value of $900K for each business, which shows the power of the virtual format and how it was still very effective.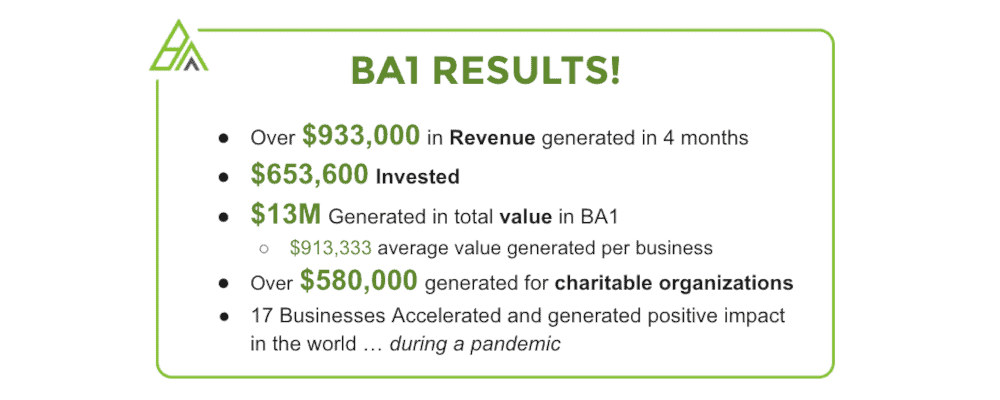 What has creating your course done for you personally?
I'm changing the way the world does business.
I believe that when business is run from a place of emotional intelligence, it creates abundance and peace in the world. - Allison Chaney
Click To Tweet
I'm experiencing a huge sense of accomplishment because we've already seen results in the first year, and we are expanding and growing fast!
Do you have a story of a transformation from any of your clients?
One student entered the accelerator just for education but didn't think he needed to raise capital. The accelerator opened his eyes to the possibility and he was able to raise $300K for his business. He remarks over and over about how grateful he is that our program showed him the benefit of raising capital and supported him in that.
Another student was awarded a scholarship because of her determination in creating a successful business. She started out very unclear on her offering, and no one really understood her business. She is now generating revenue and has a clear business model and product.
What advice do you have for people just starting out?
Trust yourself. You're going to get tons of advice from all angles.
Own your position and trust that you are where you are because of the experience and expertise you have. - Allison Chaney
Click To Tweet
Be open to feedback and open to shifting something if it's not working. There's no place for ego and self-righteousness in business.
Learn more about Allison Chaney of breakthroughaccelerate.com: