How Alexandria Theordor's Online Courses Help Mental Health Professionals Build Successful Private Practices
Our content is reader supported, which means when you buy from links you click on, we may earn a commission.
---
Who: Alexandria Theordor, MSW
Website: stresslesstherapist.com
Course Topic: Therapy Practice Training
Interesting Stats: 500+ subscribers in 6 months
Who are you and what course have you created?
I am a small business coach with a background in mental health therapy and a passion for blogging. I help other therapists build a life which prioritizes their value and freedom by teaching them how to own/operate their own private practice which includes diversifying their income.
In addition to coaching services, I provide education via digital courses. All are self-study courses, although on occasion I will select one course and present it live with an added Q&A section for those learners who benefit from in real time facilitation. The current course offerings I have:
Mastering Clinical Documentation with Speed and Efficiency – This is my most popular course as it provides documentation templates for practitioners to use and customize for their own needs, taking guesswork out of "what to write"
Stress Less About Starting A Private Practice – This presentation was originally hosted live and then recorded creating a self study course. This course covers the ins and outs of starting your mental health private practice from the ground up. It discusses everything from selecting your business structure, getting an EIN, and even has an introduction to marketing and branding.
Grow Your Therapy Practice With Blogging – Blogging has been a tremendous asset to my business growth and development, therefore in this course I teach clients how to use blogging as a marketing strategy to build their private practice. By teaching them the basics of SEO keyword searching, how to outline-draft-write their post, and how to share it so it maximizes visibility, I help therapists use blogging as a way to attract their ideal clients and nurture those prospective client relationships. I also discuss how blogging is a great tool to build passive income via a means of affiliate marketing, digital products, courses, in addition to their 1:1 clinical services.
What market does your online course serve?
I help mental health professionals take their clinical training and skill sets and turn it into entrepreneurship. Most of the time I'm helping them develop their private practice, but often as a part of that business ownership journey, I encourage them to find ways to diversify their income and digital course development is one of my favorite methods of doing this. There are many ways that therapists can take what they already know and package it in a digital course to help others.
The majority of my audience are licensed therapists (ie. psychologists, clinical social workers, advanced practice nurses,professional counselors,  marriage and family therapists, drug and alcohol counselors) who are working at agencies feeling overwhelmed and burnout by the high caseloads, low patient acuity (ie.high risk high need patients), and even lower paycheck.
My audience loves the work they do but is feeling the effects of agency work wear on their mental and physical health, therefore they are looking for a change. Private practice is the perfect opportunity for them to continue doing the good work they are trained to do, while building a caseload and schedule that prioritizes their health and wellbeing (can't pour from an empty cup!).
I would love to work more with students, pre-licensed therapists and other mental health professionals looking to get into the work of clinical psychotherapy BEFORE they get burnt out by the agency life as a way to proactively address this rising problem of burnout in the mental health field.
What's the biggest benefit of taking your course?
In my courses, coaching, and free content (blogs) I teach my audience that it IS possible to help others WHILE STILL taking care of themselves. I work with a population that is used to serving others but often at the cost of their own needs/health. I teach therapists  how to build a business that is not only profitable but financially lucrative so they can develop financial security and not have to work 2-3 jobs just to pay the bills. This financial security allows them to cut back on their working hours and spend that time on values based tasks such as family time, hobbies, vacations, or really anything that brings them joy and fulfillment.
The fact that my courses are digital and self study makes them perfect for the busy professional who is working the 9-5 job and only has a few hours to spare in their day. My courses are designed so they can be easily consumed during a lunch break or when the kids go to bed.  Oftentimes all my students are able to watch the course over the weekend and start taking result based action on Monday morning.
How did you get into the market?
I first got into creating digital products (documentation templates sold on Etsy) August 2022. At that time I was 8 months postpartum with my daughter, just returning to my private practice work with a very small caseload, and struggling to meet my financial goals as my 1:1 time was limited. I decided to try and bring in some extra cash by selling clinical documentation templates that I created and use daily in my private practice.
Once I saw how popular they were on Etsy, I built my own website (from scratch) and launched my own online store in November 2022. The popularity continued to grow to the point where I was doing live presentations on my templates, but was again running into the same problem of not enough time in my day to meet the demand.
After that, in March 2023 my first digital course was born (Mastering Clinical Documentation With Speed and Efficiency) and has been booming ever since. I have expanded my course offerings to cover other business topics in the world of mental health (often doing market research with a live audience first), and look forward to continuing to expand my course offerings and teachings.
Why did you decide to create an online course in the first place?
Two large values that I live in my life are that of building strong relationships as well as having financial freedom.
As a mental health professional, I know the importance having a secure parental attachment has on a child and their overall health (both mental and physical). I wanted to ensure that I was there for my daughter, especially in her early months of life, therefore I knew I wanted to be the one to stay home and be her primary caregiver. At the same time, I did not want to give up my career as I enjoy the mental stimulation, creativity and financial independence it brings me.
Conducting individual psychotherapy in my private practice, though rewarding, is limiting in terms of time and income. Essentially if I was not seeing clients face to face in an office, I was not making money. This became harder and harder to do the deeper I got into my pregnancy, birth, and raising of my child.
I wanted to build a career that shared my knowledge and helped people, but in a way that was prioritizing my current lifestyle needs (being home with my baby).
Digital courses have allowed me the flexibility to continue working but on my time. I am able to create and market my course in the pockets of my day when my baby is asleep. Now that she is growing, I no longer have to choose if I am going to work or spend the day with her at Sesame Place… I can have both.
Online course creation has allowed me to live my life AND make an income that supports my financial goals.
Did you have any moments of doubt before you created/launched it?
I absolutely had doubts. For one I was worried about my professional license and if creating courses would in some way jeopardize this. After much research and consultation, I was able to learn how to make a distinct difference between my clinical work (license specific) and my non clinical work (coaching and course creation). Keeping separate business entities as well as different ideal clients helps to keep this line clear and avoid confusion for myself as well as my customers.
Like many other entrepreneurs, especially those just starting out I faced (and still do at times) a ton of imposter syndrome.
"Am I good enough"
"Who am I to be teaching a course?"
"Is what I have to offer helping people?"
"Can I charge for this? Am I charging too much?"

These were just some of the worries that crossed my mind on a regular basis.
Luckily for me, my husband is extremely supportive and oftentimes is the one who reminds me that my voice matters and what I have to offer is helpful to others and needs to be shared. Surrounding myself with other entrepreneurs is also very helpful, especially other therapists who have branched out into diversifying their income with digital courses and group programs. Some of these people I know personally and talk to on the regular, others I have never met in real life but are a daily part of my morning routine as I walk the baby and dog listening to my favorite podcasts.
Mindset is such a huge part of success, doing whatever you can to maintain that mindset is essential. Someone told me one (I do not remember the original citation), "you don't have control over your first thought, but you do have control over your second and third." I do my best to make sure that my second and third thoughts are in support of my dream and are helping me achieve the success I want, both in business and in my personal life.
What's your online course like?
Each course is different but all consist of some type of video recording and PowerPoint slides. Some are recorded from a live event and supplemented with bonus trainings and recordings. Others were recorded specifically for the digital course without a live component and have lessons broken down by topics. All courses additionally have a resource library of other informational links, tools, articles, ect. that students can access for further learning or more detailed lessons outside the scope of the course itself.
How long did it take you to create your course?
This is a hard one as I never fully timed how long each course took to create start to finish. I also created the courses in pieces to accommodate my infants schedule. If I had to guestimate the hours, I would say the shortest course I took was in about 48 hrs uninterrupted time (after I had an outline created), whereas my longest took closer to 2 weeks.
Tell us a little about the process of launching your course and getting your first sale(s).
Many times, my market research comes from hosting a live event and selling it low ticket ($97 for a 60-90 minute live presentation with Q&A). - Alexandria Theordor
Click To Tweet
I will record this event and use it as the base for my course, adding content and resources from the questions I get during the event.  If no one buys the live event, I know there is no market for it.
If people buy the event, I create the course and modify the sales page. Using ThriveCarte analytics, I trial new edits to the sales page until it is converting well. My baseline goal is 2% conversion rate (meaning 2% of people who see my page go to buy the product). Once I get 2%, I split test new edits to see if I can beat my original score.
Do you have a lead magnet?
I have two popular lead magnets that attract customer into my world.
Once someone is in my community, they receive weekly emails from me that talk about all things private practice and business ownership. I do my best to write these emails as if I am talking to professional friends, not customers. If a tip or tool comes up that I think would be helpful for them on their journey, I will make a reference and link it in the email. This link is often where you will see me promoting the courses.
I also will use the courses as a call to action at the bottom of blog posts as a way for someone to dive deeper into a topic that they might be interested in learning more about. With blogging I am able to take a deep dive into a singular topic (almost like a sample of the course) that focuses on the WHAT & WHY of a topic. The course will answer the HOW.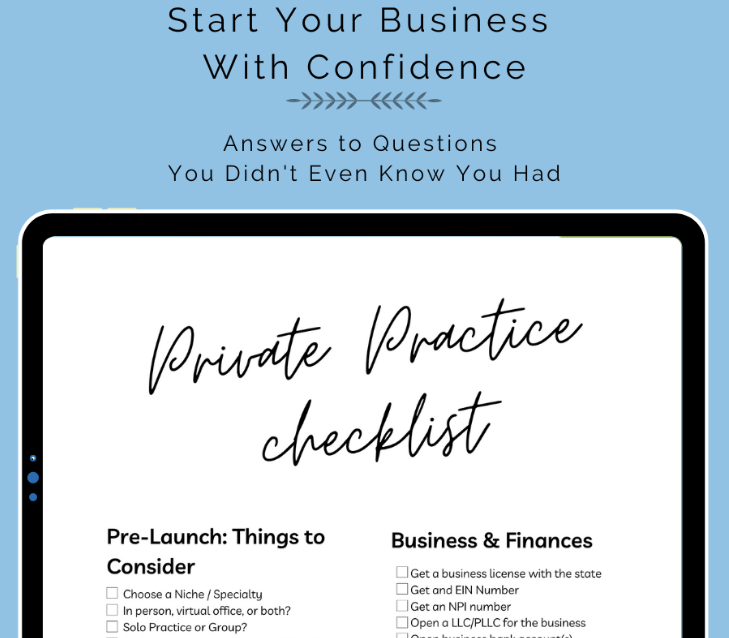 What's the traffic strategy that works best for you?
Blogging is my primary traffic strategy.  I will use Facebook groups as a meeting point and link them to blog posts that I have created that address or answer their questions. These blog posts then link to either an email list sign up so they receive weekly newsletters which promote my course, OR the blog might promote the course directly in the call to action.
What online course platform are you using?
ThriveCart Learn
Do you like it?
I do, although full honestly I have not tried others. I use ThriveCart as my payment processor and sales page because I like the fact that it allows me to create a funnel as well as tracks the conversion data for me. ThriveCart Learn as a part of the package and I liked the idea of one stop shopping as well as that it was a one time payment without monthly subscriptions.
Are there any features you wish it had?
I really wish that it had video hosting services incorporated into the platform. Currently I use ScreenPal, which works well but I would much rather have it all incorporated into one platform
What made you decide to use your chosen platform over others?
I use ThriveCart as my payment processor and sales page because I like the fact that it allows me to create a funnel as well as tracks the conversion data for me. ThriveCart Learn as a part of the package and I liked the idea of one stop shopping as well as that it was a one time payment without monthly subscriptions. it also integrates very easily with my email marketing systems (Convertkit and Mailerlite)
What other tools do you use to run your online course business?
ThriveCart: Sales page, funnel builder, data analytics, online course platform
MailerLite: email marketing, email automations and segmentation [Formerly used Convertkit which was great for selling digital products however switched to MailerLite because it allowed for more customizations on the starter plan]
ScreenPal: Video hosting, screen capture, editing
Laptop and headset
WordPress Website with Bluehost Hosting – Where my blog is housed as well as there I advertise other products/services
Social Media– Facebook mostly to attract new clients
What books or training programs have you found useful on your journey to a successful business owner that others might find valuable too?
There have been 3 mindset and productivity books that have really been an asset to my business:
The 12 Week Year: Get More Done in 12 Weeks than Others Do in 12 Months
The Miracle Morning: The Not-So-Obvious Secret Guaranteed to Transform Your Life – Before 8AM
The Dip
Do you have any big mistakes you've made along the way that you'd be willing to share?
Procrastination disguised as work has been my biggest mistake that I am still trying to learn from.
Essentially I use busy work as an avoidance strategy .. namely to avoid things that I am afraid of failing at. - Alexandria Theordor
Click To Tweet
I find it easy to compare myself to other course creators, especially those in the therapy/mental health world, and this comparison leads me to self doubt and shiny object syndrome. It is easy for me to get distracted by what other people are doing and start taking steps to do what they do. Ultimately however, this pulls from my original plan and wastes time…time that is already limited.
It's much easier to say than do but not Facebook/Instagram spying on your competition is the best thing you can do for your business. That and create a 90 day plan and stick to it! Don't get distracted by what others are doing and try to make it work in your business.
Please share some idea of revenue.
When looking at year to date gross revenue and comparing courses to digital products, courses account for 79% of revenue while digital products only account for 21%
Courses increased my annual gross revenue by 386% in comparison to digital products
In the first month of offering courses I increased my revenue by 107%.
Two out of the last four months have brought in more revenue from just courses than year to date for digital products
The average digital product customer spent $32.45 while the average course customer spent $133.47 which is a 411% increase
Please tell us a little about what the money you've earned from your course has done for you.
My husband is a wonderful provider and takes great care of our family, however I believe to my core that every person (man or woman) should be able to contribute to a household and hold their own financial independence.
At the same time, I did not want my value of independence and financial freedom to come at the sacrifice of raising my daughter (what can I say, I wanted it all!). My online course business has allowed me the flexibility to prioritize BOTH of my values.
With the income I receive from my business, I use it to pay my portion of the family bills, save for retirement, and start a college fund for my daughter. Despite the fact that our family has grown, and I am no longer seeing a full clinical caseload, our lifestyle has not changed drastically (aside from owning a lot more plastic toys).
Someday I hope to make a full time income off of my part time hours, but for now I am happy with the fact that I am able to support myself making close to the same salary I was making doing 40/hrs per week agency work, but only working about 10 hrs a week in my online businesses.
In addition to revenue are there any numbers you would like to share?
It's not specific numbers, but I was impressed how quickly my business was able to scale in under a year.
I started collecting emails in November 2020 and in 6 months time I had about 500+ emails on my list that I was in regular correspondence with. - Alexandria Theordor
Click To Tweet
The key to this is having a lead magnet (for me it is a PDF checklist on how to start a private practice) as well as having a private facebook group for my community to hang out in and conversate.
I am in the process of planning for a free bundle event (September 13-20th) which is a massive collaboration project with other therapeutic entrepreneurs and I am excited to see how this will impact my list growth.
What has creating your course done for you personally?
Course creation has allowed me to have the best of both worlds. I am living the life as the mother I always wanted to be (and my daughter deserves) while still using my brain and having challenging creativity. I hope my daughter grows up one day to see that as a woman, anything is possible as long as you are willing to get creative and follow your heart.
Course creation has taught me to find my voice and trust my guy. By all logical means, I "should have" just stopped working altogether until my daughter was schoolages then returned to a full clinical caseload. It definitely would have been an easier road…
But I was not willing to let go of my financial freedom and wanted to work, just not at the expense of my daughter. So I got creative and found a way to have both.
What advice do you have for people just starting out?
Imperfect action– Have a plan and do whatever you can today to start on it. It is very easy to get lost in dreaming or perfectionism but the reality is until it is live and out there, you will never know if it works or not. Failure is also a part of the process (as much as I hate it). There will be things you create that flop or dont sell as well as you would have expected. Don't take this as a sign to close up shop. Be willing to pivot and work hard because it will not happen overnight
Learn more about Alexandria Theordor of stresslesstherapist.com: