How Alease Michelle Jones Serves the Business Coaching Industry Through Her Community

Our content is reader supported, which means when you buy from links you click on, we may earn a commission.
---
Who: Alease Michelle Jones
Website: aleasemichelle.com
Course Topic: Business Coaching
Interesting Stats: Generated over $50,000 in sales
Who are you and what course have you created?
Hello, I'm Alease Michelle. I'm an Online Marketing Coach for Coaches. I am the creator of the Coaching Business Simplified Community.
What market does your online course serve?
I serve online life and business coaches who want simpler marketing strategies to market their online coaching businesses.
What's the biggest benefit of taking your course?
The biggest benefit of the community is that a coach at any stage of their business can implement simple marketing plans to help grow and build their businesses.
How did you get into the market?
The idea to start this community came about because I wanted to provide a safe place for coaches to get their questions answered by someone who has been where they have been.
As a new coach, I took a lot of great courses – but I needed additional support and how to apply what I learned to my special situation.
Why did you decide to create an online course in the first place?
I created this online community because I wanted to work smarter in my business. I was answering the same questions over and over again with my 1:1 clients. - Alease Michelle Jones
Click To Tweet
And though I could answer these same questions in a group it would help me reach more people.
Did you have any moments of doubt before you created/launched it?
Yes, I had a lot of doubts in the beginning. Because I really wasn't sure if anyone would sign up. I didn't see a lot of other coaches creating a community like mine. I struggled a lot with pricing and what to include inside the course community.
What's your online course like?
The online course community is a hybrid. It includes a done-for-you content bundle (PowerPoint slides, Canva graphics, and pre-written blog articles), bi-monthly coworking sessions live on Zoom and monthly masterclass video training.
How long did it take you to create your course?
It took me about a year to set everything up for the course community. I had to decide on the platform, the content to be shared, and how often I would deliver the content.
Tell us a little about the process of launching your course and getting your first sale(s).
When I launched the course community – I decided to send an email to my list. Sending an email to my list allowed me to test out my offer. I offered everyone on my list a founder's price at $20/month.  I sent out a series of 4 emails sharing why I created the community and the benefits of joining. In the first month, I had 10 people sign up for the community.

Do you have a lead magnet?
Currently, have a $7 for 30 days trial offer for anyone who signs up for my community.  It works well for getting new people into the community. After 30 days the price increases to $47.  Most of the members stay for 6 months.
What's the traffic strategy that works best for you?
The traffic strategy I use is very simple. I provide free training every week on YouTube and Facebook.  After each training, I offer a content upgrade that they must opt-in to get. Once they are on my email list – I send them a series of emails sharing information about the community.
What online course platform are you using?
I'm currently running my community on Karta and inside Facebook groups.
Do you like it?
I love Kartra.
Are there any features you wish it had?
The one feature I wish Karta had would be a way to remove or archive content after a certain amount of days.
What made you decide to use your chosen platform over others?
I wanted a platform that was all in one like sending out emails, course uploads, membership platform.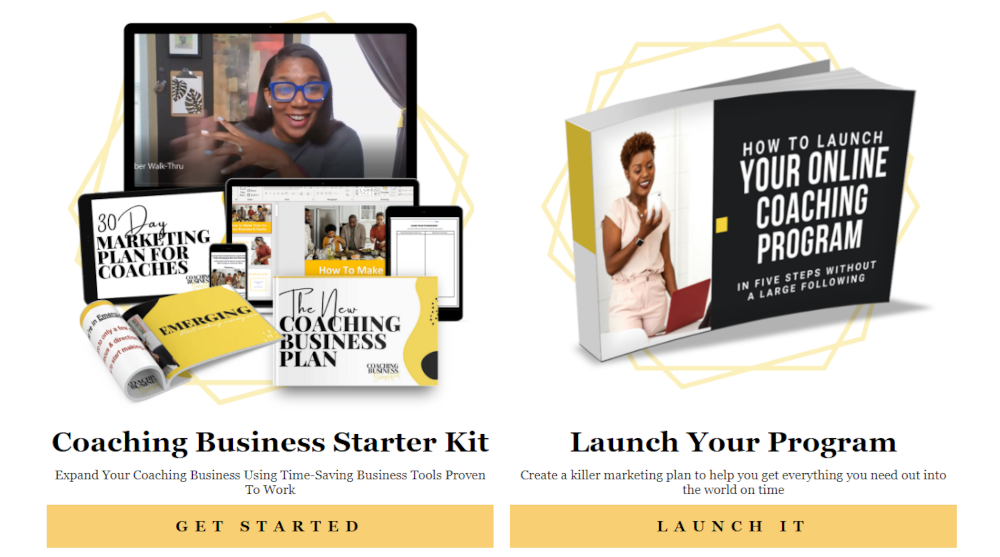 What other tools do you use to run your online course business?
I also use Facebook groups to communicate with my members.
What books or training programs have you found useful on your journey to a successful business owner that others might find valuable too?
The Expert Secrets Trilogy by Russell Brunson has been very helpful.
Do you have any big mistakes you've made along the way that you'd be willing to share?
The biggest mistake is not starting the community earlier in the coaching business. I spent a lot of time doing work in my business that I didn't like. I really enjoy what I do now.
Please share some idea of revenue.
When I first launch the community – I had 10 people sign up at $20/ month.  Since launching the community in 2020 I've generated over $50,000 in sales.
Please tell us a little about what the money you've earned from your course has done for you.
Financially my community has allowed me more freedom in my business. I know every month what my income will be from the community. I don't have to worry about chasing down clients. - Alease Michelle Jones
Click To Tweet
All of my VIP clients come from my paid community.
In addition to revenue are there any numbers you would like to share?
I was able to sign up my first 10 members with a simple 3-email sequence. That only took me 30 minutes to write.

What has creating your course done for you personally?
Setting up my community has allowed me to believe in myself more. I never thought it would be possible to create a community that would pay me monthly – doing something I love doing.
Do you have a story of a transformation from any of your clients?
One of my members came to me all over the place. She was trying to market her coaching business to two different target markets. I finally convinced her to focus only on the new author.  She rebranded herself as the Author's Marketing Coach. Since the switch, she has had a booked-out calendar every month.
What advice do you have for people just starting out?
I like to tell people … JUST DO IT UGLY and make it pretty later.
Learn more about Alease Michelle Jones of aleasemichelle.com: