10 Adaptive Learning Examples to Model in Your Online Course

Our content is reader supported, which means when you buy from links you click on, we may earn a commission.
---
For many professionals, adaptive learning is a valuable option for learning online.
Online course creators and developers need to fully understand the technicalities and technology of using this option to get the most out of it.
So, just what is adaptive learning and who has an authoritative handle on it?
Adaptive learning uses programming to manage some of the heavy lifting that teaching requires. This technology responds to the level of knowledge a learner displays and presents interactive challenges to help them progress.
The best part about adaptive learning is that it works on all levels of education. That includes first-grade students up to adults studying for their professional exams.
There's more than one good answer to what adaptive learning is and how you can incorporate it into your online courses. Therefore, showing you good examples is the best way to explain the many benefits of adaptive learning technology.
Check out these top adaptive learning examples and see how you might model this technology into your online course.
1. The Surgent Platform for CPA Exams is a Gold Standard in Adaptive Learning Examples
To start with, take a look at how Surgent uses adaptive technology and techniques to prepare anyone wanting to pass the CPA exam.
The software assesses a general overview of a person's skill set and shares weak and strong points with them.
The collection and analysis of individual skills take place over a platform offering integrated information and questions, work-related simulations, and an efficient lecture structure. It comes together in the automated study plans harnessing the attention of exam takers to boost their confidence and their levels of performance. Using adaptive learning is perfect for an establishment that makes its business by preparing individuals for professional exams.
2. Alta on Knewton Brings Classrooms Together
Adaptive technology doesn't only work for material as complicated as a CPA review course. It also works well for students in higher education. One specific example is the courseware provided by Knewton on its Alta platform.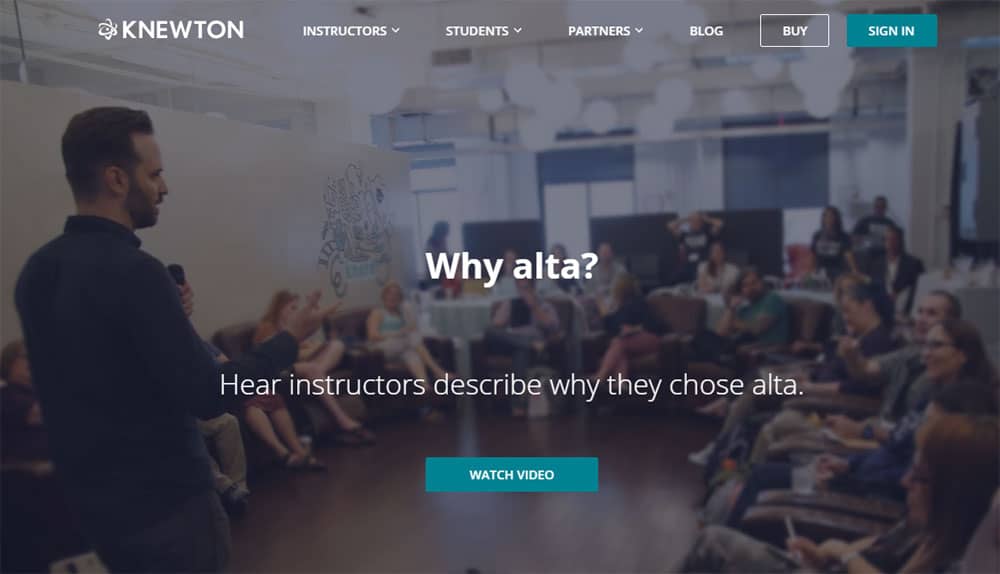 Its value comes from its integrated structure that bridges the gap between instructors and students.
The Alta system specializes in making itself a part of lesson plans and curriculum no matter what they look like. For students, the technology uses data collection comparatively to elevate levels of comprehension individually and as a group. Individual learning style is designed into every course with everything needed to teach the subject matter packaged together.
This design complies with accessibility standards allowing for total student inclusion. From an administrative and institutional standpoint, there is no way to go wrong using the Knewton software.
3. A.I. Comes to Life with Fulcrum
Along the same lines, Fulcrum Labs has adaptive technology that pretty much acts as a personal teaching coach and tutor.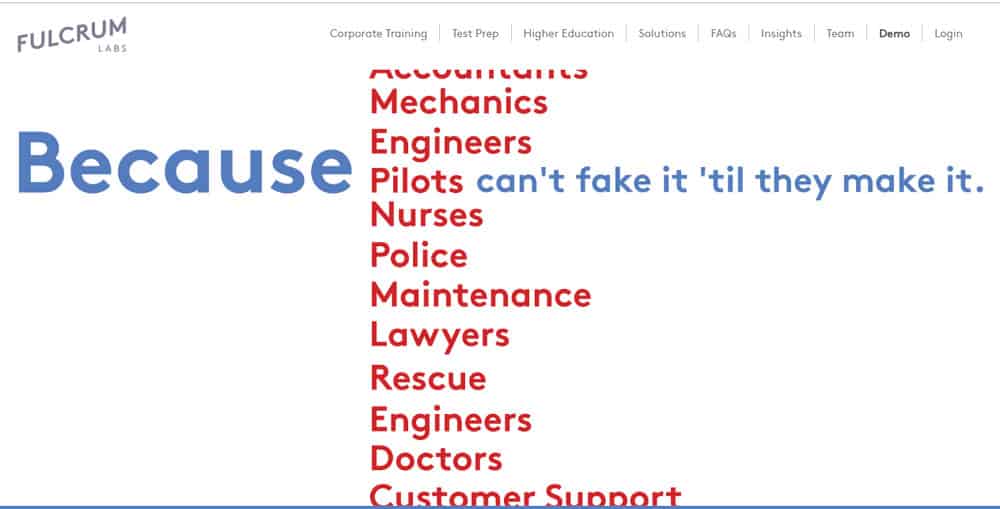 This learning tool uses A.I. to run a platform that not only makes connections but predictions when it comes to the progress and risks of learners.
Unlike other platforms that may only focus on teaching a subject or model, the software Fulcrum Labs designed can be tailored to improve real-world skills. This allows for a much faster training and learning curve that bases progress on skill mastery, so previous experience and verified competence come together easily. This structure is perfect where highly detailed information and learning must be retained.
This approach is advantageous for colleges and universities because it brings together performance-driven curriculums with traditional critical thinking concepts using online tools. A result is a software that does everything from assessing skills to predicting student performance while closing learning gaps all the while.
4. ScootPad Ensures Skill Mastery Through Adaptive Learning
Platforms such as ScootPad specialize in picking up on little red flags and learning speed bumps for K through 8th graders.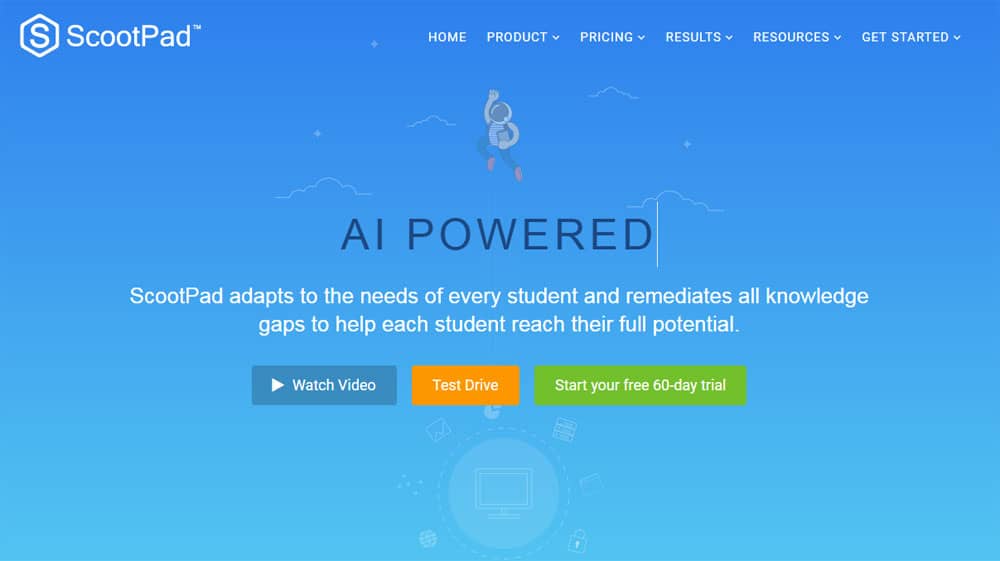 Learning technology doesn't just have to be for higher education or attaining professional certifications.
It can also help teachers with the most rewarding and challenging task of molding young minds into thinking machines. Sometimes, this means having to move at distinctly different learning paces within a classroom. All the while not calling attention to those students who need extra encouragement.
This particular software design is built on the idea that not every student will understand every concept at the same time. To address this fact, it uses real-time technology. This technology assists students with exercises in practice, assessment, comprehension, and remedial lessons in subjects as needed. When remediation is needed, ScootPad assesses and assists students with tailored knowledge so they can move progress forward with ease. This all happens with mastery checkpoints to make sure that concepts are fully understood and retained before moving students on to their next lesson.
5. DreamBox Covers K-8 Education
When it comes to meeting the specific needs of students from kindergarten to eighth grade, DreamBox is an exceptionally good software application.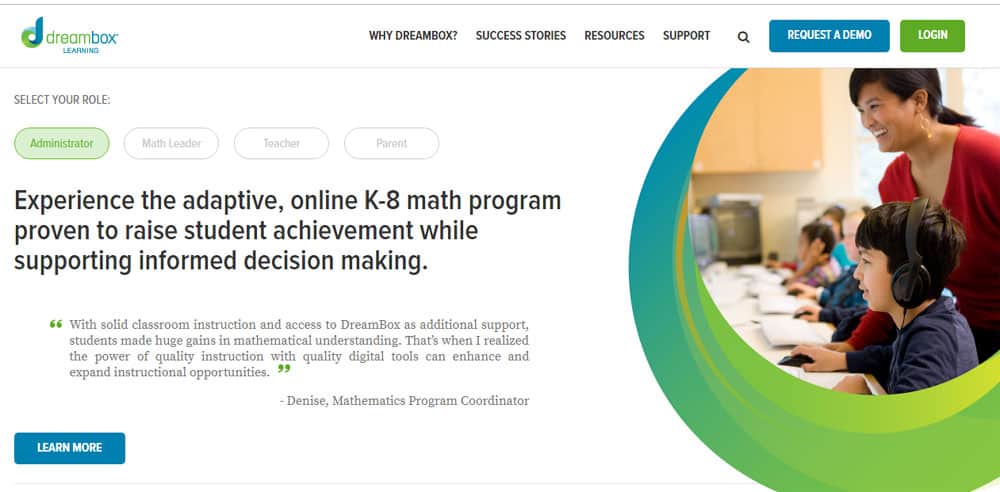 It is different from other adaptive software products in the sense that it focuses on math.
With this particular adaptive software, there is a true team spirit built into its design. Although this software is used for grades K-8, interaction and participation happen on the level of math leader, teacher, parent, or administrator.
This software does more than provide adaptive lessons to students about math. It shares information about the progress they make with education administrators. When a student has the tools to make mathematical connections on their own, it makes teaching them easier. This accessibility gives teachers and students a common ground on which to meet.
One of the most impressive aspects of the DreamBox software is the choices it allows parents to make when it comes to their children's math lessons. Depending on the technology and teaching techniques needed, the software changes to appropriately challenge students. And parents have a say in these matters on the DreamBox software.
Technique and technology aside, educational administrators need the tools used in their schools to align with certain standards. This adaptive learning software does all that while integrating itself into education regulations already in play.
6. Lots of Choices With Quizalize
Quizalize helps teachers turn boring tests into fun, interactive games.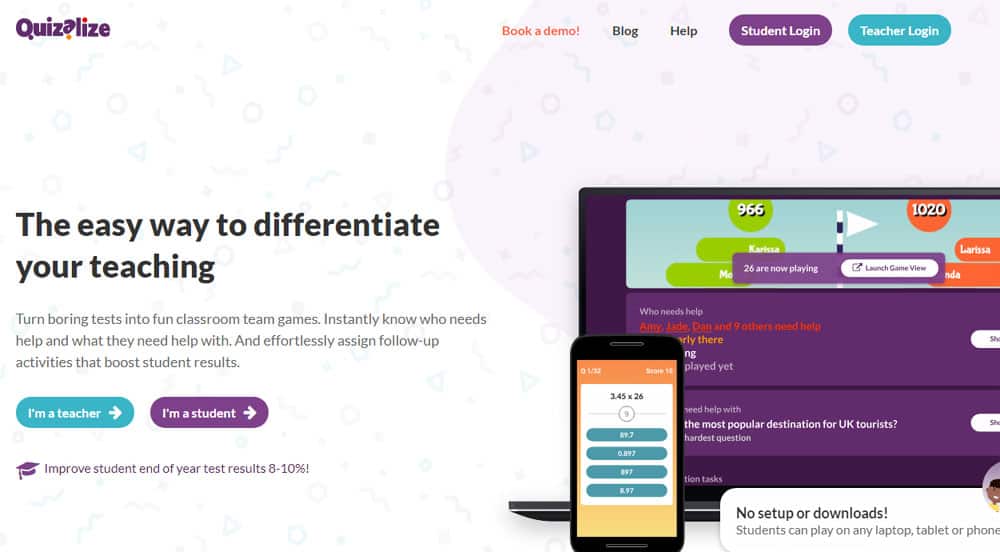 You might be asking yourself how adaptive technology feels in the classroom and how it flows in the field of education.
As a definite bonus, this type of technology turns difficult subjects into fun exercises for classrooms to encourage healthy learning habits. It allows for easier setting of assignments and activities to encourage student participation.
There are over 100,000 quizzes to choose from, and they're available on a whiteboard platform. This whiteboard tracks student progress instantly to help teachers keep them motivated.
7. Socrative for a Different Approach
Socrative uses over half a dozen different adaptive technology components to provide students and educators with a system that benefits them both.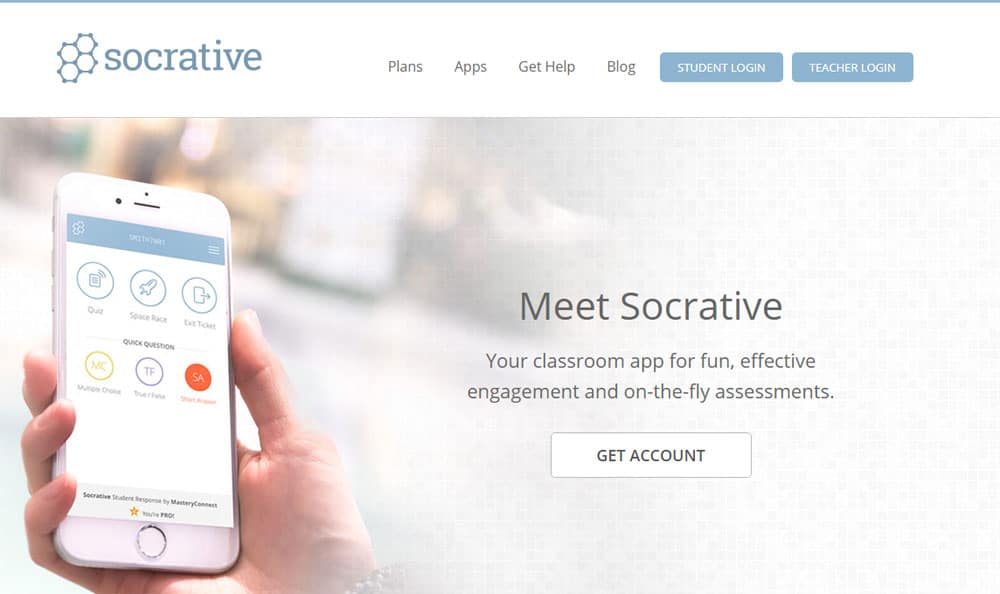 It all starts with a robust choice of activities to engage students and provide instant feedback for their teachers. These activities include things such as quizzes specifically tailored to boost student learning.  If one assignment does not work for a particular student or group of learners, then it's no big deal to pick a different course curriculum.
8. Elevate Elevates Adult Learners
Adaptive learning can take the form of an application like Elevate.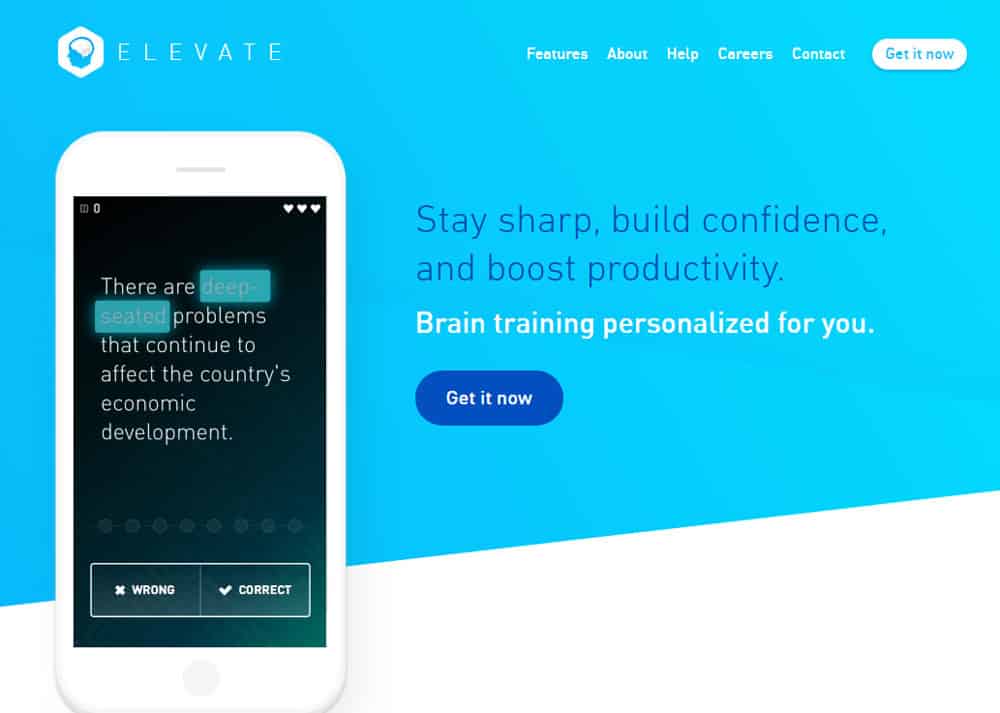 Elevate trains users to use their brains in sharper and more productive ways while entertaining them at the same time. This self-improvement happens in the form of dozens of games that improve math, reading, writing, speaking, and listening capabilities.
There are two important aspects to Elevate that make it extremely useful. The first of these is the application's ability to track improvement. Secondly, it's backed by extremely authoritative research.
9. Splash Math Works for Kids
For getting kids hooked on math at an early age, few adaptive platforms work as well as Splash Math.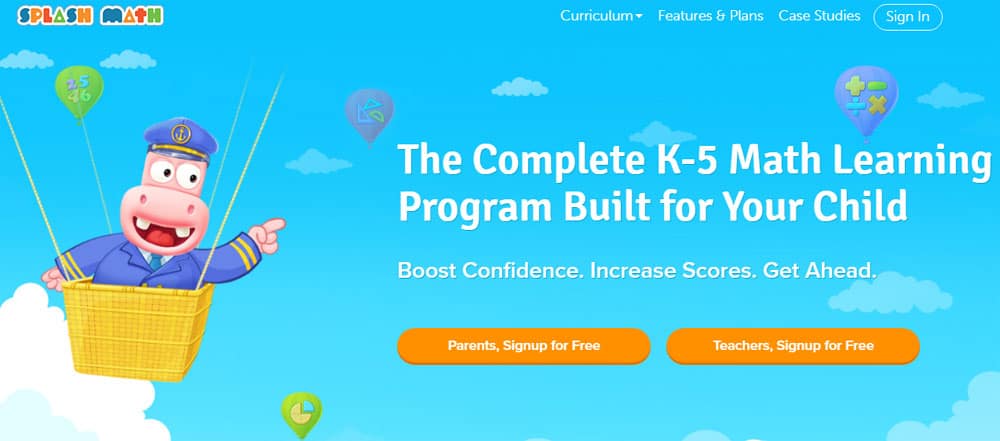 The activities on this platform include a myriad of themes and different styles of math games for kids to choose from. And while they think they're just entertaining themselves and having a good time, they're really learning. In addition, the Splash Math platform aligns with K-5 learning standards.
Like many other adaptive platforms, its power to teach comes from the platform it is run on. It allows for instant tracking and the motivation of young minds.
10. Matific for a Good Role Model
Although there are other quality math learning platforms on the market, Matific is something worth mentioning as well.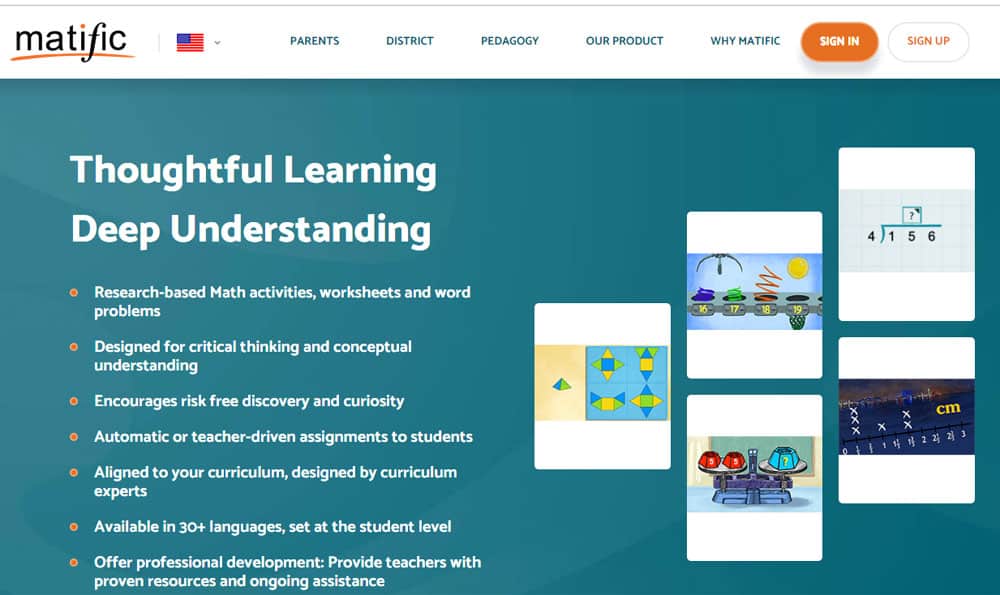 It offers more than just a regular lecture/demonstration assignment structure for students to grow on.
This software platform specializes in reaching students regardless of communication barriers. Therefore, it educates in more than thirty different languages. All this comes with real-time reports and smart algorithms that focus on the level of student interaction and draw out learning potential. This platform also provides teachers with ongoing support and assistance with unexpected complications or miscellaneous situations while teaching.
Frequently Asked Questions on Adaptive Learning
Why is adaptive learning important?
Adaptive learning is important because it allows students to learn at their own pace. In a traditional classroom setting, all students are expected to progress at the same rate, regardless of their individual abilities. This can be frustrating for students who struggle to keep up with the pace of the class, and it can also lead to boredom for those who find the material too easy. With adaptive learning, students can move through the material at their own pace, ensuring they fully understand the concepts before moving on.
What is an adaptive learning environment?
An adaptive learning environment is one where students are able to receive instruction tailored to their individual needs. This type of environment can be beneficial for students of all abilities since it allows them to receive the level of support they need in order to be successful.
In an adaptive learning environment, students can work at their own pace and choose the learning modalities that work best for them. This type of environment can also be flexible in terms of scheduling, making it possible for students to access instruction when it fits their needs.
What is Knewton adaptive learning?
Knewton adaptive learning is a computer-based educational technology company that produces educational software and content. The company was founded in 2008 by Jose Ferreira, a former executive at Kaplan Test Prep. Knewton's adaptive learning technology is designed to personalize educational content and assessments for each individual student.
What is adaptive learning in machine learning?
Adaptive learning in machine learning is a process where the computer system "learns" from the data it is given, and then adjusts its methods accordingly. This means the system gets better at completing its tasks as more data is fed into it.
Adaptive learning is different from traditional learning algorithms, which rely on predefined rules and procedures. Instead, these adaptive learning algorithms can automatically adjust themselves based on the data they are given.
This makes them much more versatile and powerful, as they are able to learn and improve on their own. However, it also means that adaptive learning systems can be more difficult to design and build, as they require a greater understanding of machine learning principles.
Conclusion
Adaptive learning allows your learners to create their own path through your online course based on their strengths and weaknesses. You can see how adaptive learning is used in online training through the examples shown above.
It's pretty high-tech stuff and will definitely make your course stand out.
In addition to adaptive learning, you can also incorporate other new trends into your online courses to make them even more engaging. Microlearning chunks your learning material into bite-sized pieces of content that pack a specific goal. eLearning gamification allows feedback by involving game mechanics in your course. Learners gain badges and achievements as they increase in levels. They can even see their scores on a leader board and gain points that can be redeemed.
All these hot trends are a means for increasing engagement in your course. You can include as little or as many of these trends as you'd like. The future will likely see more courses implementing these new trends so you may want to jump on the bandwagon now!