Ad Copy Generator: What Is It and How Can It Help Your Business?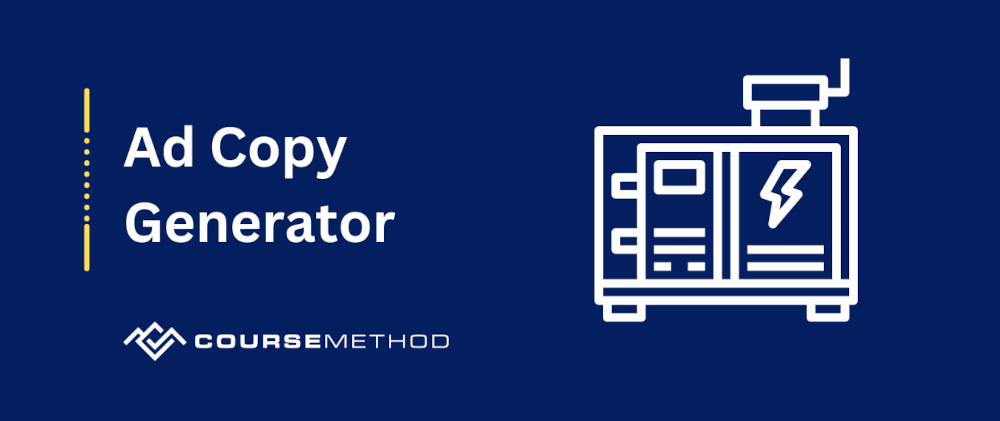 Our content is reader supported, which means when you buy from links you click on, we may earn a commission.
---
Simply put, an ad copy generator is a tool that helps content creators create ad copy for websites or blogs using artificial intelligence (AI). Ad copy generators are helpful when you lack experience with writing ad copy.
Over 50% of businesses say that artificial intelligence (AI) technology makes them more productive. When looking for an AI copy generator to increase your productivity, there are several features to keep in mind.
In this article, I will show you what AI copy tools are and discuss what to look for when choosing one.
What Is an Ad Copy Generator?
An ad copy generator is an AI software tool that writes ad copy for you. It takes your input, such as keywords and topics, and produces copy optimized for publishing on ad platforms like Google Ads or Facebook Ads.
AI copy generators use natural language processing (NLP) techniques to understand what words and phrases work best for ad copy.
Who Should Consider Using Ad Text Generators?
Ad text generators are an option for any content creator looking to save time and resources when developing ad campaigns. The following people can put these artificial intelligence tools to work:
Copywriter
Ad manager
Marketer
As an online course creator, you can use an ad copy generator to scale up your ad production process quickly and efficiently. Consider one of these tools when your course revenue doesn't yet allow you to hire a team to increase your monthly content output.
What Features Should an Ad Copy Generator Have?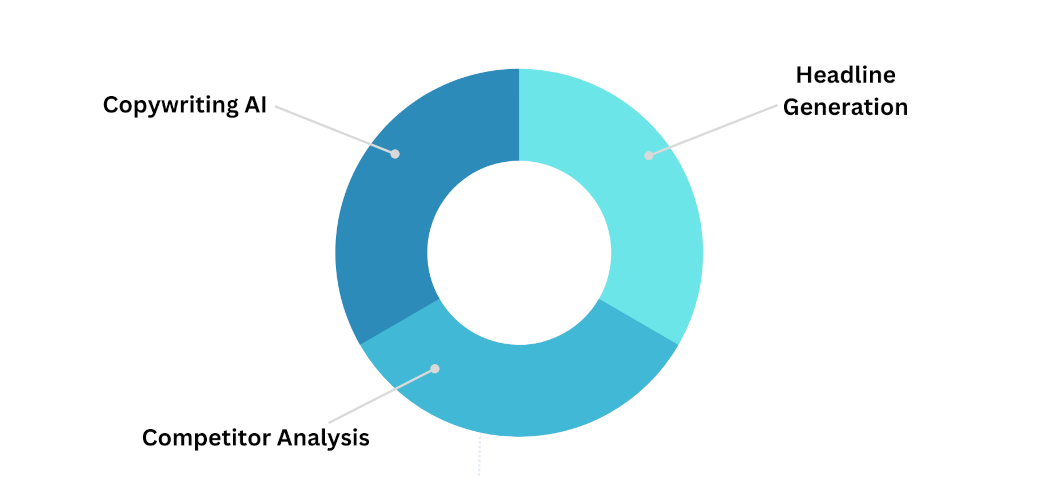 Before investing in an ad text generator, you should know the features to look for. These features include a headline generator, competitor analysis, and copywriting AI.
Headline Generation
Ad copy generators can create compelling headlines to capture attention and maximize ad performance. Look for a tool to customize headlines for different ad platforms, quickly produce variations, and efficiently match the headline copy to customer intent.
Competitor Analysis
Most ad generators come with a feature that enables you to compare ad performance against the competition. You want to see which ad campaigns perform best so you can leverage this data when developing ads.
Copywriting AI
An ad text generator should have an artificial intelligence component to generate ad copy from scratch. Not only does this save time, but it also helps you stay on top of the latest trends and use words that convert with your target audience.
In addition, AI ad copy generators can help you create ads with high-performing, relevant keywords for maximum customer engagement.
Using the aforementioned natural language processing capabilities, your ad text generator can help you build engaging ad campaigns. Ultimately, building ad platforms with these features can result in higher ROI.
What Kind of Copy Can an AI Ad Copy Generator Write for You?
AI ad text generators can generate many types of ad copy. These include the following:
Product descriptions
Promotional offers
Advertisements
Emails
Headlines
Calls to action
Depending on the AI copy generator you select, it can create your ad copy in different tones and styles. For example, some ad text generators may produce better persuasive or humorous ad copy, while others may have a more educational tone.
Some AI copy tools will help you with other types of content. For example, you can find tools that write entire articles. Others will help you create YouTube descriptions, blog post outlines, cold emails, and press releases.
Best Ad Copy Generators
Are you intrigued about using an AI copy tool to aid your online course business? Here is a breakdown of the top seven available options.
Jasper AI
Jasper AI is an AI tool powered by NLP. It helps you create ad copy and product descriptions at the push of a button. Its intelligent search engine can suggest different words to make your ad content more relevant.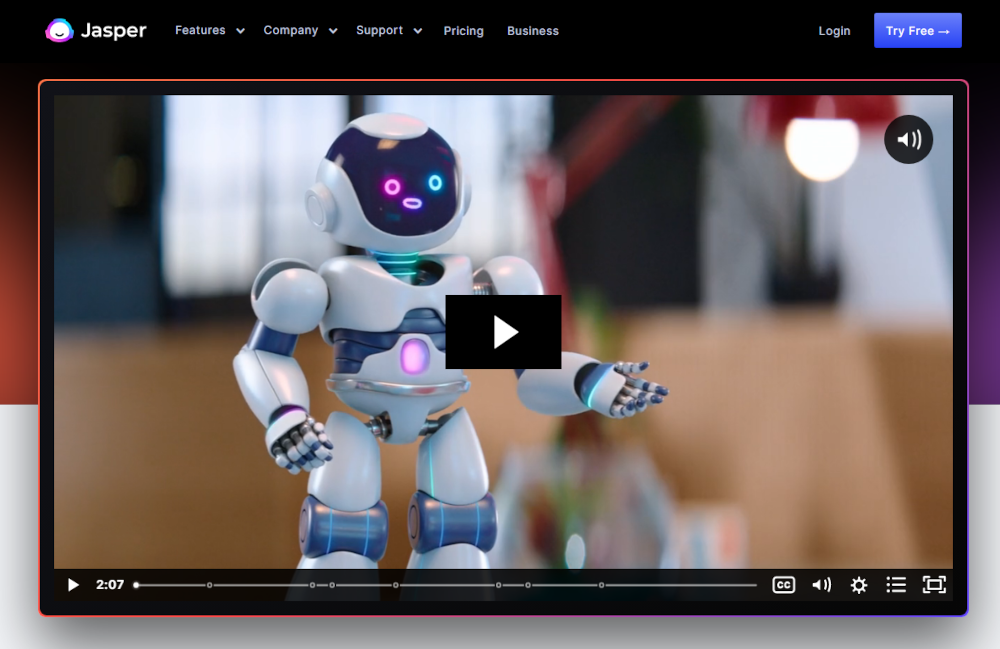 Jasper AI can also generate copy for e-commerce, social media, and email campaigns. In addition, you can use it to generate copy for different types of ad formats.
The tool offers several templates to help you get each project off the ground. These templates include the following:
Website sub-headline
Video topic ideas
Video script outline
Tone detector
Text summarizer
Product page headlines and descriptions
While Jasper can help you create blog posts and ad campaigns, it only works if you take the time to give quality instructions. You will need to suggest ideas to get it started inside each template. You may also find yourself writing a lot at the beginning of each project as you help Jasper learn the pattern you want it to follow.
After training the tool, you should find that you can save time when creating projects. If you have writer's block, it can seed new ideas that your human brain can continue and finish.
Anyword
Anyword is a writing tool that works well if you want your content checked and edited by artificial intelligence. The software can help improve your writing skills by pointing out areas where you need improvement. Overall, it is an excellent tool for both novice and experienced writers.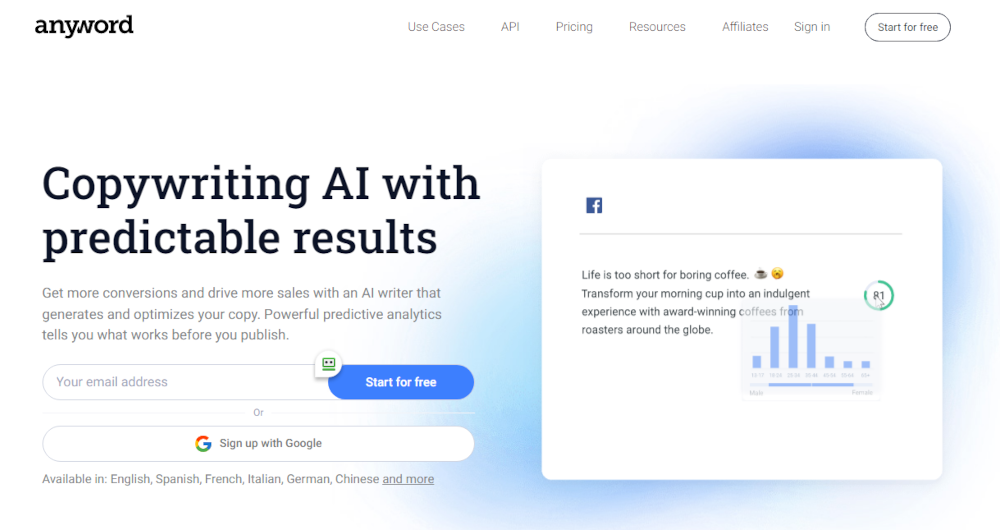 Anyword allows you to create content that works well on search engines by including all active keywords and essential phrases. Performance-based content, especially SEO-driven material, is key to maintaining and acquiring customers or regular visitors.
One of its best features is the "More Like This" section. Input ad copy from ads you see on social media. Anyword will produce similar ads that you can customize further.
Copy AI
Copy.ai uses artificial intelligence to generate your best-performing customer-facing content so that you can focus on other areas of your business. It specializes in writing content that will help you increase your sales and ROI by improving headlines, social media ads, and Google ads.
One of its best features includes the ability to create ad copy for different audiences. With this feature, you can segment your target audience and create ad copy that will resonate with each group of customers.
Another Copy AI feature is its 'documentation mode.' The feature allows you to save ad copy as a template to access it when creating new ad campaigns quickly.
Copysmith
Copysmith is a content automation tool that helps you generate ad copy, headlines, and short descriptions for your products or services. It also provides suggestions on topics to write about depending on the course you might promote.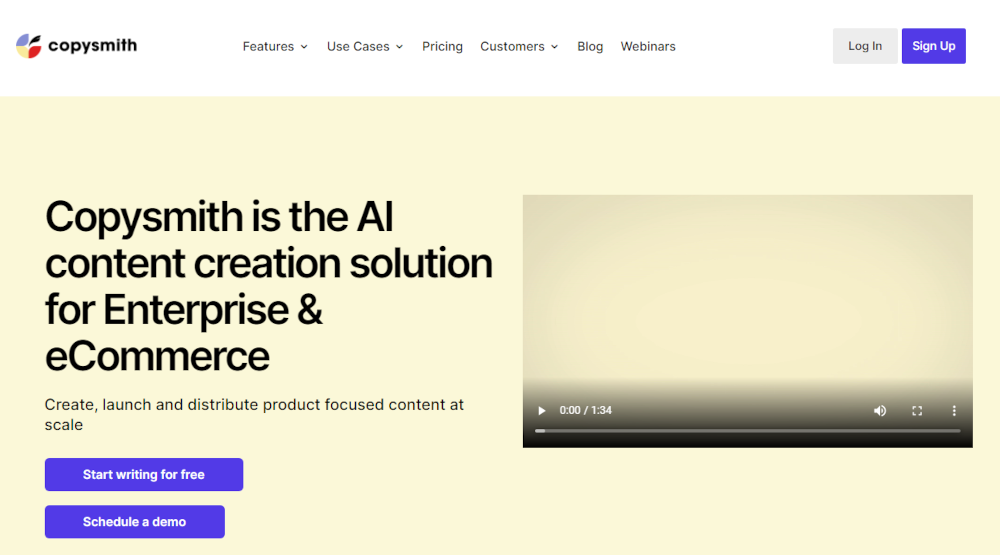 What CopySmith does best is producing content from a subject and some keywords. This feature is why many people use it. Compared to other AI programs and human copywriters, Copysmith saves considerable time while still getting an incredible amount of publishable work completed.
CopySmith is best for short-form copy, such as blog posts, taglines, social media posts, and automated emails. It offers a library of custom templates for every type of marketing material you might want to produce.
The short-form feature makes it a quality choice for writing ad copy. You can quickly enter various headlines, descriptions, URLs, and titles.
Other crucial CopySmith features include the following:
Plagiarism check
Instant backups and updates
Bulk content generation
Plenty of templates
The Brainstorming feature helps to create content ideas. It is robust and doesn't require specific instructions to generate initial ideas.
WriteSonic
Writesonic is an innovative AI writing assistant that generates high-quality copy for any specific topic in seconds. With the combination of both machine learning and human expertise, it creates SEO-optimized content that reads like work crafted by a professional writer.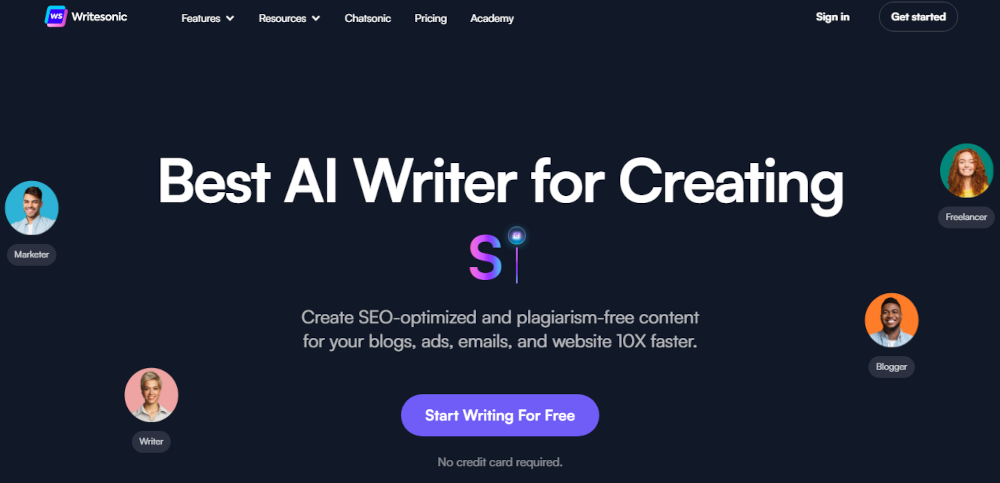 Creating blog posts, landing pages, and ad copy becomes more accessible with the tool. Its features suggest outlines and appropriate keywords for any piece of text. Provide a topic or lines of input with your desired language preferences.
WriteSonic's summarizing tool will condense your text into the most crucial points. The paraphrasing feature enables the rewriting of sentences. Additionally, the expander and shortener work well if you're aiming for perfect lengths with each piece of content.
Effective ads require landing pages to convert prospects into sales. With Writesonic's easy-to-use landing page feature, you can craft persuasive content without wasting too much time. Input the name and description of your course along with its advantages. Then, select from several options prepped by Writesonic to create converting content.
Copy Shark
Copy Shark is a tool that uses AI-driven GPT3 technology to deliver high-quality copywriting. The tool provides various features, templates, and writing accuracy needed to generate engaging content.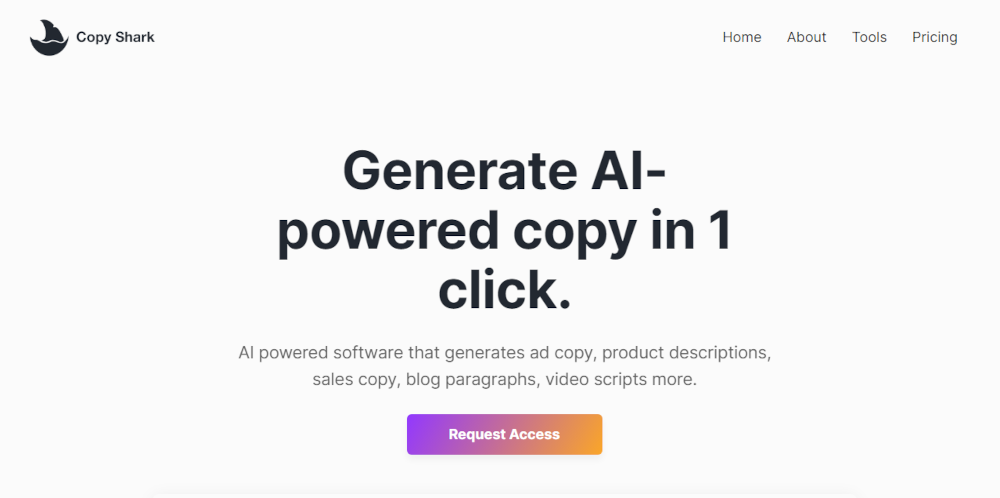 With Copy Shark, you can use over 50 tools to create ad copy, website copy, product descriptions, sales pages, and more. It works with over 100 languages.
You should note that long-form content is not a big part of Copy Sharks' feature list. If you're looking for full blog post ability, then look elsewhere. It will help you effectively if your primary need includes writing short-form ad copy.
One area where Copy Shark shines is its template library. Use the templates for ads, newsletters, and social media posts.
Hypotenuse AI
The AI-generated content produced by Hypotenuse AI comes out clear, relevant, and well-written. Hypotenuse AI is a solution when you need high-quality content fast. If you're looking to write an article, create social media content, or even just a headline for your website, Hypotenuse AI can assist you.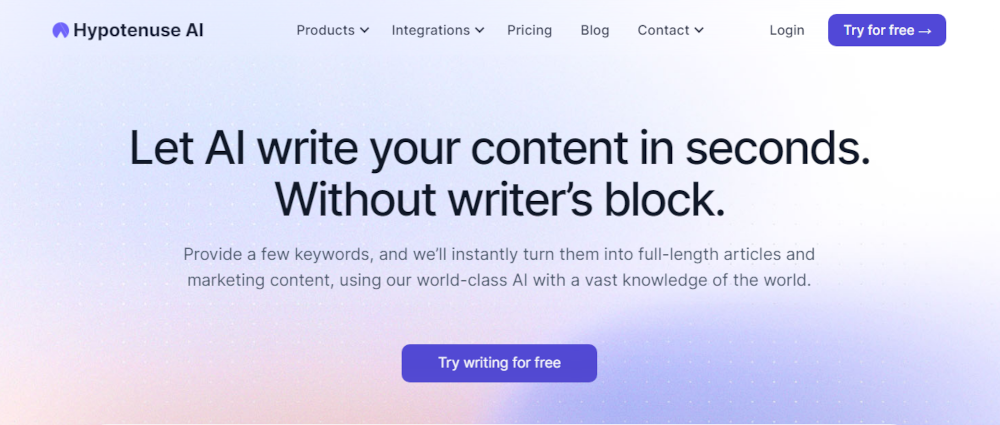 Its main features include a blog writing tool, a bulk description generator, and an image generator.
The Marketing Copy Generator feature is the one that will most effectively help you write ads. Tell it which product you want to promote and its key features and benefits. From there, the tool will create ad copy tailored to your course. If you don't like the output, trying a few new ad ideas is simple.
Try out one of these tools and get started using a copy ad generator to shorten your workload!