YouTube Marketing Tutorial
Our content is reader supported, which means when you buy from links you click on, we may earn a commission.
---
According to statistics, over 100 million users watch video online each day.
Video is so popular that YouTube is one of the most visited sites on the internet. In fact, YouTube is the second biggest search engine after Google.  And you've only got to upload your video on YouTube to tap into the traffic on this platform.
YouTube has some impressive stats. For instance, more than 1 billion unique visitors come to YouTube monthly. And YouTube claims that over 4 billion hours of video is watched on their platform each and every month.
That's a lot of video.  Enough that it's hard to ignore YouTube as a strategy for driving traffic back to your web site.
This tutorial was created to help you make sense of using YouTube for business. We'll cover setting up a YouTube channel, uploading videos, and include several tips for using this platform.
YouTube Video Channel
If you're going to create videos and upload them to YouTube anyway, there's no reason not to set up a channel. A couple years ago I uploaded about 40 videos to a channel. That particular YouTube channel now has over 175,000 views.  That's a lot of viewers I would have otherwise not gotten all for a few hours of uploading. And many of those viewers made their way back to my site.
Setting up a channel is very simple to do. And the benefit is your audience can find all your videos in a central location. Plus YouTube suggests other videos from your channel for viewers who watch one of them. So you can end up with more exposure with no extra effort.
Let's get started.
The first thing you need is a YouTube account. If you've already got a Google+ account for your business it makes sense to use that login for YouTube.  This is only going to make things easier for you (but also keep in mind if you're doing things that violate Google's terms of service, then they can pull the plug on your entire Google account, including YouTube).
Once you're logged into YouTube, you'll want to click on 'My Channel'.

Here's where you can customize your YouTube name.  You'll be asked if you want to use your name or if you'd like to use a business name.
Since this will be a business channel, you may want to brand your business instead of your name.  This is completely up to you.
If you'd like to use your business or website name click on the link at the bottom of that box where it says 'To use a business or other name, click here'.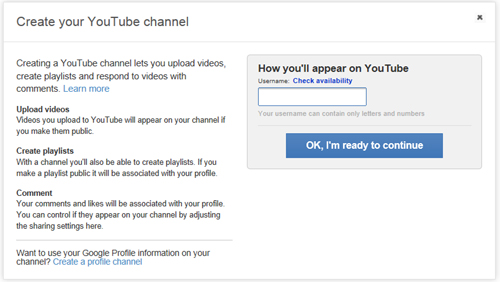 Then enter the name of your YouTube channel.
Again, you can use your business name, your website name, or even your own name, whatever makes the most sense for you.
This will need to be unique to only you so it's possible someone else may already have your first choice. In that case you may want to add in words like 'video' or 'channel' to help keep your branding and give you a unique channel name.
When you're done, click 'OK, I'm ready to continue'.
Once you've got it set up you can check out your channel and add further customizations to it.
Click on 'Channel Settings' and you'll see a few options.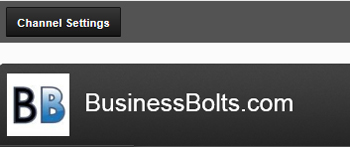 YouTube recently released the YouTube One Channel layout which allows cross device branding. They claim it has better organization and will serve your visitors better.  There's always something new that you may want to take advantage of. The main thing is to get your channel set up first.  You can always change it and finesse it later.
If we just stick with the old channel options you'll see a place where you can add an image.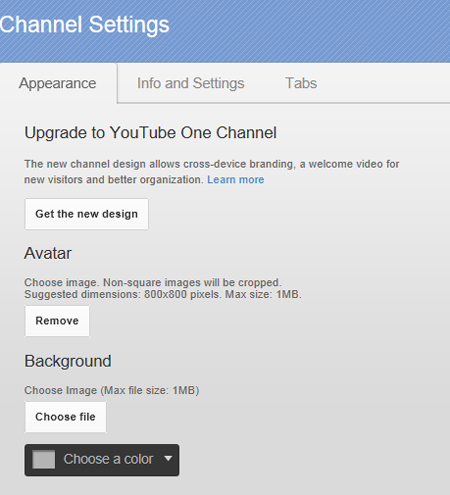 This can be a logo, a version of your logo, or a photo of you.
There's also an option for your Background. You can choose a color or an image for your channel background.  The more you plan on using YouTube to drive traffic to your site, the more customizations you should make to your channel. If your YouTube channel is going to be an integral part of your business plan then it only makes sense that you spend more time on it.
Adding a graphic file as your background can really help your channel stand apart so you may want to add one. Many designers can help you create the perfect background if you choose to take advantage of this option.
There's also a tab called Info and Settings.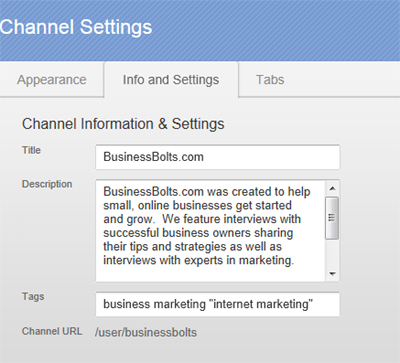 The title is the name of your channel.
It's best to use your branded name or your website name here.  This will help you brand your business.
You'll also want a description and some tags.  It's best to write an in-depth description. Keep in mind that none of this is set in stone, you can always change it later.
Tags help people find you in YouTube search as well as on Google search. Look at channels that are similar to yours and find out what the popular tags are for your market. Enter those tags.
That's the bare minimum to getting a channel set up.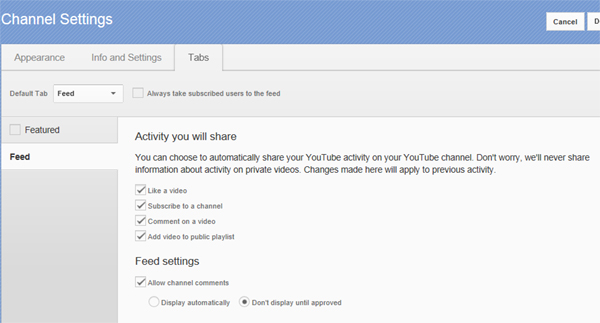 The Tabs setting allows you to share your YouTube activity on your channel. You can also decide to allow channel comments and if you want them to be automatically approved or not.  Click 'Done' to save your changes when you're finished.
Over on the right hand side you have more options.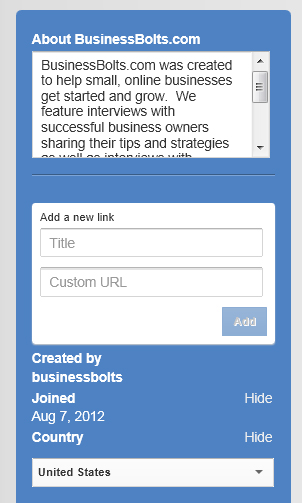 If you click on 'edit' near the top you can change your description as well as add links.
You should take advantage of this and add a few links to your site.  Your home page and any product pages along with featured pages work well as additional links on your YouTube channel. This will help you drive more traffic back to your site.
You can also choose whether to include your location or not.  Just click on 'apply' to save these changes.
Channel Subscriptions
The nice thing is once you have a channel set up your viewers can subscribe to it.  If they've got their own YouTube ID and login then they have a 'Subscriptions' manager.
Here I'm in my Subscriptions manager and I'm subscribed to one channel.



If I hover over the right, an arrow shows up that I can click on.  I can do a few things here, including check on the 'get an email for each upload from that channel'. If your subscribers check on this for your channel then they'll see all your videos in their subscriptions manager and even get emails when you add new ones.
It's a smart idea to teach your potential subscribers to do this so they don't miss your new videos.
Once you've got your channel set up, you need to start uploading your videos.
Uploading Videos
To upload videos simply click on 'Upload'.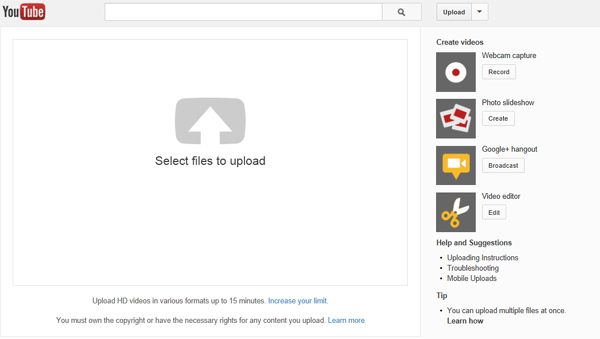 Just click on the 'Select files to upload' box and you can navigate to a video on your computer.  Once you've found it just click on the file and YouTube will start uploading it.
I won't cover making videos in this tutorial, but just for reference, the best video settings are a 16:9 ratio. 640 x 360 is a standard size that works well.  The YouTube video player will add black bars to your video if it's not formatted for this ratio, so you can upload any size you'd like, but to maximize your video for YouTube you will need to use one of the following resolutions:
1080p: 1920×1080
720p: 1280×720
480p: 854×480
360p: 640×360
240p: 426×240
.MOV, .mp4, .WMV. FLV are a few supported file formats.
You can upload videos up to 15 minutes long by default. You may upload videos longer than 15 minutes in length by clicking on a link to increase your limit. You'll need to verify your account with a mobile phone in order to increase your limit past the 15 minute per video mark.
Info and Settings
Once you've got the video uploaded, make sure to add a title and description for each video.


If you want people to find your videos with common search terms you'll need to do keyword research and include your target keyphrase in the title.
You'll also want to include your full URL in the description. That URL will be a clickable link back to your website. People may click from your video to your web site (which is where you want them to be) so you want to be sure to include the full URL in there before anything else.
Write an in-depth description that includes your target keyphrases within it to maximize your video listing.  You can even include more than one URL in your content.
Use tags and pick them carefully by looking at what other videos like yours are using or by using a keyword tool.
Also make sure your video's privacy settings are set to public (as long as you want people to be able to view it).
Scheduled Video Posting Service
You can also choose to set your video to private until a certain date and time.  That way you can have your video go live at the best time.  So if you want to space them out, this will help you do that.
If you're serious about YouTube, you could even plan out an editorial calendar to map out what content will go live and use this setting to help you automatically post your videos.
You can also customize a message to your subscribers and choose to share your video upload to Facebook and Twitter with just a click (if you've integrated these social media platforms into your account).
Lastly, be sure you've chosen an appropriate category for your video to be displayed in.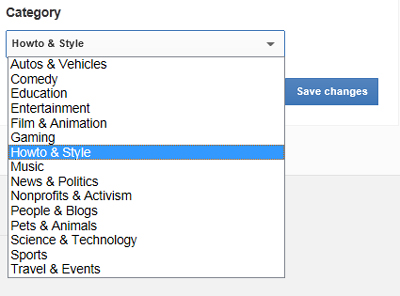 Remember, there are millions of hours worth of video on YouTube. If you want to stand any chance of having your video be found, filling out the video settings is very important. The more you customize your video pages, the easier it will be for searchers to find your video when they search for terms related to it.
When you're done, click on 'save changes'.
There are also some Advanced Settings for you to choose from.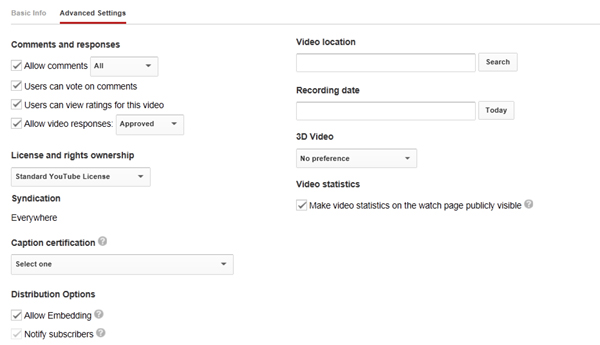 Here you can manage how you'll handle comments and whether you'd like people to be able to embed your video along with subscriber options.
Annotations
There are several extra features you can choose from for your videos. Annotations are a really useful one.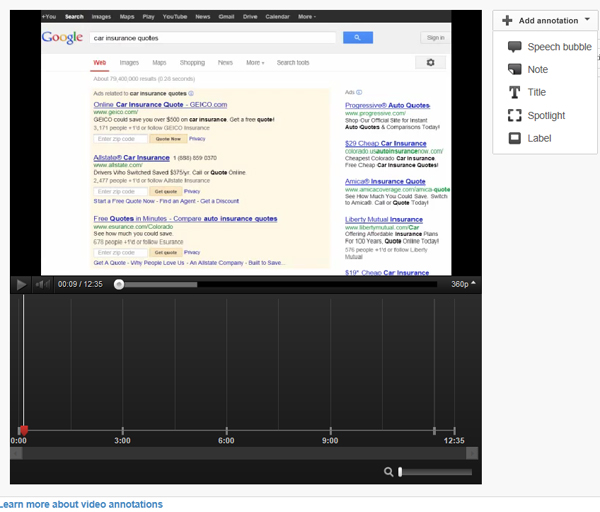 You can use annotations within your YouTube videos that include calls to action. These annotations are small notes that appear within the video at a certain time.  These allow you to include notes to viewers to encourage them to subscribe to your YouYube channel, visit your website, or to watch other videos.  You can even encourage your viewers to comment on your video if you're allowing comments.
Driving clicks back to a site from YouTube is a challenge. So use all the tools you can in order to accomplish this. That includes using annotations, including your URL in the video description, on your YouTube channel, and even telling viewers to visit your website right in the video.  This will help you maximize each video you upload to your channel.
YouTube Analytics
YouTube has its own Analytics section which is really useful especially if you're a power user.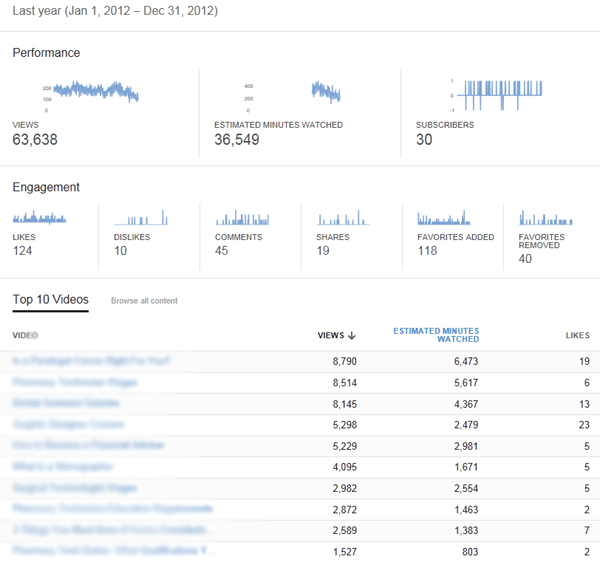 The screenshot above is from one of my YouTube accounts getting a decent search volume.  You can customize the date range and see all types of statistics including; video views,  estimated minutes watched, the most popular videos in your channel, and if people are liking and commenting on your videos.  You can use this data to figure out future videos to create that will resonate well with your audience.
If you scroll further down the analytics overview you can also see data on the demographics of your viewers.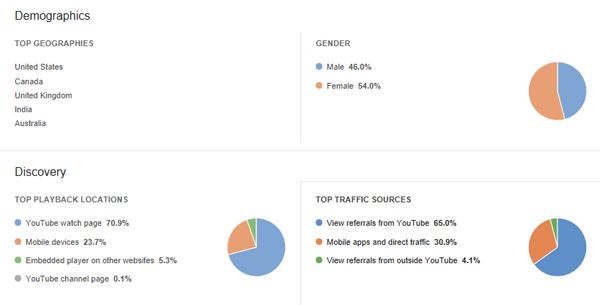 This includes your viewers location, gender, where they're watching your videos, and the top traffic sources for your videos.
The audience retention reports are also very useful.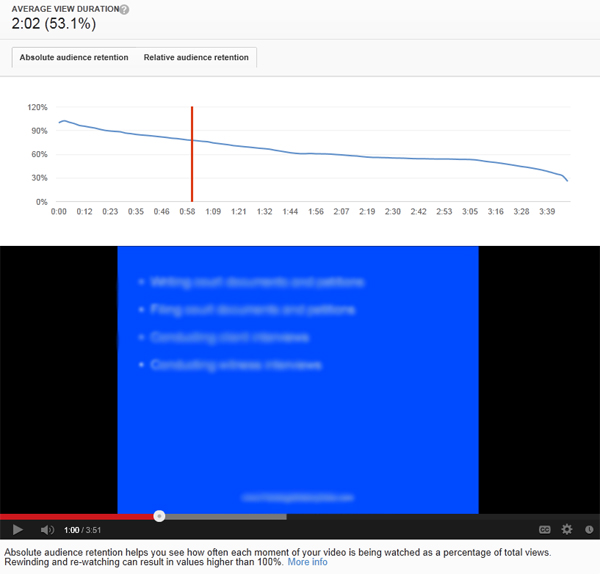 Choose a custom date range for each of your videos and see exactly how your audience is interacting with your video.  This allows you to see where viewers are leaving your video, learning a lot about viewer engagement.
One tip is that shorter videos usually work best. The average viewer retention length on YouTube is not real long, usually under 2 minutes in length. So creating short videos is usually part of an optimal strategy.
By using the built-in analytics tools you can figure out which of your videos are underperforming. You can get rid of or fix those videos to keep your channel performing at an optimal rate. This helps keep all the videos within your channel ranking well within YouTube.
You can also see several Views reports including Traffic sources for a particular date range.
As you can see, there's a lot you can check out with analytics. Although most people are only concerned with the number of views their videos get, straight views are probably not the best metric to watch. Estimated minutes watched is probably more worthwhile to keep an eye on along with the other advanced metrics you can see through the built-in analytics tools that come with your account.
What Kind of Videos Do Best on YouTube?
Here are a few tips for the type of videos that work well on YouTube:
Hitting the viral jackpot. If there's a viral element to your video and you want as many people to see it as possible then hosting it on YouTube and other sharing sites will probably be worthwhile. But it's pretty hard to make a video go viral. It's like winning the lottery. You'd be better off reaching the right customers rather than millions of random people, but you can always try your luck with a viral video if you've got a good idea.
What's trending? One way to give your video creation efforts a boost is to look at YouTube Trends and see what's trending, then incorporate that into your video to help it get more views.
Do your research. Another important element of YouTube videos can be keyword research. If there are keywords your potential visitors use to search for videos on YouTube and other search engines, you may as well incorporate those into your video, your title, and your description.
Ask and get ideas. It's also wise to ask your prospects and customers what they'd like to know more about. If that works as a video, create one on that topic and you'll get people watching it.
It's all about content marketing.  Sales videos generally do not do well on YouTube. YouTube is basically a content sharing platform.  You need to create videos with informative, interesting, entertaining content and then ask people to go to your website. Use your website to do the selling.
Build connections. Try to connect with your audience by allowing them to connect with you or your brand. The best way to create these connections is to think of your audience as a community. Allow your audience to communicate and become involved in the videos you create (let them give you suggestions for new videos, etc …).
Guide them through it.  How-to's and tutorials work great on YouTube.
Short and sweet.  Short videos between 1-2 minutes do best, but this is not a hard and fast rule, there are exceptions and many 20 minute videos do well too.
Don't waste precious space.  Strive to achieve emotional engagement fast. Don't waste the first 30 seconds on floating your logo around with intro music.  It's hard to get attention because there's so many videos on YouTube.  You've got to work for it and get to the point quickly.
Research.  The best tip I can give you is take a look at the videos already being created in your industry. You can do some in-depth research and figure out which videos are getting the most views along with who's linking to them. Make videos on that topic that are better in some way than your competitor's videos.
YouTube Ranking Tips
Getting a high ranking for keyphrases within YouTube can bring you a lot of traffic. YouTube ranks videos based on a number of factors, but the overall ranking algorithm is based on showing the best and most popular videos first.
Here's a video with over 7 million views.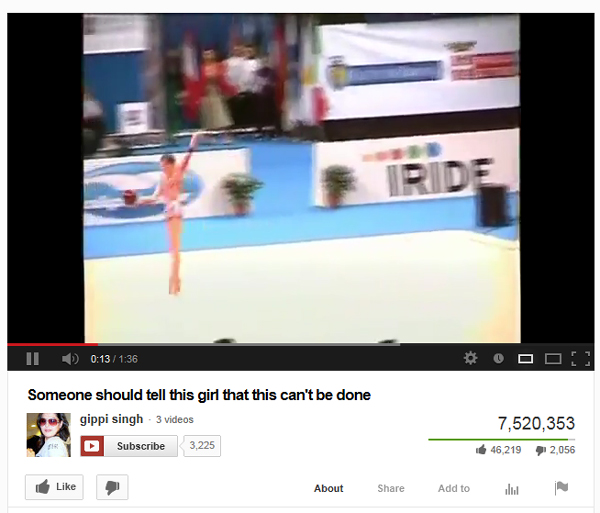 As long as people are watching it through the end then that video's going to rank high for whatever it's keywords are in the title, description, and tags.
This means if you have a high number of views, people are watching your video through the end, and people are sharing and linking to your video then it will rank high for the keyphrases in the title and the description when people search for those keyphrases. So choose those keyphrases wisely.
You can also get your YouTube videos shown in the Google search engine. Here's one right within the search engine results pages. It leads back to YouTube (which I'm sure Google just loves, like they need anymore exposure).

Building links to YouTube videos is really no different than building links to your website.  See who links to the top videos in your industry and try to get links from those people. You'll also want to make sure your video page is optimized well (this includes your video's title, description, and tags). Any links back to your video channel page will also help your videos rank higher too.
Promoting Your Videos
Here's a few tips to help you promote your videos.
1.  Add your YouTube channel icon to your website.
2.  Embed videos from your channel onto your site.  If your site is highly trafficked then that will get more viewers to your videos.  You can blog about any new videos you create, and embed them into the blog post. Optimize your post for SEO and promote it with any means possible.
3. Interact with other social networks from within YouTube.  This is actually built in so you may want to take advantage of it.  You can make this connection by clicking on 'Connected accounts' under your Account Settings.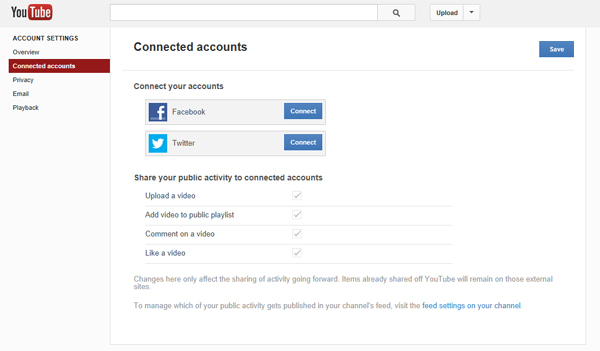 Right there you can connect Facebook and Twitter to your YouTube account and you can check off what you'd like to share as you do it.
This allows you to easily share a status update to one of your other social media platforms like Facebook or Twitter each time you upload a new video. You can even share when you comment on a video or subscribe to a new YouTube channel.
The nice thing is your viewers can also do this so they can share when they comment on your videos or subscribe to your channel.
4. Leave comments.  If you've got a YouTube channel when you add a comment to someone else's video your channel name is shown in the comment.  Leaving knowledgeable, interesting comments on videos in your industry can help get you views.



You can also leave a video comment where you create a video as your comment. This is called a video response.  Leaving quality video comments on popular videos is a great way to drive traffic to your videos.
Wrapping Up
I hope you've found this YouTube Marketing Tutorial useful.  You now know more about marketing your business or site on YouTube than most online business owners do so there's no reason not to get started.
Once you've got your channel set up and uploaded a few videos along with optimizing the title, description and tags wisely, you might start generating views on autopilot. If you build in your website branding every opportunity you get (within the video, in annotations, in channel links, and in the description), these viewers will turn into visitors to your website. That's where you can do the selling.
So it's well worth it to get started with YouTube. Just start with a single video and follow the tips in this tutorial to get your
YouTube channel set up and ready to go.