How I Use the CoSchedule Editorial Calendar
Our content is reader supported, which means when you buy from links you click on, we may earn a commission.
---
I'm part of the CoSchedule Referral Program which means I'll receive a commission if you end up buying CoSchedule through one of my links. There's no cost to you. I only review products I've used and believe could be useful to my readers.
I started using CoSchedule very recently. The weird thing is I wasn't looking for this tool because I needed an editorial calendar (which is its primary selling point). Instead I found CoSchedule because I was looking for a way to import articles into WordPress.
I needed a way to import articles into WordPress because I was on a mission to write a lot of content in just a few months.
If you've ever tried to write a lot of content before, you know how crucial your time is. Every extra step in the writing process will add-up and start slowing you down. All these extra steps can stop you altogether if you become too overwhelmed.
I've written a lot of content before in Word and it worked out OK. But for this project the content was going into WordPress so I started writing the posts right in WordPress thinking it would save me time.
I used the WordPress editor for a couple of very long posts with screenshots (these were 5,000 word posts with 50+ screenshots like my Teachable review) and I couldn't believe how long it took me to get everything just right. I actually gave up on using the WordPress editor for the second article.
It took way too long!
With my extensive posts, the WordPress editor would get kind of clunky. It felt like the whole thing was going to crash. It never did, but even just that clunky feeling that it might crash was definitely a distraction while I'm writing.
Plus, once I uploaded an image into WordPress, I would be taken back to the top of the post. That means I'd have to scroll down and find the bottom (or the right place in the editor) and start writing or upload another image. This interrupted my flow and just took a whole lot of time.
I was shocked at how long it took me to get the screenshots, crop them, and again, get them uploaded. Taking the screenshots was painstaking work that I hadn't accounted for. I felt like I could probably make a video faster.
I Needed a New Workflow
It was obvious what I was doing was not going to work.
I tried writing the next article in Word, but the screenshots made that tough.
After you paste images into Word, you can't really do much of anything with them. You can't re-size them easily. Plus you can't just copy and paste your Word document into WordPress and have the images show up. You have to manually upload each image and put it in the right spot in the WordPress editor.
Writing everything in Word and including the images along with the text wasn't going to work either.
Then I tried writing out most of the content and putting the text: "screenshot" where the screenshots went. It was challenging because sometimes I needed the screenshot to write the content about the screenshot!
I also had to have all the images organized in a folder so I'd know which ones went where. I didn't even make it through a whole post like this. It took way more organizational skills then I have.
At This Point I Still Needed a Better Work Flow
I started looking into how you can get Word content along with the images into WordPress where everything's still intact and unfortunately, you really just can't.
There's a way to get Google Docs into WordPress by paying for a monthly service.  The service will supposedly suck all your text and images out of Google Docs and put it all into WordPress. This sounded great, but I hate Google Docs. I don't really have a good reason, other than just not liking it. I couldn't imagine having to open Google Docs every day and feeling good about it. So I passed on that.
Finally I saw that Evernote notes can be converted into WordPress including images.
As far as I know, the only way to convert Evernote notes into WordPress is by using CoSchedule.
So what I'm doing now is writing posts in Evernote.
Evernote has this great add-on for chrome called Web Clipper that allows me to get all the screenshots in the first place. I can crop the screenshot right from my browser. Then I put them all into an Evernote note and write, edit, write some more, etc … until I'm close to done.
Then I Send My Note to CoSchedule
Here's the steps in case you want to give this a try:
First get a 30-day CoSchedule trial. There's no credit card required and you really can try it out and see if this works for you without any risk.
Once you've done that, login to your CoSchedule application and go to the Content Calendar.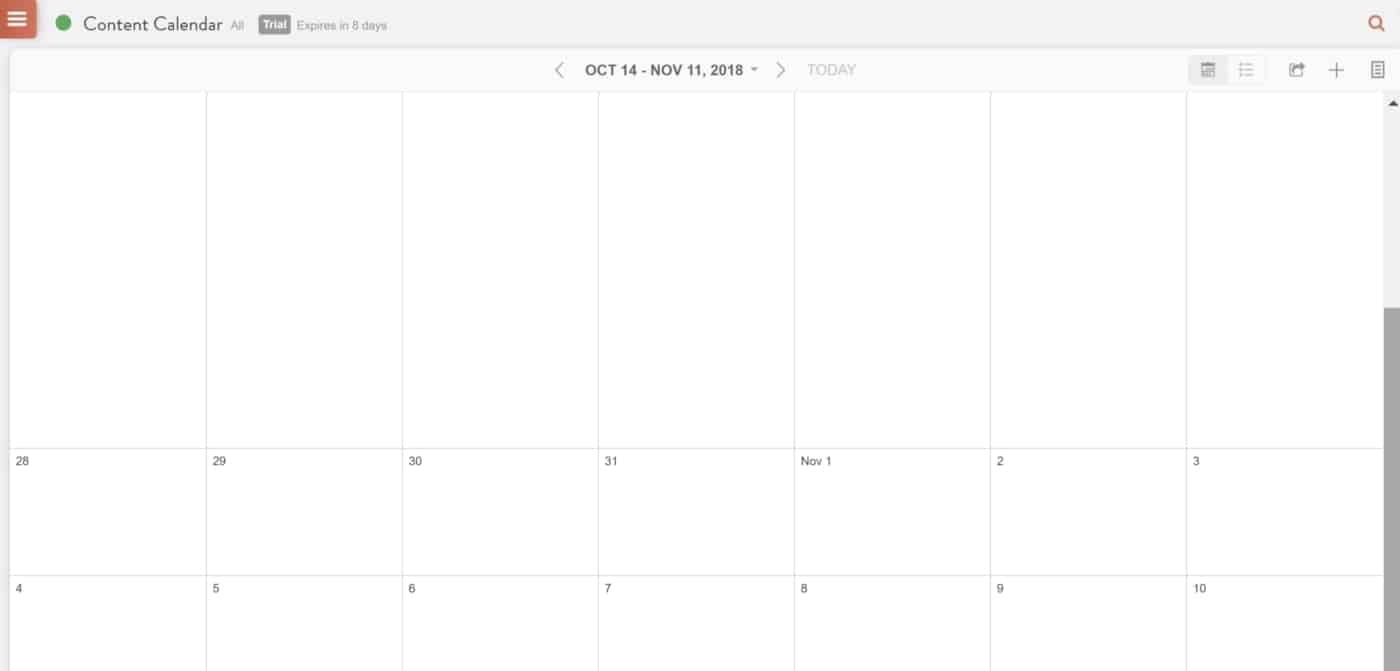 Pick a date on the calendar to schedule your content. When you hover over a date, a little plus sign appears. Click on it and the following will appear:

I clicked on Blog Post and then I was taken to the following screen: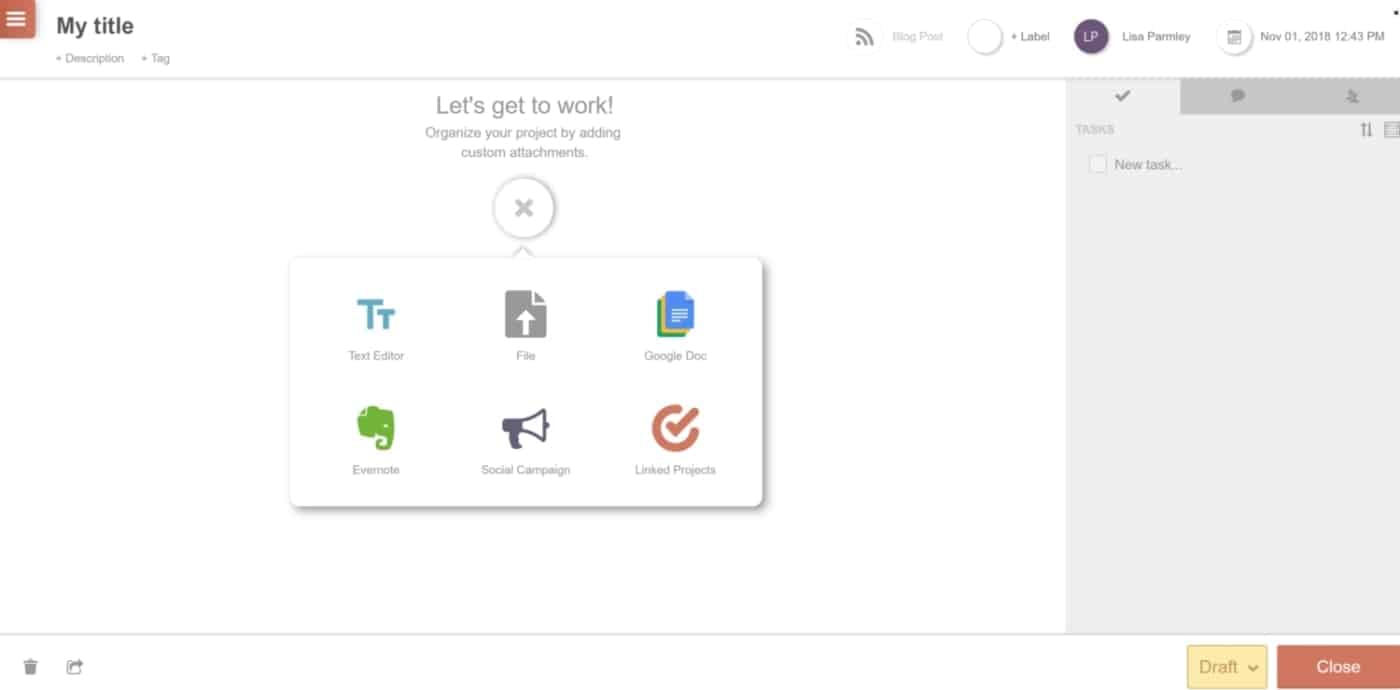 Here you add in the blog post title and select where you want to get the content from. My content is in Evernote so I clicked on the Evernote icon. From there I was taken to this screen: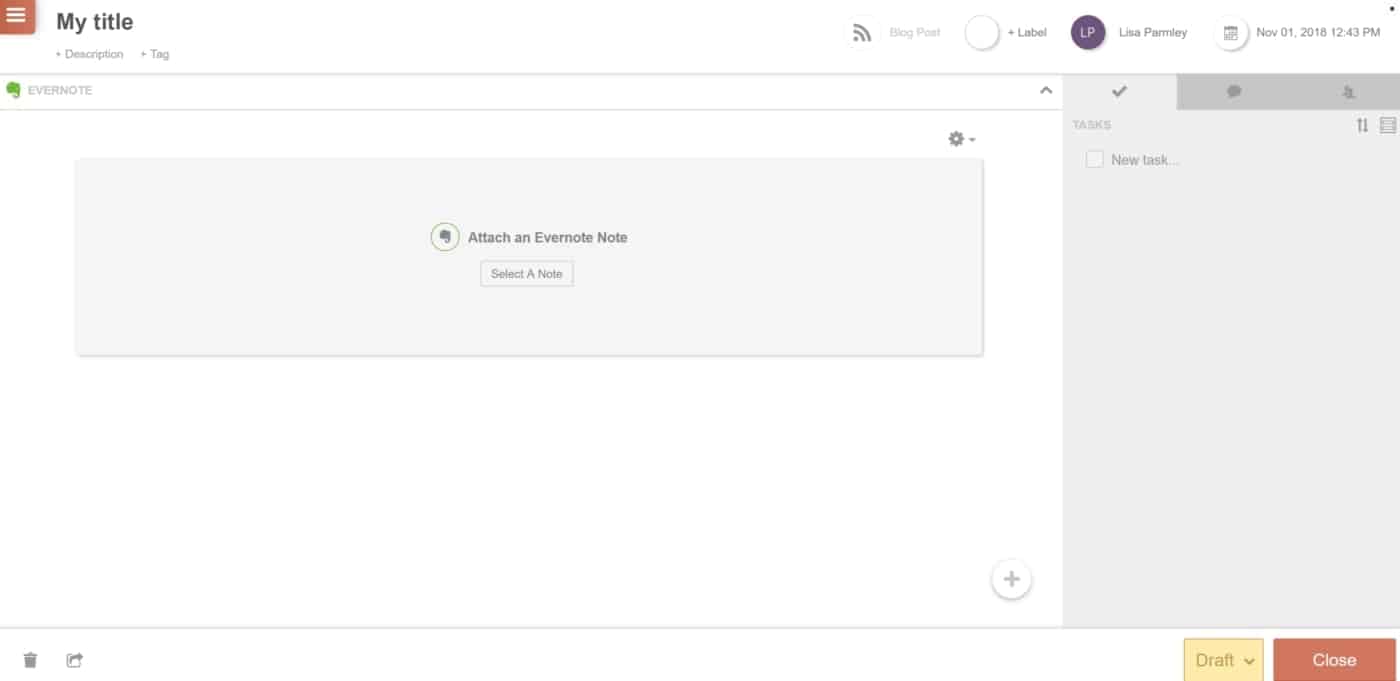 In this step you'll start to attach your Note. Just click on the 'Select a Note' button. That's when a list of all your Evernote Notes pop up on the screen, like this: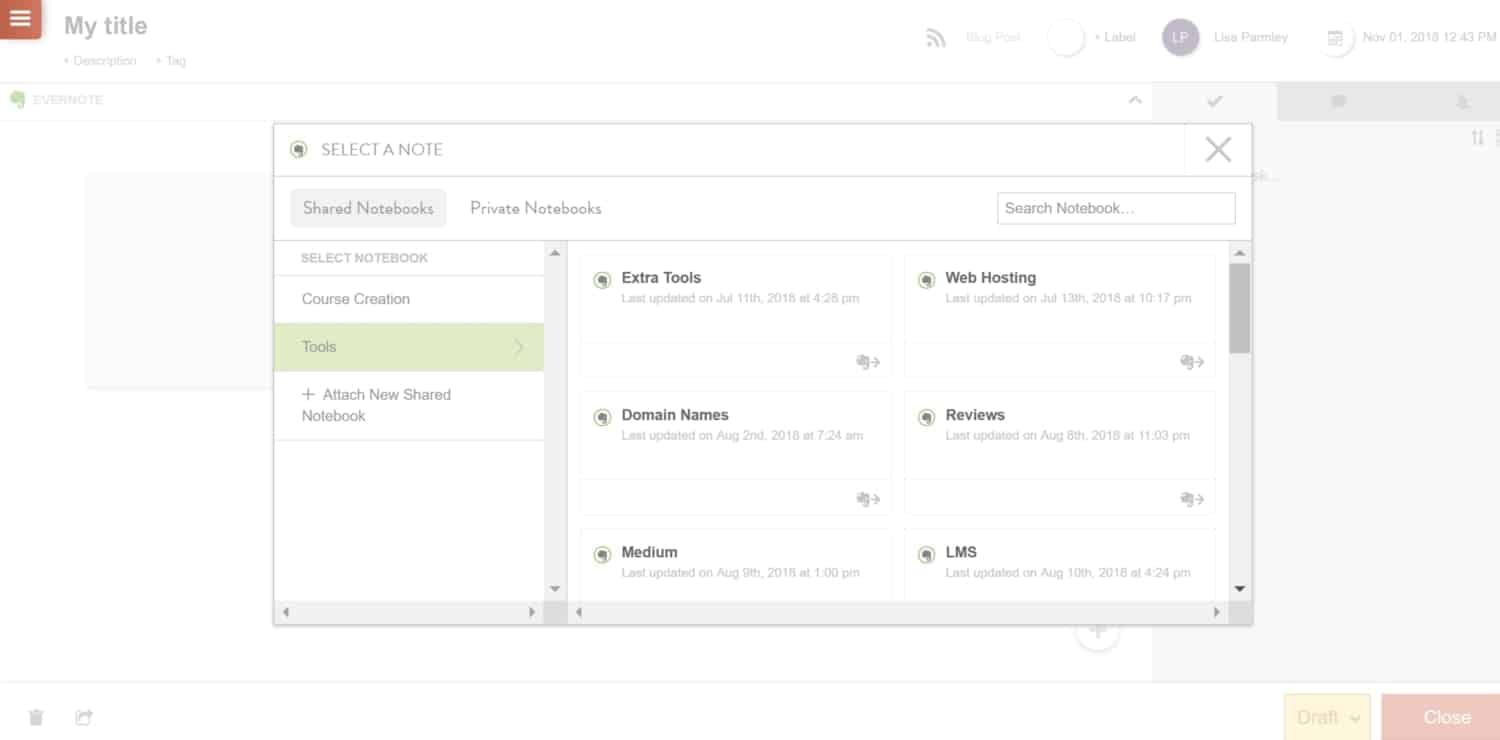 You can select a Notebook as well as Notes from within them. Just navigate to the right Note and click on it.
From there, the Evernote overlay screen disappears and you'll see a tiny gear icon on the top-right (shown below). If you click on that gear icon, you'll see an option to Convert to WordPress. It looks like this: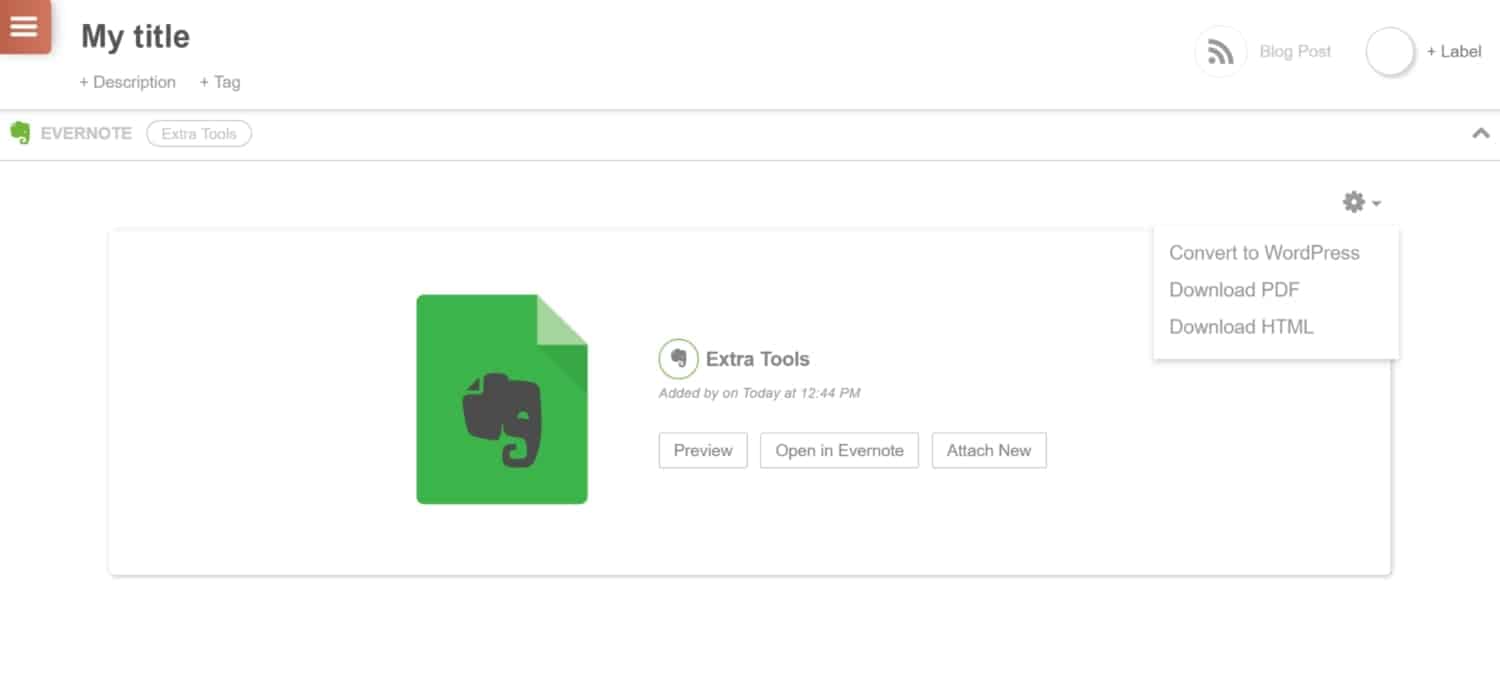 You want to click on that 'Convert to WordPress' link. Once you've done that, CoSchedule will start converting it. Depending on how long your post is, the number of images, and maybe how busy CoSchedule is, it can take a while. When it's done, you'll see the new blog post scheduled on your calendar, like this:

You'll also want to make sure the post is imported into your WordPress admin. So just login there and make sure it's in there with all the text and images in the right places.
Time Saved …
It probably took me 25 hours to put the first post together when I was stumbling over WordPress. Like I mentioned, I was about ready to give up.
I recently put another article together that is 5800+ words and has a lot of images in it.
It took me only about 6 hours to write this post with my new workflow and maybe another 2 hours to edit it and call it a final draft. So that's about 8 hours instead of 25 hours. That's a lot of time saved.
Between the time saved with Evernote, the Web Clipper tool, and getting it all over to CoSchedule, that's about 17 hours saved. Based on this, I can probably write about 3 times as much or get it done in a third of the time and go do something else.
I guess you can write directly into CoSchedule, but I haven't tried that out at this point. I don't know if they have a tool like Web Clipper that would help me with my screenshots and I really don't want to go back to doing all that manually.
The really great thing with this is that not only will your posts be in WordPress, your posts are also in CoSchedule which has a lot of neat features I didn't think I needed. Once I got to try them out, I knew how much time they would save me.
CoSchedule's Calendar
The main thing about CoSchedule is the editorial calendar. You can organize your posts and set them on a publishing schedule. You can drag and drop them around if you need to make adjustments too. It's very easy to use. You can see it below:
My workflow consists of converting a rough draft post from Evernote into WordPress. So I can't publish right after I convert it. I leave it in CoSchedule and then work on it, scheduling it for later. As you can see above, I have about a dozen posts all set-up as rough drafts that I still have to work on. So it's helpful for me to have that calendar feature.
CoSchedule also has a dashboard that tells you what's coming up in case the content you're going to publish isn't done yet.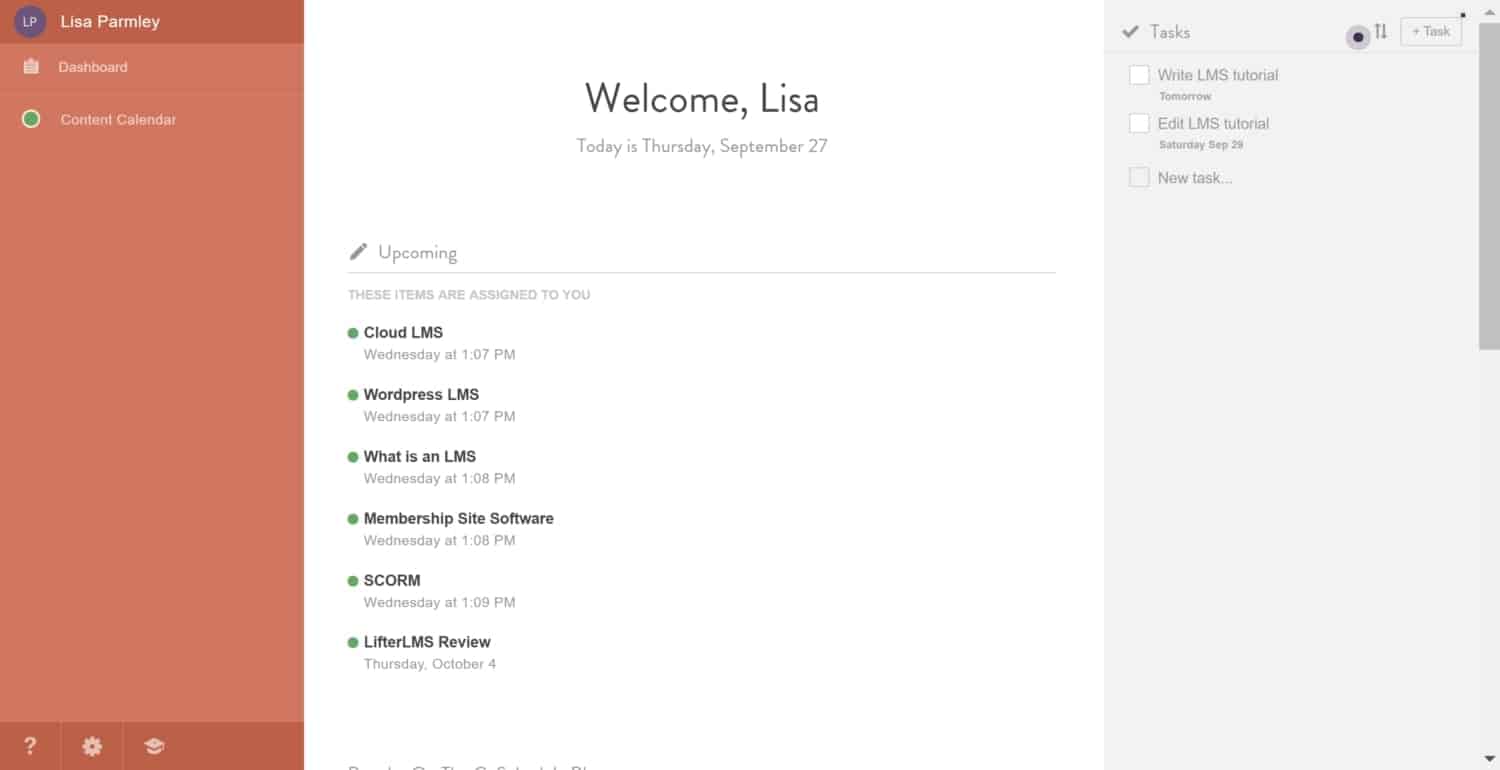 The dashboard also lists tasks you can write out and reorganize over on the right-hand side. After logging into CoSchedule you'll essentially see your to-do list along with upcoming content you need to work on.
I'm finding it very helpful for keeping me organized. I don't currently have another organizational tool, so having it altogether in one app is a nice feature.
Another great thing is that you can also organize your email newsletters and social media posts (and schedule them) all right from the CoSchedule app too.
All your content is together in one application. You don't have to login to WordPress, then login to another tool for social media, then go back to a Word document for your email newsletter. It's all in CoSchedule.
I can write a post, schedule it, create the social media post, schedule it, and plan out my newsletter all from one calendar view.

Social Media Reporting
CoSchedule also offers nice social engagement reports so you can see how your posts are doing on Facebook or wherever you publish them.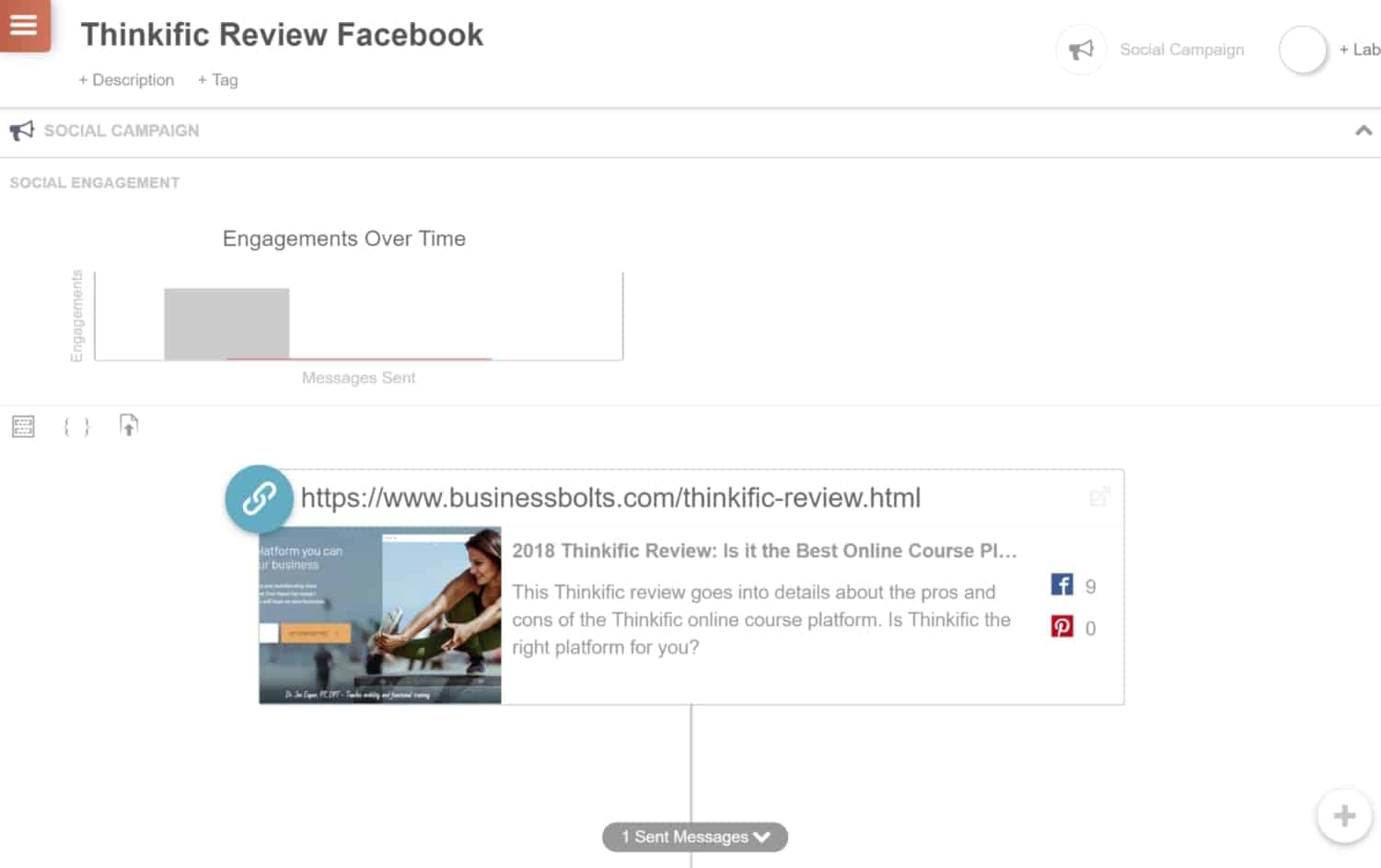 ReQueue
ReQueue is another nice feature of CoSchedule. It takes your social media posts and post them later on (without you having to copy and paste it or re-post it). I haven't started using this tool yet, but I know it'll help me out. I'm terrible at scheduling up social media.
Headline Analyzer
Another tool I really must have now, but had no idea I needed is the Headline Analyzer.
It's not to analyze your headline for SEO. It's to analyze how well it's written as far as whether or not people are going to click on it and ultimately read it. I can admit that I need help with this. I think we can all use help with this unless of course you're already an amazing copywriter.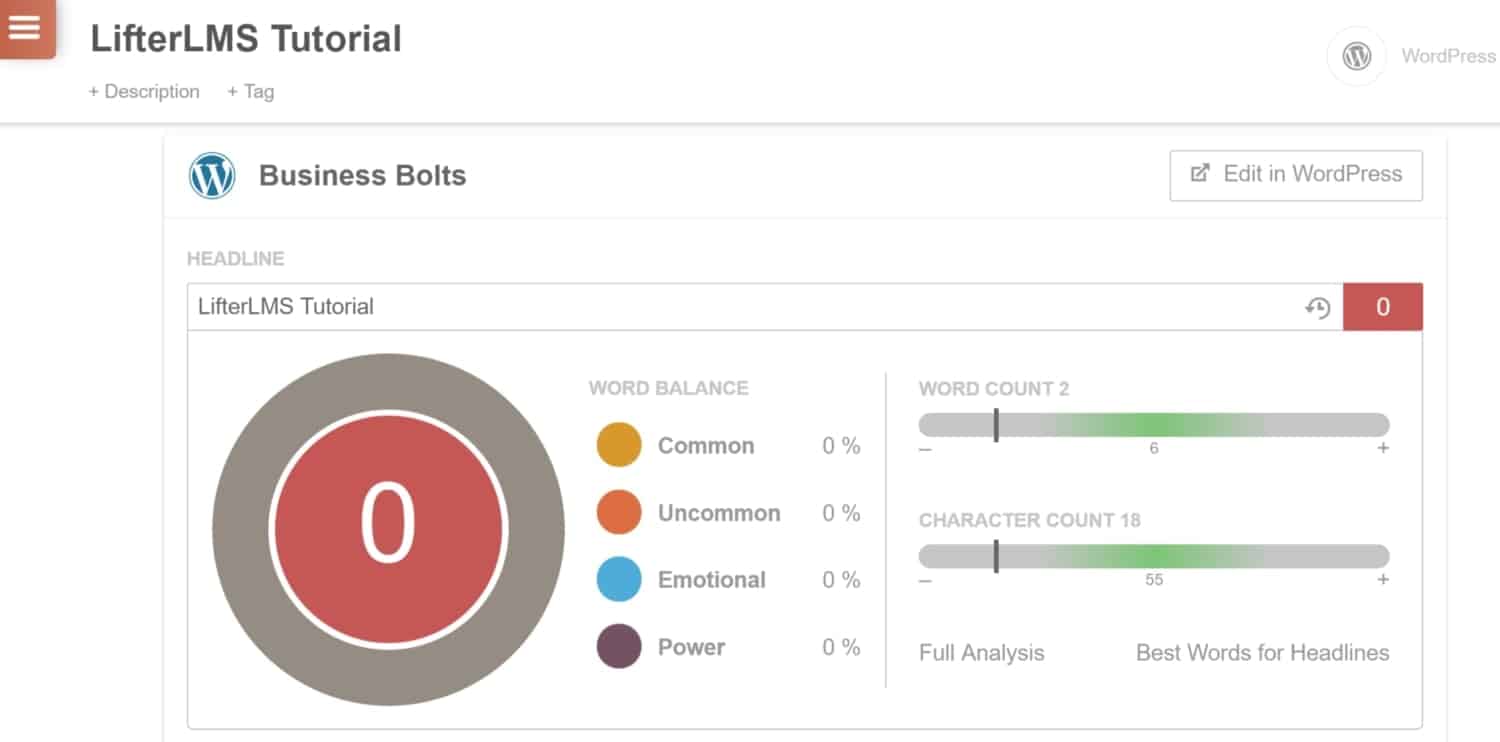 It's a pretty nice feature. As you can see, I've got a very plain headline, 'LifterLMS Tutorial' which scores a zero (and should). The Headline Analyzer helps make these boring, plain headlines into something people will be more likely to click on. Using the Headline Analyzer before I publish anything is part of my workflow.
CoSchedule also has an Email Subject Line Analyzer that I haven't tried out yet. I'm sure I'll start using it though as I write more email newsletters.
I've only started using CoSchedule so I haven't sorted out all the features and how to best use it, but am sure it'll end up saving me a lot of time.
Pricing for CoSchedule
If it's just you then you should look into the CoSchedule Essential plan. It's $49 a month if you pay monthly. This tool is actually like 3 tools in one so although it's another expense, I think it'll be worth it for me.
If you have a team then you'll need to pay for an upgraded plan. These start at $79/month if you're on a recurring monthly plan.
If you want to try it out, they have a 30-day trial that doesn't require a credit card. You'll install it like a plugin on WordPress. You'll also want to login to CoSchedule where you can manage everything.
CoSchedule support is pretty good. I had a few questions and they were answered right away (usually that same day) so I was happy with that.
Overall, I think CoSchedule is worth checking out if you're publishing a lot of content and need help managing it. The best time saving feature for me is being able to import from Evernote and then organizing and scheduling my drafts on a calendar.