The Right Twitter Background for Your Business
Our content is reader supported, which means when you buy from links you click on, we may earn a commission.
---
Your Twitter background may be more important than you realize. Although we've all been told not to judge a book by its cover, people make snap decisions about your business based on your design all the time.
While Twitter does have several default options, including textures and background colors, it's worth your time to set up a custom background.
At the very least you'll want to include a logo and possibly even a little text on the background like what your company does. Give them reasons to visit your website.
It's very easy to customize your background. Here's a quick run-down of how to make the change.
The first step is to create a background as an image. There are hundreds of graphic designers drooling over the idea of having you as a client right now. So you can definitely find someone willing to design one if you cannot create your own.
Guru.com and elance.com are a couple of good places to search for graphic designers.
You can also try searching for 'twitter background design' on any search engine and you'll uncover loads of designers.
High end graphic designers will design all the images for all your social media profiles. That way they can all have the same look and feel even matching that of your main website. Going down that path can cost thousands of dollars so be sure you're serious about your social media platforms before considering it.
If you can work with Adobe Photoshop or Gimp (which is free), then you can create a Twitter background yourself in just a few minutes.
You'll need to create an image 1200 high with a width of 1600. This is a standard Twitter background size that will look good on most standard monitors. The final image should be in gif or jpg format.  My current background looks like this: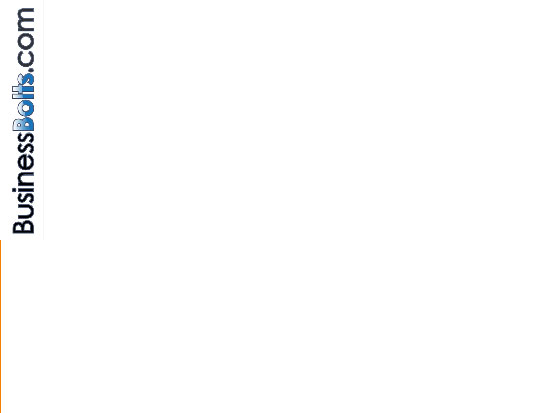 As you can see, it's just image with the right dimensions.
I left my background white and inserted my logo on the left at a 90 degree angle. When you're designing your background keep in mind all you'll really see are the left and right sides because the Twitter page takes up the middle.
You can do something a lot more creative then what I put together, but I've at least got my branding in there.
Once you have your image ready and saved you need to upload it to your Twitter profile.
To do that simple log in.  Then click on the little gear on the top bar:



Click on settings.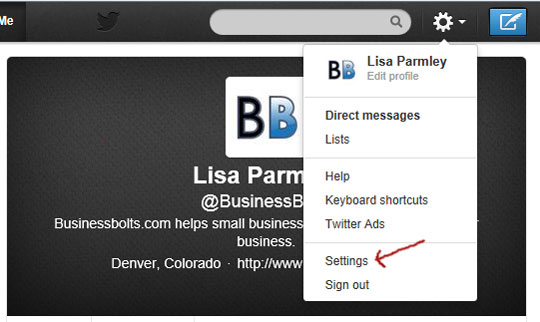 Then click on Design.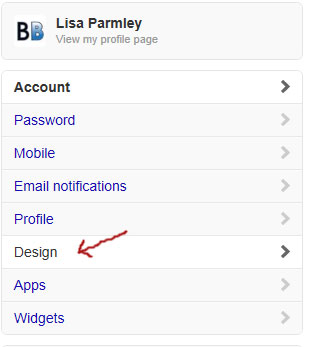 Go down to change background and find the image on your hard-drive.



Then click on it.  I wasn't able to see a preview of the new background like they claim you can. Instead I had to click 'Save changes' and after a few seconds, the background updated.
Also, I had a difficult time getting the background to update unless I was using the Firefox browser. But here's the final result: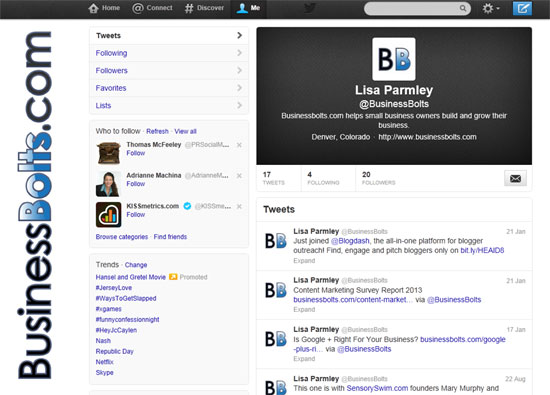 As you can see, my Twitter background is really plain, but at least I've got something unique and it has my branding on it. It won't win an award, but I feel like it's a start and people can identify where they're at when they land on my page, especially if they go from my site to my Twitter platform.
You can't see much of the Twitter background except the sides which move depending on the size of the visitors screen.
Because of that, you may need to try a few backgrounds out before you settle on a final one. I had to make my logo smaller so that it fit completely on the page (the start of the logo was originally cut off by the bottom of my computer screen).
So that's the background. Another thing you can change is the black box.  You can insert an image there too.
To do that you go under Profile: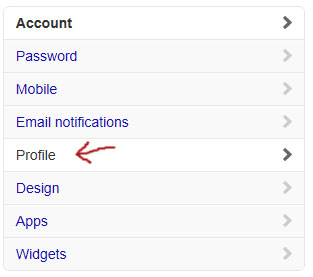 From there click on 'Change header'.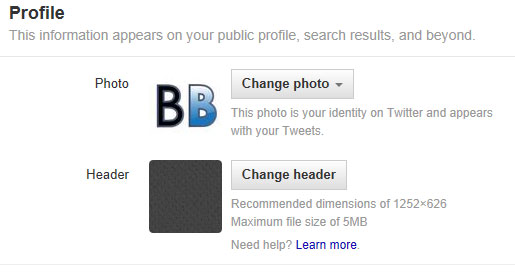 Navigate to the header file on your computer. They recommend that the dimensions of your header are 1252×626. So you'll have to make another image with those dimensions.  Get creative and customize the look and feel of your Twitter page to reflect your business.