Our content is reader supported, which means when you buy from links you click on, we may earn a commission.
---
There's a lot of talk about social media marketing, especially using Twitter. One reason for it's popularity is it's pretty quick and easy to get a Twitter account setup. And businesses are showing it to be an effective method for generating interest.
Many people will say being active on Twitter is an excellent way to gain valuable online visibility. Businesses also use Twitter to enhance their customer service, perform market research and connect with customers and prospective customers.
So there's a number of reasons why you may want to use it. I recently set up a twitter account for BusinessBolts.com. And I put together this quick-start tutorial on how to set up an account on Twitter in case you'd like to get an account set up too.
Setting Up an Account on Twitter
Getting started on Twitter is a snap. Just follow these step-by-step directions.
Visit the Twitter homepage. You'll see a section for new signups. You'll be asked to enter your full name and email address, and you'll be asked to create a password.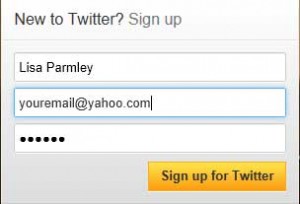 Then on the next screen it'll ask you for your username. The difference between your username and your real name is your 'username' appears in your profile ID. Your 'name' is displayed on your profile page. You might want to play around with this as it is a little confusing.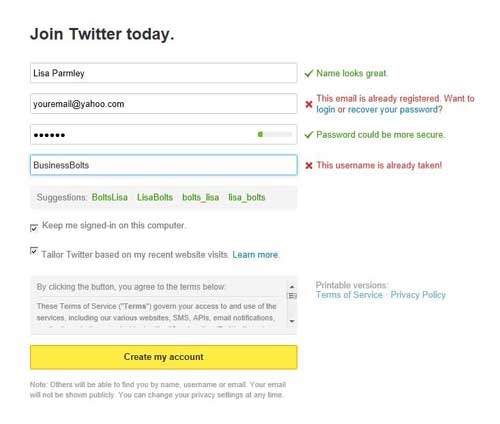 You can use your business name, your website, or your real name for either of these. I currently have my real name, Lisa Parmley for my name and BusinessBolts as my username. It's really up to you. Many people will tell you to use your name for both, but if you're trying to build a brand then I think it makes more sense to go with a business or website name at least as the username.
You'll also have to confirm your email address.
At this point, your account will officially be live.
Back on the Twitter page, you'll be guided through several steps. At any point in the process, you can click the Skip button and do these things later on if you'd like. These steps include uploading a photo and adding contacts. I'll cover more on some of this stuff later in the tutorial.
Once you're through the initial setup phase, click on the sprocket symbol near the top of the page. A drop-down menu will appear. Click on "Settings."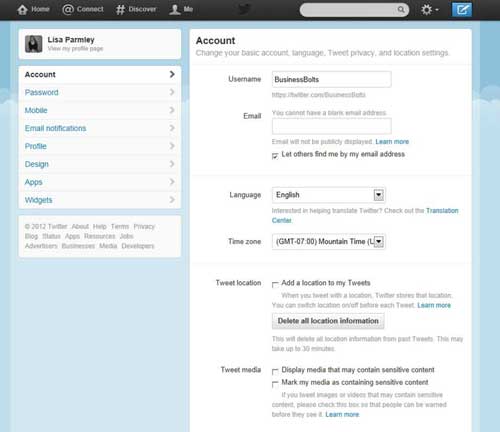 This is where you'll be able to update your time zone, language, location and other settings. You can also choose to protect your tweets. If you're going to market your business though, you don't want to do that. Your tweets need to be available to everyone.
Customizing Your Twitter Profile
Now that the basics are out of the way, you'll need to personalize your Twitter profile. The steps below will help you make your business stand out on this popular social media website.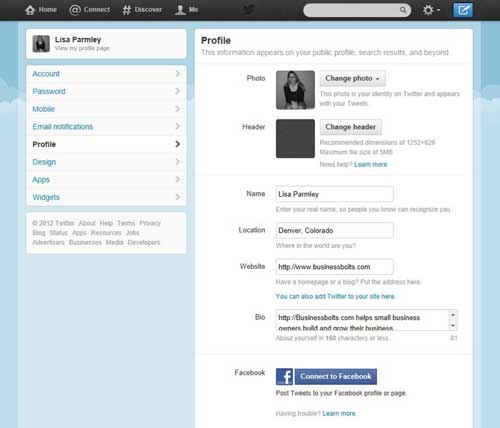 Upload a Photo – Most businesses use their logos as their photos. It's a great idea to do this, but make sure the image of your logo fits. Make sure that it is clear and visually appealing too. You can change it at any time, so don't be too stressed about it.
And if you want to add a personal touch, you can definitely upload a photo of yourself instead of just a corporate logo. The thing with Twitter is that it's all about conversation. I know I'd rather have a conversation with a person than a logo.
Update Your Header – The header is the section of your Twitter profile that surrounds your photo, and it also forms the background for the basic information that you share. It can be updated at any time, so you can skip this step for now.
Change Your Background – As a business, you need to stand out as much as possible on Twitter. Because of that many people will say using a generic background is a big mistake.
The right background can help you enhance your brand in a profound way. To change the background on your profile, click on the Design category in the Settings section. If graphic design is not your thing, it's well worth it to hire someone to create a stylish background for your business. It should mesh well with your logo, and it can include marketing messages, additional contact information and just about anything imaginable. This is something I should do for my BusinessBolts.com Twitter page, but I have done it for other accounts I've got running.
If you're going to get a Twitter background created, just remember to keep it simple. If it's too cluttered, it will detract from the quality of your profile. Here's one that I like.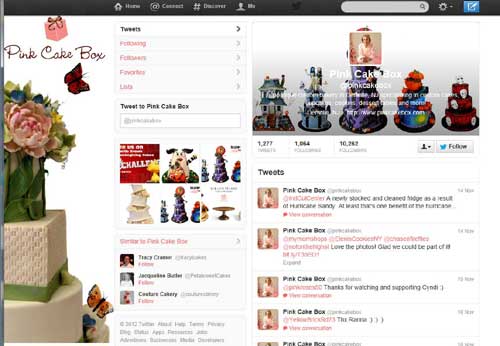 They sell cakes and they have a nice image of a cake on their Twitter page. And they do use their business name as the username and the name here and they're doing well. They have over 10,000 followers so really, however you want to set it up is going to be fine. And you can always change things later on.
Update Your Basic Info – Be careful when updating your basic information. Now is not the time to be cute. For your name, use the official name of your business, your website, or your name. For location, a good rule of thumb is to use the name of your metropolitan area. At least, you should do so if your business is located in a generic suburb and especially if you've got an actual store you hope people will come visit. The website section is self-explanatory; just post the URL of your main website.
Add a Bio – You don't have to post the entire history of your company here. Many businesses post short descriptions of their products and services. Try to use relevant keywords to increase the odds of being found by the right people. You only have 160 characters to work with, so play around with it until you get the right combination.
Connect Your Twitter Account to Your Facebook Account – If you already have a Facebook profile for your business – you can connect it to your Twitter account here. This is convenient because you can share things between the two profiles with ease.
Using Twitter on Your Mobile Device
There are plenty of ways to use Twitter on the go. It's worthwhile because it allows you to stay connected where you are. The easiest way to connect through your smartphone or mobile device is through text messaging.

In the Settings section, click on the Mobile category. After entering your number, a code will be sent to your phone. Just text the code to Twitter at 40404 to activate the service. If you don't have unlimited text messaging, extra fees may apply.
If you use an iPhone, it's even easier to use Twitter while on the go. As long as you have iOS 5 or higher, Twitter is built right into the interface. Just go to the Preferences section on your iPhone and click on the Twitter icon. Once you've set it all up, you'll be able to post to Twitter from a variety of apps on your iPhone.
Following People and Businesses
To get the most out of Twitter, you need to be active on it (something that I'm working on doing for my Businessbolts.com site).
The first step is to start following other Twitter users. One quick and easy way to find people you know is by allowing Twitter to search your contacts. This option is only compatible with Yahoo, AOL, Hotmail and Gmail. If you use a different email service, you won't be able to take advantage of this feature.
But don't stop at connecting with your existing contacts. Use the search feature to find like-minded people and businesses. So you can take it one step further by performing an advanced search.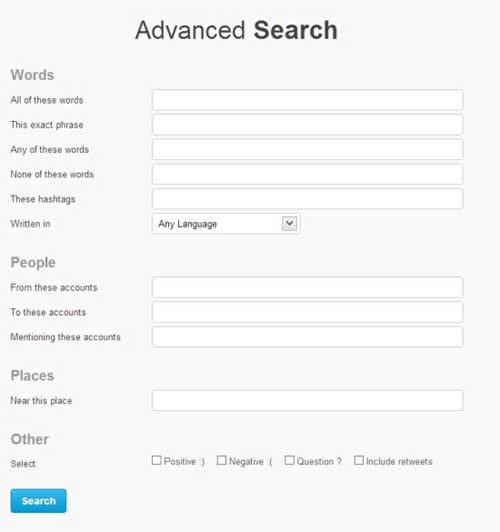 This option will appear after you perform a basic search, and that function is located at the top of the screen. With an advanced search, you can search for exact phrases, posts from certain locations and many other parameters. It's worth it to try to find the leaders in your market on Twitter. Then follow them and add to their conversation.  That will often help get the ball rolling with your own account.
Commands
At first, the various commands that are used on Twitter can be confusing. A quick overview of the most important ones to know are highlighted below.
Update Your Status – This is fairly self-explanatory. The one thing to keep in mind is you're limited to 140 characters. At first, keeping it that brief will be tough (I know it has been for me). Be choosy about the posts you make. Don't spam your followers.
Replies and Mentions – To respond to someone else's tweet, click on the "reply" button and go from there. You can also direct a tweet to a specific user by typing the @ symbol followed directly by the Twitter handle. Do the same thing within a tweet to mention another user.

Direct Messages – Unlike mentions and replies, which are public, a direct message is only seen by the recipient. It's like whispering to someone in a crowded room. Click on the sprocket symbol at the top of the screen and select "Direct Messages" from the list. Type the name of the person to whom you'd like to send a message and go from there.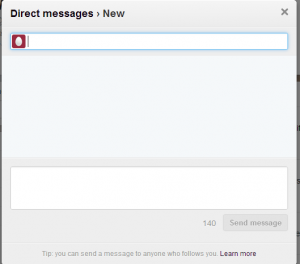 Hashtags

– Hashtags, which are labeled with the # symbol, are a way of categorizing content on Twitter. When you see a tweet with a hashtag that interests you, click on the hashtag. This will open up a list of other tweets that are labeled with that hashtag.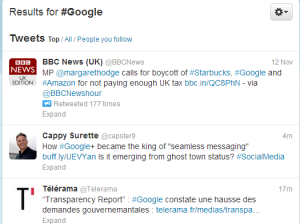 Tips for Branding Your Business
Now that you've set up your Twitter account, customized your profile and connected with other users, it's time to get started.
Set up saved searches for mentions of your company, products and services. Make a point of responding to people who talk about your company, your site, or you. When someone directs a tweet at you, respond promptly.
Keep your company's image in mind at all times. If an exchange becomes heated, for instance, move it over to direct messages so not everyone can see it (unless you don't mind that it's available for all to see).
The most important thing is if you want to try to gain traffic or make connections from Twitter, once you've got it all set up, you're going to have to use it.