On-Site Factors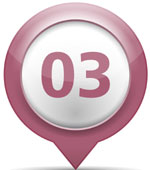 Google supposedly uses about 200 factors to determine which web pages get the top spots.  Out of all these factors, many are strictly on-site factors. We'll cover the known and potential on-site factors in the table below.
Signal Strength Estimates
Along with a short discussion of each onsite factor, we also include a Signal Strength Estimate (and incorporate these into a numerical study later on). Note that this is only an estimate of how much this factor may impact your rankings. The best way to gauge how to optimize your pages is to conduct in-depth research on the pages currently ranking high.  Then model your page based on what you find. Although the signal strengths here are only estimates, this tutorial will help you understand what to look for.
We use the following signal strength indicators: low, medium, and high:
A high signal strength indicates that most of the web pages ranking on page one of the SERPs for that keyword include that component. For example, a title tag is given a high signal strength because most of the pages on the first page of the SERPs for any given keyword will have that keyword in the title.  You can still get a high ranking without that factor, but it will be easier if you include it. This indicator was given a value of 2%.


A medium signal strength indicates that some of the web pages ranking on page one of the SERPs for that keyword include that component. This indicator was given a value of 1%


A low signal strength indicates that the factor is likely considered in the algorithms, but only at a low level. Therefore the impact it has will be very difficult to see. However, these low level factors add up so you don't want to completely ignore factors with a low signal strength. This indicator was given a value of 0.5%.


In addition a few factors show a negative signal strength. A negative signal strength means that the particular factor will work against you. Some of these negative factors result in completely prohibiting your page to rank high. For example, the search engines will not include pages with bad coding. No matter what you do, if your page coded too badly to render correctly, you will not be able to get a high ranking.
Click on the tabs to reveal the specific factors listed under each heading:
URL Optimization
The following on-site factors pertain to your domain name and URL.  While many of these factors will only make a slight difference to your rankings it's worth considering them. If you're just starting out with a new domain name you completely control every aspect of your URL and can set it up to your advantage fairly quickly.
If you have a domain name with web pages already receiving traffic it's usually not worth it to change your URL's.  These factors are not going to make or break your rankings, but they do add a slight benefit.
| | |
| --- | --- |
| Keyword in Domain | Signal Strength: Low |
Including a keyword in your domain name can give you a small boost right off the bat when it comes to ranking for that specific keyword. If you're going to go with a keyword domain as opposed to a branded domain, it's smart to choose a word that's within many other keywords you're targeting.
For example, if you run a site dedicated to helping people get out of debt, including the word debt in your domain name will probably help you rank a little higher for all the keywords you target that have debt within it (for example debt consolidation).
In addition, Google bolds keywords in their search engine results pages. This can increase your click through rate for the search queries that include the keyword within it. 
Lastly, where your keyword is at within the domain name probably makes a small difference too.  Having the keyword at the beginning of the domain name will likely provide the biggest boost.
| | |
| --- | --- |
| Domain Age | Signal Strength: Low |
A domain name that's been around for 10 years will get a slight boost over one that's brand new. Even more than the age of the domain is the number and quality of the backlinks pointing back to it.
| | |
| --- | --- |
| Domain Registration Length | Signal Strength: Low |
The length of registration for the domain name may be a ranking factor used by search engines. The thought is a domain name that's registered for 5 years looks like it belongs to a legitimate business compared to one that's only registered for one year. However, many start-ups only register their domain names for the minimum one-year term so a longer registration probably only results in a tiny advantage (if at all).
| | |
| --- | --- |
| Public WhoIs | Signal Strength: Low |
When you register your domain name you have the option of registering it privately or including your public contact information.  Many spammers register their domains privately so having a private registration can be a sign of hiding your identity. The thought is it's more typical for a legitimate business to use the public whois option.
| | |
| --- | --- |
| URL spamming | Signal Strength: Negative |
Google goes on record in their Quality Rater Guidelines that spammers are more likely to use long URL's with hyphens within them. Therefore you want to consider keeping your full URL shorter rather than dragging it out thinking you'll get a boost in your rankings. A URL like the following is probably too long, too over-optimized, and will likely impact your rankings in a negative way:
www.tvreviews.com/tv-reviews/my-top-5-tv-reviews-of-the year-tv-reviews/
| | |
| --- | --- |
| Keyword in URL | Signal Strength: Medium |
While the above URL goes overboard, including the keyword in the URL somewhere (even if not in the domain name) will likely help increase rankings. Google will also bold the keyword in the URL which means searchers will be more likely to click on it.
| | |
| --- | --- |
| URL Categorization | Signal Strength: Medium |
Having a hierarchy in your URL will help boost your rankings (even if only by a slight amount). For example, if you've got a category for blue widgets then including that category name (or a part of it) in your URL makes sense:
www.widgets.com/blue/bluebird-app/
| | |
| --- | --- |
| Total Impact of URL Optimization | 4% |
Based on an assessment assigning numbers to the estimated signal strength, you might expect to see 4% of your total ranking factor based on URL optimization.
Web Page Optimization
Web page optimization or page-level optimization deals with the specific page you are trying to get high rankings for. You're in complete control over all these factors anytime you create a new page for your site. Additionally, any of these factors can be changed on an already existing page.
| | |
| --- | --- |
| Title Tag | Signal Strength: High |
One important and easy to implement on-site technique is the inclusion of a title tag in your web page. Title tags are special snippets of code that are included before the body content of your site containing information about the page title. This tag is commonly shown on most web browsers, and it provides valuable information to the search engine crawlers that determine which search terms to display your site for.
The title tag goes within your HTML code and is structured like this:
<Title>Insert your title here</Title>
For search engine optimization purposes, it's important to include your page's main target keyword or keyphrase in the title.
The title tag is a strong ranking signal. You'll want to include a keyword within your title tag.  In addition, title tags starting with a keyword may get an additional boost in the rankings.
| | |
| --- | --- |
| Keyword in Meta Tags | Signal Strength: Low |
Meta tags are snippets of code you can include within your web pages to provide the search engines with more information on what your site is about. Visitors to your webpage won't be able to see this information, but the search engine crawlers that scour your site will appreciate the tip off.
Keyword Meta Tags
Keyword meta tags are not recommended. Google states they do not use them because spammers were abusing them in the past.
If you're going to include a keyword meta tag anyway, know that a good keyword tag includes no more than 2 keyphrases that are relevant to your page. Stuffing this tag full of 50 keywords won't help you rank for more keywords. Be sure any keywords you choose to include in this tag are actually used on the page.
Meta Description Tags
Many sites also make use of description meta tags – although many SEO experts disagree about whether they actually contribute to your site's SEO. At the very least, meta description tags can help you control the paragraph of text that will be displayed below your site's name in some of the search results pages. Description meta tags are structured like this:
<meta name="description" content="Meta Description Here">
| | |
| --- | --- |
| Keyword in H Tags | Signal Strength: High |
Head tags include your heading and subheadings. Including your major keywords in heading and subheading tags is a great way to label your pages for your keyphrases.
Using head tags on your pages is simple – wrap it in a heading tag structured like this:
<h1>This is heading 1</h1>

< h2>This is heading 2</h2>

< h3>This is heading 3</h3>

< h4>This is heading 4</h4>

< h5>This is heading 5</h5>

< h6>This is heading 6</h6>
There are six different heading sizes – h1, h2, h3, h4, h5 and h6. The top heading of your page should be wrapped in h1 tags and should include a keyphrase you're trying to target on the page.
Anymore, your page can be considered over-optimized if you use all 6 of these heading tags. If you're going to do so make sure you target different keyphrases in each tag (instead of trying to stuff the same one in each). Depending on how you've created your site, these h tags may be a part of your design.
Again, it's important not to over-optimize any of these on-site factors. Google and other search engines are more sophisticated at determining what looks natural and what does not. You can actually see a lowering of your rankings if you go over-board and stuff keywords in every chance you get.
By using 'heading tags' you can call attention to the text used in the subheading, both for your reader and the search engines. Content that is broken up with subheadings is generally perceived as higher quality than content without provided the subheadings are useful and not over-optimized.
| | |
| --- | --- |
| Keyword Density | Signal Strength: High |
The number of times the target keyword appears on the page compared to the total word count on the page is a relevancy factor.  We conducted a study that looked at the keyword density of top ranking pages and it was well under 1%. This shows you don't  need to stuff keywords into your content.
| | |
| --- | --- |
| Keyword Prominence | Signal Strength: Low |
Keyword prominence refers to the position within the content where the keyword is located. It's possible having a keyword within the beginning of the content results in a stronger relevancy signal.
| | |
| --- | --- |
| Keyword Order and Extra Words | Signal Strength: Medium |
This refers to whether or not the keyword is written out exactly as the searcher typed it in their search query, or if the words are shuffled in a different order or include additional words. Having the keyword in the content exactly as the searcher typed it is a relevancy signal.
| | |
| --- | --- |
| Age of the Page | Signal Strength: Low |
An older page that is updated regularly may have a slight advantage over a new page in the search engine rankings.
| | |
| --- | --- |
| Ad Layout | Signal Strength: Medium |
A page layout where the content is the priority will likely receive higher rankings than a page full of ads above-the-fold. Google factors ad layout into their algorithms.
| | |
| --- | --- |
| Bounce Rate | Signal Strength: Medium |
The bounce rate is the measure of visitors who click off the site after they land on a page. 
In part, this rate tallies up the number of visitors who hit the back button immediately after landing on the site because they want to keep looking in the results for something better.
| | |
| --- | --- |
| Time on Site | Signal Strength: Medium |
Web pages that visitors spend more time on are given preferential treatment in the search engine rankings. Time on site is an indicator of how long the average visitor stays on your page.
| | |
| --- | --- |
| Google+ Authorship | Signal Strength: Medium |
Whether or not the content is claimed by a Google + profile and verified through their authorship program may have an impact on rankings.
| | |
| --- | --- |
| Page Loading Time | Signal Strength: Medium |
Google has gone on record stating that page loading time is a ranking factor. It's worth taking note of how long it takes for your page to load and work on increasing its speed.
This factor probably operates on a sliding scale meaning if it takes over a certain amount of time (like over 10 seconds) for your page to load then it will be a huge factor and you will not be able to get high rankings no matter what you do to the page (other than speeding it up).  But if it falls within a reasonable range (like under 2 seconds) then the impact is probably minimal.  A faster page speed by 0.0001 seconds will not really impact your rankings much to speak of. This factor likely does not have any impact except at the extremes. Page loading time will impact your conversion rates in addition to your rankings so it's worth paying attention to.
| | |
| --- | --- |
| Internal Links | Signal Strength: High |
How well a web page is interlinked to from within the site it resides on is a relevancy signal.  The quantity of the internal links and anchor text play a role.
Anchor text is an important factor to consider. Specifically, anchor text refers to the linked text that's displayed in place of a web address – it's the text you click on to be taken to a new web page.
Anchor text can be used in both internal and external links – and it's important to focus on both of these elements as part of your linking strategy.
Internal links are those that connect separate pages on your website. In this instance, you can use anchor text on the links that connect your home page to an article that's posted on your site. The navigation links on your web pages are also internal links.
Why is it so important to use descriptive anchor text instead of just using the words 'click here'? For one, using anchor text gives visitors more information on the benefit of clicking on your link and through to your site.
Second, using anchor text that includes your target keywords can help your rankings on the major search engines (especially for the exact keywords you use in the anchor text).
| | |
| --- | --- |
| Over-Optimization | Signal Strength: Negative |
Low quality sites are often very heavily over-optimized. In these instances, the webmaster will usually just find a keyphrase they'd like to rank high for and every article on the site will have that keyphrase within it.
You do want to optimize your articles for keyphrases, but you can definitely get carried away.  In this example, these four articles were the only articles on the entire site.  And as you can see, each one targets the phrase, 'white TV stand'.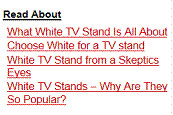 Here's another example.  This one shows a full article: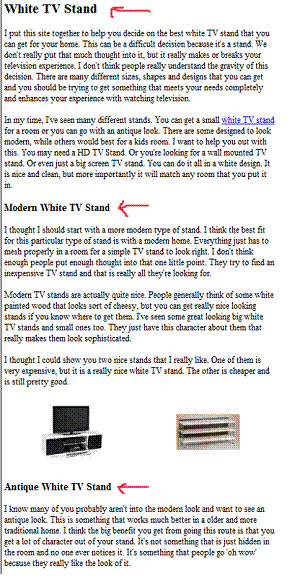 As you can see, every subheading has the words, 'white TV stand' within it. It's a little over-done. 
Sometimes sites will also have a lot of the same keyphrase repeated over and over again throughout the content. Or they'll bold those words everywhere they can on the page.
This is likely worked into Google's algorithms as a sign of lower quality just because it's a common SEO ploy.  You want to avoid over-optimizing your pages. Someone who doesn't know anything about SEO and just wants to put out good content is going to write more naturally than someone who's obsessed with high rankings.
You can be obsessed, just don't let on that you're obsessed.
| | |
| --- | --- |
| Total Impact of Page Level Elements | 15.5% |
Based on an assessment assigning numbers to the estimated signal strength, these page-level elements altogether may account for around 15.5% of your ranking factors.
Content Quality
These ranking factors revolve around the quality of your content.  There are certain signals that help indicate higher quality content versus lower quality content. This list includes just a few of the main on-site content quality signals. Your off-site optimization or link building will also influence your quality 'score'.
| | |
| --- | --- |
| Length of Content | Signal Strength: Medium |
Generally speaking, longer content (up to a point) is perceived as more comprehensive and potentially more useful than shorter content.  However this is not always true. You have to think about your reader. Many would prefer to only spend as long as necessary to understand a topic. When we ran a study on on-site factors, the average length of high ranking web pages was right around 1,000 words.  It's also probably important not to have every piece of content the same length on every page of your site.
| | |
| --- | --- |
| Related Keywords in Content | Signal Strength: Medium |
Including related keywords within your content helps keep you from over-optimizing your page and may give your web page a boost. Think of using related keywords as a way to support the idea that your page really covers the topic you claim it covers.
| | |
| --- | --- |
| Image Optimization | Signal Strength: Medium |
A page with relevant images is probably seen as more valuable than one without. The only way the search engines can determine the relevance of the image is if you include descriptive 'alt tags' and proper file names.
| | |
| --- | --- |
| Updated Content | Signal Strength: Medium |
Google often shows the date a page was last updated in their search engine results pages. For many searches, a more recently updated web page will receive a slight boost in the rankings.
| | |
| --- | --- |
| Linking Out to Authority Sites | Signal Strength: Medium |
Linking out to other sites has been long considered valuable for high rankings. That's because citing relevant sources is important for generating trust.  The search engines most certainly consider the theme of the sites you link out to and their level of authority.
| | |
| --- | --- |
| Grammar & Spelling | Signal Strength: High |
Taking the time to perfect the grammar of your content will pay off. Search engines can detect many grammatical and spelling errors and certainly factor them into their relevancy signals.
| | |
| --- | --- |
| Multimedia | Signal Strength: Medium |
It's possible the search engines give higher rankings to pages that incorporate multimedia components within them as this often serves as a sign of quality content. This includes audio and video content.
| | |
| --- | --- |
| Well Formatted Content | Signal Strength: High |
Search engine algorithms can see how or if your content is formatted by scanning the source code of your webpage.  If you just copy and paste an article on your site and add in no formatting you'll probably 'look' less like a high quality site than if you took a little more time and care. Here's an example of a nicely formatted page: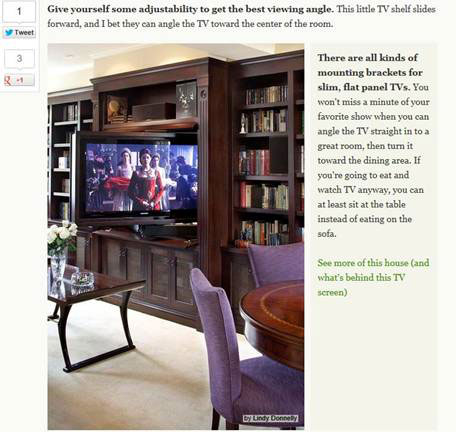 Incorporating graphical elements like the call-out box above really doesn't take a whole lot of extra time, and it helps break your content up, making it easier for visitors to read.

Here's another example that shows nicely formatted areas where you click on the 'open' tab to open a text box: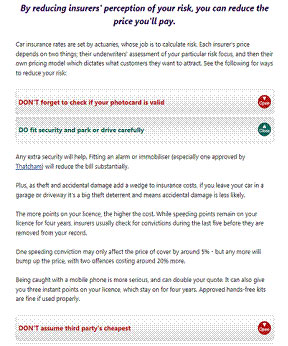 This is a great way to organize your content if you've got a lot of text on a single page.  That way your visitors aren't hit with a huge, scrolling block of text, but can pick and choose what they want to read by clicking on the 'open' icons. 

And here's yet another screenshot that shows formatted boxes: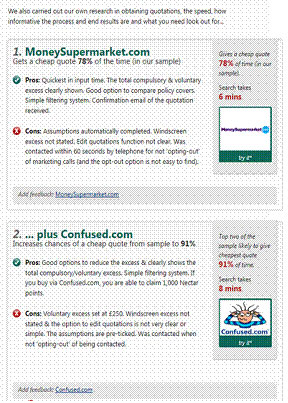 Notice how each number has its own box. The headlines are different colors and icons are included next to the pros and cons text.

It's worthwhile to spend more time formatting your content rather than just copying and pasting it onto your site. These are definitely elements a computer algorithm can see and would likely take into consideration when searching for 'higher quality sites'.
| | |
| --- | --- |
| User Interaction | Signal Strength: Medium |
Including the type of content that stimulates discussion may be factored into the algorithms.  If you've ever run a Wordpress blog you know Wordpress can pick up on what it thinks are the spam comments with plugins (if you look around there are a few that are fairly advanced).  Google can likely do the same just by looking for the words typically found in spam comments (like 'nice site').  Spam comments are very generic. So if you're going to allow comments, make sure not to bother allowing those that you think are spam.
| | |
| --- | --- |
| Total Impact of Content Quality Elements | 11% |
Based on an assessment assigning numbers to the estimated signal strength, content quality elements may account for around 11% of your ranking factors.
Web Site Optimization
In addition to optimizing each page on your site, you can also optimize your site as a whole. This is referred to as site-level optimization or website optimization. Site-level optimization is less time consuming because each factor impacts your site as a whole and generally, each factor only needs to be addressed one time.
| | |
| --- | --- |
| Site Speed | Signal Strength: Medium |
The overall speed of a site is likely considered in addition to a specific web page's loading time. Faster loading sites have the advantage.
| | |
| --- | --- |
| Themed Categories | Signal Strength: Medium |
Sites with organized categories may receive a slight edge in the search engines over those without.
| | |
| --- | --- |
| Contact Us Page | Signal Strength: Low |
A website needs to provide contact information including a contact email address at the very least.
| | |
| --- | --- |
| About Us Page | Signal Strength: Medium |
Search engines can scan your site to determine if you have an about us page on your site and they've likely got some ideas (or patterns as the algorithm sees it) in mind for what a high quality site's 'about us' page looks like (for starters that there is one and it's more than a couple of sentences in length).
| | |
| --- | --- |
| Related Content on Site | Signal Strength: Medium |
If you're trying to rank high for mind-mapping software yet you only have one page on your site dealing with this topic then you may have a harder time getting top rankings. For a more general topic you could have 10, or even 100's of web pages covering different aspects of the topic and providing additional value to your visitors.
| | |
| --- | --- |
| Number of Pages | Signal Strength: Medium |
Here's one of the previous screenshots showing an entire site that only had 4 articles on it.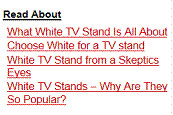 And again, each article is all about white TV stands.

The webmaster would have done better to cover more topics related to TV's like other color TV stands (not just white), wood ones, metal ones, an article on how to mount your flat-screen TV, and one on the best places to put your TV. 

You don't have to or need to have 100's of articles on your site, but it's a good idea to have comprehensive, substantial information on your topic.  It's important to include enough content (and a wide enough variety of content) to look like a valuable resource for that topic and closely related topics. 

You can always start small and add to your site, but you want to avoid looking like a webmaster that used keyword tools to find a 'perfect low competition, high search volume' keyphrase who then did everything they could to rank high for only that keyphrase. This strategy will backfire on you.
| | |
| --- | --- |
| Server Uptime | Signal Strength: High |
Just like they don't want to show their visitors web pages that load too slowly, search engines don't want to rank sites that are continuously down. Visitors will have a poor experience if they land on web pages that cannot be accessed.  It's important to find a reliable web host and keep your site online.
| | |
| --- | --- |
| Sitemap | Signal Strength: Low |
Having a sitemap may help your rankings. Even more important is a linking structure where all your pages are interconnected. 
| | |
| --- | --- |
| Site Structure | Signal Strength: High |
Sites with a clear structure to them including categories or higher level organization may receive higher rankings than those that don't.
| | |
| --- | --- |
| Legal Pages | Signal Strength: Low |
All sites should have a current 'terms of use' and 'privacy policy' that reflects purpose of the site. 
| | |
| --- | --- |
| Navigation Usability | Signal Strength: High |
Clear and easy to use navigation menus are crucial for the usability of a website. For instance, breadcrumbs help users know where they're at on a site and are recommended for larger sites.  Having a well thought-out navigation structure is important.
| | |
| --- | --- |
| Mobile Optimized | Signal Strength: Medium |
At the very least, a mobile responsive site may see a benefit when searches are performed from a mobile device. It's best if your site displays well across any browser or device. The search engines likely consider mobile optimization in their algorithms as mobile optimization is growing in popularity.
| | |
| --- | --- |
| Broken Links | Signal Strength: Negative |
A site full of broken links indicates that the site is not well maintained. This is certainly a negative relevancy signal for the search engines. Broken links are also not well received by visitors.
| | |
| --- | --- |
| Bad Coding | Signal Strength: Negative |
Sites with bad code throughout the web pages (especially code that does not render across different browsers or devices) will not rank as high. Search engines want to show web pages that work well and can be viewed by the majority of its visitors.
| | |
| --- | --- |
| Total Impact of Site Level Elements | 13.5% |
Based on an assessment assigning numbers to the estimated signal strength, site level elements may account for around 13.5% of your ranking factors.
Here are a couple of case studies from small business owners who've used on-site optimization principles to see their rankings increase:

My website does well in search for the keyword [pedestrian]. "Pedestrian" appears in the page title and description, the metadata, and frequently in the text, image alt-text, and embedded videos. However, it is used in a natural manner, and not repeated for the sake of repetition.

Individual pages do well for combinations of keywords by specializing on a topic. Some that give good results on my website:
Sidewalk Obstruction
Retrofit Sidewalk
Sidewalk Setback
Pedestrian Bridge

If I want to do well with additional keyword combinations, I would add a new page to my website rich in content related to that keyword combination.
While site design and incorporating keywords are important, my results are not just from the use of keywords, but also from having content that is interesting enough that I have organically accumulated backlinks over the years.

- John Z Wetmore, Producer of "Perils For Pedestrians" Television



Despite having links to my site, I discovered SEO was more than just having links in and keywords from the keyword list on my website. It was about the text on the website. I made changes and within weeks went from not showing up in keyword searches (we're talking not even on page 20) to coming up on the pages 6- 7. Eventually these changes, along with the links in to my website, earned DinerWear® a position on the first page of searches. Visits more than doubled, page views almost tripled, and sales grew by 250% from $16,000 in 2012 to $65,000 in 2013, with sales from as far away as Australia.

- Kathy Steck, Owner of DinerWear LLC



Breaking Down the Factors
All these factors together combined with promotional efforts through link building will determine where you rank in the search engines for any given keyword. That's why it's so important to understand what the search engines look at and incorporate those elements into your web pages.
When a numeric value is assigned for signal strength (0.5%, 1%, and 2%) and all the estimates are tallied up, the total impact from on-site optimization equals 44%. That means on-site optimization, which you're in direct control of, may impact nearly half of your rankings. So it's worth the time to get this right.
As you can see from the list above, most of the factors were given a low signal strength. In fact 5 x as many factors are classified at the low signal strength level. That means you have to work at this. There is no easy fix. Taking the time to incorporate these factors into your optimization efforts will pay off.  Everyone does the big things, but with more effort on the smaller things you can get a higher ranking without having to build massive amounts of links.
Here's a graph that shows the results of the 4 on-site segments (URL optimization, page optimization, content quality, site optimization) plotted against off-site optimization estimates:
| | | |
| --- | --- | --- |
| Keep in mind all this is estimated. No one knows exactly which factors search engines use in their algorithms or to the extent they use them. This is estimated from my experience and research and gives you an idea of what the search engines probably look at and the signal strength of each factor. | | Furthermore, you may need elements from each segment. That means if you had the perfect on-site optimization for a particular keyword (which would be 44% from the chart), then you may still not beat another site with a total of 44% drawn from each segment. Scores from each segment are probably necessary. |
We'll discuss off-site optimization (also known as link building) in the next section.

| | | | |
| --- | --- | --- | --- |
| Review the rest of the SEO Tutorial: | | | |