Science or Art?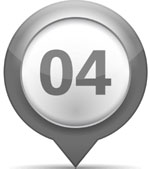 Link building is hardly a precise science. There are a number of factors the search engines take into account when measuring the strength of the backlinks to your site. These include the following:
The number of links.
The quality of the site the link is on.
The link profile of the site linking back to yours.
The anchor text of the links.
The link profile of your web page.
The link profile of your entire site.
In addition, search engine algorithms change frequently, so the factors they give weight to now could change without warning. It's definitely safe to say that building backlinks from quality sites is a sound strategy when it comes to search engine optimization, now and in the foreseeable future.
Getting Links That Matter
Link building is traditionally an activity webmasters and SEO's spend a lot of time on.
Since it's no secret Google uses the links coming back to a site as a ranking factor, many site owners actively build links to their web pages with the sole purpose of making them look more popular (i.e. manufacturing links instead of those given based on the merit of a site).
Most manufactured link building worked great until the Google Penguin update (which was officially rolled out on April 24, 2012). At the very least, this update targeted over-optimization with anchor text in the links leading back to a site. It's been refined since then and I suspect it targets low quality manufactured links regardless of the anchor text of the link.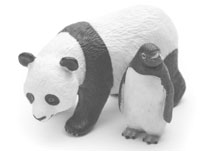 Once this algorithm hit, a lot of manufactured link building went out the window.
Since link building is not the most fun way to spend your time, it's important to know what's going to have the biggest impact on your site (now and next year). And what's going to actually result in an increase to your rankings.
Although they're harder to get, the best links are those given by real webmasters who want to point out a page on your site. The best way to get real webmasters to link to you is by offering something useful and valuable on your web pages and then sharing it with them.
While valuable content is going to help you out, it's not enough by itself. You also need to optimize your content for the keyphrases people are actually searching for (as shown in our on-site optimization tutorial) and you also need to promote it.

White Hat or Black Hat Links
People refer to link building or even SEO in general as white hat or black hat. White hat means the particular tactic is OK to do and black hat means Google and other search engines frown upon it.
In many cases black hat link building can lead to a lowering of your site's rankings.
The people behind the search engines don't like it when you upset the truth behind links (which can be compared to votes). In a sense, you're manipulate their rankings by manufacturing links that weren't given based on merit.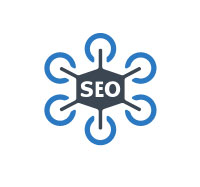 If you're trying to get high rankings in the search engines, you need to consider your link building strategy as it will have a major impact on your rankings. 
However, there are many SEO blogs, videos, link building services, articles, and link building training courses online that do not touch on the quality aspect of link building. Most of the discussion is focused on link building as though sheer volume is the only consideration.
You can find dozens of ideas for building links, but many of those link building opportunities actually result in a lowering of your rankings. So it's important to understand the fundamentals behind why you're building links and consider what will help elevate your site in the search engine results pages for the long term.

Linking Penalties
To make it clear, you can see negative consequences from building black hat links. These negative consequences come in the form of penalties. Penalties may be manual or algorithmic.
Manual Penalties

Manual penalties are those placed against your site from a member of the search engine's web spam team. You can receive a manual penalty due to on-site optimization strategies in addition to black hat link building.

In order to overcome a manual penalty, you'll need to identify the issue, fix it, and send in a request for reconsideration. 

Algorithmic Penalties

Algorithmic penalties are those that occur as a result of an algorithm. There's no manual intervention. Typically, you'll know your site is under an algorithmic penalty because you'll see a decrease in your rankings at the same time an algorithm update occurred.  Penguin is the name of the algorithm that currently relates to algorithm-based penalties for building low quality links. 

In order to overcome an algorithmic penalty, you'll need to fix the issue (by removing the low quality links). Once fixed your site should overcome the penalty without the filing of a request for reconsideration, but it may take a few weeks.
| | |
| --- | --- |
| Keep in mind, anytime you remove links that were originally pointing to your site and helped it rank higher, when the penalty is removed, your site won't regain its original rankings.  It will likely come back at a lower position. You'll have to build higher quality links in order to regain it's original rankings. | |
As you can see, penalties due to your linking strategy can be time consuming to overcome. It's important to consider the potential problems you can see from black hat link building right from the start because these are very real factors that may have an impact on your business income (and your livelihood) in the future. Determining how much traffic you're getting from SEO and how much of that traffic you're willing to risk is smart.
The best long-term strategy is to focus on getting real links back to your site. That plus unique, highly useful content based around keywords people actually search for and thoughtful on-site optimization will get you far.

Link Categories
As mentioned, there are different types of links you can build. The table below includes an outline along with the risks and advantages of each type. That way you can approach link building with an educated background and make your own choices.
Here is the link building categorization system created and used within the InlineSEO System. All links fit into one of these three categories:
Real links
Hidden links
Forced links
Click on the tabs below to see a detailed description of each link type as well as a few examples:
Real Links

A real link is one where you don't control the site that links to you. The site that links back to you is owned by a random webmaster who wants to call attention to your site.
These are the best links you can get. They are often called natural links, but that term suggests they just happen naturally. I don't really like that description because you can (and should) instigate these.
You'll miss out on a lot of opportunities if you just sit around waiting for someone to notice your site and link to it. Creating valuable content is one thing, but even that doesn't attract links if you don't bother to promote it. The problem is without promotion no one can find it. If no one can find it, then no one will link to it.
You'll see the best results if you bring attention to your site by contacting webmasters, networking, and getting your content out there in front of others who may link to it (through an email newsletter, social media, and other methods).
Real links are the best kinds of links you can get. They are links that Google and other search engines actually want to count when considering how to rank your content. They should always influence your site's rankings in a positive way.
These are whitehat links.
The best & easiest types of sites to get links from include:
Sites in your industry or market.
Sites linking back to your competitors.
Chamber of commerce or other business and industry sites.
Libraries with links pages.
Schools with links pages.
Articles with lists that you could be included in.
Hidden Links

The next type of links are what I call Hidden links.
With a hidden link the idea is you want the link to look like a real link. So although you actually control the site giving you the link, you hide that fact.
You make it look like a real webmaster or real visitor liked your content and linked to it.  The main element behind making this tactic work is to not disclose the fact that you own (or have any control of) the site or web page that's linking to yours.
Sometimes you can go to great lengths to hide that fact and be pretty successful at it.
Hidden links include the following tactics:
Mass bookmarking of your own web pages.
Mass 'liking' or sharing of your own pages.
Building your own link network (or blog network) to link back to web pages on your main site (or other sites that will in turn link back to your main site).
Using web 2.0 sites to link back to web pages on your main site (or other sites that will in turn link back to your main site).
Paying other website owners to link back to your web pages.
Again, you can successfully use these methods if you are able to hide the fact that you control or have any influence of the site or page where your link is.
This is definitely considered blackhat link building. Be aware of that fact if you're going to build hidden links. If you don't do a good job hiding the fact that you own or are in control of the pages your links are on you can see consequences. These consequences include an immediate lowering of your rankings or one that happens in the future when it's uncovered that you do control the pages your links are on. 
Here's how you can be uncovered:
An update to a search engine algorithm provides better data about the identity of who controls the web pages your links are on.
A member of the web spam team uncovers the hidden (black hat) link building activities.
A competitor reports your link building activities to the search engine.
You'll be more likely to keep your high rankings if the pages on your site are actually useful (this is true no matter what type of link building you engage in).  That's because if you have low quality content ranking high due to hidden links, it's only a matter of time before the web spam team or a competitor investigates how you got that content to rank so high. 
With this tactic, not only do you need to be concerned about hiding the fact that you control the page your link is on, but you need to build up a positive backlink profile to the page you control that's linking back to you.  So there's a lot of work involved with this. In the end, you'll probably save time just building real links back to your site than by manufacturing hidden links.
Forced Links

With forced links, you don't control the site that links to you, but the site gives out links and they'll give you a link if you meet their requirements.
This may include article directories where you can submit an article with a link in the resource box, guest posting opportunities, web directories, and press release sites.
There are many more forced linking tactics. You often get to decide what anchor text to use in the link. While you usually don't control the site, you may control certain things about the link.
This is where the most changes have been made to Google's algorithm and where I suspect the focus will be on future updates. While this type of link building was never what Google wanted webmasters to be doing, things that used to work are no longer working and are in fact now causing problems. 
However, there are forced linking tactics that can bring you traffic. But these aren't really tactics you do to build links, they're traffic generation tactics.
This might include finding a site in your industry and writing a good article for them. Then getting a link back to your site which will lead to direct traffic for you.
Before I get into this I need to quickly describe what a nofollow and a dofollow link are. 
When you're linking out or getting a link back to your site you can choose to insert a no follow tag into the link. It looks like this:
So the complete link will be like this:
<a href="http://www.mysite.com/" rel="nofollow">Anchor Text</a>
Google has stated that PageRank does not get passed through nofollow links. So if you have that nofollow code in there it's not going to impact your rankings.
You will not be able to build links just for the sake of building links with these forced linking tactics at this point if you want to stay on the whitehat side of things.
Unless you've got the nofollow tag in there forced links can be considered blackhat links and a manipulation of the Google algorithms. 
Forced links can include the following:
Links in the resource box of guest posts
Links in the resource box of articles submitted to article directories
Links in press releases
Links from general web directories. These include infographic directories too.
Blog comment links (most blogs make the links from commenter's no follow by default)
Links from audio sharing sites
Software submissions
Blog commenting
Forum signature files
A small amount of forced link building is probably not going to cause a problem. Again, many of these tactics will bring you traffic and should not be avoided. If you're looking for traffic you can easily add the 'no follow' tag to most of these links and they will no longer impact you negatively. 
However, if your backlink profile consists of a high number of forced links you can see a manual or an algorithmic penalty that will not be lifted until you either tip the scales with more real links or remove the forced links from your backlink profile.

Link Profile
Your backlink profile is made up of the web pages linking back to your site.  This backlink profile says a lot about your site and is used by the search engines to help them figure out where to rank your pages.
For instance, if the only sites linking back to yours are web directories that anyone can get a link from, then it says you might not have the greatest content. Why? Because none of your links were given because you have something of interest on your pages. They were all manufactured by you in order to look more popular.  This is exactly what Google is penalizing sites for. 

Alternately, if your backlink profile is made up of links from highly authoritative sites in your industry then it can be inferred that you must have something worth linking to on your pages. This useful element might include useful content, tools, or a valuable product or service.
It's important to realize that it's not just the volume of links pointing back to your site, but the quality.  Your link profile will help determine your rankings. So it's very important to consider how you want your site to be viewed by the search engines. They can't read your content like a human visitor can. Therefore, much of the heavy lifting is done by checking out your backlinks and seeing who links to your site.
You can review your link profile by checking your backlinks with a backlink tool.  These include Google Webmaster Tools, LinkDiagnosis.com, or a paid tool (like ahrefs.com).



Once you uncover who links to you (or a competitor if you're doing a competitive analysis), then checkout the list of sites within your profile. It's easy to determine whether a link fits into the real or forced link building categories. Ideally, most of the links pointing back to your site will be real links or those with the nofollow tag within them.
Most good backlink tools will include information about the nofollow tag for you in their analysis.
A site with high numbers of real links pointing back to it stands the best chance of getting high rankings for the keywords the pages are optimized for over the long-term as indicated in the case study below:

In January 2013, Jay Suites decided to introduce a long-term SEO program with the goal of improving its rankings. Rather than repeatedly tweaking the site's code, we began a wide-reaching link-building effort: offering opinions to journalists writing stories about our areas of expertise; guest-posting on blogs covering relevant topics; encouraging many of our high-profile tenants, brokers, and suppliers to feature us on their respective websites; and highlighting ourselves to a variety of organizations, from the freelancers union to the City of NY. We also updated and added our listings to a wide array of local directories and linked our Google+ pages in an effort to rank higher within Google Maps/Local searches. We monitored our rankings on a weekly basis by looking at search results, and analyzed visitor and traffic source data from Google Analytics.
This past summer, jaysuites.com achieved page 1 ranking for the queries "NYC office space", "NYC virtual office", and a few others. Since then, unique visit volume during weekdays regularly surpasses 100; organic visits increased nearly 25%.

- Dorin Rosenshine, Online Presence Consultant for JaySuites.com


Additional Off-Site Factors
In addition to the backlinks pointing back to your site, it's possible that two other criteria play a role when it comes to your off-site optimization factors. Those are:
Mentions of domain name/brand
Social sharing
Domain Mentions

Although Google has specifically stated they don't count nofollow links in their backlink analysis, it's possible that they analyze the number of mentions of your domain name or brand.

For example, my site is Business Bolts. I may have other websites talking about my company or website that don't link back to it. This might include mentions with the nofollow tag or even just mentions with no link. The same can be true of your site. Developing a brand and getting it out there (with or without links) is worthwhile.

Social Sharing

The random searcher online may have an account set up at a social sharing platform like Facebook, Pinterest, Twitter, Google+, or many others. Often, when a searcher comes across a site they like, they'll mention it on a social sharing platform. The mention can be to let others know about the resource or even to 'mark' it so they can find it later. Some social platforms like Facebook will allow you to subscribe to the resource and get more information from them as it because available. All this is known as social sharing.

It's possible that Google and other search engines count the number of social shares to a web page similar to how they count backlinks.

Pulling Everything Together
How does all this work together to determine where you rank in the search engine results pages for any given keyword? 
Keep in mind this data is based on estimates and research. No one knows exactly which factors count in the search engine rankings and how much they count for.

As you can see from the chart below I've grouped all the on-site optimization factors into one segment which accounts for 44%. Then I assigned 10% each for brand mentions and social shares and the rest (36%) to backlinks. Overall there is a 56% weight assigned for off-site optimization and 44% for on-site optimization which is close to a 50/50 split. It shows that you definitely need to consider both elements for high rankings.

It's important to realize that the search engine algorithms probably analyze your backlink profile as a whole (meaning all the sites linking back to any and every page on your site) and they also look at the backlink profile of the specific page that is optimized for that keyword.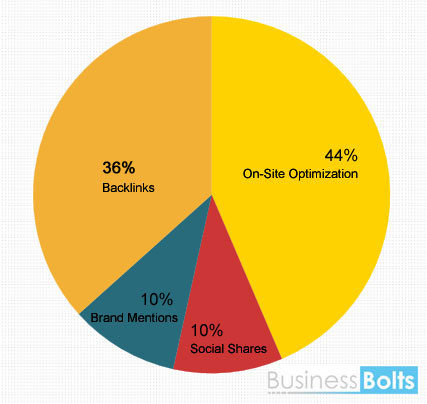 The main point is to consider the quality of the links built to your web pages for long-term rankings. It's not all about quantity. When it comes to SEO, every element should be looked at for quality including the content on your site as well as your backlink profile. Google has developed algorithms that can figure this out and other search engines are following suite.

Link Building Myths
The 'link building is dead' myth.
I've been involved with search since 2001. After every major algorithm update for the last 13 years people come out of the woodwork claiming that link building is dead, meaning there's no point in doing it.
When coming across an article or blog post that claims this, it's wise to consider the source. The people claiming this usually use forced link building tactics or did a poor job with concealing their identity when creating hidden links.
In that instance, it probably does seem like links aren't worth the effort. But that's only because of the low quality links they built which the search engines were able to filter out.
Links have always played a part in the search algorithms. Until search engines can figure out how to 'read and comprehend' content like a human being can they will always be a factor.
The diversification myth ... you don't want to get too many links from one type of source.
This only really relates to forced link building. If you aren't going to try for real links and you want to manufacture all your links through forced link building tactics then your efforts will probably last longer if you diversify your forced link building sources. That might mean doing a little blog commenting to do follow blogs, forum posting with links, article marketing, guest blogging, press release submission, and web directories. You could spread your efforts out over all of this and more. However, I suspect you will eventually see a decrease in your rankings if you follow a strategy like this and I don't recommend it.
If you're attracting real links then I don't see any reason to diversify where the links are coming from. If you're seeing good luck getting links from community colleges and blogs, then stick with it. As long as the links are from reputable sites not controlled by you there's no evidence showing you can't get as many of one type as possible.
Google doesn't manual penalize sites, no one actually looks at any of the sites.
That's a nice fairytale, but Google definitely has manual reviewers from their web spam team reviewing top sites for popular keywords. Unless you stay well under their radar by never ranking high for keywords that get even a fair amount of searches, you'll want to make sure your site will pass a manual review otherwise you'll find out the hard way that this is true.

SEO Tutorial Conclusion
I hope you've learned a lot about search engine optimization through this tutorial.
If you only take one thing away from this tutorial, remember that the best strategy for getting (and keeping) high rankings is to do keyword research so you know which words and phrases to target, then optimize your pages naturally for those keywords, and finally get real links back to them. Although there's a lot to learn with SEO, the main fundamental strategy is not more complicated than that.

| | | | |
| --- | --- | --- | --- |
| Review the rest of the SEO Tutorial: | | | |