What is a Keyword?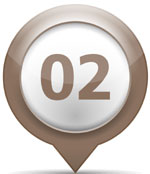 Searchers use keywords to find information on the internet.
The keyword or keyword phrase tells the search engine what kind of results to bring back for you. Search engines scour the internet, recording the information they find on various sites around the web. When you enter the keyphrase "best cruise deals", the search engines comb their databanks to find sites related to "best cruise deals".

When you're building a website, choosing the keywords and phrases to focus on is extremely important. You want to target the keywords people are actively searching for. As you can imagine, some keywords are more competitive than others. An example of a general keyphrase is "lose weight". It's much more competitive than the keyphrase "lose weight with the lemon juice diet".
If you build a new site around the phrase "lose weight", you'll be competing with well established websites (like WebMD and Reader's Digest as shown in the screenshot below) and you'll likely find your site buried on page 89 of Google's search results for the term.
Where your site falls on the search results pages is measured as its ranking. For the general keyphrase "lose weight", you'll likely be low in the rankings, so your site won't receive much traffic or exposure.
On the other hand, if you focus on less competitive keywords, you can expect to rank much higher in the search engine results – you may even be able to land the much-coveted first page ranking. You can also get there much faster, which is important for building momentum.
If your traffic stats never move then it's hard to keep putting any effort into SEO. But if you see them start to climb, even if it's a little (as shown in the graph from Quantcast.com below), you'll be more likely to keep going.

SEO has a compounding effect to it. The more work you put in and the longer you've been at it, the better results you'll see.

This is why good keyword research is vital to the success of your online business. Focus on less competitive keywords and you can expect to rank much higher in the search engine results much easier and faster. By focusing on lots of less competitive keywords, you'll get lots of free traffic as shown in the case study below.

Our search engine traffic more than doubled in the last year as a result of using the blog to focus on a wider variety of related topics in our niche. Although we do optimize the site for a few core key terms, it was really the increase in the breadth of topics on the blog that expanded our overall reach and attraction of new traffic to the tune of 269% year over year.

- Kathy DalPra, Bride Appeal

Ideally, you want to find keyphrases that have high search volumes and low competition. The two go hand-in-hand. For example, the phrase "make your own digital camera using a potato" likely has low competition, but it won't matter if no one ever searches for it.

Experts argue back and forth about exactly what type of numbers you should be looking for – "search engine results of less than 500,000" or "at least 1,000 daily searches" – but it will be up to you to determine which parameters work best for your business. Again, the keyphrase, 'weight loss' is pretty darn competitive with about 438,000,000 competiting results (that's probably a little too ambitious when you're starting out unless you're backed by a big budget).

The other thing to keep in mind is that you should optimize each page of your site, not only the home page. So you won't just pick one keyword or keyphrase. You need to select a number of them (typically hundreds or even more keyphrases to optimize your pages for) and set up an actual strategy to rank high for as many of them as possible. This keyword tutorial will give you some details for how to accomplish all this.

Types of Keywords
There are several different types of keywords. Checkout the definitions below by clicking on each word.
Seed Keyword
A seed keyword (also called a target keyword) is used at the beginning of your keyword research project to help you find more keyword ideas.  Seed keywords are highly searched for and popular keywords. An example is the word 'debt'. This keyword is very competitive and general.  If you type the word 'debt' into a keyword research tool, you will receive a number of related keyword ideas for your keyword list. These related keywords might include the following:
debt consolidation
credit debt
card debt
debt management
national debt
debt relief
debt reduction
From this list of keywords you can decide which keywords make the most sense for you to target.
If you're in a submarket you may not need to use a general keyword like 'debt'.  For example, if you already know your market is 'debt consolidation', then you can use 'debt consolidation' as your seed keyword. This will help keep the keyword list you generate on target. It's important to give some thought to your seed keyword and possibly come up with more than one for detailed research.
Long-Tail Keyword

Long-tail keywords are generally less popular keywords. They are searched for less often (which means they have a lower search volume) and are usually less competitive. That means they are often easier to rank for.
Long tail keywords are generally made up of more keywords. For example a keyword like 'how to consolidate my student loan debts' has 7 individual words within it. It's going to be much easier to rank for and have less search volume than 'debt consolidation'. However, the person who types this long-tail keyword into the search engines knows exactly what they are searching for. It's specific. So even with fewer searches, it might result in more conversions for you.
Here's another example. 'Buy ipad mini 16 gb' is going to be easier to rank high for than 'ipad' alone.  In addition, the first phrase is a phrase someone would type into the search engine right before buying the product. You don't know why someone typed 'ipad' into the search engines, but there's a good chance they aren't ready to buy. The long-tail phrase will definitely convert better for you in this instance.
By using long-tail keywords, you're shooting for the small fish in the pond, while the rest of the marketing community is trolling for the record-breaking bass.
What does all this mean for you as a site owner? When you're just getting started, it's much more difficult to get ranked high for popular search terms, given the amount of resources the existing sites have to maintain their rankings. However, it's entirely within your reach to rank at the top of the search engines for long tail keywords, using a combination of on-site and off-site search engine optimization strategies.
If you rank high for several long-tail keyphrases you can receive a fair amount of free traffic from the search engines quickly. And it's possible that traffic will even be more targeted than going after one highly competitive phrase that might take you months or longer to see any results from.
LSI Keyword

An LSI keyword is a word that is similar to another keyword. It's a synonym.
We've discussed the importance of targeting your site's text to specific keywords and keyphrases – so it's only natural to assume that you'll get the best rankings by packing your content full of the same phrase over and over again.
But it's not.
While it's never a good idea to stuff your site full of repetitive keywords, Google's algorithm changes provide further incentive to use natural-sounding language.

Latent Semantic Indexing (LSI) is one specific algorithm that the search engines use to evaluate site content through related keywords.
So what does this mean for you as a site owner?
Suppose you've built up a page that revolves around the keyphrase "how to get six-pack abs". In order to score high on the search engine rankings, you've used this exact phrase repeatedly throughout your text, without using any related phrases, like "how to get a flat tummy" or "how to tone your mid-section".
When your site is crawled, the algorithm may flag your page as over-optimized and rank it lower.  Search engines want to show the best pages to their visitors and the best pages are not over-optimized and stuffed with repetitive keyphrases. By using LSI keywords your content will sound more natural and not have an over-optimized appearance.
Whether you're updating old content or working on new text for your site, it's important to vary the keywords you use to create more natural-sounding copy.
If you're having trouble thinking up keyword or keyphrase variations, you can use Microsoft Word's synonym feature (simply right-click on a word and scroll down to "synonyms" to see more options) or consult an online or offline thesaurus.
Many of the paid keyword tools (like Wordtracker) incorporate this into their service for you.
The main point is you don't want to have a single word appearing in your content over and over again.  That's called keyword stuffing or over-optimization. It creates a bad user experience and the search engines work hard to rank pages employing these tactics lower.
It's important to keep in mind that no one knows exactly what the search engine algorithms are, and we are dealing with software, not humans, so it's still a good idea to include your target keyword or keyphrase within your page a couple of times. This means you can write naturally, but do intentionally include your target keyphrases in your content at least once. This will ensure that your site gets ranked for the specific phrases you're targeting while still compensating for semantically-related word algorithms.
Buyers Keywords
A buyers keyword is one that a searcher types into the search box right before buying. A typical buyers cycle consists of doing research along with comparison shopping for related products, then buying.
If you own an ecommerce site, most of your income will come from people who are in the buying mode. That means the searcher has already decided they will buy product A, now they just need to find the right place to buy it from. 
By ranking high for buyers keywords you can get a high conversion rate and see a big impact from a little effort. Here are a few examples of buyers keywords:
where to buy
buy
where to find
where to show for
cheapest
where can I buy
It's smart to pay attention to buyers keywords in your market. If you can come up with a plan for ranking for them that's always time well spent.
Branded Keywords
Branded keyword are search words containing the brand name within them.  For example, my company name is Business Bolts Media. A search with even part of that company name is a branded keyword.  Someone may search for 'Business Bolts' or 'Business Bolts information'. Either of those searches use branded keywords. 
Here's another example. If you're searching for a water filtration system and you find that company x sells a unit that looks good, you might type in 'company x reviews' to research the company. That's a branded keyword. It's important your company comes up high in the search engine results pages for branded searches. Ideally, you want to control what is said about your company.
Local Keywords
Local keywords target market-specific terms along with a location. For example, if you're looking for exterior painters nearby and you live in Denver, you would type 'Denver painters' or 'Denver exterior painters' into the search engine to find businesses that offer the right service.
Local keywords are very important if you have a local business or one that targets people in a specific location.
It's important to find states along with specific cities to target for your local business. You may even consider regions. You can find most local keywords through a keyword tool.  By finding and targeting these keywords you can help your business rank high for local searches (which are more likely to convert for you).

Keyword Research Tools
To conduct keyword research, you can take advantage of any number of free or paid keyword tools. Many one of these tools will help you identify keywords and keyphrases with high traffic and low competition to build your web pages around.
Click on each keyword research tool below to learn more about it:
In addition to keyword tools, using a thesaurus can help you find related words. You can use thesaurus.com online to get a quick start on this.

Keyword Research Steps
Keywords are at the core of virtually every highly ranked website online. It doesn't matter if you're doing SEO or pay-per-click marketing, you must research your keywords first and incorporate them into your web pages in order to see the most success.

It's important that you use the actual keywords users are searching for. That's why before you build your site or try to generate any links, you need to generate a good list of keywords to use. A good list should include a variety of keyphrases related to your topic and many of them should be easier to rank for (due to lower competition).

Determine a Few Seed Keywords for Your Topic.

A thesaurus may help you with this step. You can also try visiting Google, typing in your topic, and scrolling to the related searches that will be presented at the bottom of the page.

Find Keywords Using a Keyword Tool.

There's a massive list of keyword tools above, but you don't need to use all of them.

You can limit your keyword research to just a single keyword tool if you'd like. Use the Google Keyword Planner if you're looking for a good, free tool. Log in to AdWords, click on Tools and Analysis, then Keyword Planner.  Then click on Search for keyword and group ideas. This is where you enter a seed keyword. Once entered click on 'get ideas'.

If you want to find all the keywords you possibly can related to a topic, using multiple free tools or getting a subscription to Wordtracker will make the most sense for you. Use several tools and combine the keywords you generate into a single list.  If you find a tool with a reliable search volume and competitive analysis, run all the keywords you find through it and use the data generated from that single tool.

Organize the Keywords.

Select the keywords that are relevant to what you offer or to what you want to target in the content on your site.

Check the competition. Many keyword tools have a competitive analysis component to them. Others have advanced competitive analysis. If you have access to a keyword tool that measures competition you may want to give the data they produce for you a look. You may also check competition manually by visiting the sites that show up on page one and analyzing what it took for them to get there. 

Check the popularity of your topic idea. Depending on your goals, it may not be enough to check the search volume and competition of your keyword ideas. You may also need to check whether or not the topic as a whole is popular. Use the social tools below to discover the current popularity of your keyword or topic idea:

Use the tools above to determine how popular your keyword is before you make the decision to target it.

Incorporate the Keyword into Your Web Pages.

Any keyword you hope to rank high for should be incorporated into at least one web page on your site at least one time. We'll cover this more in the section outlining on-site optimization.

Find New Keywords.

You can expand your reach tremendously by finding ways to add new keywords to target. You could easily get ten times the traffic if you plan out a site first and build it around the keywords that your searchers use.

The real power of SEO comes from keeping your rankings high while you're getting rankings for even more keyphrases. There's no limit on the number of keyphrases you can rank high for. If you need proof, just look at how many different phrases Amazon.com and Wikipedia.org rank high for. They're practically everywhere in the search engine results pages.

Even if you're in a niche market, you can keep adding content based on the keyphrases you know people search for and topics related to your market. If you do this you can continually see an increase in the volume of traffic you gain through search.

Content is like currency as long as you have a solid strategy for organizing and optimizing it.

Someone is going to get the traffic from search in your market. There's no reason to think it can't be you. The great thing is, there are many other sources for traffic once you have content on your site (like visitor referrals and direct traffic from sites that link to you, etc...).

You don't lose anything by optimizing the content you have for SEO in addition to looking for other traffic sources. Anymore, many of the factors the Google algorithm looks for are the same things that will keep your visitors happy. That's because the search engines want the best sites showing at the top of the search engines.

Once you've set your site up, you should be constantly looking for more keywords to add to your keyword list. Add more content with your keyphrases within it and even add more keyphrases to your existing content to see better results.

Keyword Research Myths
The algorithms don't run off keywords anymore.
As long as there's a search box where visitors type in their search query (which is a keyword), then the search engines are organizing their results based on keywords. They're getting better at returning results that don't have the exact keyword in them, but you should still include the keywords you would like to rank for on your web pages. For example, if you type in 'how to make a good tuna sandwich', it's possible the pages that show up might not all have that exact phrase in them. They may instead have 'how to make a tuna sandwich'. Close enough.
You should always refer to a keyword research tool because those keywords are what real people in your market want to know more about. They tell you exactly what real people search for. It only makes good business sense to uncover those exact keywords and think about how you can best serve the people who type them in.
Only high search volume keywords are worth targeting.
It's great to get a top ranking for a high search volume keyword, but the time commitment can be daunting, especially if you're just starting out or if you're hoping to see an increase in your traffic quickly. That's why it usually makes more sense to target those with lower competition, which usually means lower search volume.  Your time is very valuable so you want to make sure you spend it wisely and see the results you're hoping for quickly.
Buyers keywords convert, the rest are worthless.
If you take the time to include a newsletter sign up form on your site, you will see many more conversions than by simply offering a product. You'll also likely increase your sales because many people need to learn more before they buy.  Although buyers keywords are nice, it's not absolutely necessary to rank for them. You can see a lot of income from non-buyers keywords if your approach is to educate people first before you ask for the sale.
You have to stuff keywords into your web pages in order to see any impact.
The last thing you want to do is stuff keywords into your web pages. Over-optimization usually results in a lower ranking, so it's not a good tactic. Instead, include your keywords into your web pages even just one time. If you're going to include them more than one time, make sure you're using them at a natural rate. 
Incorporating keywords into your web pages is discussed in the next section covering on-site optimization.

| | | | |
| --- | --- | --- | --- |
| Review the rest of the SEO Tutorial: | | | |