Free SEO Tutorial Outline:
| | | |
| --- | --- | --- |
| | | Discover how search works and why you should include SEO as a method for gaining traffic to your website. Learn SEO |
| | | |
| | | A solid SEO plan always starts with keyword research. Learn how to uncover the keywords your audience uses when searching online. Keyword Research |
| | | |
| | | On-site optimization includes the details of your web pages that help search engines know what they are about. Learn how to optimize your pages. On Site Optimization |
| | | |
| | | Get your content out there by building links to it. Learn how to promote your site the right way for long-term rankings. Link Building |


Learn SEO
According to a Netcraft survey there were over 785 million websites online in 2013. Since you could never sift through all that information by hand, search engines were devised to help you find what you need online. People use search engines to research, to shop, or for entertainment.
Search engines sift through millions of websites very quickly, saving searchers time. In fact, if you type the right phrase into the search box, it might only take a couple of seconds to get the exact information you need.
Here's the full process for a typical search:
Visitors search online by deciding on a search query (i.e. what they want to find or learn more about).
They type that query into a search engine. 
They then browse through the results on a search engine results page (SERPs) and click on a result.
If the resulting web page doesn't satisfy their need, they return to the search results and click on another listing.
If nothing is appealing, they may refine their search query and try again.
Anatomy of a Search Engine Results Page:
The image below shows a Google search engine results page (SERP). This search was displayed for the query 'gifts online'. The listings on the top and the right side are paid ads generated through the Google AdWords pay-per-click program.
The organic listings start under the AdWords ads in the left column. These results are typically a list of well optimized, highly useful pages related to the query. Through the strategic use of relevant content, many companies are able to get high organic listings along with paid listings both on the first page of Google.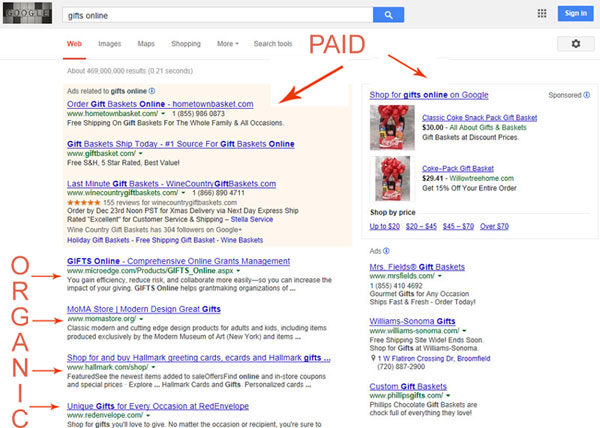 How Many People Use Search Engines?
Search engines offer an incredibly popular way for people to find information on the internet. A May 2013 survey by Pew Internet showed that 91% of U.S. adults use a search engine to find information online. Recent surveys estimate that over 1 billion search queries are made every day on Google alone.

Limitations

Despite their massive popularity, search engines have limitations. They cannot understand user intent in cases where a query has more than one meaning. 

For example, does a user typing in windows want to know about the Microsoft Operating System or do they want to know about windows made of glass? A search engine can't figure out the intent behind the search query. Often in situations like these, the search engine will display results for the more popular meaning. 

Different Functions

In addition to the meaning behind search queries, users may also use the search engine for different functions.

Typically, users want to accomplish the following activities from their searches:

Achieve a goal ('do' queries)
Find information ('know' queries)
Navigate a website or webpage ('go' queries)

Some users even search with more than one function in mind. The search engines work to be the best at giving their users what they are trying to find. 

What is SEO?
SEO, which stands for Search Engine Optimization, refers to the wide variety of strategies used to make your website more appealing to the search engines in the hopes of drawing free traffic to your site.

Getting free search engine traffic is often called organic traffic, or natural search traffic. You don't pay for it, and if you have the right mindset, you can continue to get large volumes of natural search traffic for years to come.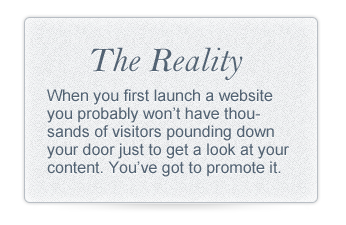 However, if all you do is launch your site and wait around for visitors, it could take weeks or months before the major search engines figure out that your site exists at all, let alone send you any free traffic.
This is where SEO comes in.
You need to optimize your site and promote it. That way the search engines know how to categorize it and when to show it in their search results. For example, if you have a page about windsurfing, should the search engines display your page when a searcher types 'windsurfing boards' into the search box or is it more related to 'windsurfing techniques'?
And is your page better than other pages on the same search term or are there other pages that have better information on them? Pages that people seem to like better?
The search engines take all these factors into consideration each time they show results to their searchers. The goal of the search engines is to categorize the available information on the web and rank it by its relevance for the search terms typed into the search box.
As you can imagine, there are virtually an infinite number of categories, subcategories, and further subsets any page on your site might fit into. And there are so many different variations a web surfer can type into the search box that you could never list them all.
Matching up pages for the right search terms is a difficult job. And since that's only part of their job it's even more difficult. As already mentioned, in addition to showing relevant pages, the search engines need to show the BEST of the relevant pages first.

It's all about giving the searchers what they want. Which ultimately means you need to put yourself in the shoes of the web searchers and give them what THEY want. That's the foundation for getting high rankings.
You need to help the search engines determine what your web pages are about and then show through relevant backlinks that your individual pages are popular. These two components together help convey the trust needed for high rankings.

Why SEO?
High rankings can bring you highly targeted traffic. Some will say traffic through SEO is the most targeted traffic you can get. That's because when a web surfer visits a search engine and types a phrase into that search box, they're looking for something specific.

If your site shows up in the results pages for that search, you probably have exactly what they want. 

That means visitors from the search engines will be more likely to take action on your site. And that means you'll get more people:
Signing up to your newsletters.
Buying your product or service.
Clicking on your ads.
Traffic that comes from the search engines is highly targeted because in theory, your site is ONLY shown when the content on one of your pages matches what the searcher typed into the search box.

Who Benefits From SEO?
Any business can benefit from gaining high rankings. That includes traditional businesses offering products and services along with authors, bloggers, and affiliate marketers. Here are a couple of case studies from businesses using SEO to bring in new traffic.

Search engines are the largest source of our traffic. Our search traffic has been growing rapidly; it was over 18,000 visits in October, and is on target to break a new record this November. Search traffic is also a major generator of revenue. For example, search traffic generates just under 60% of our advertising revenue, and currently advertising is our largest source of revenue. Our eCPM (earnings per 1000 impressions) averaged $5.25 over the last year.
Search engines help our review and informational articles reach a broader audience in greater numbers, generating revenue.

- Alex Zorach, Founder and Editor of RateTea.com

Graduates.co.uk is a graduate career advice and gap year portal that was originally launched late 2012. Traffic is around 20,000 visitors per month: 71% from search engines, 16% direct type-ins, 2% from referral links and 1% from social media.
We believe the percentage of traffic coming through from search engines is so high because of the large amount of content we've invested in on our site.

- Adam Grunwerg, Founder of Graduates.co.uk
Traffic through SEO is important as a marketing tool for many businesses, both small and large companies alike.

History of Search Engines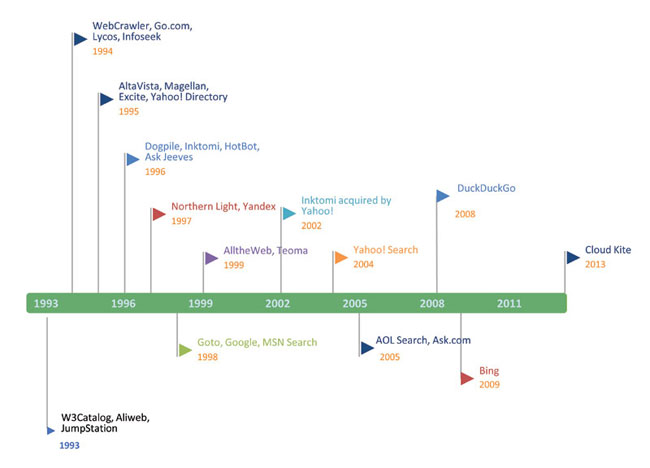 Early Days

The first publicly known search engine was WebCrawler, which came out in 1994. Not only was this a widely used search engine, but it was also the first to allow users to search for any word on any webpage. 

Lycos, Infoseek, and AltaVista followed soon after. Yahoo! was also a popular way for people to search through web pages online through its web directory.

In 1996, Netscape featured a search engine right in its web browser. However, instead of creating its own search engine, the Netscape browser rotated through the top 5 search engines at the time; Yahoo!, Lycos, Infoseek, Excite, and Magellan. 

Google & Bing

Google became active in 1998 and by 2000, the Google search engine was already overtaking many others. This was due in part to returning better searches for many results through their PageRank algorithm. This algorithm attempts to uncover a site's popularity based on how many other sites link to it. Additionally, many people found the minimalist interface (still in use today) appealing.

Microsoft launched their MSN Search in 1998 and rebranded it in 2009 into Bing. Later that year, Yahoo! Search became powered by Microsoft's Bing technology. 

Top Search Engines
At this time, the top 3 search engines are Google, Bing, and Yahoo. And also at this time, there's no doubt that the top search engine is Google. In fact, many people use the term 'Google it' to mean search for it online. 
The only place statistics disagree is by how much Google dominates other search engines. Some statistics claim Google gets as much as 90% of all search traffic. The leftovers (in this case 10% of search traffic) are typically split between Yahoo and Bing. 
Other statistics like these from comScore estimate Google at 67% of core search share. Here's their full July, 2013 breakdown:

Google Sites 67%
Microsoft Sites 17.9% (these include Bing)
Yahoo! Sites 11.3%
Ask Network 2.7%
AOL, Inc. 1.2%

Any way you look at it, Google has a lot of the market share on search. If you want traffic from the search engines, your central goal should be to rank high in Google. That's the search engine to focus your efforts on. 

How Google Finds the Most Relevant Pages
The Panda update (which was initially released on Feb 23, 2011) really gave Google a boost in being able to figure out if the content on a web page was of high quality or not. 
Computers cannot read so how can they figure out if you have a quality site with quality pages?
Grading Sites

They 'grade' or 'rate' sites through advanced algorithms (Panda is the name for the big one) that searches for patterns. These patterns indicate whether you have a high or low quality site related to any given search query.

In order to do this, they need data from user surveys. At least some data from real people has to drive the Panda algorithm (and possibly many of the other algorithms they have running).

We know Google has human quality raters who rate the sites that come up for certain searches. They rate them as vital, useful, relevant and useless. All these real people, these quality raters, look through specific search engine results pages rating the web pages that show up.

Measurable Factors

The ratings for the sites is entered into the algorithm. So one site gets a useful rating while another gets a low rating. The algorithm then pulls out several measurable factors that it can compare (to see how the factors stack up between a high and low quality site). These measurable factors may include:

Keyphrase density - that's the number of words on the page divided by the number of times the keyphrase the searcher typed into the search engine.
Site speed - how long does it take for the site to load?
Bounce rate - do people just land on a page on the site and then immediately click off the site?
Time spent on site - how long do visitors stay on the pages?
In the End the Quality Raters Scores + Measurable Factors = Patterns of High Quality Sites.


Computers see patterns (but it can be called a score or a profile if it helps make more sense of this). The computer algorithm compares your pattern (or score) with that of known high quality sites (that a real person designated as high quality). Through all this data gathered by human quality raters and measurable factors, they have a 'perfect profile' of a high quality site.
For example, the 'perfect profile' of a high quality site may have a low keyword density (like under 1%), fast site speed, low bounce rate, and a high time on site. This is just a small sampling of what they might look at, but it gives you an idea of how this is all pulled together. Additional factors are included in the on-site optimization tutorial.
The algorithm checks to see how many of these quality factors YOUR site has. And if it matches the profile of their idea of a high quality site then YOUR site gets labeled as a high quality site too.

As a result, you get higher rankings for the keyphrases your site relates to.

Even though a human quality rater may not have ever seen your site, by comparing the pattern (or profile) between it and a high quality site they have seen, the algorithm classifies your site as high or low quality.

If you think about it, even though you've never seen every chair on the planet, you can come across a chair that's new to you and still tell me that's what it is. You don't need to see them all. You know the characteristics of a chair so you can get it right.

And that's basically what the Panda algorithm is doing except it's with websites. This is very important. And there are two reasons why:

High Quality Pattern

High Quality Site
1. It's still possible to game the system if that's what you want to do. The algorithms cannot read and determine that the content on this site is better than the content on another one. 

They'll never be able to do that. It's all run by a computer algorithm so you just need to know what factors the algorithm incorporates into their patterns. From there you can mimic those patterns.

2. On the flip side you could actually have valuable, useful content on your site, but because you didn't know the factors they consider, you may not match the pattern of a high quality site.

If so then you won't rank as high. Any automated system for ranking sites is always going to have its flaws. That's why it's very important to identify the factors and make sure you include them on your site and within your pages.

The End Goal
If you've been around the SEO industry at all, one thing you'll hear is that search engine algorithms change all the time.
And it's true.
Although the search engines are constantly rolling out new updates, the reason why they're doing it is to help them with their end goal. And the end goal of the search engines never change.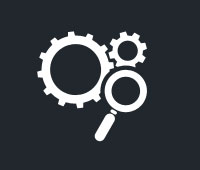 The end goal is to show users the best results for the term they type into the search box.
If you're just focusing on getting through the next update and missing the big picture, you'll have a lot of problems keeping your rankings.Instead of looking at what new algorithm came out and smacked us around today, you really need to look at what the end goal is. Because if you keep that in mind you're going to come out way ahead. 
If you've got sites that have been hit by an algorithm, you need to look at your site as a whole and address the issues with big picture thinking. Otherwise you may see a quick fix, but after the next update you'll likely see a decrease in your traffic once again. This can cost you a lot in time and money.
Looking at the big picture and striving to align your site with it is the best way to survive long-term.
It's not really worth it to focus on short-lived strategies. The kind that are only out there to game the system.  Google and other search engines will try to figure out a way to filter them out at some point and you'll see a decline in your traffic.


On-Site vs Off-Site Optimization
SEO techniques can be broken down into two general categories – onsite and offsite. Both of these will benefit your rankings, so it's worth your time to address them both when building and promoting your website.
On-site optimization includes the specific actions you take on your webpages to increase your search engine position.

Google uses around 200 factors to determine where to rank a web page. Many of these factors deal with on-site optimization.

Off-site optimization techniques are the actions you take outside your web pages to increase your search engine position.

Link building is one of the most important strategies in the off-site SEO toolbox. For example, say you've put together a site on reducing hypertension and heart attacks. If Google or another major search engine notices that the American Heart Association has linked back to your site, they assume your site must include good content. The more quality links back to your site you get, the more free traffic you'll receive from the search engines because your site will rank higher.
Both on-site and off-site optimization help the search engines categorize your site and rank it higher. On-site optimization is under your direct control in comparision to off-site optimization. So you need to make sure each page of your site is well optimized first and then start a link building campaign.
However, before you start working on either of these elements of SEO, you absolutely must figure out which keywords to optimize your web pages for. There's a whole science behind keyword research which is laid out for you in the next section.

| | | | |
| --- | --- | --- | --- |
| Review the rest of the SEO Tutorial: | | | |