Start

building your platform

including your site and social accounts.
The Platform Builder training walks you through choosing your learning platform and other tools you'll need to run your course business. Set up a minimal site and your social accounts as you follow along with this training.
Level: Starting out | Pre-Development Phase
Video Length: 2 hr 10 m
Additional Material: 14 Strategic Planners
Enrollment Fee: $77 $37 for 12-month access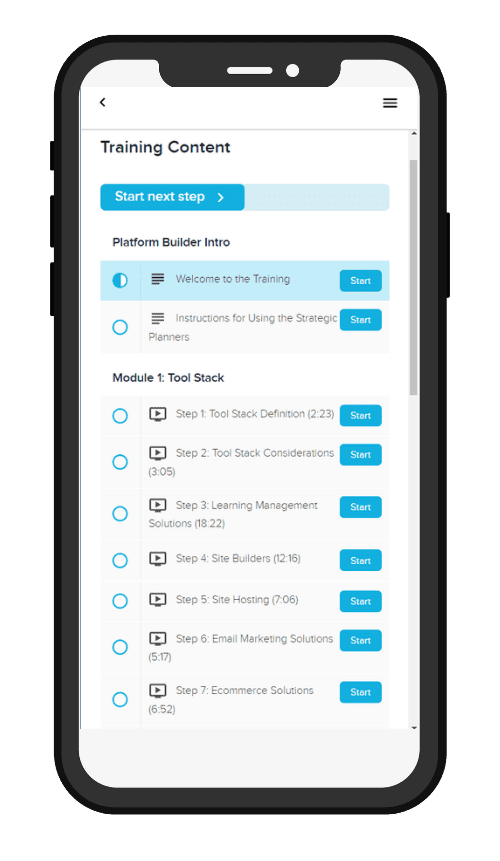 You need a platform to start attracting potential clients.
You need your platform set up before you start creating your course or even driving traffic.
But have you looked at all the tools you can choose from to start your online course business? There are hundreds of choices. And many of them require the use of multiple tools so you need to make sure your choices work together.
This training will give you a simplified view of the tools you really need to get started as well as tips on which ones to choose depending on your situation. That includes your technical ability, budget, customizations, and your preference.
Learn how different tools go together. Determine whether you really need multiple tools or if you can stick with one tool to run all if not most of your business. You'll also see two example tool stacks from successful course businesses.
Your site exists to attract your target market.
That's why you need to keep attracting your target market in mind as you create your site. And that goes for each and every page on your site.
Walk through the important elements for the must-have pages on your site. These include your 'about us' page and home page. Dive into developing a mission statement as well as exactly how to use this on your 'about us' page to create a connection with your visitors. You'll set up a bare minimum site so you don't waste time creating pages you don't need just yet.
Get your site and social platforms created so you can start networking and driving traffic. This way you'll have an audience before you even launch your product.
This training is unique in that you move forward by doing.
There are many steps and tasks you need to do in order to move forward.
Therefore, this training includes over a dozen Strategic Planners to help you move forward. Many of the Strategic Planners included in this training are fillable PDFs. So you'll learn, then you'll fill in the PDFs. This helps turn your thoughts into clarity.
Here's an example of a fillable PDF:
There's also video training so you understand the logic behind the tasks as well as what you need to know to complete each Strategic Planner.
Within the Platform Builder training, you'll gain access to 14 Strategic Planners. These walk you through each task to help you sort out your brand strategy.
When you enroll in the training, you don't just get a pack of PDFs and videos thrown together. It's all organized for you, placed in sequential order. Here's the first module on selecting your tool stack so you can see how easy it is to follow along: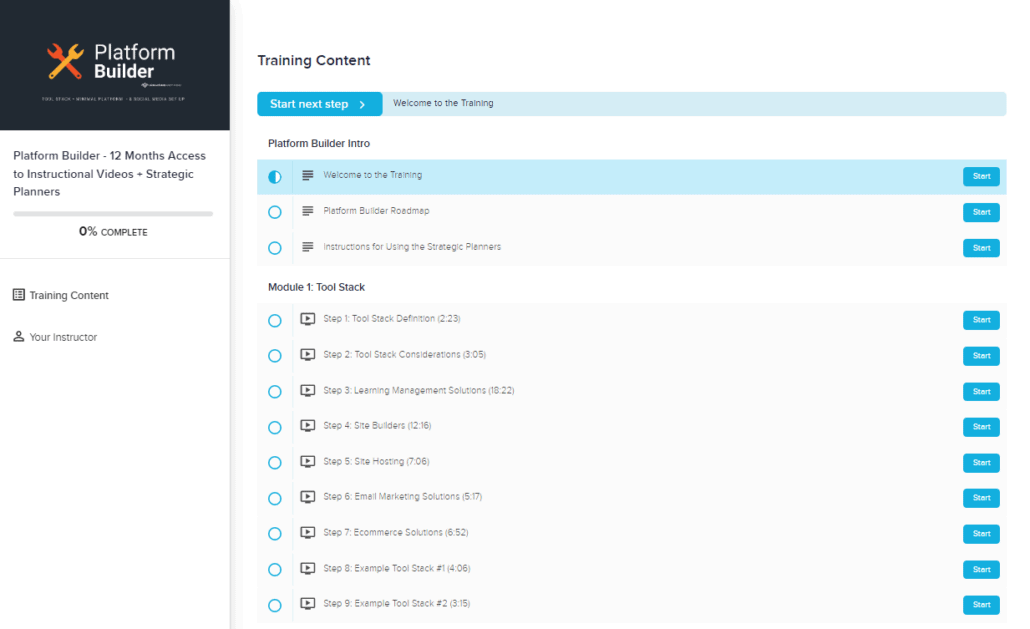 Nearly every task in the Platform Builder training includes a very short video and a fillable PDF. Everything is laid out in an easy-to-follow manner so you know exactly what the next step to take is.
This training is ideal for you if …
If you want to create an online course business.
You're tired of researching all the different online course platforms and learning management systems and can use some help selecting the best tools for your business.
You're ready to set up your site but aren't sure what should go on the different pages (or even which pages you must have to get going).
You don't want to watch dozens of hours of videos to get generalized knowledge. Instead, you want to keep it short, focus on what's most important, and then move forward.
It's a new way of learning and doing.
Platform Builder is not your typical online training. There is over two hours' worth of very short micro-videos that walk you through specific tasks along with 14 fillable PDFs (our Strategic Planners).
In addition to learning while doing the training follows a specific framework. Each module builds on the subsequent module. Here's a sneak peek at the framework covered in easy-to-understand videos in this training:

Each module moves you forward and further along as you build your business.
And unlike most training, you're not just watching videos, but actually moving closer to your goal as you fill in the Strategic Planners.
Lastly, you can track your progress as you get closer and closer to your end goal. By the time you've completed the training, you'll have your platform built.
What's waiting for you inside Platform Builder
TOOL STACK
In this module, you'll select the set of tools that will run your business. This includes your learning management system, your website and hosting, email marketing solution, and eCommerce solution.
Step 1: Tool Stack Definition
Step 2: Tool Stack Considerations
Step 3: Learning Management Solutions
Step 4: Site Builders
Step 5: Site Hosting
Step 6: Email Marketing Solutions
Step 7: Ecommerce Solutions
Step 8: Example Tool Stack #1
Step 9: Example Tool Stack #2
MINIMAL PLATFORM
Learn which pages you absolutely need to have a minimal site. Walk through exactly what should go on each page so you're ready to go.
Step 1: Minimal Platform Definition
Step 2: Domain + Hosting
Step 3: Site Template
Step 4: Contact Page
Step 5: Legal Pages
Step 6: Mission Statement
Step 7: About Us
Step 8: Hero Section
Step 9: Home Page
Step 10: Navigation Menus
SOCIAL MEDIA SET UP
Don't forget your social platforms. Set these up quickly and easily with helpful tips and Strategic Planners so you can start building a network.
Step 1: Social Media Set Up Overview
Step 2: Account Profile
Step 3: Initial Post
Step 4: Build a Following
Step 5: Linking to Social Accounts
Money-back guarantee
14-day no questions asked money back period.
Start moving forward as you go through the training.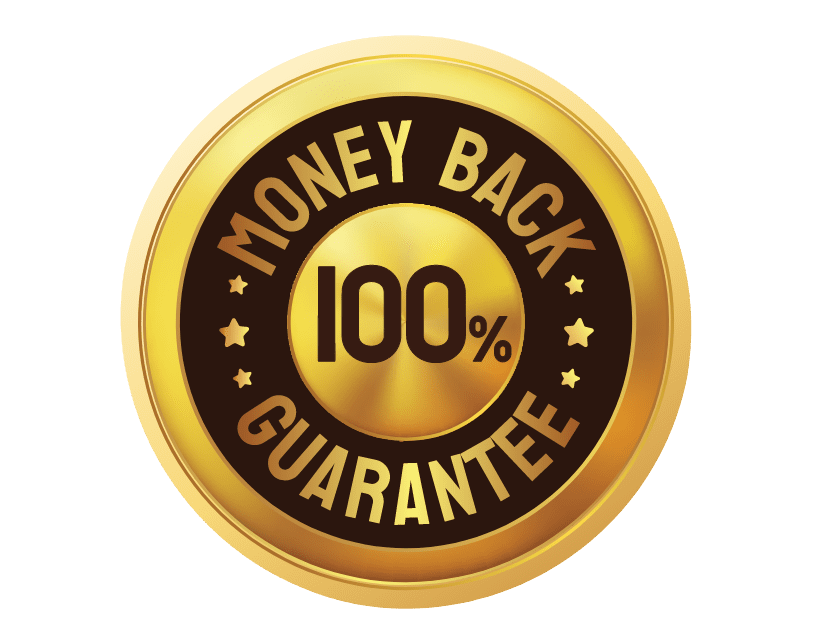 By joining today for only $77 $37, you'll get the following:
3 easy-to-follow training modules that walk you through the platform-building process.
24 short, task-based video lessons so you know exactly what to do.
14 Strategic planners (fillable PDFs) with actionable tasks to keep you moving forward.
Full access for 12 months.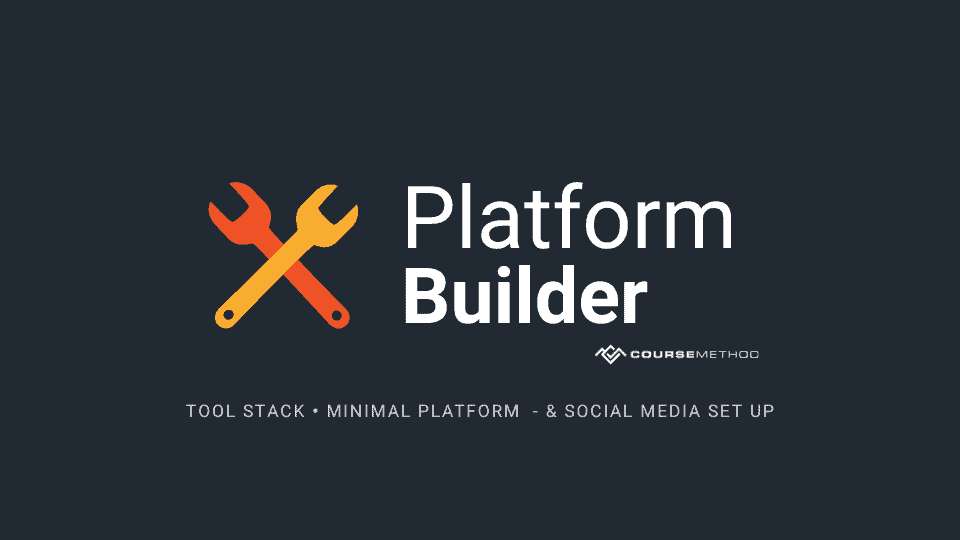 Enroll today and start building a solid foundation for your online course business:
---
FAQs
What's a Strategic Planner?
Each Strategic Planner is a PDF. Many are fillable PDFs. This means you read a little. Often after that, you'll enter in the text that is meaningful to your business.
For instance, if you're trying to create a good 'about us' page then you'll learn how to do that as you work through the planner. Save these planners to your device and you'll have a repository for your business tasks, vision, and goals.
What order should I go through the training on coursemethod.com?
We recommend you go through the training in this order:
1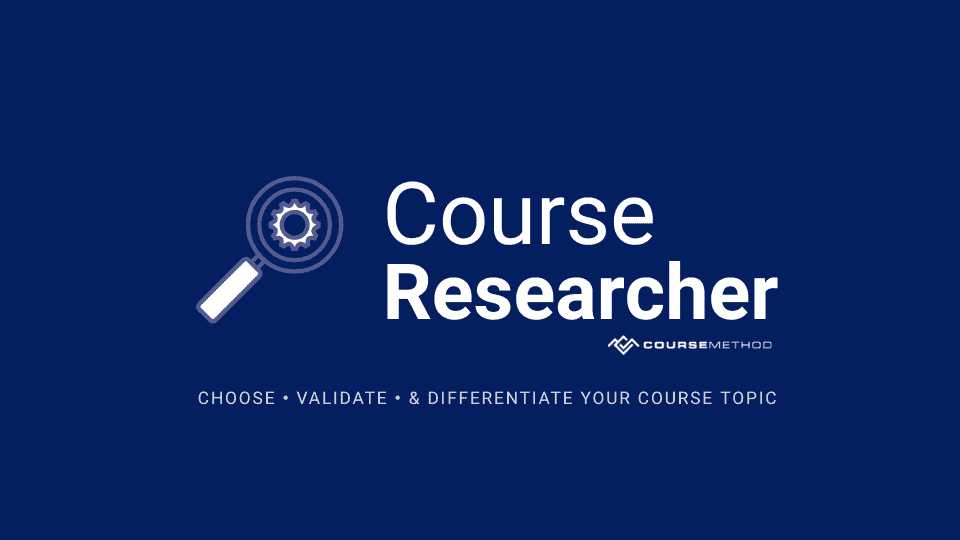 Course Researcher where you research topic ideas for your course.
2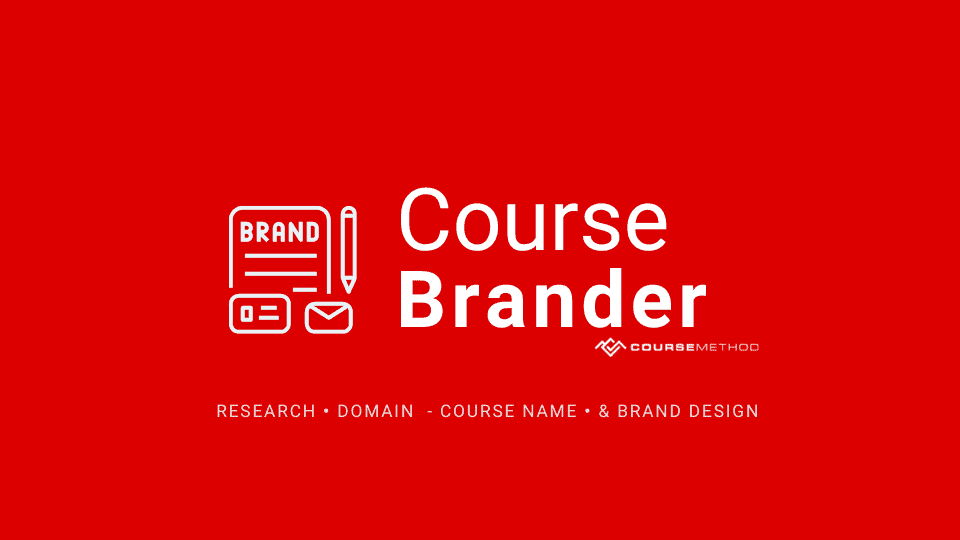 Course Brander where you get your branding sorted out for your business.
3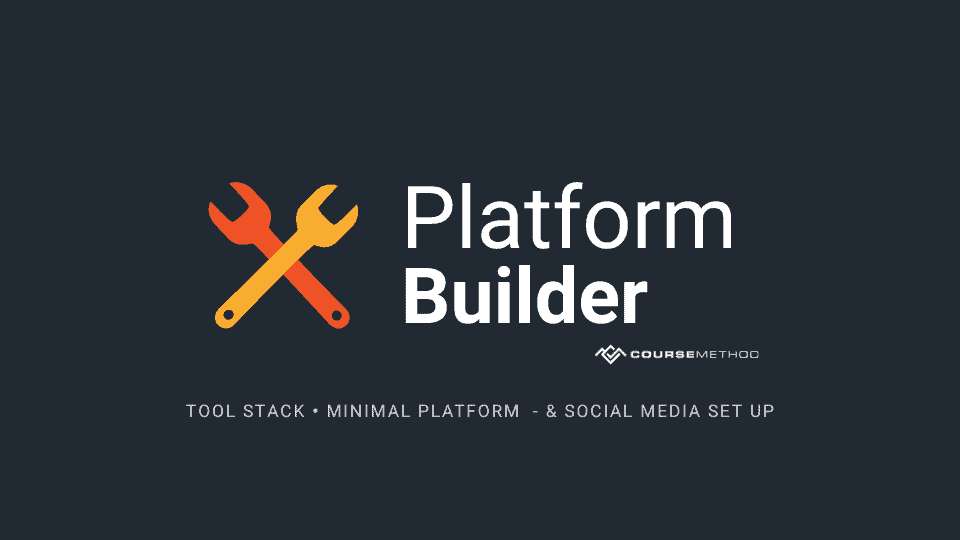 Then the Platform Builder where you build your platform including your site.
What if I'm not happy with the training?
You can easily take advantage of our 14-day money-back guarantee if you're not happy with the training. Simply contact us within 14-days of enrolling and we'll set you up with a quick and easy refund.
Why do I only get access for 12-months?
You'll have 12 months after enrolling to complete this course. This is plenty of time to watch all the videos (totaling 2 hours) and complete all the tasks (the Strategic Planners are downloadable so these are yours to keep). This training is meant for action-takers so there's no reason not to limit the length of time. If you need more time you can re-enroll for 50% off the regular course price.