Start to Finish Lead Magnet Training Walks You Through Collecting Targeted Emails on Autopilot
This training will help you set up your lead magnet so you can start collecting targeted emails from your site.
You'll learn how to create a landing page, opt-in forms, your lead magnet, your lead magnet email sequence, and how to deliver your lead magnet. You'll have an automated email collection system set up by the time you've finished the training.
Level: Starting out | Pre-Development Phase
Video Length: 2+ hours
Additional Material: 7 Strategic Planners
Enrollment Fee: $97 one-time payment for 12-months of access
Are you ready to take your online course business to the next level?
Your business can generate profits much faster if you start building an email list of subscribers right now.
By building a list, you'll be on the road to having a real business with your own traffic source. You can't always rely on ads that are currently converting well to continue to convert. You can't always rely on high search engine rankings either.
Algorithms change. Ad rules change.
Having an email list helps you validate your product ideas and bring in revenue with more security than just about any other method.
Setting up your email automation system doesn't have to be complicated. We show you how step-by-step in this action-oriented training.
Email has the highest ROI over any other marketing activity.
The return on investment with email beats every other type of marketing including social media, paid search, and even SEO.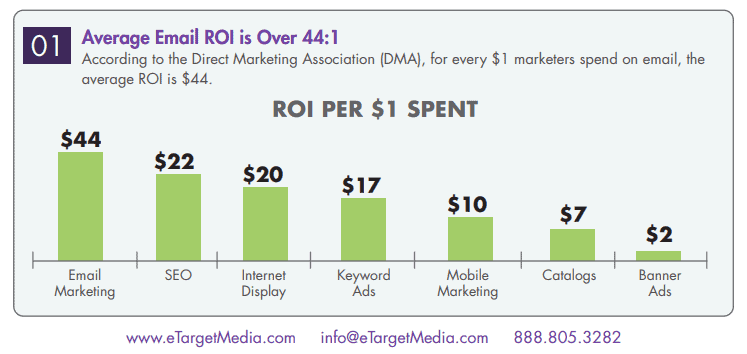 In fact, according to eTargetMedia, for every $1 spent on email marketing, the average return on investment is $44. This is at least double that of other digital marketing like SEO, internet display ads, and banner ads.
We've interviewed over 200 successful course creators and email marketing is one of the top methods they use to stay well positioned in the minds of their prospects and drive revenue.
Your list is one of the most valuable assets you have due to its profit potential.
In addition, you own your list. It's far superior to building an audience on Facebook or some other social platform. With email, you're in control. That means if you want to run a special promotion to bring in money or launch a new product, you decide when and what you send out to your list to grow your business.
This training is unique in that you move forward by doing.
There are many steps and tasks you need to do in order to move forward.
Therefore, this training includes half a dozen Strategic Planners to help you move forward. Many of the Strategic Planners included in this training are fillable PDFs. So you'll learn, then you'll fill in the PDFs. This helps turn your thoughts into clarity.
Here's an example of a fillable PDF:
There's also video training so you understand the logic behind the tasks as well as what you need to know to complete each Strategic Planner.
Within the Lead Magnet Workflow training, you'll get access to 7 Strategic Planners. These walk you through each task to help you set up your lead magnet and email collection strategy.
When you enroll in the training, you don't just get a pack of PDFs and videos thrown together. It's all organized in a platform for you, placed in sequential order. Here's the first module on Lead Magnet Selection so you can see how easy it is to follow along: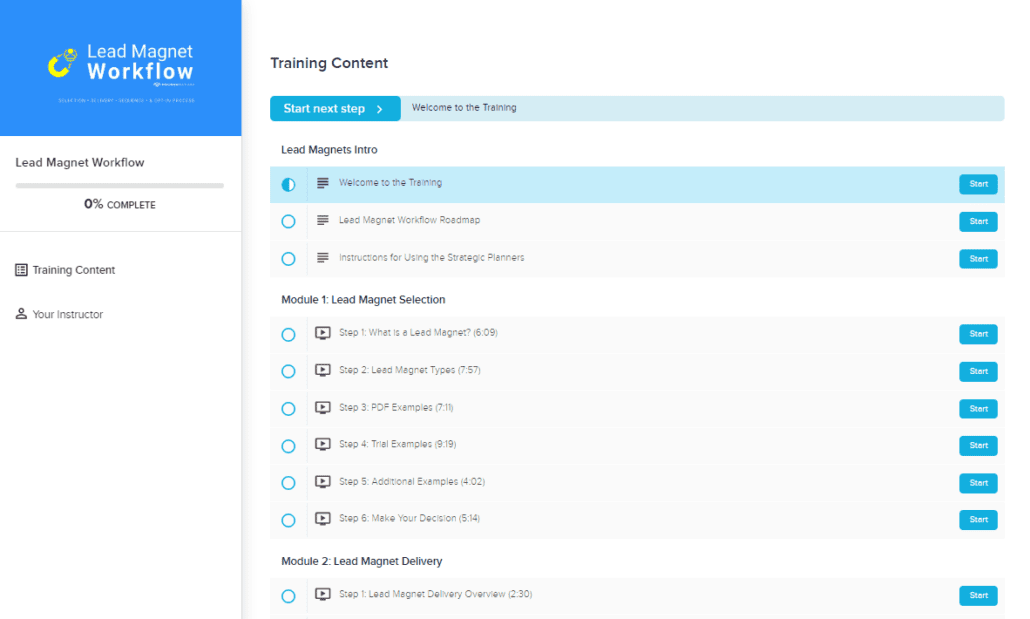 Nearly every task in the Lead Magnet Workflow includes a very short video and a fillable PDF. Everything is laid out in an easy-to-follow manner so you know the exact next step to take.
This training is ideal for you if …
You want to create an online course business.
You don't yet have a lead magnet or subscriber landing page set up, but you realize you're missing out on profits and are ready to start building this email automation system now.
You don't know what type of lead magnet to create and can use some help figuring it out.
You're not sure what to say in your email sequence or what to include on your subscriber landing page.
You're struggling to create opt-in forms and aren't sure where to place them on your site.
You don't want to watch dozens of hours of videos to get generalized knowledge. Instead, you want to keep it short, focus on what's most important, and then move forward.
It's a new way of learning and doing.
Lead Magnet Workflow is not your typical online training. The training includes over 2 hours worth of short micro-videos that walk you through specific tasks along with 7 fillable PDFs (our Strategic Planners).
In addition to learning while doing the training follows a specific framework. Each module builds on the subsequent module. Here's a sneak peek at the framework covered in this training: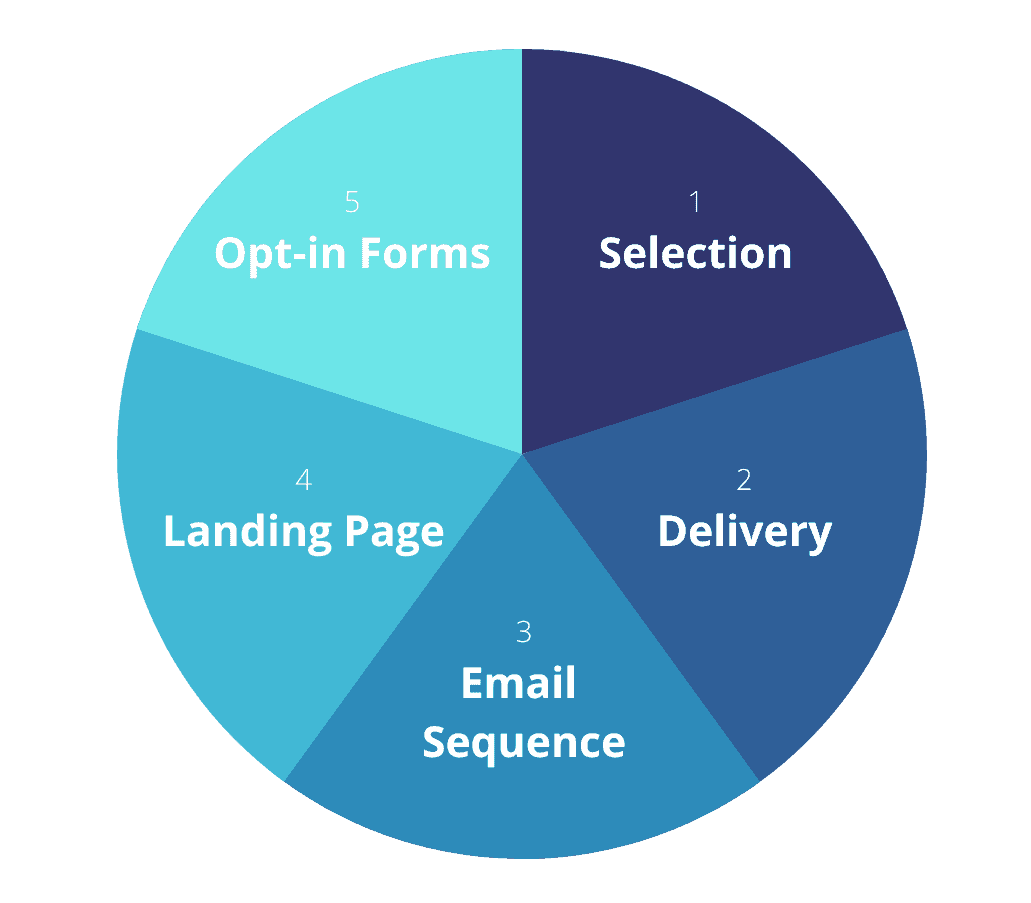 You start at the top right and then move your way around the circle.
Unlike most training, you're not just watching videos, but actually moving closer to your goal as you fill in the Strategic Planners.
Lastly, you can track your progress as you get closer and closer to your end goal. By the time you've completed the training, you'll have your entire lead magnet strategy put together.
Here's What You Get Inside Lead Magnet Workflow
MODULE 1:
LEAD MAGNET SELECTION
Walk through how to select your lead magnet so you can start collecting leads. You'll learn about the different types of lead magnets and choose the best format and topic.
WHAT IS A LEAD MAGNET: Learn why you need to create a lead magnet and how it can help you get thousands of leads in short order!
LEAD MAGNET TYPES: Cover the most popular lead magnet types.
PDF EXAMPLES: Drill down into ideas for using a PDF as a lead magnet. It's one of the fastest and easiest ways to get started.
TRIAL EXAMPLES: Free trials can work well as a lead magnet. They can be a very powerful way to grow your list.
ADDITIONAL EXAMPLES: Get acquainted with additional lead magnet types especially if the PDF or free trial is not the best fit for you.
MAKE YOUR DECISION: Go through the Lead Magnet Selection Strategic Planner to decide on the best topic and format for your lead magnet.
---
MODULE 2:
LEAD MAGNET DELIVERY
Learn the difference between single vs double opt-in and decide which one you'll use. Make sure the delivery of your lead magnet is user-friendly.
By the end of this module, you'll determine the best way to deliver your lead magnet.
LEAD MAGNET DELIVERY OVERVIEW: All about delivering your lead magnet.
SINGLE OPT-IN: What happens with single opt-in and the pros and cons of using it.
DOUBLE OPT-IN: Exact workflow for double opt-in and your decision path.
DELIVERING THE LEAD MAGNET: How to create a special download page including what to put on it to start your subscriber off with a good experience.
---
MODULE 3:
LEAD MAGNET SEQUENCE
By the end of this module, you'll create a follow-up sequence for your lead magnet to help build a solid relationship with your subscribers.
SEQUENCE OVERVIEW: Learn why it's important to create a good lead magnet sequence.
LEAD MAGNET WELCOME: Exactly what to include in the very first email of your lead magnet sequence.
ACCESS LEAD MAGNET: This covers the second email in your lead magnet sequence. Learn what to include to cement yourself as there to help.
WALKTHROUGH: How to create your walkthrough emails to get your subscriber to consume your lead magnet.
ADDITIONAL EMAILS: How to structure additional emails to get testimonials and position your current or upcoming products.
LEAD MAGNET TO BROADCAST: Make sure you don't lose touch with your subscribers by setting them up to receive broadcasts from you.
---
MODULE 4:
LEAD MAGNET LANDING PAGE
By the end of this module, you'll create a page meant to entice your visitors to sign-up for your lead magnet. Learn how to create a landing page that has the best chance of converting subscribers.
LANDING PAGE WIREFRAME: Discover what you should include on your landing page and in what order.
LANDING PAGE EXAMPLES FOR PDFs: Collect ideas for your landing page from these high-converting examples.
LANDING PAGES FOR OTHER LEAD MAGNETS: Continue to collect ideas from top converting landing pages and start drafting out your own.
---
MODULE 5:
OPT-IN FORMS
Walk through all the steps to set your opt-in form up. Discover what goes on your form as well as the best placements for your forms.
OPT-IN FORM OVERVIEW: Learn why you need to pay so much attention to your forms and the best tools for creating them.
OPT-IN FORM WIREFRAME: Discover exactly how to structure your opt-in form so there are no questions on how to create it.
GDPR: Review GDPR and how you can be as transparent as possible when it comes to your email marketing campaigns.
PLACEMENT OF OPT-IN FORMS: Learn about the top placements for your forms including pop-ups and how to best use them to drive more subscribers to your list.
Money-back guarantee
14-day no questions asked money back period.
Start moving forward as you go through the training.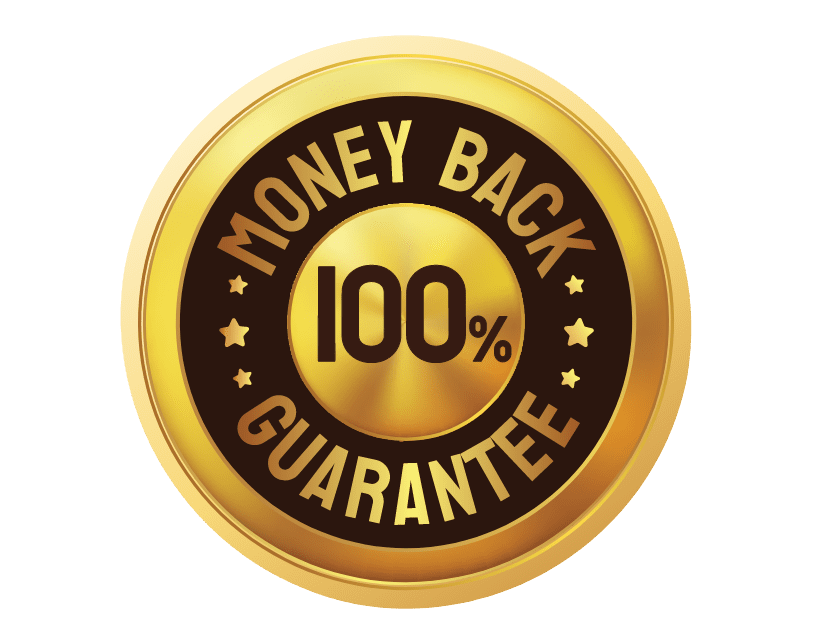 By joining today for only $97, you'll get the following:
5 easy-to-follow training modules that help you build your lead magnet.
25 short, task-based video lessons so you know exactly what to do.
7 Strategic planners (fillable PDFs) with actionable tasks to keep you moving forward.
Full access for 12 months with the one-time payment.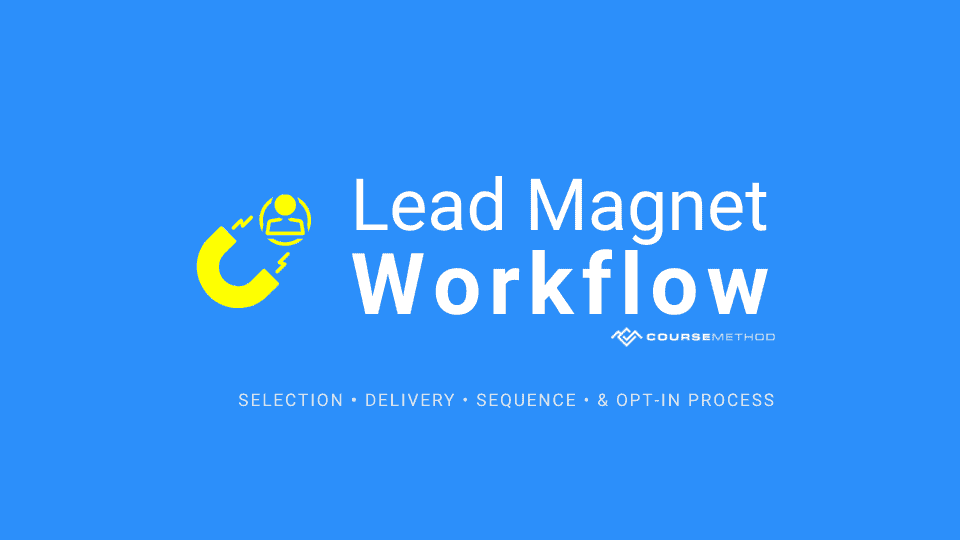 Enroll today and start building a solid foundation for your online course business:
FAQs
What's a Strategic Planner?
Each Strategic Planner is a PDF. Many are fillable PDFs. This means you read a little. Often after that, you'll enter in the text that is meaningful to your business.
For instance, if you're trying to come up with your brand image then you'll learn how to do that as you work through the planner. Save these planners to your device and you'll have a repository for your business tasks, vision, and goals.
What if I'm not happy with the training?
You can easily take advantage of our 14-day money-back guarantee if you're not happy with the training. Simply contact us within 14-days of enrolling and we'll set you up with a quick and easy refund.
Why do I only get access for 12-months?
You'll have 12 months after enrolling to complete this course. This is plenty of time to watch all the videos (totaling 2 hours) and complete all the tasks (the Strategic Planners are downloadable so these are yours to keep). This training is meant for action-takers so there's no reason not to limit the length of time. If you need more time you can re-enroll for 50% off the regular course price.