Course researcher:

create your course around a topic that will give you the best chance of success.
Are you interested in starting an online course business? The Course Researcher training will help you figure out what topic to cover. Learn how to differentiate your topic idea from competitors in the process.
Level: Starting out | Pre-Development Phase
Video Length: 2.5 hours
Additional Material: 32 Strategic Planners + Excel Spreadsheets
Enrollment Fee: $97 $47 for 12-month access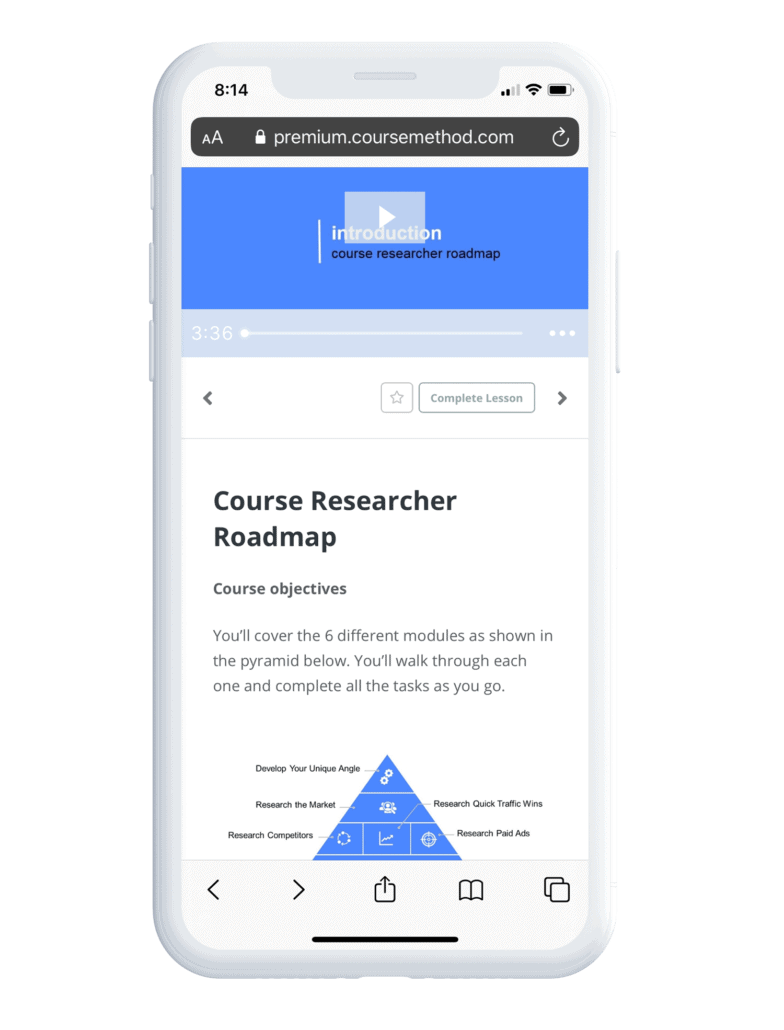 If you're thinking about creating an online course then the very first step is deciding on the topic you'll cover.
With a little brainstorming, you'll likely see that you already have the knowledge or life experience others will find useful. If you package that into an online course then it can become a fairly passive income stream for you for many years to come.
Save yourself tons of second-guessing. Make sure the online course you spend weeks or months creating actually has a fighting chance of getting students and earning money.
Give yourself the best chance of success by following a proven framework.
Your topic idea may come from your education, certifications, jobs, and your life experiences.
It's also possible to leverage an interest. Leveraging an interest means you learn how to do something and share your experience on the way. Lastly, you can partner up with others if you really don't have or want to gain the knowledge on your own.
The Course Researcher training will walk you through all your options and help you settle on your topic idea. And that's only what's covered in the first module. The rest of the modules help you validate whether that topic will lead to a successful course business or not.
You'll validate your topic by doing research. You'll research:
Competitors.
Quick traffic wins.
Paid ads.
And the existing market.
Once you do all this validation research, you'll have a solid idea of whether or not your topic idea will end up paying off. You'll go into creating your course feeling confident that others will pay for your course. You'll also know how to tap into the market to start getting traffic.
Lastly, you'll use the research you found on the existing market to start developing a unique angle for your course. Having a unique angle helps you stand out in the marketplace.
This training is unique in that you move forward by doing.
There are many steps and tasks you need to do in order to move forward.
Therefore, this training includes dozens of Strategic Planners to help you move forward. Many of the Strategic Planners included in this training are fillable PDFs. So you'll learn, then you'll fill in the PDFs. This helps turn your thoughts into clarity.
Here's an example of one of the fillable PDFs:
There's also video training so you understand the logic behind the tasks as well as what you need to know to complete each Strategic Planner.
Within the Course Researcher training, you'll get access to 32 Strategic planners. These walk you through each task to completely brainstorm and validate your topic idea as well as come up with a unique angle.
When you enroll in the training, you don't just get a pack of PDFs and videos thrown together. It's all organized in a platform for you, placed in sequential order. Here's the first module on researching your topic options so you can see how easy it is to follow along: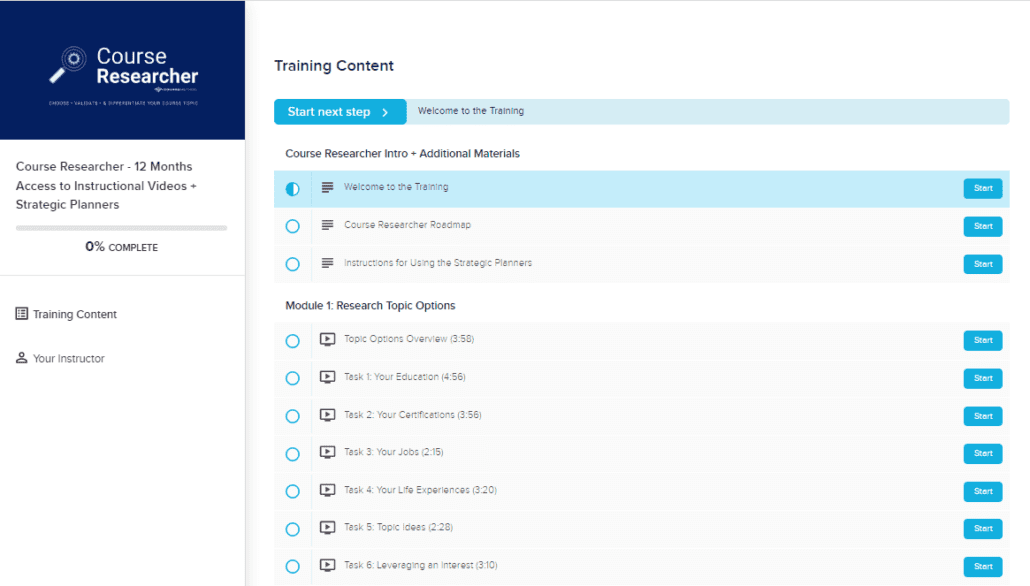 Nearly every task in the Course Researcher training includes a very short video and a fillable PDF. Everything is laid out in an easy-to-follow manner so you know exactly what the next step to take is.
This training is ideal for you if …
If you want to create an online course business.
You need a step-by-step walkthrough of the first hurdle in creating your online course business, which is deciding on your topic idea.
You need a walkthrough on uncovering an idea, checking its profitability, determining quick traffic options, and paid ad potential.
You need guidance on developing a unique angle that will help you stand out in the marketplace.
You don't want to watch dozens of hours of videos to get generalized knowledge. Instead, you want to keep it short, focus on what's most important, and then move forward.
It's a new way of learning and doing.
Course Researcher is not your typical online training. There is over 2 hours worth of very short micro-videos that walk you through specific tasks along with 32 fillable PDFs (our Strategic Planners).
In addition to learning while doing the training follows a specific framework. Each module builds on the subsequent module. Here's a sneak peek at the framework covered in easy-to-understand videos in this training: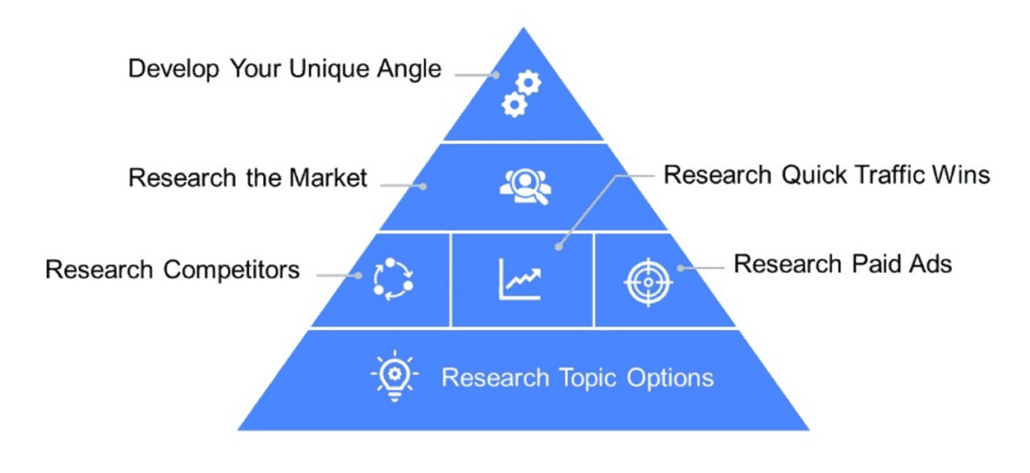 As you can see, each layer of the pyramid builds on top of the previous layer.
Unlike most training, you're not just watching videos, but actually moving closer to your goal as you fill in the Strategic Planners.
Lastly, you can track your progress as you get closer and closer to your end goal. By the time you've completed the training, you'll know you've thoroughly reviewed your options and are on track to create a course with the best chance of success.
What's waiting for you inside Course Researcher
RESEARCH TOPIC OPTIONS
In this module, you'll uncover topic options based on your knowledge and background. Strategic Planners walk you through every aspect of your background to help you figure out the perfect topic match.
Topic Options Overview
Task 1: Your Education
Task 2: Your Certifications
Task 3: Your Jobs
Task 4: Your Life Experiences
Task 5: Topic Ideas
Task 6: Leveraging an Interest
Task 7: Partnering Up
Task 8: Narrowing Down
RESEARCH COMPETITORS
These videos and tasks will help you find competitors from every major source and organize them into a usable list.
Competition Overview
Task 1: Google Search
Task 2: Search Udemy
Task 3: Search Udemy Competitors
Task 4: Search Amazon
Task 5: Competitor Reflection
RESEARCH QUICK TRAFFIC WINS
This module will help you research quick traffic wins to see where you can get initial traffic to your opt-in page and build your list.
Quick Traffic Wins Overview
Task 1: Find Forums
Task 2: Find Blogs
Task 3: Find Facebook Groups
Task 4: Find Podcasts
Task 5: Traffic Reflection
RESEARCH PAID ADS
In this module, you'll research paid ads to determine if you can model paid advertising from your competitors.
Paid Ads Overview
Task 1: Adwords Search
Task 2: Facebook Ad Search
Task 3: Paid Ad Reflection
Task 5: Paid vs Free Summary
RESEARCH THE MARKET
In this module, you will research the existing marketplace to see exactly what your competitors are offering.
Competitor Research Overview
Task 1: Organize Competitors
Task 2: Competitor Prices
Task 3: Competitor Benefits & Features
Task 4: Competitor Offer & Content
Task 5: Competitor Support & Bonuses
Task 6: Competitor Patterns
DEVELOP YOUR UNIQUE ANGLE(S)
In this part of the training, you'll develop your unique angle(s) based on your data collection so you stand out in the marketplace.
Unique Angle Overview
Task 1: Affinity or Knowledge
Task 2: Your Course Format
Task 3: Your Course Boundaries
Task 4: Pricing Your Course
Task 5: Your Course Benefits
Task 6: Your Course Support
Task 7: Your Course Bonuses
Task 8: Your Unique Angle(s)
Money-back guarantee
14-day no questions asked money back period.
Start moving forward as you go through the training.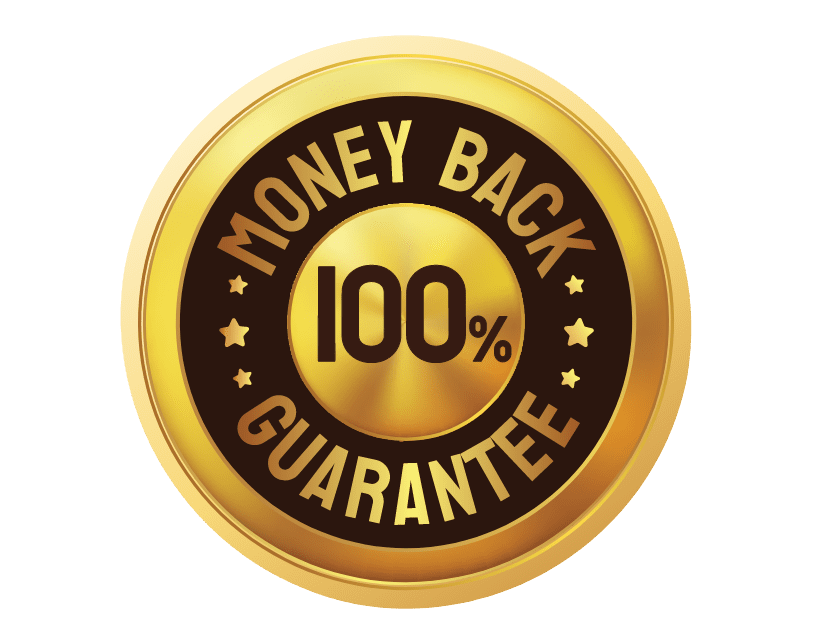 By joining today for only $97 $47, you'll get the following:
6 easy-to-follow training modules that walk you through the research process.
45+ short, task-based video lessons so you know exactly what to do (2.5 hours of video).
32 Strategic planners (fillable PDFs) with actionable tasks to keep you moving forward.
Full access for 12 months.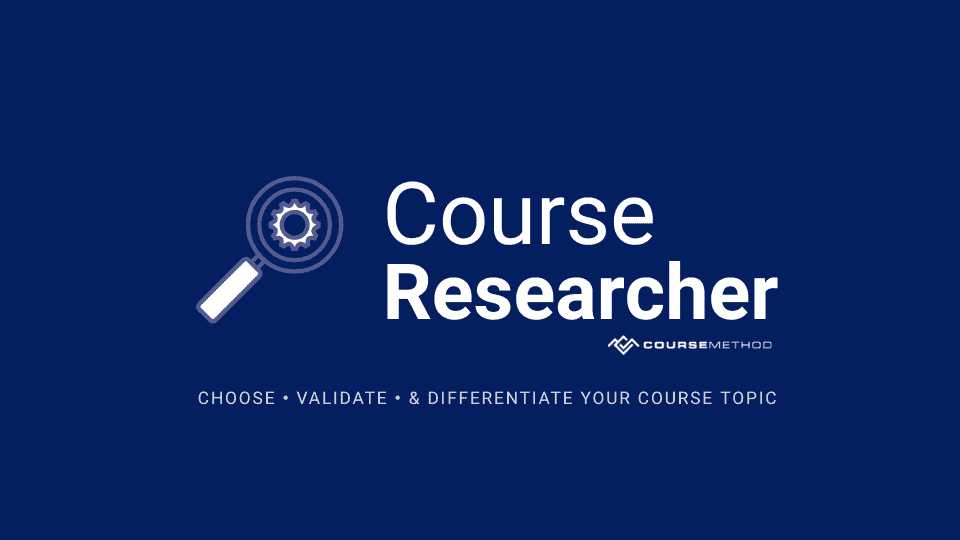 Enroll today and start building a solid foundation for your online course business:
FAQs
What's a Strategic Planner?
Each Strategic Planner is a PDF. Many are fillable PDFs. This means you read a little. Often after that, you'll enter in the text that is meaningful to your business.
For instance, if you're coming up with a unique angle for your next course then you'll learn how to do that and enter it into the PDF as you work through the planner. Save these to your device and you'll have a repository for your business tasks, vision, and goals.
What if I'm not happy with the training?
You can easily take advantage of our 14-day money-back guarantee if you're not happy with the training. Simply contact us within 14-days of enrolling and we'll set you up with a quick and easy refund.
Why do I only get access for 12-months?
You'll have 12 months after enrolling to complete this course. This is plenty of time to watch all the videos (totaling 2 hours) and complete all the tasks (the Strategic Planners are downloadable so these are yours to keep). This training is meant for action-takers so there's no reason not to limit the length of time. If you need more time you can re-enroll for 50% off the regular course price.