Emyli Lovz Created Training in the Online Dating Space Earning $20K/Month and Views it as Her Legacy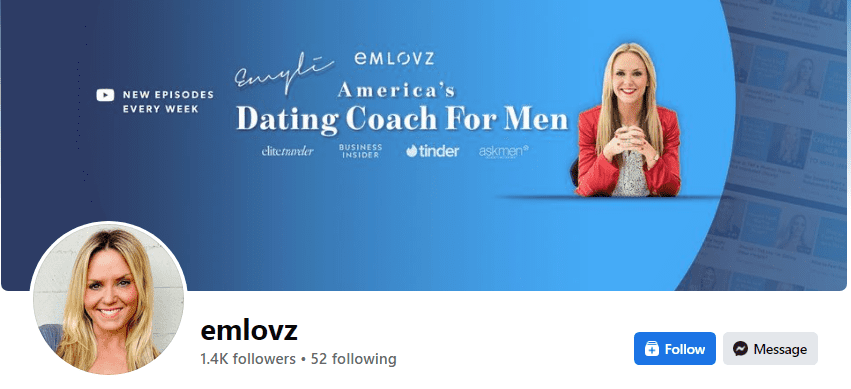 Our content is reader supported, which means when you buy from links you click on, we may earn a commission.
---
Who: Emyli Lovz
Website: emlovz.com
Course Topic: Dating for Men
Interesting Stats: $20K/month
Who are you and what course have you created?
I'm Emyli Lovz and I created Dating Decoded, a private group coaching program and online course for men who want to go on more dates with the women they're really excited about so they can find their forever person.
Our company offers best-in-class dating coaching programs for men (private or group based) who want to master every facet of dating in order to find a girlfriend, wife, or long-term relationship.
The goal of my coaching programs is to get my clients on 20 dates in 90 days with women they're really excited about by MegaDating.
MegaDating is my proprietary dating strategy that keeps men from settling for less than what they deserve while maintaining leverage, increasing confidence, and diffusing their energy so they can find their most ideal girlfriend fast!
The online curriculum for Dating Decoded includes the following training modules:
Crafting the Perfect Online Dating Profile
Messaging Women on Dating Apps & On Social Media
First Date Blueprint
Second Date Blueprint
Third Date Blueprint
Flirting
Consent
How to Escalate Sexual Tension
Playfulness & Humor
Storytelling
Attachment Style Quiz & Training
Ideal Girlfriend Profile
And more

What market does your online course serve?
I help men of all ages, living in major cities, who are recently divorced and have never used dating apps to meet women and don't know where to start. My clients are all smart and hard-working men
What's the biggest benefit of taking your course?
It gives men hope because they realize they can control their outcomes. A lot of guys feel like they're throwing spaghetti at the wall and hoping something sticks. I get messages all the time from my clients that are blown away by how much more control they have after starting my course.
They know exactly what photos to use and how to craft a super competitive profile. After my help, they understand how to message women so they win a response and so she says "yes" to their date invitations. They understand the framework for the first, second, and third dates and have step-by-step instructions for how to set each of them up so they're able to avoid getting ghosted or friend-zoned. It gives them hope again that they'll actually be able to find the woman of their dreams.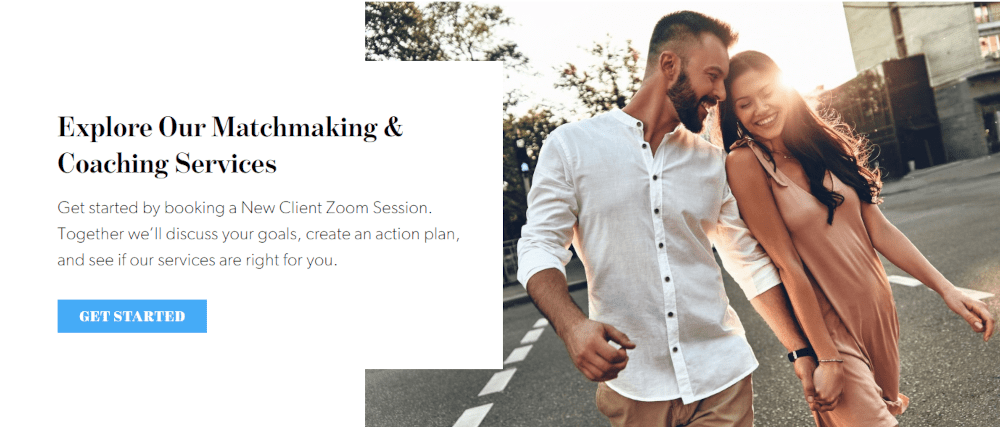 How did you get into the market?
A few years ago, I completed a 100-date experiment and went on 101 dates with 52 different men. The idea came to me while I was studying political science at UC Berkeley. I thought it was crazy how there were entire departments devoted to the study of politics (which only 30% of the population participated in at the time) and no department for dating science (which most people participate in). In school, we were also learning how to conduct social experiments and so the idea of a dating experiment naturally evolved from there.
Research from the experiment became the foundation for my coaching & matchmaking services. I use a method called MegaDating. This is the process of dating multiple people at the same time to diffuse energy and increase confidence.
I came up with the idea when I went on 100-dates in a year. I needed an easy way to date quickly and in a low-stakes environment. So I coined the term MegaDating, which is exactly that.
It allowed me to compare and contrast lots of different people quickly to find the one who was truly best for me. I've been with the man I met during that experiment for 10 years now and we're still going strong. My theory is that if we put in the work to find the right partner in the beginning, then we can avoid divorce and unhappiness in the long run.
Why did you decide to create an online course in the first place?
The course naturally evolved from years of working with men. I wanted to find a way to help more people all at once and all over the world (didn't want to be constrained by timezone). I also saw the value from other coaching programs I was in, which showed me that being able to return again and again to certain training sessions could be much more effective than a 1-on-1 session that would easily be forgotten.
Did you have any moments of doubt before you created/launched it?
There's always doubt when trying something new but the teachings I was sharing had worked for years for my private, 1-on-1 clients, so I knew they'd work as an online course too. Plus I paired my online course with twice-a-week coaching calls so people could come in with questions about the material and how it was being applied to their lives. This allows me to always stay at the cutting edge of my industry and I'm constantly evolving my training to keep up with the marketplace (changes to dating apps, new messaging and outreach strategies, Covid and virtual dating, etc.).

If so what made you turn it around and do it anyway?
I knew it was important for my clients to have a living resource to refer back to. One that was always being updated and improved with the latest information. I wanted to create a community where anyone could get help. So no matter where they lived they'd have that support throughout their dating journey, regardless of the path their dating journey took.
I also viewed it as my legacy. I want to leave the world a better place than I found it. If something ever happens to me, I want my work to live on and continue helping others.
What's your online course like?
My course is live video paired with training slides, worksheets, exercises, and quizzes.
How long did it take you to create your course?
My course is always evolving and changing. It's 10 years of information in there and every week I go in and optimize the training materials. How long did it take to create the lesson plan? Years and years, and it's always changing. How long did it take to record the videos and put everything into Kajabi? It probably took about 2 months but the training materials have been honed and crafted for the past decade.
Tell us a little about the process of launching your course and getting your first sale(s).
It's hard to remember that far back.
My original course was pretty rough. That was way back in 2012. Back then I was filming everything from the couch in my 500 square foot apartment in San Francisco. - Emyli Lovz
Click To Tweet
My boyfriend and I would turn our living room into a film studio with professional lighting kits and a fancy camera. I remember being overly critical about the editing process and trying to make everything look polished and professional.
My first sale came from a Facebook ad we had for matchmaking. That client really needed coaching and I made him go through the online course before I would matchmake for him. He ended up listening to the audio repeatedly on long drives from home to work each day. He really liked it, even though looking back now I feel like it was pretty novice-level material. Still, it was an amazing experience and I'm so happy to say that that client is getting married next year and I get to be one of his groom persons so it all worked out!
Do you have a lead magnet?
I'd consider my articles, YouTube videos, and Instagram posts a lead magnet. In each video and post, I give away a little bit of useful information that they can take action on to see results. That helps to build trust and get clients in the door who believe in what I offer.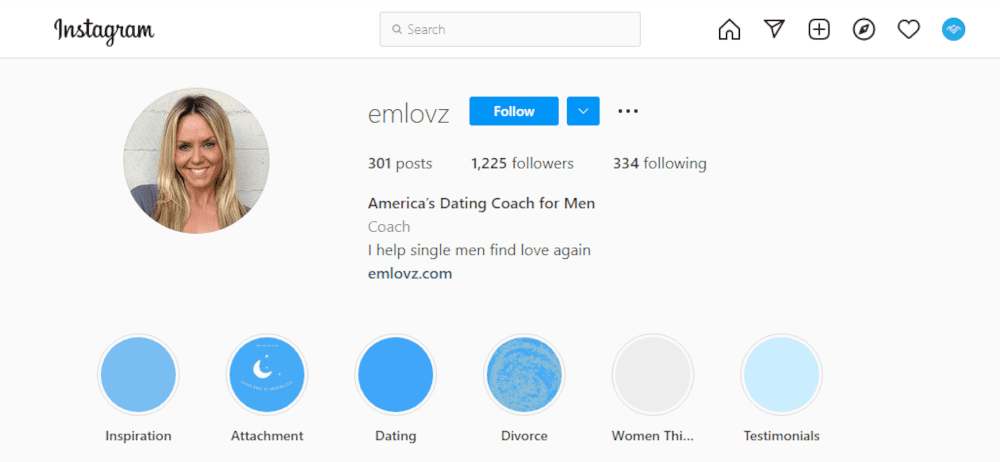 What's the traffic strategy that works best for you?
My business partner is our marketing genius. He's mastered SEO and we get the majority of our clients from this channel. He's actually just launched his own coaching program and online course to help other coaches get inbound leads organically. Our articles on Google are our primary method for attracting clients.
What online course platform are you using?
Kajabi and I love it, super user-friendly and aesthetically pleasing.
Kajabi is one of the top online course platforms used by successful course creators interviewed on coursemethod.com. Kajabi includes email marketing and other tools that make it easy to run your entire business from their platform.
Price Range: $149 to $399/month
Most Popular Plan: Growth Plan at $199/month
Annual Discount: Yes, take 20% off!
Free Trial: Get a 14-day free trial (credit card required)
Are there any features you wish it had?
Nope, I love it.
What made you decide to use your chosen platform over others?
Social proof. Coaches I hired were using it and told me it was great. I also used it as their student and found it easier to navigate than Thinkific and Teachable. I also did my own research.
What other tools do you use to run your online course business?
Zoom Webinar, Zoom regular, Gmail, Screentastic, iPhone, Canva, Google slides
What books or training programs have you found useful on your journey to a successful business owner that others might find valuable too?
Next Level Coaches, Authority Accelerator, Social Triggers, and Marie Forleo.
Do you have any big mistakes you've made along the way that you'd be willing to share?
Yes, hire a coach early on but make sure you thoroughly vet them. You want to speak with people who have worked with them and ask them how they helped them. Be very thorough in your vetting. We left so much money on the table with our pricing.
Our coach helped us scale our price offering to a much more reasonable rate that made us a lot more money and was still effective for selling. We also saw our clients get much better results when we increased the price.
Hire a coach who can identify what changes you should make right away to have more success. - Emyli Lovz
Click To Tweet
Just make sure they're not a scam artist because the industry isn't regulated. Don't make decisions out of emotion, make them logically.
Please share some idea of revenue.
We average around $20k/month.
Please tell us a little about what the money you've earned from your course has done for you.
Pursuing this coaching program/course has allowed me to quit corporate America and hire independent contractors and learn how to manage others. We've also been able to move into a nicer home and my time freedom has grown exponentially. I used to work 50-60 hours a week, now my coaching program with my online course allows me to only coach 3-4 hours a week and I definitely don't work over 40 hours a week anymore.
In addition to revenue are there any numbers you would like to share?
Tom, my co-founder and the marketing genius behind our company gets hundreds of thousands of readers on our site each month through Google organic. He teaches exactly how to do the same in his coaching program, The Client Magnet. It's a process of consistently posting quality articles that follow SEO best practices. We've been writing multiple articles a week for years now.
What has creating your course done for you personally?
It gives me so much more time freedom to not have to do all 1-on-1 coaching sessions. This allows me to optimize my teachings, film youtube videos, and post on social media (channels that we haven't traditionally focused on).
Do you have a story of a transformation from any of your clients?
David's Before and After:
Before emlovz:
Went on some first dates over the past month
Didn't know what to do to stand out on dating apps
Wanted to get better at the in-person approach
Didn't know what to say in conversations online and on his dates
Didn't feel confident in reading women or knowing whether his dates went well
Felt like his match rate was quite low
Frustrated because of so much conflicting advice online, not sure what's true and what's not
After emlovz:
Went on 16 dates in 8 weeks
Found his dream girl in 2 months
Now in a happy relationship with her
Ted's Story:
Before emlovz:
Came in very abrasive
Wouldn't look anyone in the eye
Very skeptical
Hadn't had sex in 10 years
Hadn't been on a date in 10 years
Used to go on and on about conversation topics that totally turn women off
After emlovz:
Really committed himself to do the work
Dated 50+ women over the course of several years
Is now engaged to be married to an amazing woman!
Just moved into a new home with his fiance
Last year overcame cancer and a heart attack and didn't have to do it alone
What advice do you have for people just starting out?
Hire a well-vetted coach to help you get inbound leads asap. Thomas Anthony's Lead Magnet program is a game-changer. If we'd known what he self-taught himself over 10 years when we first started, I probably would have been out of corporate America in a year.
Learn more about Emyli Lovz of emlovz.com: