How Creating a 6-Figure Pinterest Course Helped Anastasia Blogger See That She Can Create New Courses as She Continues to Learn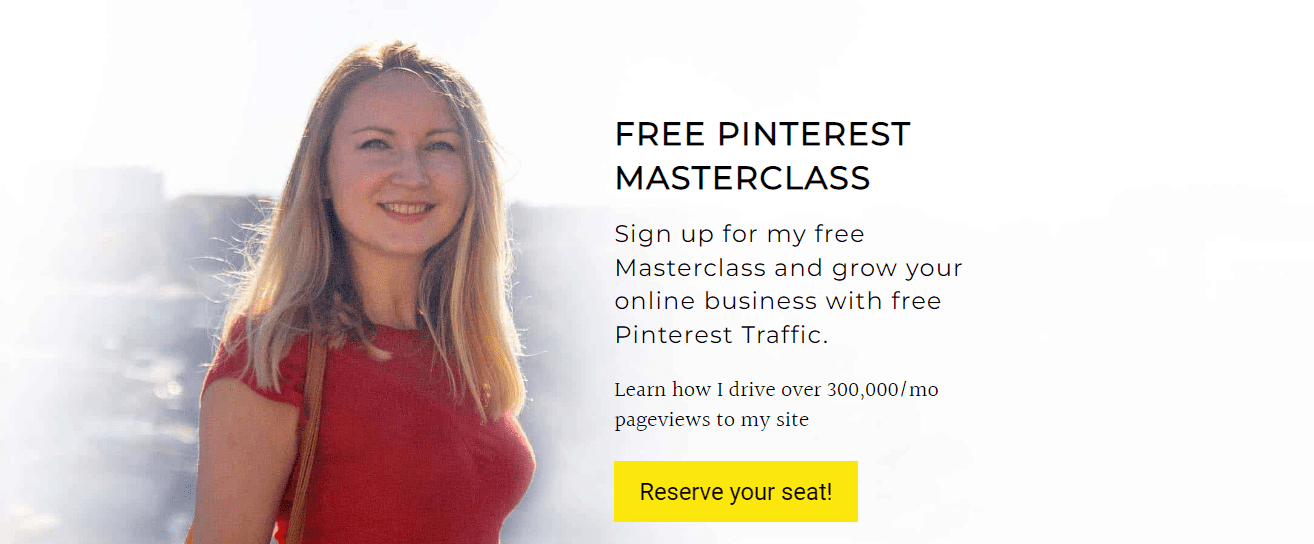 Our content is reader supported, which means when you buy from links you click on, we may earn a commission.
---
Who: Anastasia Blogger
Website: anastasiablogger.com
Course Topic: Small Business
Interesting Stats: $220,000 from her Pinterest course in 2020
Who are you and what course have you created?
I am a full-time blogger at anastasiablogger.com, YouTuber, and a Pinterest marketing expert. As part of my online business, I run an online course business for 3+ years, and my signature course "Pinterest SEO Traffic Secrets" helps small business owners, bloggers, and eCommerce websites get high-quality free traffic from Pinterest.
What market does your online course serve?
Pinterest marketing works the best for businesses and websites that want to attract a female audience and people who like visual content. Pinterest is very underestimated as a marketing platform. Many businesses and bloggers alike, don't realize that it has a huge traffic potential, much higher than other social networks. That's because you can add a link directly to specific pages on your site from every image or video pin.
And also, it's so powerful because Pinterest works like a hybrid between a social media platform and a search engine. Unlike other social networks where your posts have a lifespan of 24 hours or a few days max, on Pinterest anything that you saved to a relevant board, can be found in search results on the platform months and years later.
Another advantage of Pinterest traffic is that if you create content in English and target a US-based audience known for higher purchasing power, you will likely get what you are looking for. Pinterest will drive to your site mostly US-based visitors. It's the biggest country on the Pinterest userbase map at the moment. This is great for many eCommerce businesses and bloggers who monetize their sites with display ads. Their ad income can increase dramatically just because the share of the US-based audience has grown thanks to Pinterest traffic.
What's the biggest benefit of taking your course?
New website owners trying to grow free traffic without paid ads, and struggling to get any Google SEO traffic because of a low domain authority will see the biggest outcome from my Pinterest course. That's because Pinterest is much more beginner-friendly compared to Google. Your new domain can compete for popular keywords on Pinterest with any older sites, and you can see the first results within 4-6 months. With Google, a new site typically gets almost no traffic in the first year.
How did you get into the market?
I was one of the struggling beginner bloggers who was running out of patience to see any traffic coming to my site from Google searches. I started reading a lot of blogging income and traffic reports and found out that many established bloggers relied on Pinterest to generate from 50 up to 90% of all their traffic. It was an eye-opener for me because I thought I was doomed to wait 1-2 years to get anywhere close to 50,000/mo sessions on my blog and apply to a premium ad management company like Mediavine that pays really well for display ads on your site.
When I started using Pinterest, to my surprise, with just about 20 minutes a day of work on this platform, I was able to get my blog to the minimum required traffic for Mediavine in about 8 months, so that by the end of my first year blogging, I had my first income report above $1400.
Why did you decide to create an online course in the first place?
Pinterest worked really great for me, and I started offering Pinterest account audits and a 1:1 consultation as a service to other bloggers and small business owners who wanted to grow on this platform. After doing this for a while, I noticed that a lot of clients had very repetitive and very basic questions and it wasn't efficient to spend the 1-hour of consultation to set their account from scratch. I thought they could learn all the basics from a pre-recorded video and then come to me with more advanced questions. That's how I came up with the idea to create an online course to help my clients get started on Pinterest and then they could purchase an additional Pinterest account audit to move their traffic to the next level.
Did you have any moments of doubt before you created/launched it?
Oh yes, it's a great question! I think all course creators struggle with imposter syndrome, especially at the beginning and while working on the course content. You always look around and feel like there are other experts better than you and if they made a course, it would be better than yours.
But the truth is, every expert has his or her own teaching style. Some great experts might be not so great at passing their knowledge to people who are complete beginners. - Anastasia Blogger
Click To Tweet
And you might be a lot better at breaking down the information in a bite-size, digestible format.
If so what made you turn it around and do it anyway?
For my course, I did a beta round, or you could call it pre-selling a course. I offered early access to the course at a huge discount of about 70% and the small group of students who joined it, where they go through the course materials in batches delivered once a week. I also encouraged them to give me feedback on each part of the course they got access to.
Having this communication with the students while shaping up the course content helped me feel more confident that what I offer is helpful for them. Also, doing it as a pre-sell helped me move forward and complete the delivery of the course in time because I couldn't make any excuses or delay the new lessons trying to make them perfect. If you are a new course creator, remember that your course will always be a work in progress and you can always re-record some of the lessons later, based on the feedback of your first students.
What's your online course like?
It mostly consists of video lessons since I am showing them how to use the Pinterest platform and it's easier to learn by following me click by click. Some of the lessons are made partially as a PowerPoint presentation – wherever it makes sense, but a lot of the course is me sharing my screen and showing what I do on Pinterest.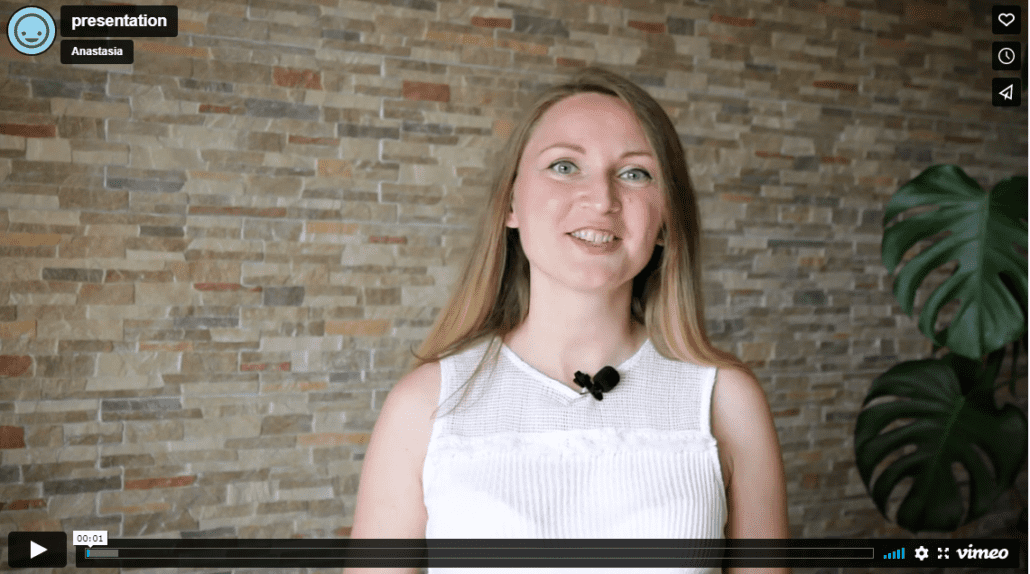 How long did it take you to create your course?
I actually mentioned earlier, that I did a pre-sell of the course with a 70% discount and delivered batches of video lessons once a week. I did have about 30% of the course content ready at the time of the pre-sell and a plan of lessons for the next modules. The first version of the first few lessons of the course took me about a month to create. But when I did the pre-sell, and I knew that I had to deliver new lessons every week within the next 8 weeks, I became more productive and there was no time for hesitation left.
Tell us a little about the process of launching your course and getting your first sale(s).
During the pre-sell, I basically had just my short sales page with an intro video of about 2 minutes, and my detailed plan of what I wanted to offer in the course. People who joined knew they were joining the beta version and that I was expecting to get a lot of feedback from them.
The sale happened mainly through my email list which wasn't big. At that time I had only about 1000 subscribers and once I sent the first email, only 2 people joined the beta of the course. I kept inviting people from my audience in the future emails within the next couple of weeks, and reached about 10 members for the beta, it was good enough to focus on delivering the course.
Every week, I was sending my students emails encouraging them to give me their feedback on each new module of the course. If they wanted me to add something in particular to the lessons, or answer some questions I didn't cover in the course yet, I was adding that in the following weeks. I also opened for the members of the course a close Facebook group and they could ask me questions, and share their screenshots and feedback. I was checking the group once a day, I still do this as I keep that Facebook group as a member support community for my course.
Do you have a lead magnet?
Yes, I use lots of PDFs which I promote through educational content on my Youtube channel. I give my audience the information in the video and a condensed printable version of it in a PDF, typically these are checklists.
My most popular printable lead magnet is Pinterest SEO Checklist. I also attract a lot of views to my Free Pinterest Masterclass – this is a video training of about 1 hour. At the end of the class, I introduce the audience to my Pinterest course.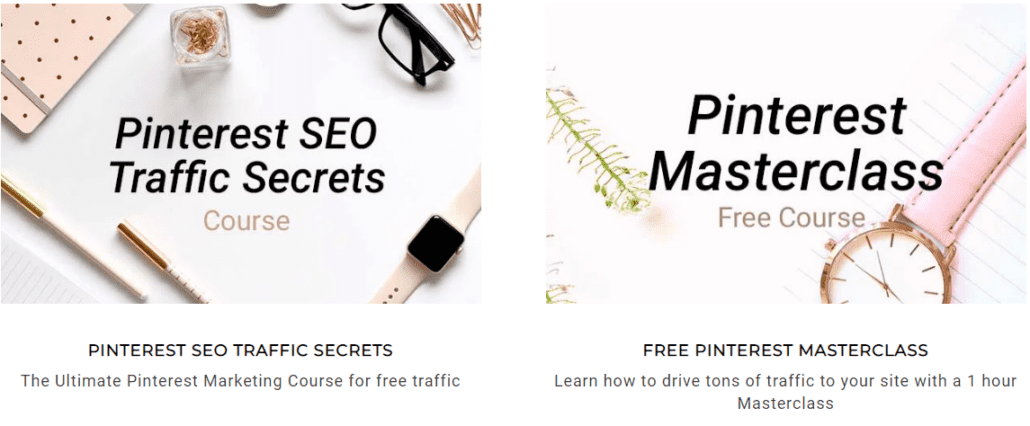 What's the traffic strategy that works best for you?
The first traffic source that worked best for my blog was Pinterest, it allowed me to grow my traffic fast in the first year. Over the years, however, my site gained some domain authority in Google and now my second highest traffic generator is Google SEO and the next goes my Youtube channel. The channels mostly drive traffic to my lead magnets.
What online course platform are you using?
I have used Thinkific for about 3 years now.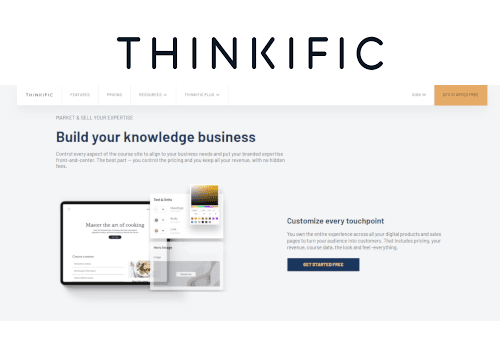 Take a Look at Thinkific!
Thinkific is the most popular online course platform used by successful course creators interviewed on coursemethod.com. It's a complete solution for creating sales pages, uploading all course content, taking payments, and more.
Price Range: Free to $499/month 
Most Popular Plan: Pro Plan at $99/month
Annual Discount: Yes, take 20% off!
Free Trial: Try out Thinkific's core features for free.
*Our content is reader supported, which means when you buy from links you click on, we may earn a commission.
Do you like it?
Yes, it's great for the price level of just $49/month. I get all the features I need, and that typically costs at least $100/month on other platforms. That includes running an affiliate program for my courses.
The best part about Thinkific for me is that even on the free plan they don't try to charge you any commission from your course sales. If you check some other popular platforms, many plans have commissions that can add up pretty quickly when you start selling your course.
Are there any features you wish it had?
Sure, there is always room for improvement on any course platform ☺ I wish they added a more robust Community functionality so that course creators could ditch Facebook groups for support.  Thinkific already has a Community feature but it doesn't allow searching for topics inside the community. So if there are repetitive questions (always and many!) students can't simply search for the previous topics and questions and find the answers before asking them again.
Keeping the support community on the same platform where you host the course is important because you can control for how long the users can access your support, it can be limited for example, to one year. On Facebook, if you added a user to your group, you would have to manually remove them if you want to provide time-limited support. And you know, Facebook groups are not ideal because a certain percentage of students don't use Facebook and they don't like the fact they have to create an account on Facebook just to ask questions related to the course.

What made you decide to use your chosen platform over others?
The best part about Thinkific for me is that even on the free plan they don't try to charge you any commission from your course sales. If you check some other popular platforms, many plans have commissions that can add up pretty quickly when you start selling your course.
Another reason for switching to Thinkific – is it's very stable and has great support. They actually read your emails and try to find a solution, not just send you to the help center articles.
As for stability, let me explain what I mean. I actually started on another course platform and used it for about 10 months. But that one had very frequent downtime – it's when the site is super slow or doesn't open at all for course creators and for students. It can happen on any platform, with my first platform it happened maybe several times a month. With Thinkific in my 3 years on this platform, maybe once in 6 months and for a short period of time since their support team is quick and efficient.
What other tools do you use to run your online course business?
I use Loom and OBS interchangeably to record my screen and presentations. Easy webinar to run my automated funnel with a webinar. Convertkit for email marketing. And my blog is on WordPress, all the landing pages are made in my theme page builder.
What books or training programs have you found useful on your journey to a successful business owner that others might find valuable too?
I find it hard to give just a few names or resources, I have gone through many but they are all covering different aspects of creating, selling, marketing courses, blogging, building an audience, and doing email marketing the right way. I don't feel like any particular training I ever took was transformational enough or that it encompassed all the different areas of knowledge I needed to succeed.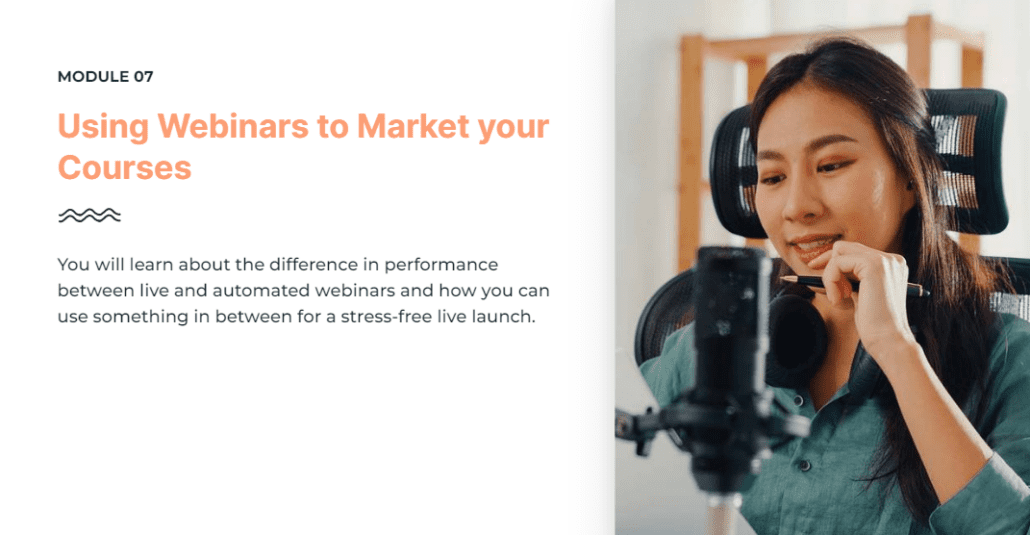 Please share some idea of revenue.
My best year with the Pinterest course so far was 2020 – that's when I made about $220,000.
Please tell us a little about what the money you've earned from your course has done for you.
The course sales changed the lifestyle of my entire family. When I started my blog, the income from it was enough for me to quit my day job but when my course sales became consistent, it also allowed my husband to quit his day job and pursue his own passion (he is now working online and running his own YouTube channel). We both are now our own bosses, working fewer hours from the comfort of our homes.
The level of income we achieved also allowed us to upgrade our living space. We moved from an apartment to a house with a great outdoor space for our kid and our dog to enjoy.
In addition to revenue are there any numbers you would like to share?
My blog was about 11 months old when in January of 2018 it reached over 130,000 pageviews. And only in one day did I have a spike with 18,000 pageviews from one viral pin on Pinterest.  This kind of traffic volume is pretty high for a blog that was less than a year old at that time. It was 90% of traffic coming from Pinterest and allowed me to make my first $1400/mo with display ads on the blog.
What has creating your course done for you personally?
I gained confidence in my ability to create something from scratch with a very low upfront investment that can be replicated as a business model.
Creating this course made me realize I won't ever need to go back to the corporate world because I can create courses in the future as I keep learning new things. - Anastasia Blogger
Click To Tweet
Now in addition to my Pinterest course, I actually have 2 more courses for bloggers and online entrepreneurs. And I am pretty sure these are not my last online courses ☺
Do you have a story of a transformation from any of your clients?
I had a great testimonial from Lauren McDuffie – Founder of My Kitchen Little. She has been a hobbyist food blogger for 10 years, but her previous blog didn't make any money as she was focused on promoting herself on Instagram and traffic was very low. When she joined my course, she started a new blog and uploaded to it a lot of her old recipes.
Thanks to Pinterest, she managed to get her blog accepted to Mediavine in only 4 months of operation. If she were to wait for Google traffic, she could probably spend a couple of years getting to the same traffic level with her new blog.
I find the contrast between doing something for 10 years and not making a dime out of it when you don't know what you are doing. And following a plan that allowed her with the same content to get her first paycheck in a few months.
What advice do you have for people just starting out?
I wish I knew that everyone who seems to be a very successful course creator, has been in my shoes a few years earlier. They didn't know how to market the course, they didn't have a huge following when they started. And if you look at the established course creators and think you are too much behind, believe me, they also learned all the stuff while doing it.
So the biggest advice I can give it start working on your course before you feel you are ready. You will never be 100% ready, you can only become good at something by doing it.
Learn more about Anastasia Blogger of anastasiablogger.com: